MXA INTERVIEW: JGRMX'S WESTON PEICK
Click on images to enlarge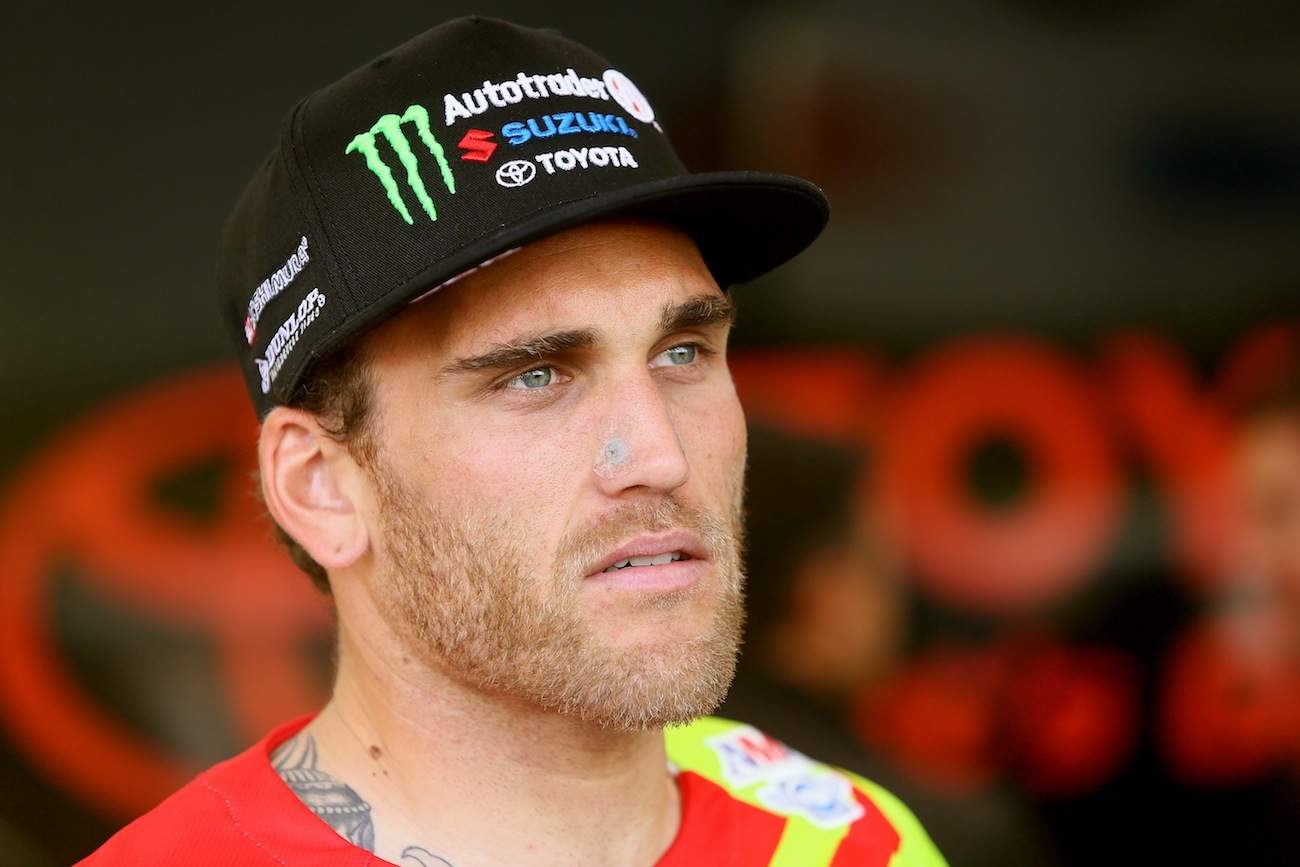 By Jim Kimball
It's unfortunate but true; but if JGR circa 2017 did not have bad luck they would have no luck at all. It's not one person's fault, and no finger pointing can be done, it is just the the way it happens. Injuries have sidelined every team rider in 2017. Still, the friendly crew from North Carolina, has been positive and hopeful. Team manager Jeremy Albrecht is upbeat in his belief that better days are coming. And now, midway through the AMA Nationals, it just be that some good karma is finally coming their way. After a disappointing Mt. Morris race where both premier riders Justin Barcia, and Weston Peick suffered additional injuries, both rebounded with their best finishes of the series at Muddy Creek. With a couple of decent starts, Barcia and Peick set the tone for some muh needed positive results. Barcia finished 6th overall while racing much of a moto with a front flat tire, while Peick just so narrowly missed making the podium with a solid fourth.
WESTON, YOU STARTED THE AMA NATIONALS BARELY RECOVERED FROM YOUR BROKEN WRIST, BUT YOU HAVE BEEN RIDING GREAT. I knew coming into the Outdoor Series that I was not going to be 100%, with only having three months recovery from my wrist break. It was a deal where I had to workmy way back into shape, and see how my wrist would feel. And you know, it has been all right. At times there has been a lot of pain, and some of the races are rougher than others, but for the most part it has been going somewhat decent—ex etp at Mt. Morris. I was feeling good there, but I had a second moto crash where I jammed my wrist, and messed it up again. Coming into Muddy Creek I had to take the week off from doing a lot of heavy stuff. I was able to ride a little bit, but I just focused on going to therapy and getting my wrist worked on most of the week. Other than that, it has been up and down. I feel better some weekends than others. It is just back to trying to figure out what works, and what does not work with the wrist injury.
DID YOU EVER THINK ABOUT SITTING IT OUT UNTIL YOU WERE 100% ? WHY HAVE DID YOU RETURN THIS SOON? There are a lot of riders that would have just sat out and waited another five, or six weeks until the wrist was 100% healed. But, for myself, it is one of those situations where I only made three Supercross races, and I was not about to miss the beginning of the outdoor series. I knew that if I were healthy enough to ride and be able to finish, I would race. I explained that to the team and told them that it might not be pretty, but you will have a bike on the track, and you will get top 12 results. They are fine with that and they know that I always try my hardest, and it is how it had to be.
HOW DOES IT FEEL? Every doctor I talked to said that it was not going to get any better until I let it rest, and have time to heal. So obviously when I land on it and jam it, it flares up really bad. It gets a lot of swelling, where it creates a lot of pain and stuff. It is just one of those things where you try to get lucky and not land on it really hard or crash. You know, with the wrist injury, it will not really be 100% until the off-season comes around  and I can actually give it another two months to heal.
STILL THOSE FIRST COUPLE OF ROUNDS, YOU HAD SOME VERY CREDIBLE FINISHES IN SPITE OF YOUR WRIST. Hangtown was kind of tough for me. I was maybe riding at 60%. I did not know what my wrist was going to do, and I did not know how it was going to last for two motos. So I just took it easy, and after the weekend, I had a little more energy to push forward. With Glen Helen being a hometown track, and also one of my favorite tracks, I was able to push a little harder, and I was more comfortable. I ended up fifth there, and then going into Colorado, where I am not a big fan of that track, I was more of less just trying to not crash. I just wanted to get through the day there, and that is what I did in Colorado. So that was kind of a crappy result for me, but going into it, I was expecting that. Obviously for me it is very important for every single week to get stronger. As long as I am not overdoing it, and not reinjuring it, I can get through the pain. Right now I just have to play it by ear.
NO ONE CAN BELIEVE ALL THE INJURIES THAT JGR HAS ENDURED THIS YEAR. It has been a terrible year for injuries. Every rider that signed with the team has been hurt this year. It sucks for the team and sponsors, and that is why I had to make a decision to start early with the Nationals. I want to get results for the sponsors and have them get what they paid for. It is one of those difficult decisions that you have to make as a rider.
JGRMX is on a one-year deal with Suzuki for 2017, but it things are looking up for the association in the future.
DID THE SWITCH FROM YAMAHA TO SUZUKI PLAY A PART IN ALL OF THIS? Obviously with the injuries happening, and then switching brands at the last minute last year, there have been many changes to get adjusted too. There has been a lot of new stuff with testing, development, and just going through all the motions of trying new parts. It is kind of "go out and do this" and "try this and hopefully it works". It is a learning experience, but I think switching to Suzuki was a good option for the team, and kind of a fresh start. I think everybody likes dealing with Suzuki, and it has been a good change. I think JGR Suzuki will definitely continue the relationship from here on out. With having Suzuki as a new sponsor, it is obviously important to try to be out here racing, and support the brand as much as we can, even when we are injured. It all adds up for next year, and trying to make things better.
WE HAVE TO IMAGINE THAT THE TEAM IS HAPPY WITH YOUR RACING? So far my results have been good considering the time that I have had back on the bike. I only had four weeks on the bike before the AMA National started, so the results I am getting are definitely on the right track. I am not happy with my results, but I can't be too mad about them considering my injury. Every week we are finding better settings, making changes to the bike, and making it better. It just comes to a point where once I am 100%, I can start putting in more work on the bike, and my fitness can be back to where it should be. Hopefully, in the last fouror five races, we could see some podiums and being able to run up front and not have wrist issues.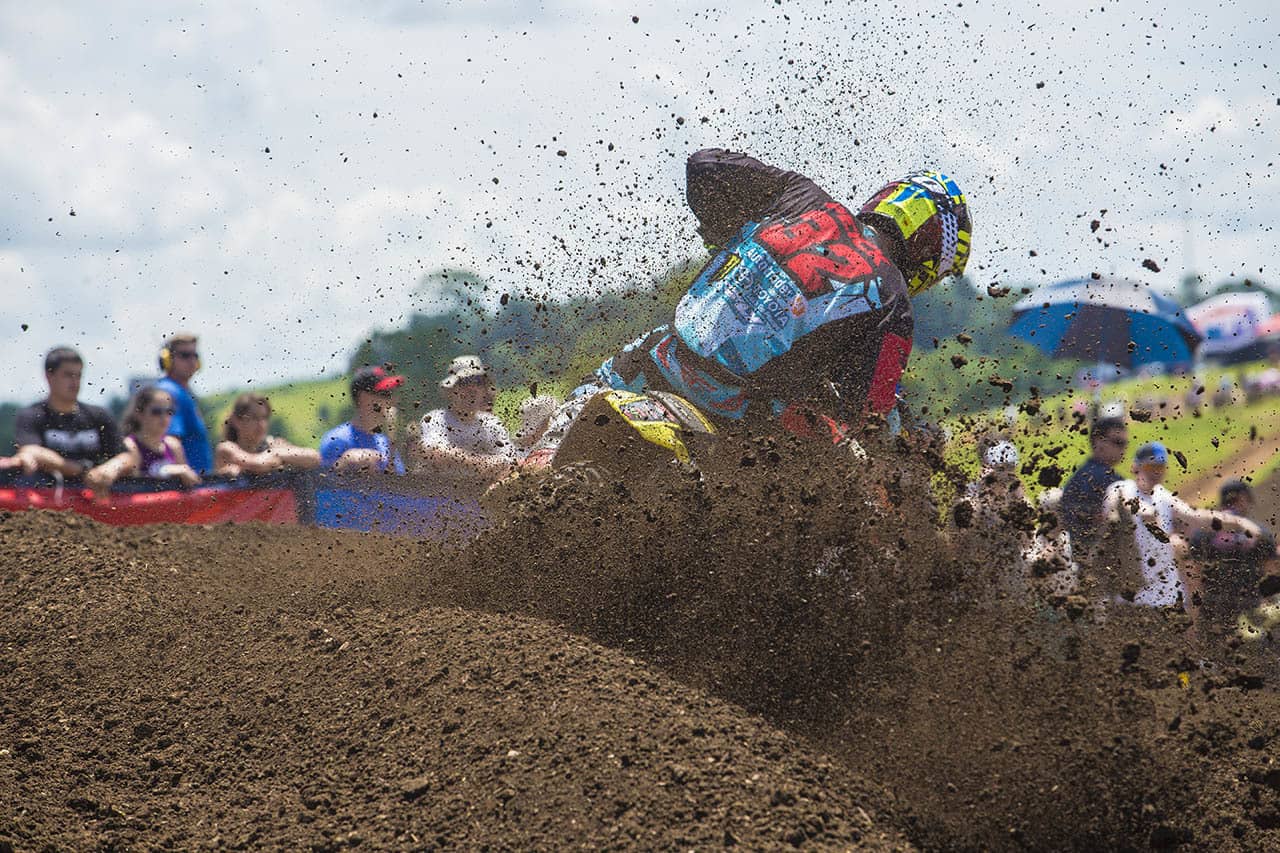 WHY DO YOU THINK SO MANY DIFFERENT RIDERS HAVE BEEN WINNING THIS SUMMER? This year we have had so many different winners, and it is actually better for the sport. On top of that, everybody is going so fast these days; it is not just those dominant three riders that can win. Now, there can be eight riders on the track that can win a moto. Everybody is fast, everybody is training hard and all the teams are putting in as much effort as they can—even for their second-tier rider because everybody can win.
WHAT ARE THE KEYS TO WINNING IN 2017? It all comes down to if it the riders favorite track, or if they get a good start. If you are put in the right position, where you can start up front and attack in the first half a moto, then there should not be a problem getting on the podium. We have seen it numerous times this year with Bogle winning, and even Baggett coming from the back to the front, that anything can happen. In short, if you get a good start, you can win.
Photos by Daryl Ecklund, Kyoshi Becker, Brain Converse, JGR