MXA INTERVIEW: JOSH HILL TALKS HIS CAREER & FACTORY YAMAHA FILL-IN RIDE
BY JIM KIMBALL
Ten years ago Josh Hill was a star on the rise. Signed by the Factory Yamaha Team to race the 250 class, Hill did well. Moving quickly to the 450 class, Hill won the Minneapolis Supercross round, and his future looked bright. In 2010 he was battling Ryan Dungey for the Supercross Championship. Later it went all wrong when Josh sustained numerous injuries while practicing for the X-Games. Hill would make several comeback attempts but it was finally in 2015 when after another serious crash at the Daytona Supercross caused him to call it a career. Josh then joined the 9 – 5 work group as an Athlete Manager at Monster Energy. However, late 2018 Supercross season Hill returned to Supercross racing Seattle, Salt Lake City, and Las Vegas, as a fill in for Justin Barcia, and Cooper Webb. Hill would finish those rounds with a 21st, 16th, and 19th at the Las Vegas finale. It was in Las Vegas when we tracked Hill down in the Yamaha pits.
JOSH I BELIEVE YOU WERE PLANNING ON RACING THE LAS VEGAS SUPERCROSS FINALE AS A PRIVATEER, BUT THEN SHOWED UP AT SEATTLE ON A FACTORY YAMAHA. Seattle we went racing and it was just a total mudder, so Keith McCarty and all the guys at Yamaha ended up getting me a stock bike with good suspension and a pipe on it, and that is what I have been practicing on. I was going to race that at the Vegas Supercross, and then Cooper (Webb) ended up having his injury and getting hit off the starting line, so they needed to add another spot filled, and that is where I stepped in.
WHAT IS THE BIGGEST DIFFERENCE BETWEEN THE FACTORY YZ450F COMPARED TO THE STOCKER YOU WERE RIDING? It is just everything. I would say it is 10% better than just a stock bike with suspension, but the stock bike is so fast already that you do not really need to add that much power. It is just fine tuning everything with the power, the gearing, the suspension and just small components. It is just the whole package that makes the bike that much better.
I would say it is 10% better than just a stock bike with suspension, but the stock bike is so fast already that you really do not need to add that much power.  
YOU HAVE BEEN OFF THE PROFESSIONAL RACE SCENE FOR A LONG TIME; HOW DIFFICULT HAS IT BEEN TO ADJUST BACK TO IT? I was doing a lot of free riding, and I won the AMA Snow Bike Championship this winter. So I was riding snow bikes, just free riding, and making jumps in the hills. When you are riding all day long and digging jumps, you still stay in somewhat decent shape, but it is totally different. The last month, I would say that I have been trying to actually get myself into shape a little bit, when I knew this was a possibility to be here racing. I put my best foot forward on the road bike, and did as many laps as I could. This past week was when I think I was really able to go out to the practice track and burn two 20-minute moto's in a row, and feel good about it, not just riding around, like actually going fast.
I KNEW YOU DID SOME SNOW BIKE RIDING, BUT DIDN'T KNOW YOU WON THE CHAMPIONSHIP. WHAT'S IT LIKE TO RACE A SNOW BIKE? There is a track system and it is somewhat heavier, so there is a lot of drag on the bike. When you come down, it is not just a free motion smooth rolling thing. In certain conditions it is really nice, and certain conditions it is really hard to ride. It is different and they are a lot longer and a lot heavier. In powder conditions, they are comparable to a dirt bike for sure. You can have a lot of fun riding them.
ARE THERE ANY FURTHER OPPORTUNITIES FOR YOU TO RACE THE OUTDOOR MOTOCROSS SERIES? Right now, I jam just playing it by ear. It is whatever these guys have a need for. I am not really trying to push it. I will probably show up and race Washougal.  This is my hometown area. I grew up in Portland and lived nearby, so that is the hometown place. I will probably just go race that for fun, but other than that as far as racing all the Nationals, no, I do not really have a whole lot planned, unless these guys need me to fill in at some races or something. In that case, I would be more than happy to. Now, I start gearing myself for getting ready for X-Games. I think I will be invited to that again and then I will hopefully be doing some European Supercross races, some of the ones in France, like the XX Tour, and then just other ones around the world. They are going to have an X-Games type event in Norway in a big stadium, so I have to get ready for that in June, so I got my plate full.
I WOULD HAVE TO IMAGINE THE 2018 YAMAHA YZ450F IS A LOT DIFFERENT THAN THE LAST YAMAHA YOU RACED? When I was on Factory Yamaha it was 2009. That was the year before they went to the backwards engine. Then I rode for San Manuel Yamaha in 2010, which was kind of like this bike, but it has gotten a lot better since then.
LOOKING BACKWARDS, WAS IT YOUR CHOICE TO RETIRE WHEN YOU DID? I retired was in 2015 I had opportunities to go racing the following year and was talking to people, but I also had an opportunity to work for Monster Energy. You know, I got really hurt and I never regained any feeling in my left foot after that X Games practice crash. I came back and won overseas Supercross, like the South African Supercross, won Australian Supercrosses, got a podium in the US at New York. I won some heat races, but I got to the point in 2015 where I had another big crash at Daytona and collapsed both of my lungs, broke my collarbone plate off, broke some other stuff, and I was over it. For the amount of money I was making, it did not seem worth it, so I took a job at Monster Energy, who was a long-time sponsor. I actually had to break my athlete contract to take that job, and I do not think it was a bad decision at all. It gave me a way better grip on what is going on in my life in Motocross.
I do not really consider myself much of a racer any more, here racing right now and on a factory team, which I think most people, would consider the pinnacle of it. This is fun for me and this is cool, so my plan this year is to kind of elevate the whole free ride game.  I do not think anybody will go as big as I can go, and I think I have some stuff in the mix for free ride, so I will be putting out some projects and videos, and then racing some Supercross at to stay sharp. With the skills you have to have to do this stuff, there is no better training. There is no better rush than being on the gate and racing with all of these guys. I am just kind of a jack-of-all-trades right now. I am trying to be the best Supercross racer I can be. I can definitely go out and come up with some crazy concepts and do some free ride stuff that will make the top guys shiver, so that is what I am going to do.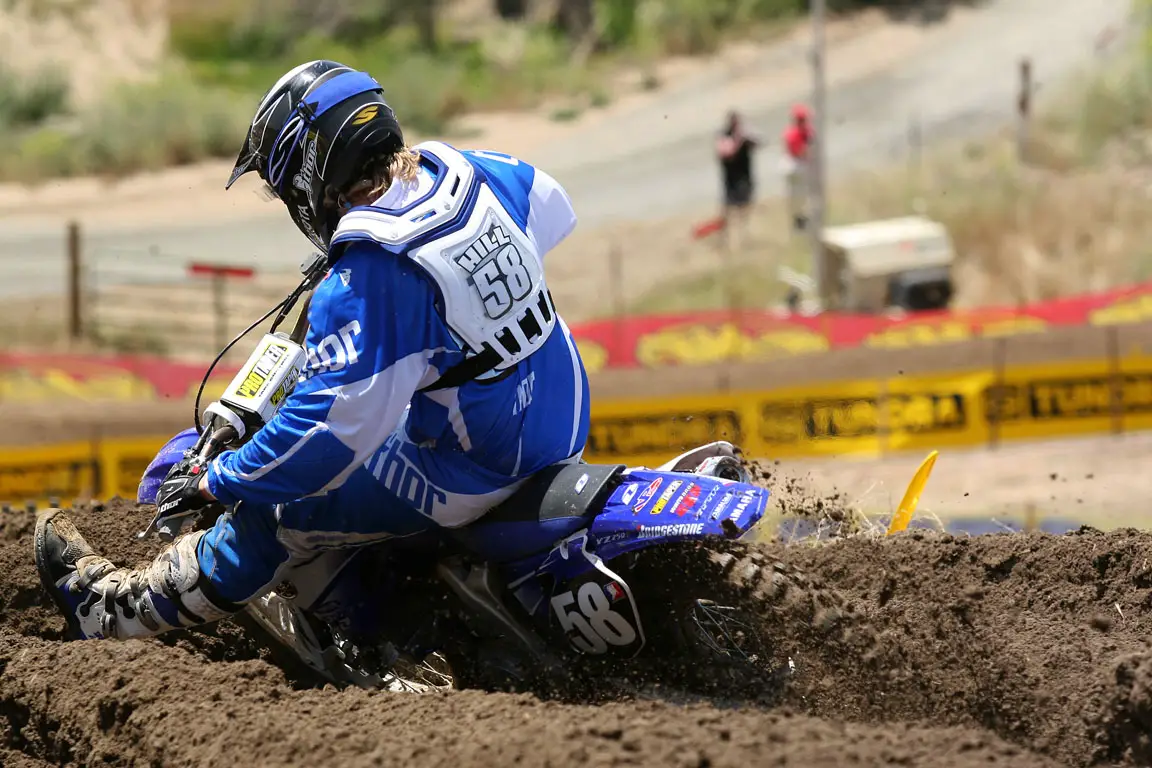 DO YOU STILL HAVE YOUR MONSTER ENERGY ATHLETE MANAGER POSITION? I am not working there anymore, but I am back on as an athlete with them. I went from athlete to employee (as a marketing manager), and back to athlete. It is funny how that worked. They have an awesome group of dudes working there with Dave Gowland, Mitch Covington and Eric Johnson. Aaron Nixon took over my spot when I left and they are an awesome group of people, and I am so pumped that I had the opportunity to work there. I learned a lot and then they also gave me this opportunity to keep racing and gave me a platform to do some video stuff on and it is awesome.
LETS FINISH BY TALKING ABOUT YOUR YOUNGER BROTHER JUSTIN FOR A MINUTE; HE DID AWESOME IN HIS 450 SUPERCROSS DEBUT? Yes, I was going nuts watching it. I was actually at a snow bike race, and had just won. They had an award ceremony at a local bar and grill that had the race going on all the TV's. That was where I was watching it. The whole place was going nuts for him and it was funny, the promoter of the series did not realize my brother raced until that night, so it was cool. I think he would have been able to win the main, had he had a little more patience, but I think he has a big future ahead of himself on the 450.
I do not know if the 250 necessarily suit his style that much, he rides the 450 well. I hope he gets through this year safe and sound. I do not think his National results this year are going to hurt his confidence going into next year. He knows what he can do on that bike.