MXA INTERVIEW: JUSTIN BRAYTON GOES IN-DEPTH ABOUT HIS NEW RIDE, AUSTRALIAN SUPERCROSS AND MORE
JUSTIN BRAYTON INTERVIEW: HE TALKS FACTORY HONDA, 2020 SUPERCROSS, AUSTRALIAN SUPERCROSS, CHASE SEXTON AND MORE
Justin Brayton is currently in Australia preparing for round one of the Australian Supercross season in Brisbane.
When thinking of Justin Brayton, his 2018 Supercross win at Daytona clearly stands out. Not only was it his first Supercross win, it was the MCR Honda team's first win, and Brayton was the oldest rider in the sport to win a Supercross Main Event. While maybe a surprise, it was not totally out of the realm of possibilities, as Brayton's schedule of taking outdoor motocross off, and then racing the Australian Supercross series prior to AMA Supercross has rejuvenated Justin. It was in Australia where Justin won three Supercross titles, while preparing him for the following years AMA Supercross series. As a member of the MCR team, Brayton brought more Honda support to the table and now the team now has legitimate Supercross win opportunities. With the recent retirement of factory Honda's Cole Seely, Honda came up with a unique proposal to bring Brayton back to the factory team he rode for in 2012. Along with that, Honda will move 250 Geico rider Chase Sexton into their factory effort for the 2020 outdoor season. We recently tracked down the 35-year-old Brayton after his third place finish at the Montreal Supercross where Justin talks about Honda, MCR Honda team owner Mike Genova, Chase Sexton, and loyalty.
BY JIM KIMBALL
JUSTIN, LET'S BEGIN WITH THE RECENT ANNOUNCEMENT THAT YOU WILL BE WITH FACTORY HONDA FOR 2020. HAS IT BEEN IN THE WORKS FOR A WHILE? No, not for a long time. It was in discussion; I would say for the past couple of months. We just talked about it a couple of months ago, and it seemed to make sense for everyone involved. Thankfully, Mike Genova, whom I was under contract with in 2020 was nice enough to let me out of it, and go to the factory team, which is awesome. Right when they approached me about it, I was all in. It is not very often that you get that opportunity to ride for really the pinnacle of the sport, being Factory Honda. A lot of people that I worked with in 2012 when I rode there are still there or have come back there. So it is really going to be really familiar for me and the team.
RIGHT, IT'S NOT AS IF YOU WILL BE ON AN ENTIRELY DIFFERENT BIKE AND TEAM. I don't think people really realize how long it actually takes you to gel with the team, and the team to gel with the rider. It truly takes some time. I really believe it takes over a year. So I guess for the team and myself, there is really no transition to getting used to each other. They know what I like in a motorcycle. I know how they operate, and how to communicate with them. Really, it is going to be a super smooth transition and it is going to be fun to work beside Ken in Supercross. I am really excited about it.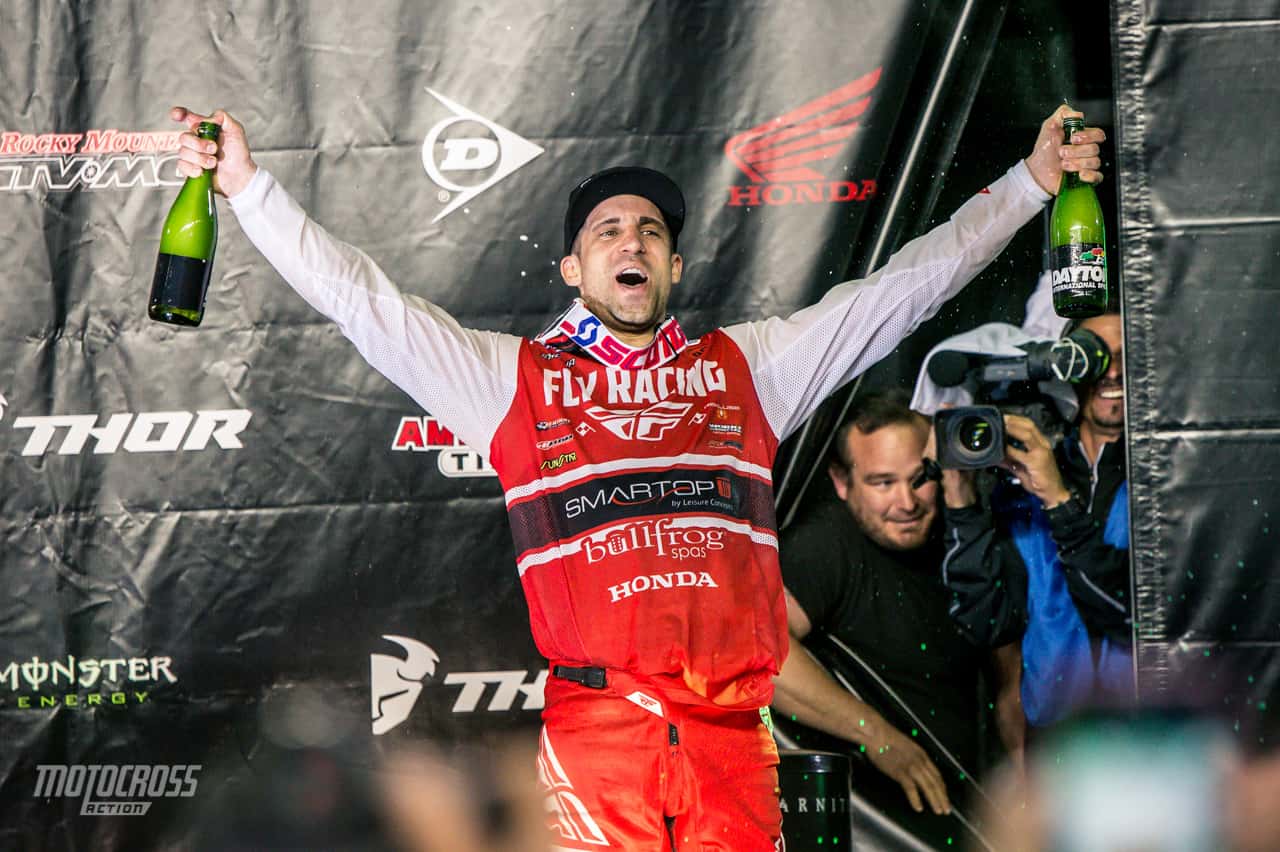 Justin Brayton atop the 2018 Daytona Supercross podium. It was there that Justin won his first 450 Supercross main event and became the oldest rider to win an AMA Supercross 450 Main Event.
YOU TALKED ABOUT HOW LONG IT MAY TAKE TO GEL WITH A TEAM, AND IF YOU LOOK AT SOME OF YOUR PEERS WHO ONLY GET ONE YEAR CONTRACTS, IT MUST MAKE IT EXTRA DIFFICULT. It does. It definitely takes time to gel with not only the people but also the motorcycle. For us, it is such a game of tenths or one percent, and for me, it is really hard to get that extra one percent or two percent to be at the front every weekend on a new bike. You don't know it well. You come to different tracks every weekend and are not quite sure how it is going to work. There are so many different types of dirt and really it takes a year to learn that. Now, this will be my fourth year working alongside Honda, so it is a perfect scenario for me. I know the bike very, very well, on every different condition. 
HOW DIFFERENT WILL YOUR FACTORY HONDA BE FROM YOUR MCR BIKE? The bike will be a little bit different, I would say, probably the engine package is the most different. It will have a hydraulic clutch. There are differences on the factory team, but all in all it's the same chassis and same platform. Like I said, it is not going to be a hard transition at all. They know me and I know them and the motorcycle as well. I am very, very familiar with it and I have a lot of confidence on it. I won a race just over a year ago on it.
Here's Justin Brayton on the factory Honda back in 2012 when he last rode for the team. 
TECHNICALLY, YOU HAVE BEEN ON THE MCR HONDA TEAM BUT I IMAGINE THAT EACH YEAR HONDA AND MCR HAVE WORKED CLOSER TOGETHER. Yes for sure. Going back all the way to 2016, when I went to Australia with the Honda team over there, American Honda has supported that pretty big. I made a phone call to Dan Bentley, and we organized that real quickly. When I went there, they had stressed to me "look when you come back, we would love to have you on a Honda," so we started making some phone calls. I have a lot of respect for Mike Genova in years past and I thought it would be a perfect fit to get those guys together, and for me to be on a Supercross only team. That is what I wanted at the time, and every year that they have been a part of MCR, they stepped up, and MCR stepped up huge as well. When you look at their pit area and the money that Mike Genova has invested you know it is a first class, legit factory effort. I think it is a great partnership, both sides are very happy and this is huge for Mike to work on. For Mike to say "go ahead and you can take that opportunity" does not happen very often in this sport. So, I am super thankful for everything that Mike has done for me and will continue to do for other people. He is a guy in the sport that essentially spends a lot of his own money. We all should be very thankful for guys like him, I know I am for sure.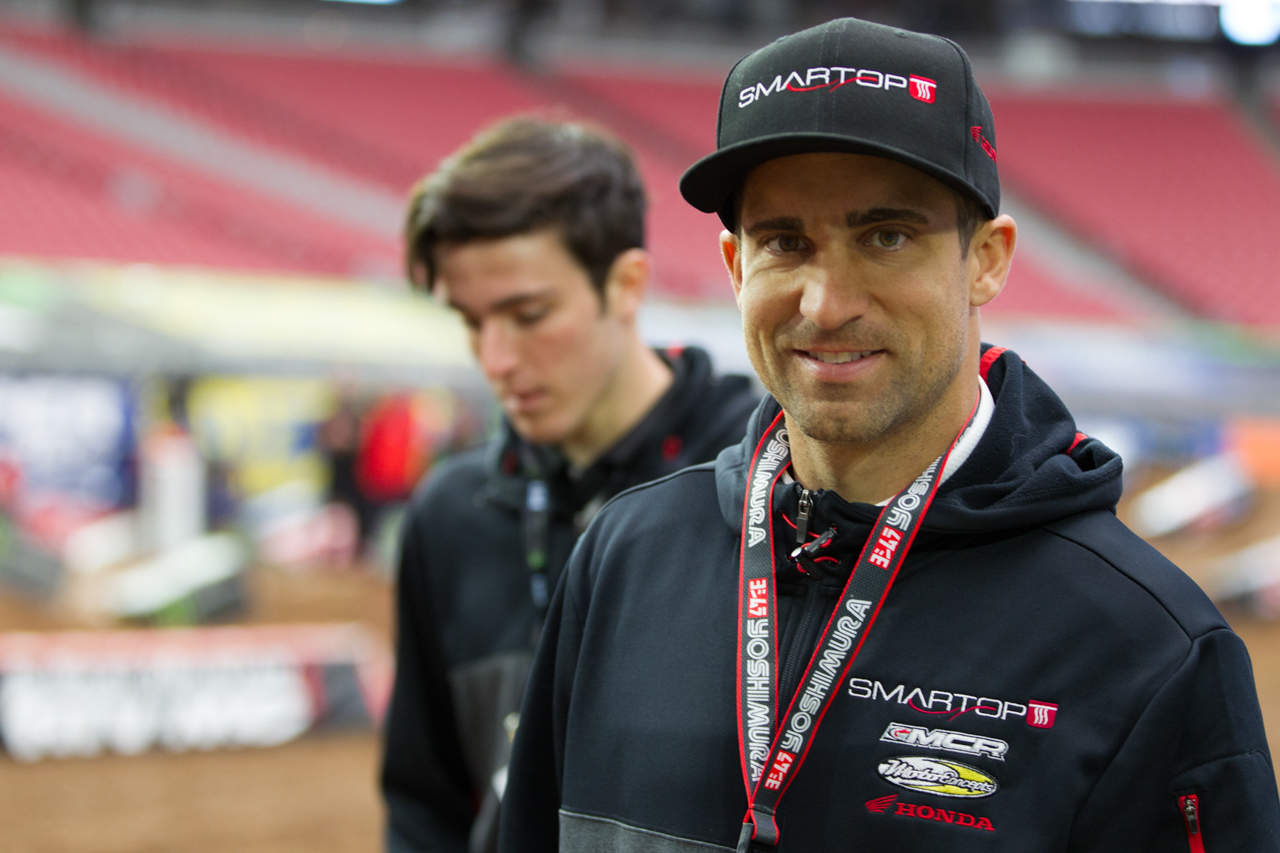 Justin Brayton will be trading out the Smartop Bullfrog Spas hat for the Penrite Honda hat this weekend at the Australian Supercross and then he'll trade that one for a factory Honda hat on December 1st when his 2020 American Supercross contract starts. 
MIKE GENOVA AND MCR HAS CREATED A UNIQUE OPPORTUNITY FOR RIDERS WHO MAY NOT BE SIGNED BY A FULL-ON FACTORY TEAM, RIGHT? He creates and provides three jobs that wouldn't be there otherwise, and we all should be thankful for that because when teams start to go away, it is not good for anybody. So, he continues to pour out his own money and time. Trust me, he could do a lot of other things with the money that he spends on racing, so it is good for the sport and it's cool that he still enjoys it. It was really cool for me to get my first win with him and for it to be his first win. He will continue to be a good friend for the rest of my life. 
I ALWAYS THOUGHT IT WAS COOL ABOUT THE TEAM DINNERS THAT MCR DOES. It makes a lot of sense for sure, and I am a big fan of that. I think it is great to get everybody together on a Friday night, and talk about your week. Just the communication being around the guys is great, and he does not skimp on the food or restaurants. Mike spends a lot of money on just the Friday night dinners, it is a neat dynamic and it's cool to bring everyone together. We are all in it together. We want to spend a lot of time together, and enjoy being around each other, so I am a huge fan of that.  
Justin Brayton and Ken Roczen side-by-side at the Atlanta Supercross in 2019. In 2020 these two will be teammates for the first time.
I BELIEVE YOU HAVE BEEN LOYAL TO YOUR SPONSORS OVER THE YEARS. WITH NOW GETTING A FACTORY HONDA SPOT, WILL YOU CHANGE ANY SPONSORS? It won't change anything, to be honest. It does not affect my loyalty at all, whether I am going to a different team or not. For sure, more potential sponsors have called, offered more money and things like that, but it does not change my loyalty at all. I have been with Fly Racing along time and that will never change. With all of my sponsors like Shoei, Scott Goggles, Gaerne boots and Adidas, I don't want to change any of them. I am not one to ask for crazy amounts of money and be unrealistic. I have always wanted to be paid fair, and all of those sponsors are very fair. At the end of the day, we (Pro riders) are all a brand ourselves and Fly Racing has marketed me as a certain brand, and I have marketed them as the brand that I wear. I just think it is foolish for people to jump around for a little money at the end of the day. I think as long as I race, Fly will always support me, and I will always support them. The list goes on with Shoei, Gaerne, Adidas, Scott and all of the sponsors, I plan to be with for the rest of my career. Just because I am riding for a different team, I don't want to be greedy and try to take the money. I think it is more than that. It is all about relationships for me and if I could give any piece of advice to young up and comers, it would be to just try to create relationships, try to get to know the people. Don't just take the money.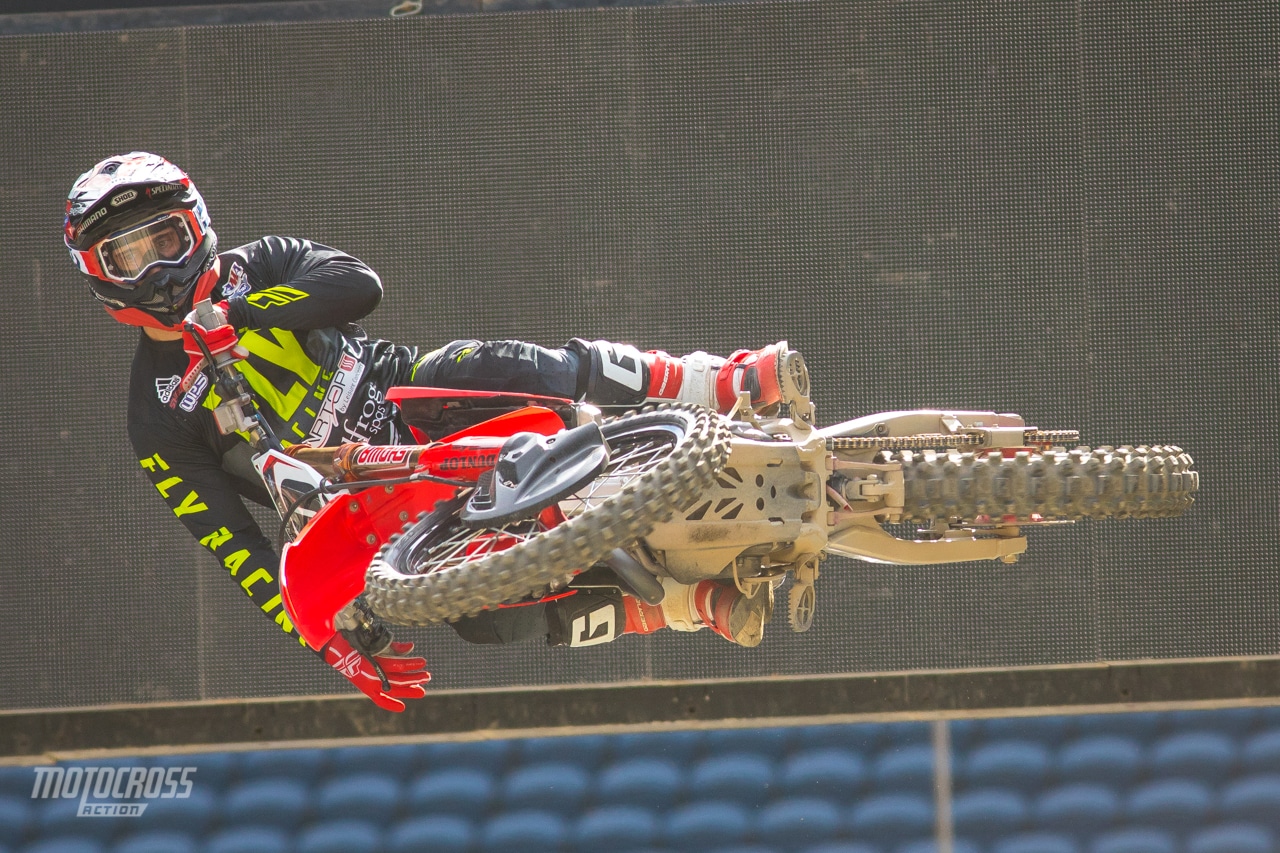 "I feel I have proven myself over the past three years that my offseason racing works. It works for me and it is the program that I enjoy most coming into Anaheim I. I believe that I will be one of the most prepared guys." -Justin Brayton
HOW ABOUT THE AUSTRALIAN SUPERCROSS SERIES, WILL YOU STILL DO THAT? Yes, this does not change anything. I will still do my same program. I am in Australia now to race my fourth season with the Penrite Honda team starting this weekend in Brisbane. Then I will come back and do the Geneva Supercross. That has been in the plan well before I talked to the Factory Honda team, and they are totally fine with it. I feel I have proven myself over the past three years that my offseason racing works. It works for me and it is the program that I enjoy most coming into Anaheim I. I believe that I will be one of the most prepared guys. It may be different I think if I came to the team and said "hey, I want to do this unique program. I want to go to Australia for the first time." I don't think they would be good with that, but my track record is pretty successful with doing that. Especially with me not doing Motocross. I have the whole summer off. I am ready to get rolling now, and nothing will really change when I get back from Australia. I will officially be with the Factory Honda team and back in America, starting December 1st.  
YOU RECENTLY RACED THE MONTREAL SUPERCROSS AFTER HAVING THE SUMMER OFF, WHAT WAS THAT LIKE? Yes, I finished third there, it was tough being out of racing for so long. You definitely have the nerves lining up again, and that is the reason why I do all these races. I am not just winging it going to these races and collecting money. I have a purpose behind it, and I think the nerves that I have experienced in the past at Anaheim 1 being the first race of the season after you have not raced in several months are not as bad. With not racing, you have only been at the test track, and you felt so comfortable on your private test track. You just feel like you are unbeatable and then you show up and everything just feels weird. The bike feels different because you have not ridden on that type of dirt. Your nerves are escalated times ten at the race. So this is the schedule that I am on. I am really in mid-season form when I line up at Anaheim and I think it has shown to be good in the past several years. I get off to a good start for the season. There may be questions where I have ridden too much when I get into the East Coast part of the year, and that maybe I am going to get a little burned out, but I think it has proven that it is not the case. I know I am less nervous at Anaheim and I show up more prepared with my bike and everything, so I like it. I think I will continue to do that for as long as I can.  
Justin Brayton is approaching his  18th year as a professional motocross and Supercross rider. He raced his first Pro National in 2002 and he placed 20th overall in the 250 class at the Spring Creek National.

WHAT DO YOU THINK ABOUT HONDA'S PLAN WHERE YOU ARE DOING SUPERCROSS AND THEN THEY ARE BRINGING IN CHASE SEXTON FOR OUTDOORS, IT'S SOMEWHAT UNIQUE? It is unique, but I think for a guy like Chase Sexton, who just won the Supercross East Coast 250 title last year, he definitely needs another year in 250 Supercross. I think it is smart to move a guy up to Motocross. Chase is very unique, because he is a little bit of a bigger guy. He rides the motorcycle really, really well. Technique wise, a lot of people have said he would be better on a 450, and I truly believe Chase would be better on a 450. Not that he is not good now, but he is going to ride a 450 really, really well. It is something that he wanted to do, Honda wanted to do, and I think it makes a lot of sense. He is going to learn from Ken being his teammate. They are good friends. I just think it all lines up really, really well. I feel if he moved up in Supercross 2020, that is for sure a little early, but maybe he learns how to win more in 2020, and he has a dominant year in the 250 class. But for outdoors I think he is ready to go. And there is no rush there, he is not expected to win the little the first year. He can learn from Kenny and I will do the best I can to help in any way I can. So overall, I think it is a good move for him, and myself to get this opportunity. 
THIS MAY BE SIMPLIFYING THINGS, BUT YOU ARE BASICALLY REPLACING COLE SEELY AT HONDA, WHO IS A FRIEND OF YOURS, WHAT ARE YOU FEELING ABOUT HIS RETIREMENT, IS IT PREMATURE? No, I think it is great. I think that if that is what his mind is set on then absolutely, he made the right decision. He has had a great career. He is into a lot of different things and it is pretty cool that he gets the opportunity to go out on his own terms and still do other things that he loves. I am excited for him. He is going to create a lot of cool content with the social media world now. Cole is really good at pretty much anything he does, so it will be cool to see him whether it is in a drift car or doing some one-off events, building two-strokes and stuff like that. It is going to be cool to follow. Again, he had a great career, and it is great for him to go out on his own terms. I think it is awesome!
"Nowadays, you don't need much to make the bike really, really good, enough to go win a race, so as long as I am on the same chassis, suspension and stuff like that, I am totally good." -Justin talks about how advanced stock bikes are nowadays.
SO, WHAT BIKE WILL YOU BE RACING UNTIL 2020 SUPERCROSS, AN MCR BIKE, A FACTORY HONDA BIKE, OR SOME HYBRID? This is a tough question to answer, because I have been on some factory stuff even at MCR. So, it will be no different for me down in Australia this year. I will still have some good parts that we ship down. But to be quite honest, the 2020 Honda 450 production model is awesome. I actually got a chance to ride one a few weeks ago. I purchased one from a dealership just because I had wanted to ride it. I threw some suspension on it and I honestly could go race it like that, so I don't need much. Nowadays, you don't need much to make the bike really, really good, enough to go win a race, so as long as I am on the same chassis, suspension and stuff like that, I am totally good.
SO, WHEN YOU GET YOUR FACTORY SUPERCROSS BIKE IN DECEMBER, WILL IT BE MUCH DIFFERENT? It is not going to be any different. The chassis is going to be the same. Actually, everything will basically be the same. Maybe a couple little changes here and there, so it will be an easy transition. 
Justin Brayton has no plans to retire anytime soon.
ONE LAST QUESTION, JUSTIN. AT 35 YEARS OLD, DO YOU HAVE ANY FEELINGS OF SLOWING DOWN? No plans of slowing down any time soon. I am the type of guy that is all in, and if I feel like if I announce a retirement, and say I am done in six months; I might as well just be done now. So, no plans for retirement any time soon. Of course, I'm old for our sport. That is what we are taught anyways, and what people say. There are other sports around that are just as physical as ours that there are guys 40 plus, being the best at their sport. I am not really worried about my age. I am just worried about how I feel mentally, physically and if can I do the job that I am hired to do. When I am not able to do that job properly or give my sponsors what they want and cannot give myself what I would like out of it, I'll be done. But I don't see that happening any time soon.