MXA INTERVIEW: JUSTIN BRAYTON IS AT THE TOP OF HIS GAME HEADING INTO SUPERCROSS AT 35-YEARS-OLD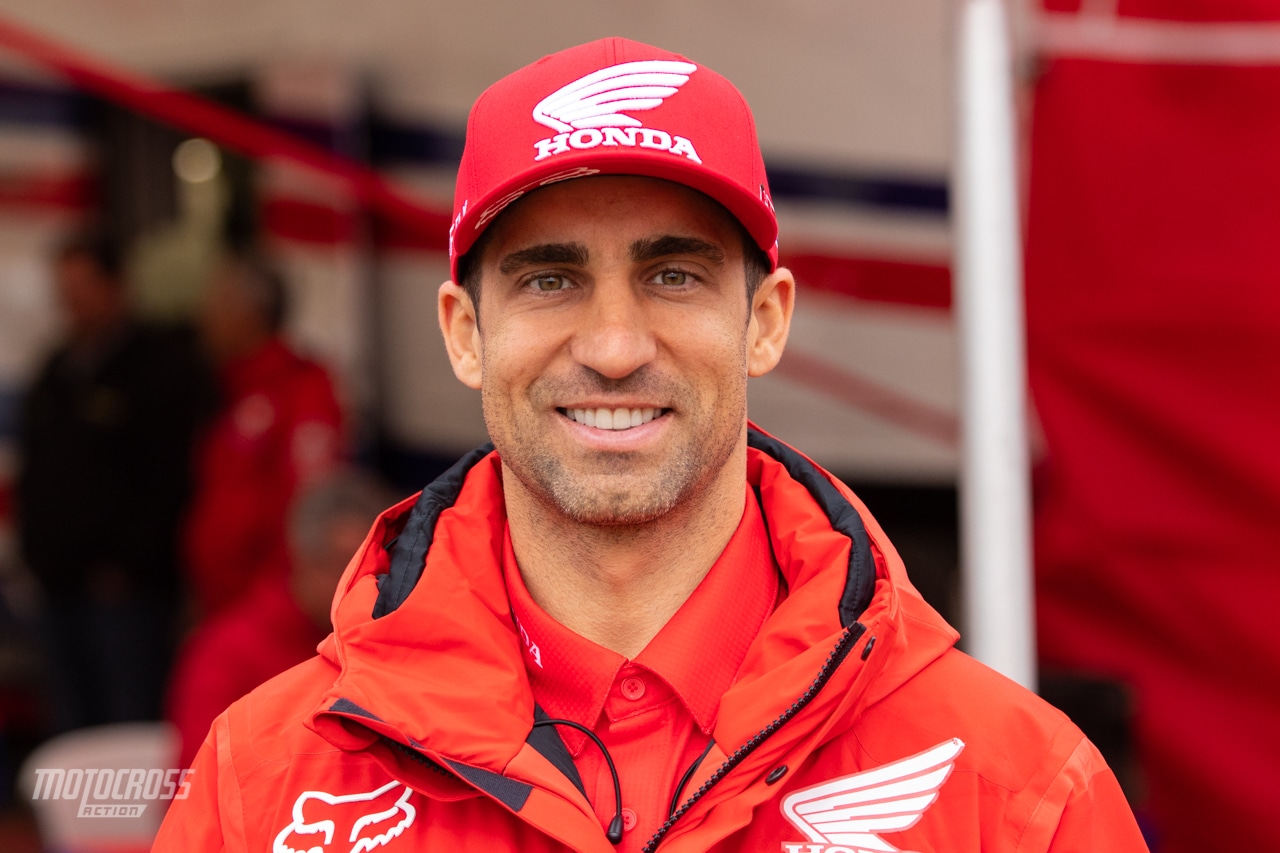 MXA INTERVIEW: JUSTIN BRAYTON IS AT THE TOP OF HIS GAME HEADING INTO 2020 SUPERCROSS AT 35-YEARS-OLD
At 35-years-old, Justin Brayton is heading into the 2020 Monster Energy Supercross season as a Factory Honda HRC rider, a four-time Australian Supercross Champion, a six-time King of Geneva Supercross and the current record holder for being the oldest rider to win a 450 Supercross Main Event. After switching up his program and racing American Supercross, the Australian Supercross series and other international Supercross events for the past three years, Justin has found a formula that works for him and it has boosted his career back to factory status as he now finds himself alongside Ken Roczen under the factory HRC Honda tent. 
By Josh Mosiman
HOW DO YOU FEEL ABOUT YOUR ROLE ON THE FACTORY HRC HONDA TEAM? WHAT CAN YOU OFFER THEM? I know my role at the HRC Honda team and it's not to go out there and beat Ken, he's the Championship guy, although I would love to win some races, he is the main focus and I understand that. I want to do everything in my power for him to win a Championship and for me to be as high as I can. The goal would be for both of us to be in the top three at the end of the Supercross series.
Justin Brayton chats with his mechanic Brent Duffe while the Showa suspension tech takes notes. Justin is known to be a very knowledgeable test rider.
HOW IMPORTANT IS THE TEAM'S ATMOSPHERE? I think a lot of teams actually over look the importance of the whole team vibe. We're together so much during the week and on the weekends, if the team is not really getting along or the riders aren't getting along, it really makes the whole team miserable and you don't perform at your best.
Justin Brayton and his new teammate Ken Roczen.
WHAT DO YOU FEEL YOU CAN OFFER THE TEAM AS FAR AS TESTING GOES? As far as testing goes, I'll basically do whatever I can to help all the guys. At the end of the day if everyone is helping everyone it only makes us all better. And I can learn a lot from Ken, his speed and everything that he has to offer will only help me. So yeah, I know my role and it's awesome to get a chance here riding for team Honda again. But also, in saying Ken hopefully will win the Championship, I also want to have my best year of my career and I think it's definitely possible. I'd love to extend that record of me being the oldest to win a main event at 34 years old little bit more and make it a little bit older. I'm happy to be here and the main thing is to just keep the team vibe happy and have everyone excited to see each other on the weekends.
Justin recently won his fourth Australian Supercross Championship, but it wasn't easy for him. 
YOU RECENTLY EARNED YOUR FOURTH AUSTRALIAN SUPERCROSS CHAMPIONSHIP, BUT YOU CAME INTO THE FINAL ROUND ONE POINT DOWN, WHAT WAS THAT LIKE? I actually enjoyed that situation, it was a winner take all deal. I did have a little crash halfway through the season and broke some ribs, so the third and fourth rounds were pretty difficult for me and I was just happy to get through it. So to even have a chance at the last round I was still happy, for it to only be one point, I knew going into the last round I could win the race and hopefully win the championship. But you never know with the triple crown format, so I was definitely stoked to win the Aus-X Open and the Championship, you really couldn't script it any better. 
WHAT MADE THIS CHAMPIONSHIP WIN DIFFERENT FROM THE OTHER THREE? The biggest thing was the injury in the middle. Sitting in the hospital thinking "When do we fly home? I need to get ready for American Supercross, that's my number one focus." But then I quickly switched my thinking to how do I win this title. I'm paid to be down there to win the title, this is part of the program and this is what I do. I just got focused on getting healthy and I was able to do that. Now I'm back to 100 percent with the championship and with a full head of steam going into Supercross here in America. 
Injuries can affect a rider's confidence and really hinder their ability to ride their best. Justin raced with four broken ribs in Australia.
AFTER THE INJURY, DID YOU STILL THINK YOU COULD COMPLETE THE SEASON AND WIN? There was a question for maybe about half a day once we figured out all the injuries that I had sustained. The doctors were saying that there's no way it's possible to race and they weren't even going to clear me to get on an airplane for several weeks. I was in a lot of pain there for a couple of weeks, but it makes for a good story now. But I'm happy to get it done, to get four straight is hard. It's hard to get one, let alone four in a row. 
At 35-years-old, Justin Brayton has a wealth of knowledge and experience that he's bringing to the factory Honda team.
WHAT IS THE AUSTRALIAN SUPERCROSS SERIES LIKE? The Australian Supercross series is the highest level of racing in Australia and there are a lot of good riders. The tracks are quite a bit different in Australia from here where they make the competition a lot closer, so it's not easy by any means. It's to get four in a row, that's never been done before, so I'm stoked to have that in the record books. 
HAD YOU BROKEN RIBS BEFORE? I broke four ribs and this wasn't the first time that I've done it before so I knew what to expect. It's not very fun, but by the two week mark it started coming around and I had a race at the two and a half week mark. Although it was tough, it wasn't too bad.
From left to right, Jordan Troxell, Ken Roczen, Erik Kehoe, Justin Brayton, Brent Duffe.
AS AN EXPERIENCED SUPERCROSS VETERAN, HOW IMPORTANT IS TESTING AND BIKE SET UP TO YOU? WHAT IS THE DIFFERENCE BETWEEN YOU AND A YOUNGER RIDER LIKE MY BROTHER, MICHAEL MOSIMAN? I think the biggest difference between me and a rider like your brother or another young Pro is that he's still learning and he doesn't have to know how to test. I think the team should emphasis to their younger riders that if they can't feel a difference in the changes they're making, just be honest about it. I always felt like I needed to tell them something like "ah yeah it's better here, better there" and I used to change stuff and think because we changed something it should be better, especially because I was on a factory team.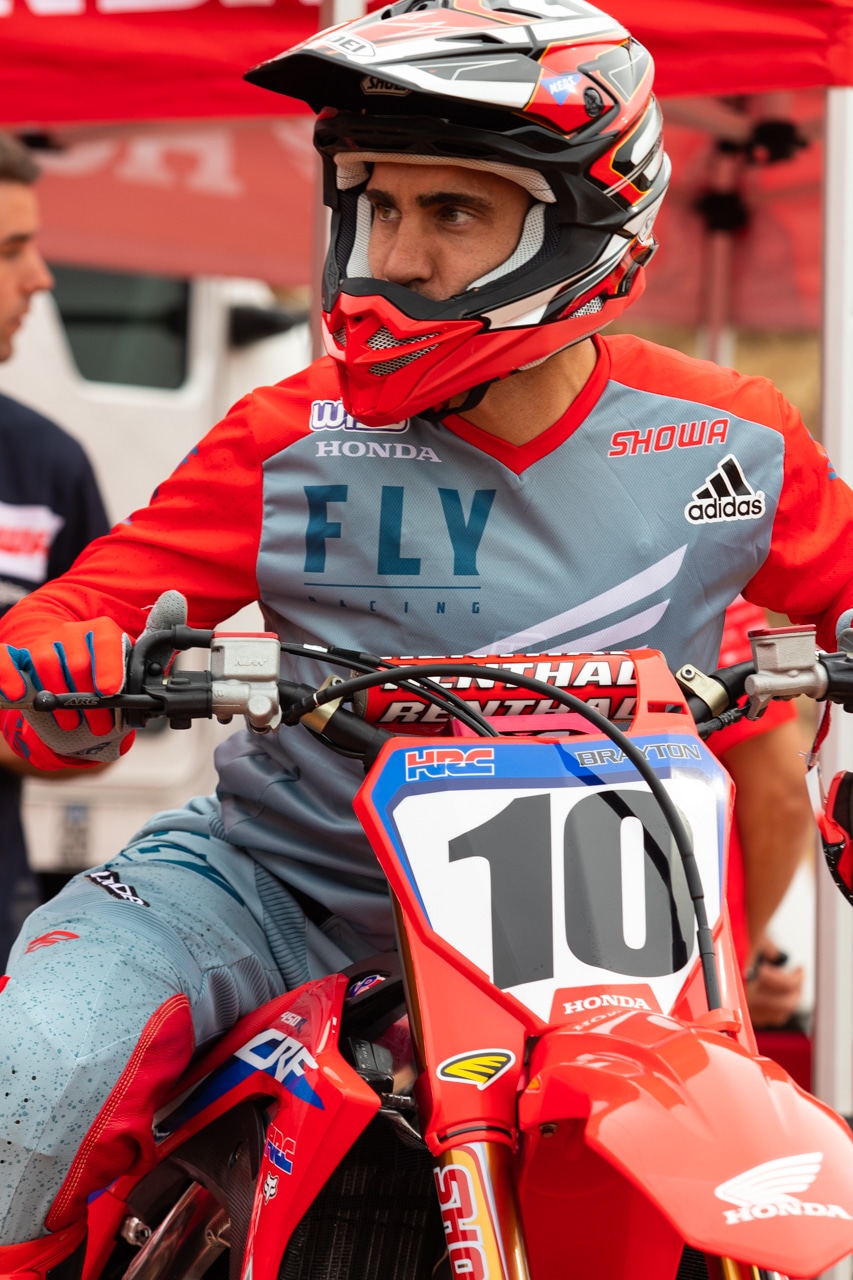 Justin Brayton is hopeful for the best season of his career in the 2020 Monster Energy Supercross series.
DID YOU EVER HAVE DOUBTS THAT YOUR BIKE WASN'T SET UP RIGHT WHEN YOU GOT TO THE RACES? When I was younger I didn't really know, I just rode it. Actually when I was on KTM I had some parts to change. I think that's the biggest thing. There's a certain time of the year where I would just like to learn for a month and just tell the team to throw anything at me so I can see if I can feel a difference. Sometimes I would tell the mechanics not to mention what they changed and other times I would ask what they did so I could look for it. Now I've been on so many different teams and bikes and equipment where I just know the direction that I want to go in personally. As far as my testing goes, it's a selfish sort of testing right now to set my bike up. But I can also thumb through a lot of different other things. 
Click here to check out our recent interviews with Ryan Dungey, Jeremy Martin and more.
HOW IMPORTANT IS THE SAG HEIGHT FOR YOU? As far as the sag goes, that is the one thing that I'm super super picky about. I don't know if I can feel a millimeter difference, but forsure if you get up into the two, three, four millimeter range and yeah I can definitely start to tell. It makes a big difference.