MXA INTERVIEW: JUSTIN BRAYTON IS READY FOR 2019 ANAHEIM SUPERCROSS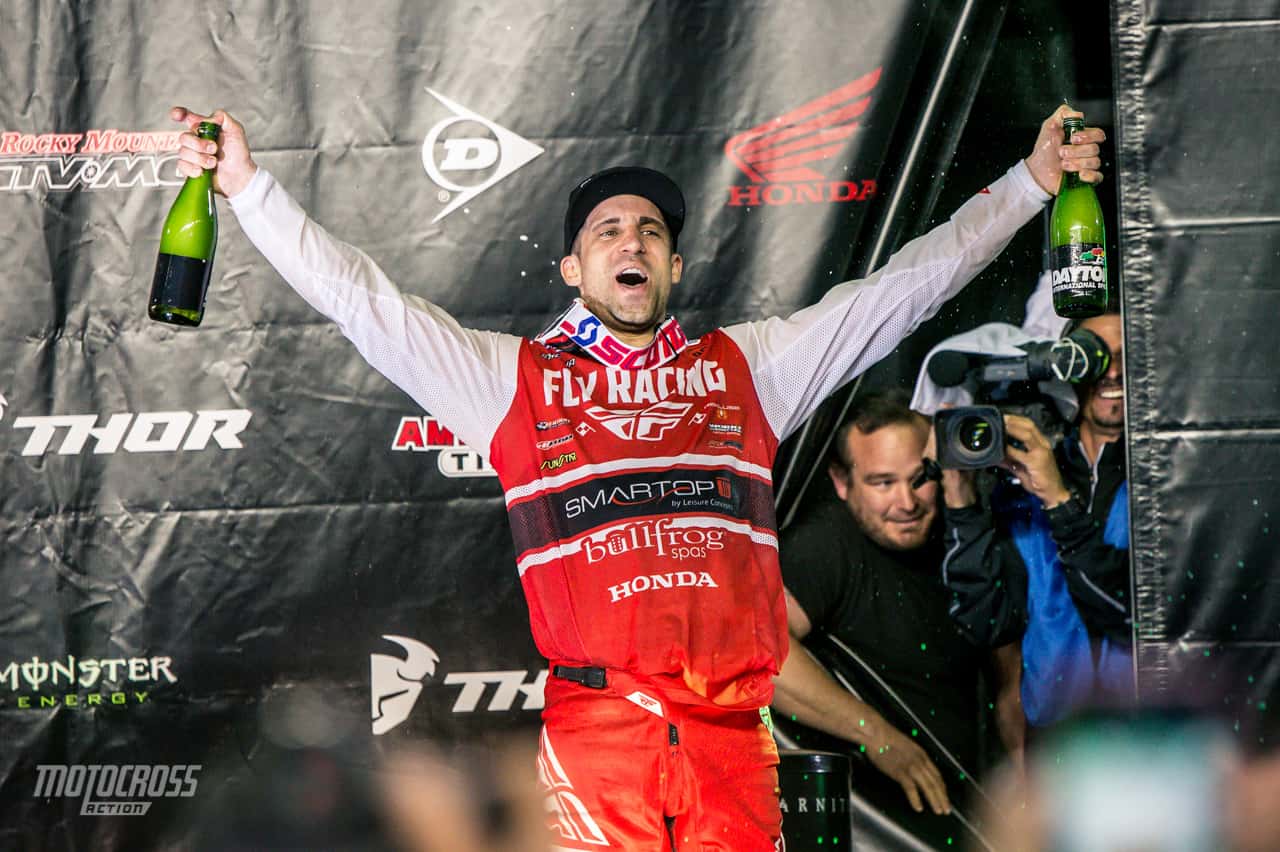 BY JIM KIMBALL
May of 2018 was the highlight of 34-year-old Justin Brayton's Supercross career. After winning the 2017 Australian Supercross Championship, he won his very first AMA Supercross at the Daytona round by holding off the hard charging Eli Tomac. While it may have been a surprise win to some, Justin, and those close to him, knew he had a win in him. With Brayton's recent schedule of skipping the outdoor motocross series, and then racing the fall' Australian Supercross Championship and all of the European winter Supercorss races (more like Arencross events), Brayton has discovered a new program for achieving success. Brayton has truly become the off-season Supercross success story. and it doesn't stop there, as this formula has created success in America.
JUSTIN, YOU WON ANOTHER AUSTRALIAN SUPERCROSS CHAMPIONSHIP. WAS THIS SERIES ANY DIFFERENT THAN PREVIOUS YEARS? It is always challenging going to a different country, and racing with guys that are so comfortable in their environment, but I am pretty familiar with Australia. I have done it the past two years and was pretty successful. It is a really cool trip for me and my family as I get to take my wife and two kids over there with me. But I would say this year was the hardest. Not so much on the track, but off the track. My whole family was sick pretty the whole time. The day we landed my wife got pneumonia, so she was in the hospital for a couple of days and it really started the trip off pretty rough, but we ended up getting through it. I later ended up getting pneumonia a few weeks after that, so pretty much three out of the five races, I was racing with either pneumonia, the flu or bronchitis.
HOW WAS IT BEING TEAMED UP WITH AUSTRALIAN BRETT METCALFE?  We have never been teammates in the states, but I can't speak highly enough about Brett. He is just an awesome person. He is a great dad, and the list goes on with how awesome he is. He is a great teammate.  Obviously, he is a legend in the sport, has been around a long time and done some great things. It was super cool to be teammates with him and we went 1st and 2nd in four out of the five rounds. The ones I won, he got 2nd and vice versa, so it was pretty cool to be able to do that and then he ended up 2nd in the championship. He ended up winning in his hometown and he had his kids there. It was really, really cool, and I actually said to people after the race was if I could plan a perfect year, I would win every race, except for one. That would be the race, which I would want Brett to win that because I know how special it was for him. He was super emotional as he has not raced in front of his hometown in years because he was in America so long. With me still winning the championship, it was still a really special night for him and his family. It was cool to be a small part of that, to be on the same team and see it firsthand.
WHEN THAT SERIES WAS OVER, WHAT CAME NEXT? It was Paris. Right after the last round in Sydney, the family and I loaded up and we headed back to Charlotte, North Carolina. I was there for two days and then I left for Paris for a two-night race there.
THAT IS A LOT OF FLYING. The hard part was that I had gotten pneumonia, then  flu, and then I mixed in a couple of head colds in there. I started to feel better and then I got bronchitis. At the last round, I had a 104 temp and I could barely talk. I could barely ride my bike and  knowing that I had to get on an airplane and fly 14 hours to LA, then another 5 hours to Charlotte to be home for 2 days, and then I was going to have to go to Paris to do a race. I  just took it day by day and hour by hour. By the time I got to Paris, I did feel a little better.  I was still sick but okay enough to be able to race half way decent, and to do fairly well there. I had 4th the first night and 2nd the second night.
WERE YOU CONCERNED THAT CONTINUING RACING WOULD HURT YOU FOR THE 2019 AMA SUPERCROSS SERIES? It obviously crossed my mind, but I would never pull out of a deal. If I commit to do something, then I am a man of my word.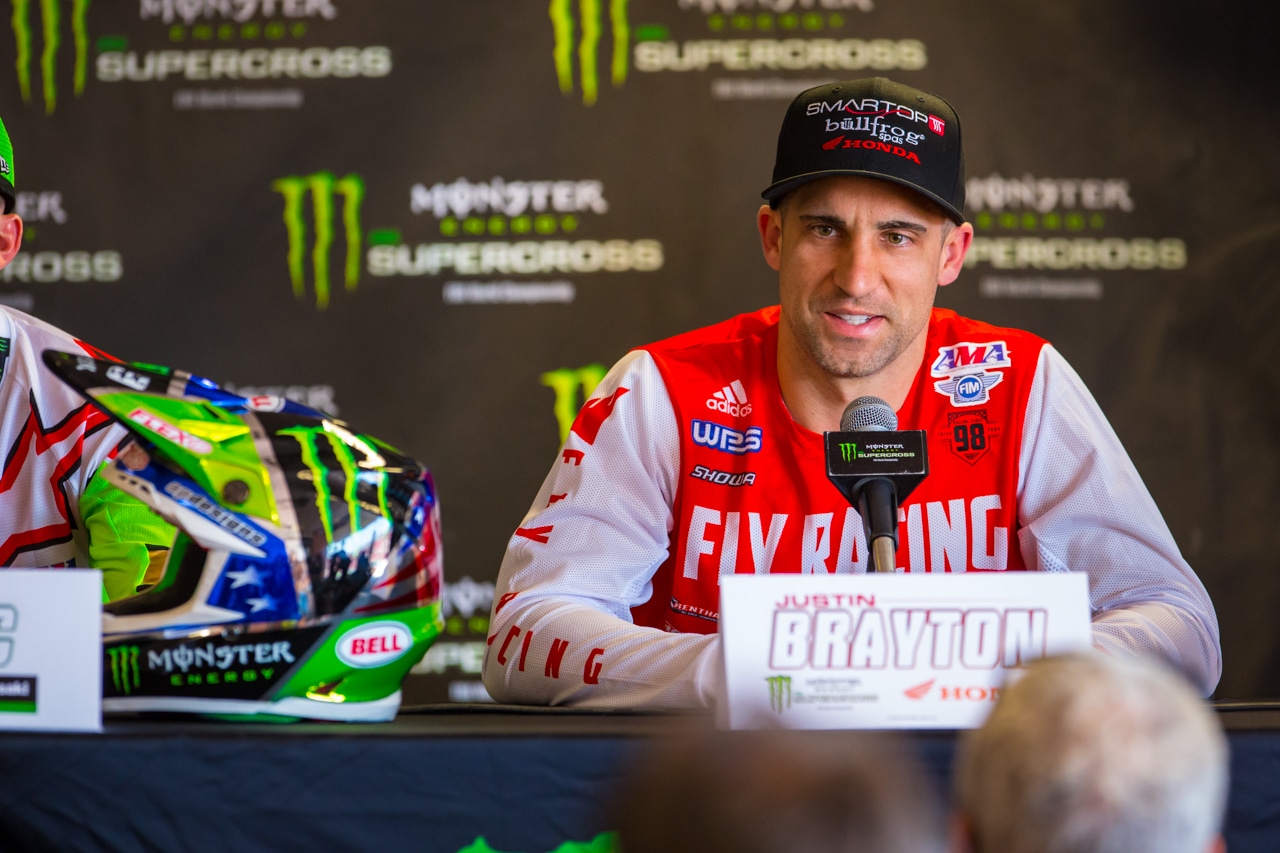 ARE YOU HEADED FOR CALIFORNIA NOW?  I scheduled a California trip last week, but it was raining out there and it just did not work out, so I will only go out the week of Anaheim to ride my race bike a couple of days and then race Anaheim. Then I will be flying back and forth between Charlotte and the races every weekend. I no longer have a house in California. It is honestly a lot easier for me to just get on an airplane and fly four hours. It is what I did all last year and I feel like it worked. It is really nice to be home with my family every week. 
HOW WAS THE VIBE AFTER WESTON PEICK'S CRASH IN PARIS? That was a huge bummer. The first 24 hours was super scary. It was not until after the race that we started to get some information. Everyone knew it was very serious.  It was an eerie feeling the whole weekend. I feel like whether you are best friends with another rider or not, there is just the comraderie between all of us, especially over there. It was really unfortunate and something that we never heard of happening before and it happen to him. He is probably the toughest guy in our sport and you knew it was serious when he was in the hospital. Knowing Weston, he will probably be on the track soone rather than later.
AFTER PARIS YOU WENT TO SWITZERLAND AND TOOK THE "KING OF GENEVA" TITLE AGAIN. Going into this year, Marvin Musquin and I were tied for the most all-time Geneva wins with four.  The two of us have been racing each other there for a long time. He would win one year, and I would win one year — we would trade off wins. This year, unfortunately, he was not able to go. But the field was stacked with eight Americans and probably the most talented international field that I have ever raced. 
DO YOU FEEL THE OFF-SEASON SUPERCROSS RACES GIVE YOU A HEAD START FOR ANAHEIM I? Yes. 100% I believe that for sure. With me not doing the Nationals all summer I can take a few months off and spend some time at home with the family.  By August or September, I am ready to get going on Supercross — which is my forte and what I love to ride. To be able to travel around the world to race and make memories with my family, it is honestly a dream scenario. At the end of 2016, I was going to be done. I had had enough with racing 12 months out of the year, and not doing that well in the Summer series. I legitimately feel that I can be the best on any given night anywhere, whether it is in America, Australia, Europe, I can win. To focus on that 100% has been awesome.  
DO YOU CHANGE YOUR SET-UP MUCH? I have not changed my suspension set-up in 1 ½ years, because I have raced on it so much that I know exactly what it is going to do. I know every scenario. I know what it does in little whoops, I know what it does in big whoops. I know what it does when the track is completely torn up, and I know what it does in hard pack. I believe that this is a huge advantage for me, because I just know it so well. 
HOW LUCRATIVE IS THE OFF-SEASON SUPERCROSS SCHEDULE?  I made more money than I have ever made in my whole career, even from when I was on factory teams, racing 12 months out of the year. I make quite a bit more money now than I ever have — and I have more money from sponsors than I ever have. At first, it was a pretty hard sell to go to companies and say, "Hey, I am not going to do the AMA National Motocross series," because we are so stuck in a one-track mind. I told the sponsors, "Look I can run around in 5th to 10th all summer and not get you any publicity, or I can go win all around the world. I can win in Australia, I can win in Europe." And I now say that I have won in America. While I am winning in the months of September, October, November and December, there is nothing else going on, so all the magazines are talking about is me winning, as there is really not much else to talk about in those months.
DO YOU FEEL AS GOOD AS YOU DID LAST YEAR ABOUT  THE NEW SEASON? Yes, I do. Going into last year I really felt good on the bike. I felt confident, but I was not sure. But this year, I know for a fact that I could line up at Anaheim 1, and win the race. I love that big stage, the big pressure, where everyone is in the same pressure cooker together. Last year, I went on a good run with winning that Triple Crown in Atlanta and winning the heat race and main event in Daytona. Then, I believe, I won four heat races in a row, and almost got the win at Minneapolis. 

AT ANAHEIM 1 ARE YOU FOCUSED ON WINNING THE RACE OR THE CHAMPIONSHIP? My mindset is that it's just another weekend, and just another race. What is different about Anaheim 1 than Indianapolis in the middle of the year? The only thing different is that it is the first race and everyone puts that pressure on themselves, so I try to look at it as just another race. I don't have ten more years of racing at the highest level, so whether it is one more or three more, I don't know, so I just try to embrace that. When I was younger, I could not embrace It because there was so much pressure. Now whether I get 1st or 15th, it does not really change much for me. It does not change my home life.  
BUT WINNING AN AMA SUPERCROSS IS A BIG DEAL. NOTTHAT MANY PEOPLE HAVE DONE. In the grand scheme of it, it is not that big of a deal, but when I was 25, it was a huge deal. It was my identity, so I know what a lot of these guys are feeling, I know what a lot of them are thinking. I am glad that I do not feel that way. I think that is why I am having the best years of my career. I can ride free and I can ride like it is another practice day. Moto Concepts and Mike Genova (team owner) do not put tons of pressure on me to get a certain result, which is awesome. Teams like that are very hard to come by.
WE CAN'T ARGUE WITH YOUR SUCCESS, YOUR SYSTEM IS REALLY WORKING. HAVE YOU THOUGHT ABOUT RETIREMENT? Oh, for sure I think about it, because I am a realist. I am 34 years old now, and this sport has taught us that 34 or even 30 is very, very old. But I am just going off how I feel mentally and physically.  I am committed through 2020 with the same program that I am on now. I will reassess after that, but I feel like I have two more years in me at the highest level. If that is all I have in me, I am totally fine with that. I do know that I will still take chances on Saturday night or during the week, but when that feeling goes away, it will be time to hang them up. Until these young kids can beat me I am here.