MXA INTERVIEW: JUSTIN BRAYTON TALKS 2018
Over the past two years Justin Brayton has won the Australian Supercross Championsip before turning his attention towards the AMA Supercross series. In doing so, the likeable Iowa native has developed an ideal situation for his growing family where he is able to spend his summers with his wife and (now) two daughters. As a side benefit to himself and family, Brayton has also helped bring factory Honda support to the Smartop/Motoconcepts Racing (MCR) team. This combination of Honda, Motoconcepts owner Mike Genova, team manager Tony Alessi, and Justin Brayton has brought new credibility to the already strong privateer team. While Justin was testing in California, we caught up with him before he heads back to his family in North Carolina.
BY JIM KIMBALL
FIRSTLY JUSTIN, CONGRATULATIONS ON WINNING ANOTHER AUSTRALIAN SUPERCROSS CHAMPIONSHIP. Thank you, it was another awesome year in Australia. And for me as a racer, and family man, it was a really cool opportunity to get to go over there to obviously race their championship, but also to take my family and enjoy a different country. It was a once in a lifetime opportunity to be able to do something like that. Their championship seems to be catching some steam again, growing pretty fast, and I am happy to be a part of that. Now being back in the States, a lot of people are talking about it, and several riders want to possibly do the same thing. We had a great time, and it was cool to make it two supercross championships. I'm already giving it some thoughts right now to hopefully go back, and try and make it three championships.
THE SERIES IS GAINING A LOT MORE ATTENTION. Yes, absolutely the series is growing. I went over there in 2010, and I think then it was really starting to grow. With Chad Reed involved in it then, it was really good for the series. It seemed to maybe fall off a little bit for two or three years, but now there are several different promoters that are really pushing it, and getting it back going. Me seeing firsthand how hard the promoters work, and how much they want to see it succeed makes me want to help them, gain more notoriety, and get more riders over there. It only helps everybody. It helps the manufacturers, the racers, and the Australian racing community. Getting worldwide getting notoriety now is pretty cool.
YOU HAVE BEEN ON A HONDA TEAM IN AUSTRALIA, WOULD YOU SAY THE TEAM IS SIMILAR TO FACTORY HONDA IN THE STATES? No it is not like the Factory Honda Team here only because the budget is so much bigger in America. It is the biggest Supercross series in the world here in America, so obviously they put more budgets towards that. As far as the resources in Australia it is on a smaller scale. I do not know exactly how many people are in Australia, but I think it is around 20 or 25 million people that live in Australia, and that is basically the size of Los Angeles, so its just a smaller demographic. But with saying that it is ran very professional, and they have big semi rigs. They look at the American Honda Team and want to do everything the same as them. They may not have the same budget, and they are not able to pay a rider like Ken Roczen or someone like that. I bring a lot of my equipment from the states, and also get help from Honda Australia. I think it is good for the Honda brand. It is always good for any brand to say they have won a championship series, so it is something special for me to be a part of.
AS A MEMBER OF THE MCR HONDA TEAM HERE IS THE STATES, ARE THEY INVOLVED WITH YOU RACING IN AUSTRALIA? I try to make it the same, so I have coordinated between Honda Australia, and MotoConcepts here in the states to try to get the equipment that I am racing in Australia the exact same as in the states. I think it only hurts me if I am on totally different equipment, and racing something totally different over there. Then I come back over here and I have to switch engines, suspension, and all of that. Thankfully, I have great support from Showa. I get awesome suspension from them that I am able to race here in the States, and take it over to Australia. I try to collaborate the two as much together as we can. The teams do not really work together in a sense; I just try and make it as similar as I can. That way when I come back to the States I am on the same thing. This year it was awesome. We are doing testing in California now and I am pretty much on the same exact set-up as I was in Australia, just a little bit different engine package, so that was my whole goal. I felt like it could be a great gateway into the AMA series if I was on the same equipment, I feel a lot more prepared this year. I feel great going into AMA Supercross Series this year.
I WOULD ASSUME THAT YOU HAVE SOME ADVANTAGE OF FINISHING UP ONE SUPERCROSS SERIES, AND THEN HEADING INTO ANOTHER. MUCH OF YOUR COMPETITION HAS NOT BEEN RACING SINCE THIS PAST AUGUST. Yes, I have always been a big fan of racing. Early in my career, I was always a really big practice  rider, and I would show up at the races, and whether it was mental or physical or whatever, I just could not get a good handle on racing like I would while practicing. So going all the way back to my 250 days, I tried to race every off-season race that I could, just to try to better myself as a racer. I am still working on that today, and that is one of the reasons that I raced throughout the off-season. With me not doing Outdoors now during the summer, I take a little break, then get back to it, and prepare for the Australian Supercross Series. That leads right into Geneva Supercross, which I did a couple of weeks ago, which leads right into the AMA Series, so I feel like I am already in good race form. The goal to show up to Anaheim 1 and not have as many jitters as everyone else. Knowing my bike better than everyone else in a race situation is a huge component of it. I have been on teams where we have tested like crazy in the off season and everything feels great, but then you show up to the races and it is like "man, what have we been doing for the past couple of months?"  It is just totally different than practicing. I have ridden tons of different tracks with different situations, and my bike feels great, so hopefully that will lead to good results at Anaheim 1, and moving forward to the rest of the series.
WHAT MADE YOU STOP RACING THE OUTDOOR SERIES HERE? To be quite honest, the past two years or three years of doing the Outdoors, I was getting towards the middle of it, and I was just getting so burned out. I did not have the mental capacity to want to strive to do the very best I could. It was difficult for me to have that extra little bit to give during the week. Outdoors comes quite a bit harder to me than Supercross. I have to put in a lot of work to have the confidence to show up and be a top five guy outdoors. There was a common trend developing for me going into the half way point of Outdoors where I kept having big crashes during the week, or even the weekend. I just felt like it was lack of focus, and maybe a bit of not wanting to be there. I never felt that during Supercross, I always felt very competitive each, and every year in Supercross. I feel like I am willing to work harder during those months, and I feel like I have a legitimate chance of getting a certain position, whether it is a win or a podium. Outdoors I felt like that was starting to diminish a little bit. I remember a specific phone call that I made to my wife after I was leaving Unadilla one year where I said, "I don't want to be here.  I just want to be done with Outdoors."  Nothing against Outdoor Series, I have done it for a long time, and I love all the tracks. I love everything they were doing but it was just the year around schedule. With me doing off-season races for Supercross, it was a 12-month schedule.
ESPECIALLY WITH GETTING MARRIED AND STARTING A FAMILY. I wanted to spend a little more time at home during the summer with my family. I have two kids now; at the time I had one daughter. I tried to work on it for a couple of years, but it was not really until I got hurt at Washougal a couple summers ago. At the time, I was seventh in points and had a chance to be top five overall, it was not like I was doing really bad. But I had a big crash at Washougal, and that was kind of the writing on the wall. I was trying to put something together where my dream scenario would be Supercross in the States and Supercross in Australia and it just so happened that American Honda and Honda Australia helped me make it happen, and here we are today. It is really a dream situation. If it was not for this, and if I was still doing Outdoors I think my career would be shortened by three to four years.
WHAT IS YOUR SUMMER LIKE NOW? I still ride, and race mountain bikes quite a bit during the summer, so I stay busy. But I just get to take a deep breath, not travel, and be at home on the weekends. Later we head over to Australia, and I get to take my family. It is an ideal situation, and something that I am very proud for the people that helped me along the way to put it together, and also myself to take that leap, and believe that I could put something together like it.  This is what makes me happy, to step outside of the box. It is something that no one has ever done or tried to do, and I am thankful for that for sure.
A COUPLE OF YEARS AGO YOU RELOCATED TO NORTH CAROLINA, IS THAT STILL YOUR HOME BASE? Yes, when I signed with JGR at the end of 2009, it was a requirement from the team that I live out there, and I was excited for it. I was really happy to do that, and moved out there at the end of 2009 and met my wife, who is from Charlotte. From then on, it has become home. When I went to Factory Honda I was still based part of the year out of Charlotte, and then when I was on the BTO KTM Team I still based myself out of Charlotte. I really enjoy it, my JGR days were some of the best days that I have had, and I am thankful for those guys to give me my first 450 ride. Moving there led me to meeting my wife. We have always had a place in California, just for the Supercross series, or when the weather got bad. But we recently sold our home in California, so Charlotte will be home base 95% of the year. I am testing in California right now. I will be here for a total of two weeks. I go home to Charlotte for Christmas, and then I will come back out here the week of Anaheim 1 and stay for two weeks. Then that is pretty much the only time I will be out here in California. The schedule is a little different this year. There are really no two California rounds back to back where we would not have to travel. So if I have to fly to races, I would much rather just fly from Charlotte, even if it is a little longer flight, to get to see my family during the week.
THE NEW 2018 HONDA 450 IS GETTING SOME GOOD TEST RESULTS BY THE MAGAZINES, DOES THAT TRANSLATE INTO YOUR RACE BIKE? Absolutely, it is always better when you have a better base model to start with. You really do not have much work to do from there other than to fine tune the chassis to your liking, and then fine tune the suspension and engine settings. But yes, the bike out of the box is amazing, and it only helps the race teams. It basically takes a lot of the guessing game and work out of trying to figure it out when the Honda guys have already done the legwork, and made such a good bike out of the box. That has been very positive for me this year, not having a new bike. Last year, I raced the 2016 in Australia and at Geneva, so I did not ride the new 2017 model until the middle of December. So I was really behind the game for the first half of the series trying to figure out what works for me. Like I said, this year everything is pretty much the same as what I raced in Australia, and I am very happy with the engine package, the suspension, and everything about it. This gives me a lot more confidence knowing exactly what I am going to have on the line at Anaheim 1, and knowing that I have ridden it for a long period of time. I have gotten to know it in any situation, so I have a lot of confidence right now.  I just need to keep it rolling, going into Anaheim with some confidence, and meet our goals.
THE MOTOCONCEPTS TEAM HAS BEEN AROUND FOR SOME YEARS NOW, BUT RECENTLY IT APPEARS TO HAVE BECOME A VERY LEGITIMATE TEAM. That was part of the process a couple of years ago when I was trying to put this deal altogether for myself, and what makes the most sense. If I am going to Australia, and I am doing Supercross only, obviously that does not fit every team.  With me going to Australia on a Honda, I spoke to the American Honda guys about it, and if I was racing there on a Honda, they wanted me to come back, and be on a Honda in the States. I did too, but at that time, what team made sense? They had some budget to where they wanted to support a team, and I know that they were in talks with several different teams, as I was too. We put our heads together, and what made the most sense here was MotoConcepts. I had a lot of talks with Mike Genova (MotoConcepts owner), and Honda had a lot of talks with him. That team made the most sense of supporting myself, and Honda supporting them. It was definitely collaboration and took some work, obviously to have it all intertwined, and work for me. Dan Betley who was the Honda Team Manager at the time, along with Mike Genova made it happen. Mike and I talked about wanting to go to the next level, and he felt like hiring me potentially could do that, not just as a racer but also more as a person. I respect him as a businessman, and as a person, and I have always gotten along with Tony Alessi really well. I just thought it was a good fit, Honda thought it was a good fit, and here we are today with a great team. We have Jake Weimer on the team this year, and Vince Friese is continuing to get better and better as a racer, and hopefully we get some good results for them. It has come together really well, and I am proud to have called on some people that I trust and respect. It is cool that over the years you create relationships, and people are willing to help you.
BOTH MIKE GENOVA, AND TONY ALESSI ARE REALLY INTO MAKING THE TEAM A SUCCESS, RIGHT? Absolutely, Tony is so passionate about the sport, and anything that I need for the motorcycle, it is 100% handled within a couple of days. He just wants the best for the racers, and is a great team manager for sure. He does things accordingly for the team, and every team has a budget that you need to stay within, but he is a racer's manager, and there is something special about that. He has seen a lot of things, and there have been times where his son Mike has been the best in the world. There has been years where he has literally been the best guy in the world on a motorcycle, and you cannot discredit that. Mike Genova spends a lot of his own money, and you cannot discredit that either. I think it is great for our sport, without guys like him and Coy Gibbs coming into our sport, and spending their own cash, there would be a lot less teams in the paddock! Genova likes things done a certain way, but if I am spending a million dollars, or whatever and it is out of my own pocket, I am going to want things a certain way too. Like I said, I respect him as a businessman, and a person as I do Tony. I have enjoyed being a part of their program, and hopefully continue to help it grow and continue to get some good results.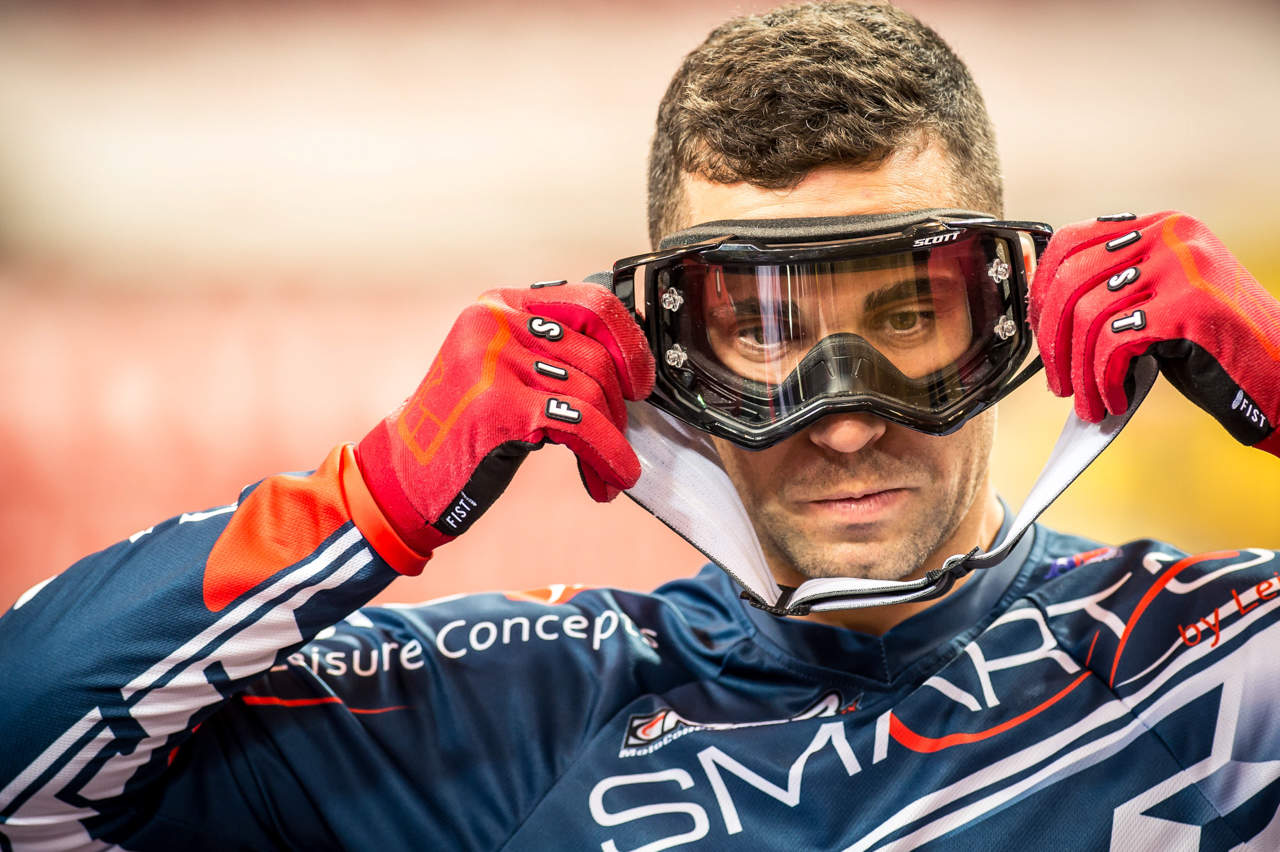 AS A WRAP UP JUSTIN, WHAT ARE YOUR THOUGHTS AS WE HEAD INTO ANAHEIM 1? I think a lot of people say that they just want to get through the first round, and eliminate the pressure. They don't want to put too much pressure on themselves, as they are not sure where they are. For me, I am the opposite, and I am not afraid to say it. I want to come out and be the best version of myself that I can be. I want to start off the series with a bang. I don't want to start out mediocre, and have to say "okay let's limp into the series." I would love to start it off with a top five and come out swinging. If that is not the case, we keep at it, and keep working. But yes, I want to come out of Anaheim 1 with a top five, and really set the precedence for how the rest of the season is going to go. I think if you start off slow, you may not have the respect from your peers, or you may lose some confidence in yourself or where you are at, so I want to come out swinging and be in the top five.