MXA INTERVIEW: JUSTIN BRAYTON TALKS HIS CONTRACT EXTENSION WITH MOTOCONCEPTS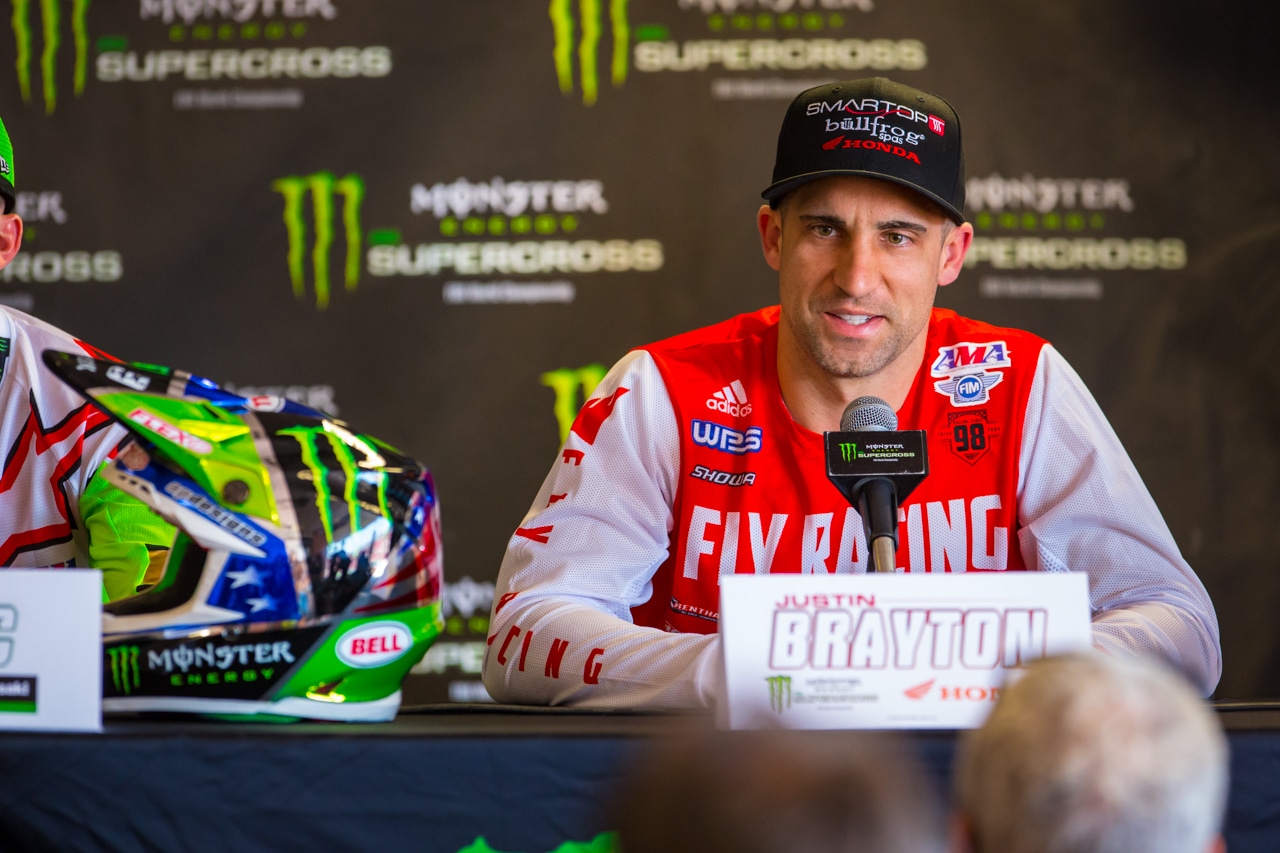 At the beginning of the 2018 Supercross season Smartop/BullFrog Spas/MotoConcepts Justin Brayton said he felt great and hoped to surprise dome people. Living up to his words, the 34 year old turned heads with top five finishes, podiums, and then a fantastic win at arguably the toughest and most demanding Supercross track of the year at Daytona. Locked in an impressive battle with Blake Baggett for fourth overall in the series, Brayton's 12th place result at Daytona let him down, but still his fifth overall in 2018 Supercross points remains one of the season highlights. With a recent contract extension announced in Las Vegas we could up wit Justin to capture is thoughts on his recent success.
BY JIM KIMBALL
JUSTIN LETS BEGIN WITH THE ANNOUNCEMENT THAT YOU WILL BE WITH HONDA AND MOTOCONCEPTS THE NEXT TWO SUPERCROSS SEASONS. I think the biggest thing is that the teams affiliation with American Honda and my relationship with all the guys there. Eric Kehoe was the Team Manager when I was there, and a lot of guys are still there, so my relationship has been strong over the years. And now our partnership together, whether that means us sharing information or just being a Honda supported team is very gratifying. The extent of the whole partnership is a little bit unknown, but my role will be to help my team get the best results I can. Also Honda will have access to me any time they need me as far as feedback or whatever it is. I think mainly that its just a great partnership together, and I think the MotoConcepts Team, along with both Mike Genova (owner), and Tony Alessi (Team Manager) proved that they are a first-class effort, and now Honda is rewarding us with some great support.
I'M NOT SURE IF HONDA REALLY SUPPORTED MOTOCONCEPTS UNTIL YOU JOINED UP, THAT IS A COOL TESTAMENT TO HONDA'S BELIEF IN YOU. I think so for sure. The timing of it was just great with me going to Australia at the end of 2016, and then creating that with the Motoconcepts, and then Honda jumping on board and supporting them. None of this happens without Mike Genova, sacrificing a lot of money out of his own pocket for years and years. My relationship with Honda definitely helped out. I think it is just the perfect crew of guys to really be together, and the perfect brand. I love the Honda motorcycle. I really enjoy working with those guys over there and they have been so open with the owner, Mike Genova, Tony Alessi, and everyone there, so it has been great to work with them and I am looking forward to the next two years.
I think it is just the perfect crew of guys to really be

together, and the perfect brand.
YOUR ROUTINE OF RACING SUPERCROSS, TAKING THE OUTDOORS OFF, AND RACING THE AUSTRALIAN SUPERCROSS HAS REALLY WORKED WELL HASN'T IT? Yes, absolutely. With having two kids and racing non-stop 12 months out of the year it was honestly way too mentally taxing, nothing to do with the physical aspect, mainly just mental. I could not show up every single weekend on my game. I felt like there were races that I did not want to be at during the summer. I wanted to be other places and spending more time with my family, so for me to create this schedule and to have the support from Genova and his team and Honda, it is really just the perfect situation for me. It helps me to be able to do some development during the summer. I really enjoy it and when I am ready to race at the end of September, it is go time. I feel like I have the mental capacity to really be able to throw down and then when January comes, I am fresh, ready, and I have a lot of development, and comfort on the bike. Maybe this will be the longest stretch of any manufacturer that I have been a part of, so that is a huge benefit. I think next year will be no different and, might even be some better results.
IT'S BEEN A VERY TOUGH SUPERCROSS SEASON FOR THE FACTORY HONDA HRC TEAM WITH KEN ROCZEN, AND COLE SEELY'S TERRIBLE INJURIES, BUT STILL YOU HAVE MADE THE BRAND PROUD. Absolutely, worldwide the guys on the Honda racing teams have had a tough go. But my riding on the team has been very reliable, and my results being in the top five nearly every weekend, and getting that Daytona win was a huge boost for everybody. For everyone at Honda and, of course myself. It was a career defining moment for me, and I think it was great for everyone. Even before Cole and Kenny got hurt, we had worked closely. One of my best buddies is Cole Seeley, so we had done a lot of preparation in the pre-season and I was piggy backing off their program, and helping where I could. At the beginning of the year, at times there were there three Hondas in the top five. That was really cool for me to be that on pace with them, and be training buddies with Cole.  It is really unfortunate that both of them got hurt, but I was happy to be able to pick up the slack a little bit, and get some good results.
WE TOUCHED ON THIS, BUT WINNING DAYTONA HAD TO BE SO AWESOME WITH THE PRESTIGE OF THE RACE, AND THE UNIQUE COMBINATION OF MOTOCROSS, AND SUPERCROSS. THAT WAS A HUGE WIN FOR YOU! Absolutely, that was huge. Like I said, that was a career defining moment to finally get a win after 130 tries. To do it at Daytona was just amazing, so I could not be happier at this point in my career, doing it and enjoying it with my family, and everyone. Obviously, I would like to have gotten one a while ago, but I could not be more proud and happy the way this all went down.