MXA INTERVIEW: JUSTIN COOPER TALKS ABOUT MOTOCROSS OF NATIONS, HIGH SCHOOL AND MORE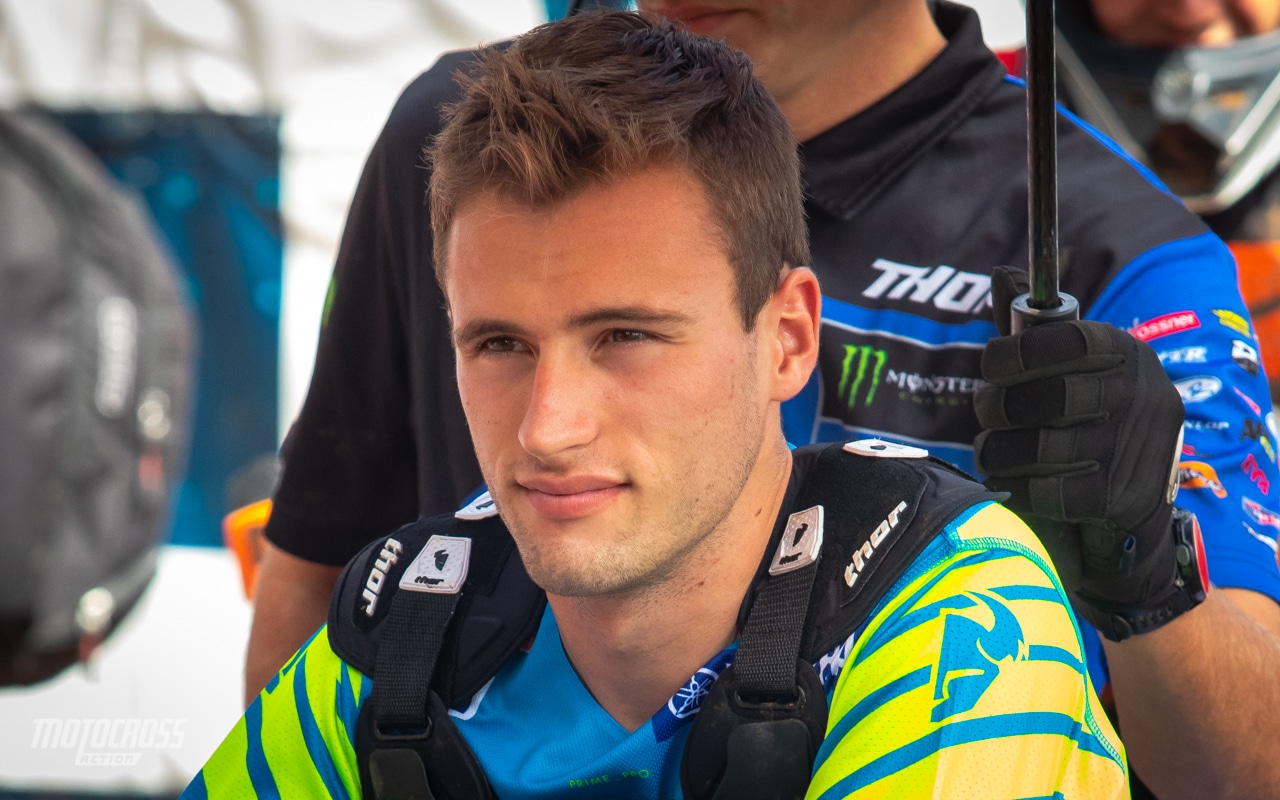 Justin Cooper has been chosen to represent America at the Motocross of Nations after only his second season of racing as a Pro. 
TEAM USA'S JUSTIN COOPER GOES IN-DEPTH ABOUT HIS SEASON, HIS GOALS FOR THE MOTOCROSS OF NATIONS AND MORE
It seems just like yesterday that Justin Cooper took the coveted AMA Nicky Hayden motocross Horizon amatuer award in 2017. Signed by the all-powerful Star Racing Yamaha team, the New York native turned pro and raced the final three outdoor nationals just after Loretta's. Immediately, the now 23-year-old who took a non-typical approach to a motocross career, was a podium threat. Fast forward to 2019, and Justin Cooper was in the battle for championships all year long. Now settled in Murrieta, California, Cooper finished second in Supercross, and third in the motocross championship. It was at the Ironman finale when we tracked him down to hear his thoughts on the just ended motocross series, and his upcoming ride for Team USA at the Motocross of Nations. 
BY JIM KIMBALL
ONE THING THAT STANDS OUT ABOUT YOURSELF IS THAT YOU LED A RELATIVELY NORMAL TEENAGE LIFE, MEANING YOU WERE NOT ONE OF THE MANY KIDS THAT RELOCATES TO A TRAINING FACILITY, AND IS SCHOOLED THERE – YOU ACTUALLY WENT TO HIGH SCHOOL RIGHT? Yes, that is true, and actually I have had a bunch of kids that have grown up racing with factory rides where they would always smoke me and now we are in the Pros and they are not even close. I am up on the podium and they are getting like 15th and 20th. I think they are used to it, and they are spoiled coming up through the ranks. They just take it for granted, where you have someone else that does not have a ride, and they are working hard for what they have to get. They do not have it given to them, and that is pretty much all I can say on that. They just take it for granted I guess. Unless you have someone that is really dominant, and it is obvious that they are still motivated to go do their thing. If they are dominant in their class every year, those guys are going to be good. But yes, you can see some that are slowly decreasing on their way up with a factory ride. They are not motivated enough, and they are taking it for granted, I feel.
After grabbing multiple Moto wins, Justin Cooper earned his first 250 Pro Motocross Overall win at round five of the season in Florida. 
YOU MAY NOT HAVE WON THE CHAMPIONSHIP, BUT YOU HAVE HAD A SUCCESSFUL SEASON. Yes, it has gone pretty much according to plan. It was really just a couple of off races that put me out of this thing. But I pretty much podiumed the whole season and was always looking to finish up on top.
IS THERE ANYTHING THAT YOU CAN POINT TO LIKE "HEY THIS IS SOMETHING THAT I SHOULD HAVE DONE DIFFERENTLY"? No, because I felt like I have pretty much given it my all at every round. I did not flow well at some tracks, and had some off days, but that is part of it. You have to make the best of it, so maybe when things were not going the best, I just tried to have that diehard attitude, and make it work somehow. I was always learning things that I could put towards next year, and even Motocross of Nations.
Twenty-two year old Justin Cooper wasn't homeschooled like most top Amateur riders. He also didn't have a factory ride until he turned Pro. Justin worked hard to earn a spot on the Star Racing team and it seems like it has helped him in the long run.
OVERALL, IT DIDN'T APPEAR THAT YOU HAD REALLY HAVE ANY WEAK POINTS. In Outdoors we get muddy days, hot days, dry days, and all different types of dirt. You have to be good at it all. You have to be on your game every day, that is all there is to it. You have to make your bad days your good days. And on your good days, you have to go out there and dominate. If you want the championship, you have to go out there, finish on the box, and you can't really put yourself in a hole and get tenth place finishes some days. You have to step on that podium and make it work. So, I'm not really taking anything away from myself. I think I gave it my all this year and gained a lot more experience to put in the back of my head. What doesn't kill you makes you stronger, you just keep working at it, and I will definitely be back for the title next year.
WHEN YOU LOOK AT YOUR PRIMARY COMPETITORS BEING ADAM AND DYLAN, BOTH THOSE GUYS HAVE BEEN RACING LONGER THAN YOU. Yes, this is my second Motocross season, my first full year of racing Pro, and I am going to represent my county at Motocross of Nations. So, things are not going bad for me, that is for sure. At times it's just a lot of pressure that I put on myself from everyone around me, and there is a lot of hype around me, I guess. I definitely put myself in the position to fight for this championship towards the end, and it's something to work on for next year, but overall, I'm happy. I have been on the podium nine out eleven races, so that is a pretty good percentage. It is a good place to be, but I would like to be up there contending for more overall wins.
Justin Cooper and the rest of the Star Racing Yamaha team can be found training at the local tracks in Southern California while most of the other top riders train in Florida. 
YOU BRING UP A REALLY GOOD POINT. YOU HAVE DONE SO WELL SO QUICKLY. I IMAGINE THERE ARE A LOT OF EXPECTATIONS ON YOU, HAS THAT AFFECTED YOU? For sure, no matter what anyone says, it is me going out there, racing, always doing my best, and always fighting to be up front. Some days do not go according to plan, but the days that go according to plan, I am up on the podium. Then some days, I didn't have the speed to run with those top guys, all it takes is just being a little bit off that day. If you don't start in front of them, you are not going to have a chance with them. They are going to pull away from you so, it is all about learning and getting better as a rider. It's taking on those challenges, that make you stronger and better as a rider in the end.
IT IS INTERESTING THAT THERE ARE SO MANY FAST GUYS THAT YOU ARE TEAMED UP WITH. It is a pretty strong team this year, I think everyone is realizing that, and it is cool. It is great to have a team that is so strong. Not one rider, or two riders doing it on the team, we pretty much have four or five guys up front sometimes. It is definitely special and good for the team. Of course, I want to be the best guy out of everyone on the team. I am doing my best and giving my all, every time out there.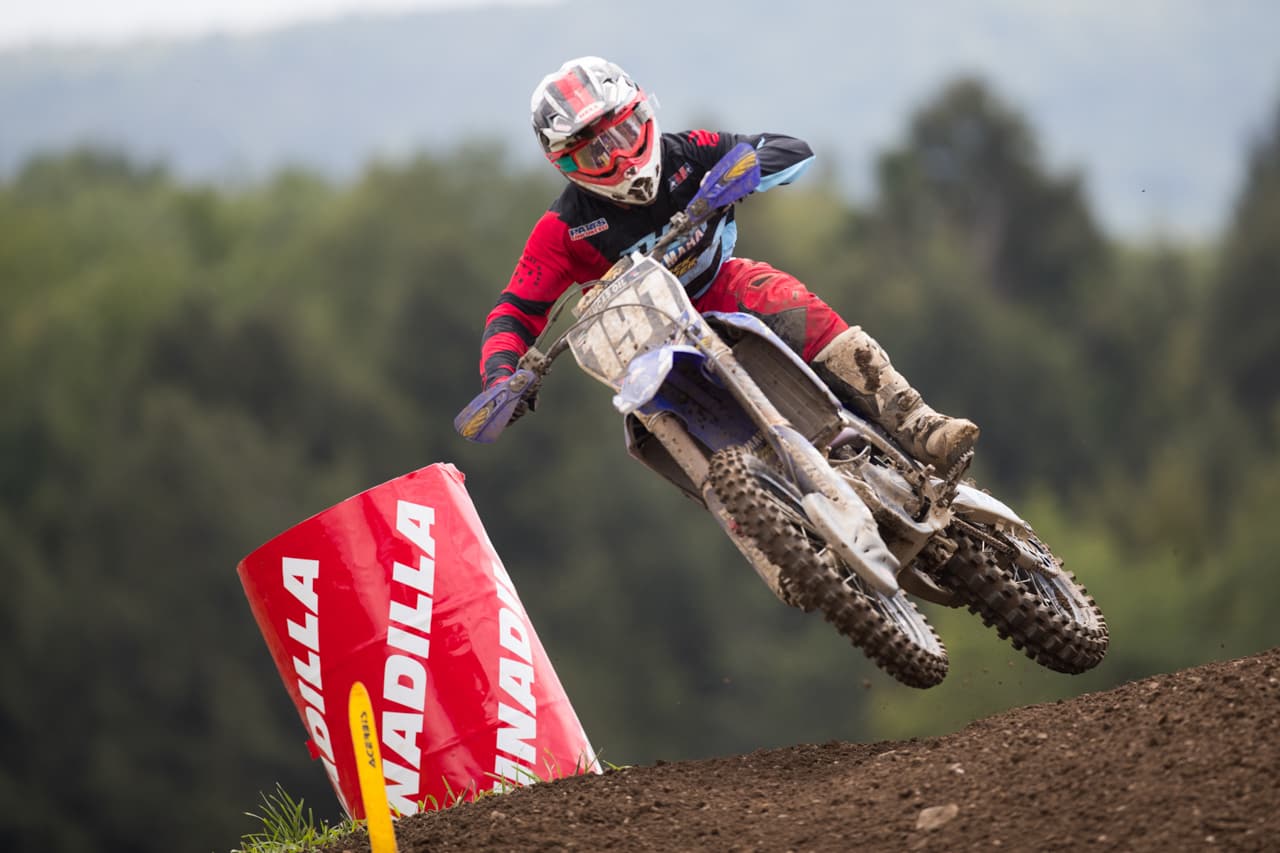 Justin Cooper signed with the Star Racing Yamaha team after the 2017 Loretta Lynn's Amateur National, just before the final three rounds of the 2017 AMA Outdoor National Championship.
YOU AND DYLAN, PARTICULARLY, HAVE RACED VERY HARD TO BATTLE FOR POSITION AND THE CHAMPIONSHIP. HAS YOUR RELATIONSHIP CHANGED MUCH SINCE YOU FIRST SIGNED ON? To be honest, no. We are friends off the track, and we race on the track. We both respect each other as riders, and that is really all there is to it. It is just like every other teammate. Every other team has teammates that battle each other. You do all the battling on the track, and usually we are friends off the track. Of course, if we were battling for the championship together, then it might get a little hectic with all that on the line, but otherwise no, we respect each other, and we are out there doing our own thing.
Read our latest interview with Dylan Ferrandis by clicking here.
WHAT ARE YOUR THOUGHTS ON TRAING IN CALIFORNIA VERSUS FLORIDA FOR THE OUTDOOR MOTOCROSS SERIES? I don't prefer training in Florida, it's too hot there. I think you are just going to get defeated in Florida when you are working hard. You are going to burn yourself out. I do agree with maybe going there for like four weeks when we go East, in between Thunder Valley and Washougal maybe. A quick four weeks in Florida, but I like California. We are living there, and all we need is there. Yes, the travel is a little longer, but everything is working out. Everything is pretty organized; we get our program done and we are not training in 110-degree weather with all that humidity. It is just kind of ridiculous to me to stay in Florida. This year, we have had maybe one or two hot races. It is not like we need to be in that hot stuff all the time just killing ourselves for one or two hot races. I think we are just fine in California.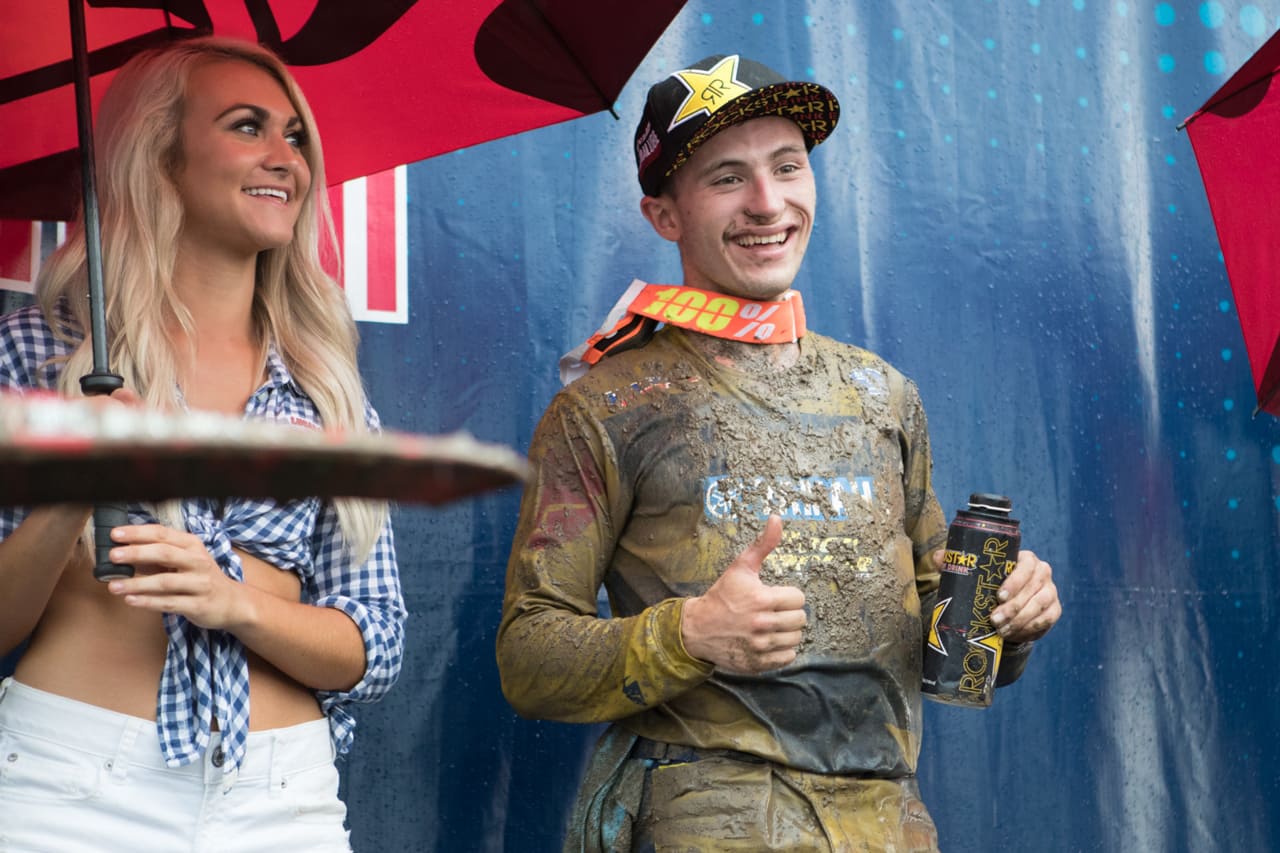 Justin Cooper made his Pro racing debut in his home state of New York at the 2017 Unadilla National and he earned a 5th overall with 12-2 Moto scores.
LET'S SWITCH TO THE MOTOCROSS OF NATIONS YOU MENTIONED EARLIER. YOU HAVE TO BE ONE OF THE LEAST EXPERIENCED RIDERS TO BE ASKED TO PARTICIPATE. Yes, I'm in my second Pro season, so that is about as young as you can get in your Pro career to get the chance, besides your rookie year. I'm excited, and not scared at all. I'm just living in the moment, and pretty stoked that it has happened like this. So, it's full steam ahead, and I'm not going to back down because of being inexperienced at the event.

YOU REALLY WANT TO RACE IT DON'T YOU? Yes, even if it is a lot longer of a season. You don't get much of a break. Everyone else wants to go back and do nothing. I am not saying that I don't like a vacation, but I would rather go represent my country for sure. It is a cool experience and it is a honor to get picked. I am definitely not backing down. I am going to go there and do my best. It makes a long year out of it, but I would not want to be doing anything else.
Justin Cooper's Star Racing Yamaha YZ250F gets some service at the Washougal National.
I UNDERSTAND YOU ARE GOING THERE EARLY TO PREPARE TOO. Yes, because it is sand riding, you have to prepare for what you can. We are going to go to Europe two weeks earlier, get on those deep sand tracks, and we are going to send it.
LISTENING TO YOU JASON ANDERSON AND ZACH OSBORNE AT THE PRESS CONFERENCE, IT SEEMS THAT YOU GUYS LIKE TO TAKE IT MORE AS A TEAM EVENT THAN AN INDIVIDULAL RACE. Yes, that is the main focus this year. Team USA was pretty spread out last year at Red Budd, so it was not really much of a team effort. So, getting us pitted together is the main focus this year, and that is what is really most important in this race. It is a team race, not an individual race, and we have to work together.
WHAT ARE YOUR GOALS FOR THE EVENT? Weare going there to win. We don't want to waste all of our time to come home in fifth. A lot of hard work is going to be put into it, we are going to do the best we can, and may the best team win.