MXA INTERVIEW: JUSTIN HILL EXPOUNDS ON HIS CAREER, TIME AT JGR AND HIS NEW HONDA FOR 2020 SUPERCROSS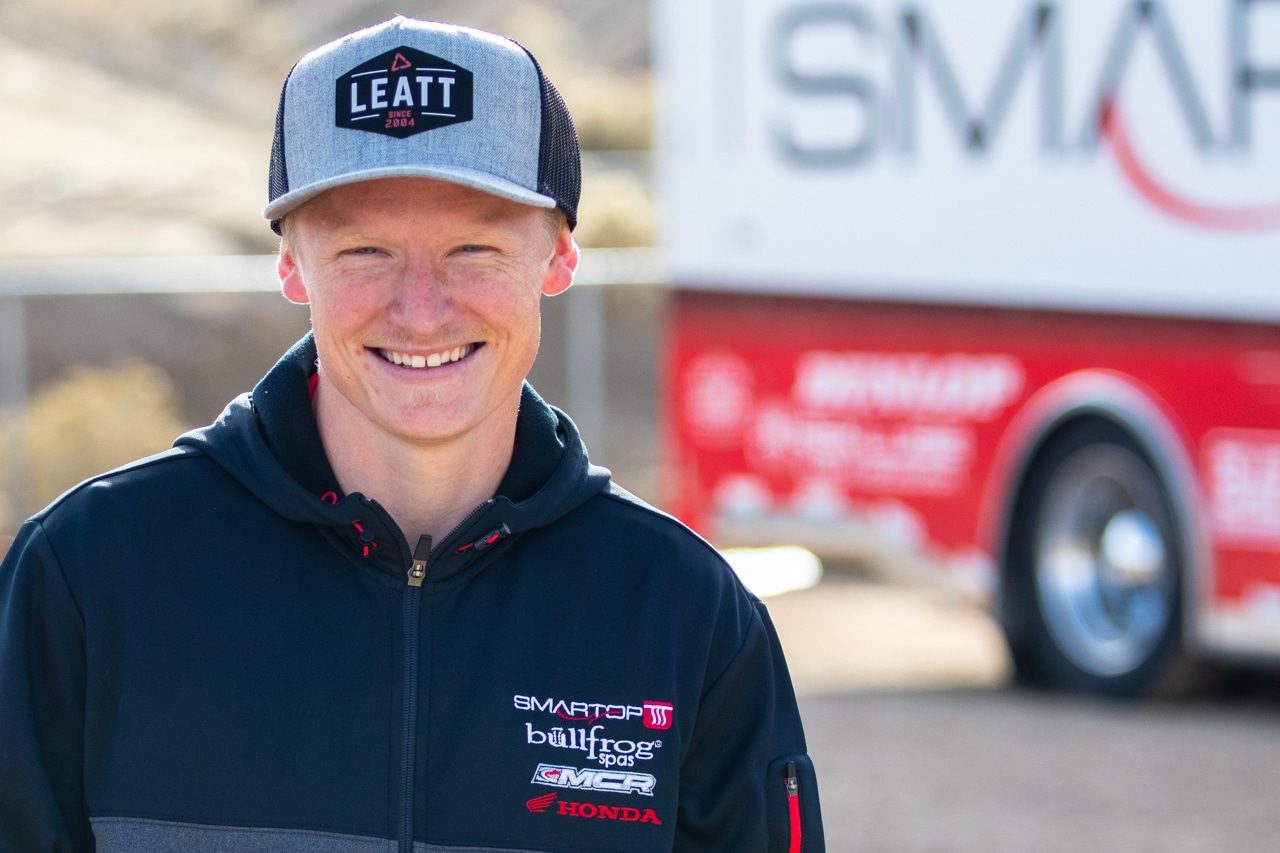 MXA INTERVIEW: JUSTIN HILL EXPOUNDS ON HIS CAREER, TIME AT JGR AND HIS NEW RIDE FOR 2020 SUPERCROSS
After spending two years with the JGR MX Yoshimura Suzuki team, Justin Hill has switched colors and now he has found himself under the Smartop Bullfrog Spas Motoconcepts Honda team for the 2020 Monster Energy Supercross season. The 2017 250 West Coast Supercross regional Champion won his title while racing for the Pro Circuit Kawasaki team, but when Kawasaki didn't offer him a 450 ride, Hill signed a two-year deal with the JGR MX team which gave him a 250 spot for 2018 and a guaranteed 450 ride for 2019. Unfortunately, injuries and other issues hindered his time at JGR. Justin and the team decided to part ways for 2020. Now, with a new Honda CRF450 under him and lots of time battling with his new teammates at the practice track, Hill is feeling better than ever going into the new year. 
Words and photos by Josh Mosiman.
GIVE US A RUN DOWN OF HOW THE LAST COUPLE YEARS WERE FOR YOU. The last couple of years have been kind of a painful learning curve, but probably one that I needed. I think I'm in the position now, where I have rebooted my understanding of what needs to be done to get the finishes I need. Definitely the last two years were tough. I struggled with quite a few things. My mind, over everything, is probably the most prominent of all the little struggles I had. I also struggled with a lot of bike set up, and then me dealing with that in my head, trying to figure out what it was and what it wasn't. I think that now, I have kind of came to the realization of what I need. I hope it shows this year.
Justin Hill on his new Smartop Bullfrog Spas Motoconcepts Honda CRF450.
HOW HAVE YOU BEEN FEELING DURING THE PRESEASON TRAINING? I've been feeling awesome. I've been really, really good at the test tracks and everything and I've been feeling good racing too. The overseas races were tough. They are offseason races and when you're there, you're just trying not to screw up. They're a little bit different. Part of the change in myself that I'm looking for this year is the "drop the hammer" mentality where I'm really hurting for the positions and trying to push really hard. That's what I've been missing from my racing, so that aspect of my riding hasn't really shown it self yet because those overseas races are meant to be cautious anyways. And that probably plays into my hand because I probably ride better cautious than most of the people I suppose. Those races went pretty well. I'm definitely looking forward to these races in the states where I can really sink my teeth in and drive the nail.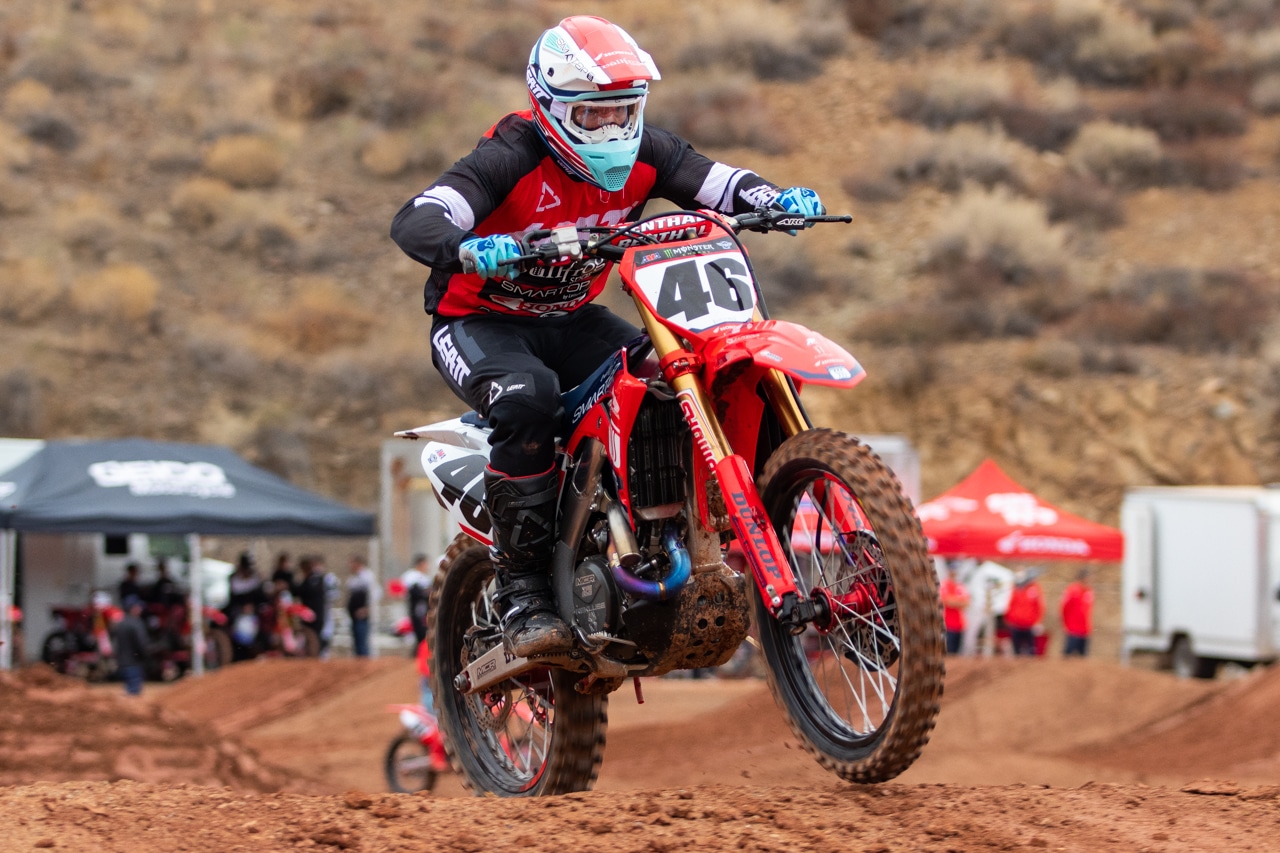 Justin Hill didn't hold back his opinion during our interview. He's always open about where he's at. 
WHAT'S SOMETHING YOU'RE DOING DIFFERENTLY NOW PREPARING FOR 2020? There's quite a few things. There's a lot of little things in my everyday life that are quite a bit different now that are more positive to my mind set. But I think the biggest thing on the riding side of things is that I'm riding more motos with faster guys now. I don't think I've rode this many motos, with teammates or people that are going fast before. I don't think I've put this much time ever just dog-fighting, lap time for lap time with the guys like this. I think it's helping me a lot because I wasn't that great at it at first, and I've gotten much better. I would say that's the biggest day-to-day motorcycle change.
WHAT ABOUT OFF THE MOTORCYCLE TRAINING? Off the bike, things have pretty much stayed the same. I've been doing a lot of running. Early in the preseason I was working with Charles Dao (Icon Sports physical trainer) quite a bit doing some striking stuff and some stuff that I really enjoy. Then obviously as we get closer to the season I have to shake the arms out a bit and I just get back to running and doing everything. There's a couple little things like that, that go into my program.
Justin Hill and his teammate Vince Friese will wear Leatt Gear from head-to-toe during the 2020 Monster Energy Supercross season.
HOW DO YOU FEEL ON THE HONDA RIGHT NOW? Lately I feel like that thing is extension of my myself and it's feeling really, really comfortable. In the whoops it's really good. Last year the whoops were kind of a nightmare for me. At the races overseas, the whoops weren't as big as ours in America, but the dirt is so much softer and it comes into the stadium all frozen and so the whoops developed to be so nasty. Ask anybody who was there, how they developed was nastier than any Supercross over here. Looking at them, I was like "whoa dude," but I felt really good in them.
"I'm in kind of a euphoria feeling with how comfortable I am in the whoops. I just want to keep that going."
WHAT DO YOU THINK OF THE SMARTOP BULLFROG SPAS MCR TEAM AND THEIR TEAM MANAGER, TONY ALESSI? So far I'm actually quite impressed. When it comes to what is required of a team, day to day, they have exceeded my expectations for sure. I've always thought that Tony had his little tricks and everything and I've always thought he's had some stuff up his sleeve. But Tony's good about the simple things. He's kind of a master maintenance guy. Everyone is up-to-date with what they need. Tony is the man, he's been taking really good care of me and I'm quite happy. It's definitely way different than anywhere else.
It all feels like it's off the books, even though it's not. Even though what we're doing is legit, it feels off the books. It definitely fits me, it fits me really well.
WHAT'S SO DIFFERENT ABOUT THE TEAM? It all feels like it's off the books, even though it's not. Even though what we're doing is legit, it feels off the books. It definitely fits me, it actually fits me really well. I can definitely make the collar fit right and put the smile on and do the corporate thing. And I enjoy that too and I can do that really well because I have those qualities if I need them. But at the same time, they don't really pressure me to worry about much. I just show up and do my job. They just want me to do my job well and they ask me often about what they can do better to get me to do my job well. I'm impressed man, I'm impressed with the bike too, with the things they have done so far.
WHAT ARE YOU IMPRESSED ABOUT ON THE BIKE? When I showed up, I felt comfortable right away with the bike they had. We have great suspension guys which helps. We've been working with Cos at Showa and he's great. I met Cos a long time ago when my friend Matt Bisceglia was at Geico Honda because he was at Geico. I think he might still do some Geico stuff, but he does our stuff now. I've really found a pretty good suspension home. This is the longest I've rode a bike—probably ever—without wanting to make a change. It does a lot of good things and I'm in kind of a euphoria feeling with how comfortable I am in the whoops. I just want to keep that going.
Justin Hill having some fun at the 2020 Honda media day, while Ken Roczen chats with his mechanics in the background.
HOW MUCH SUPPORT DOES THE TEAM GET FROM FACTORY HONDA? We get certain things. We are under the Honda umbrella so we get a lot of stuff. Obviously we are apart of the program where we can ride the Honda test tracks and we get a lot of support from every end. But as far as the motorcycle is concerned, I would have to talk to Tony and have him give me some flash cards to figure out what we use that's Honda and what isn't. We have a lot of our own things for sure which is cool because to my knowledge we aren't really tied to any components. Tony has made quite a bit of changes to improve our bike. I know we have XPR Engines, which is obviously not a factory Honda thing, but our engines are strong and they run really good so I'm down with it. We aren't developing our bike with Honda, so I'd imagine we have some differences.
HAVE YOU RODE WHEN KEN ROCZEN AT ALL YET? I've only ridden with Roczen one time and that was just on the media day with him. Me, Malcolm (Stewart), and Vince (Friese) are riding together all the time and I think we're going to have a really strong team. I think when it comes to the actual racing, I think people are going to be really surprised with how often these Hondas are upfront.

Justin Hill at the 2020 Honda team intro.
WHERE YOU SURPRISED AT ALL WHEN YOU SAW MALCOLM AND VINCE UP FRONT AT MONSTER CUP? No, I wasn't surprised at all. It was cool for me though, because I had only ridden the bike five or six times and because I was kind of in a gray area with my shoulder injury, I opted out of racing Monster Cup. Tony and I decided early on that Monster Cup was a little too soon. But when I showed up to the race and I was watching and observing with the whole team. I was just battling with Malcolm and Vince during the week in practice and then to see them out there battling for the wins, I was like "dog, I probably should've been out there." I mixed it up with them quite a bit overseas too.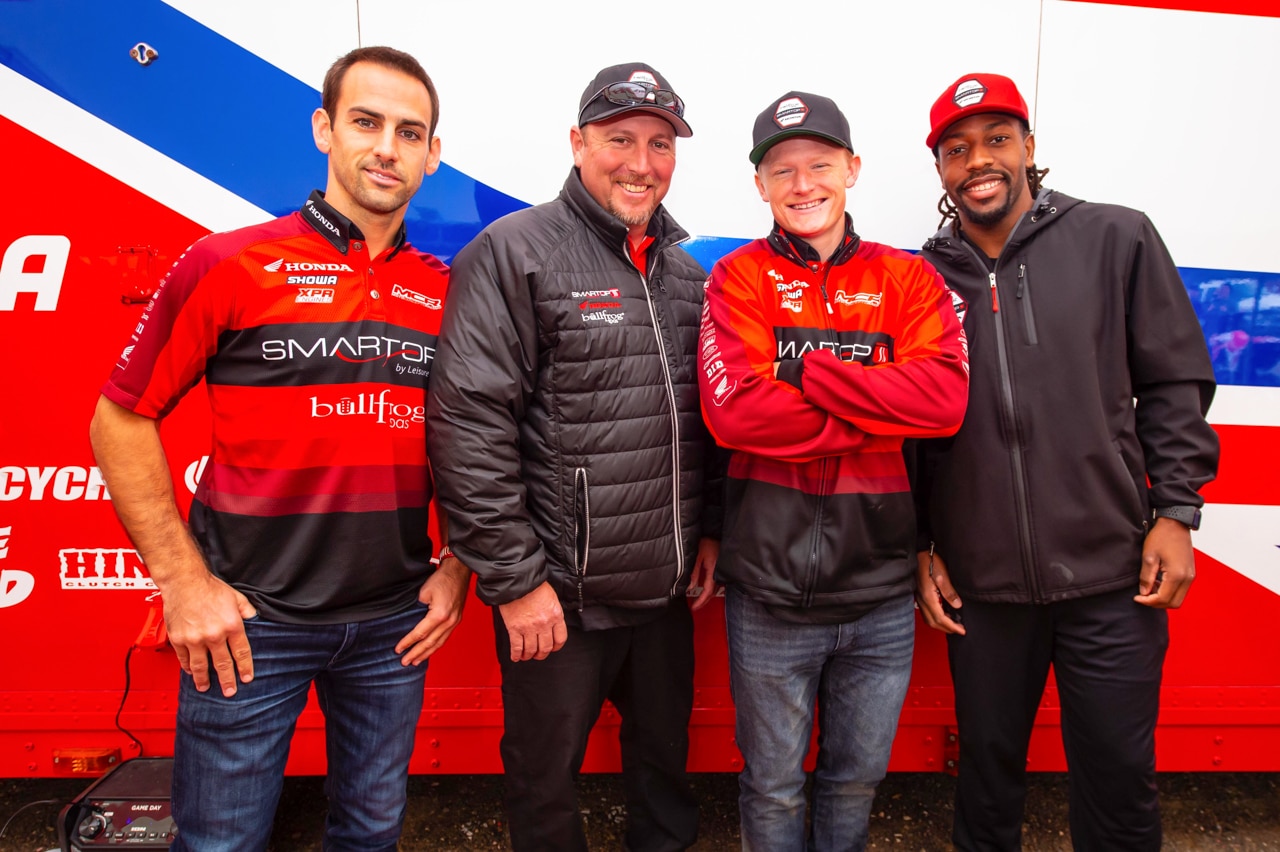 From left to right: Vince Friese, Donald Reece, Justin Hill, Malcolm Stewart. -Photo by Cudby
HAVE YOU HEARD ABOUT THE MCR TEAM DINNERS? I'VE HEARD THE TEAM GOES ALL OUT ON BIG DINNERS THE NIGHT BEFORE A RACE. I've been to all of them since I joined them team. I've only been to one with the team owner, Mike Genova and that was in Vegas. He didn't go to the European rounds. They're interesting, they're like a team intro every Friday. Everybody gets up and talks about what's going on and it's interesting. I don't want to speak too much on it because I've only been to one with Mike, but it was really cool.
YOU'RE A TALENTED MUSICIAN, BUT OFTEN TIMES AFTER A BAD RESULT, SOCIAL MEDIA CRITICS WILL SAY THAT YOU AREN'T FOCUSED ENOUGH ON RACING. HAVE YOU PUT YOUR MUSIC ON HOLD NOW? Here's the thing, I don't do anything because someone tells me not to. I truly am busy preparing for the 2020 season right now, plus the music I have now I truly feel is better than what I've produced before, so I want to wait before I put it out until it's really good. However, I have been really dedicated to riding. So it actually, for real, has been an after thought ever since I started riding again after my injury. But that's because my riding has taken the front seat, not because people have told me they don't like it. I love music. It's kind of like asking a fish not to swim in a way, it's a piece of my life that I'm not going to give up because some dork told me to, there's no way. But if I feel at times that it's affecting me and what I'm doing, then it's up to me to decide and do. Every week I do something that reflects my sport, rather than what I want to do. But that's called life and being dedicated to something.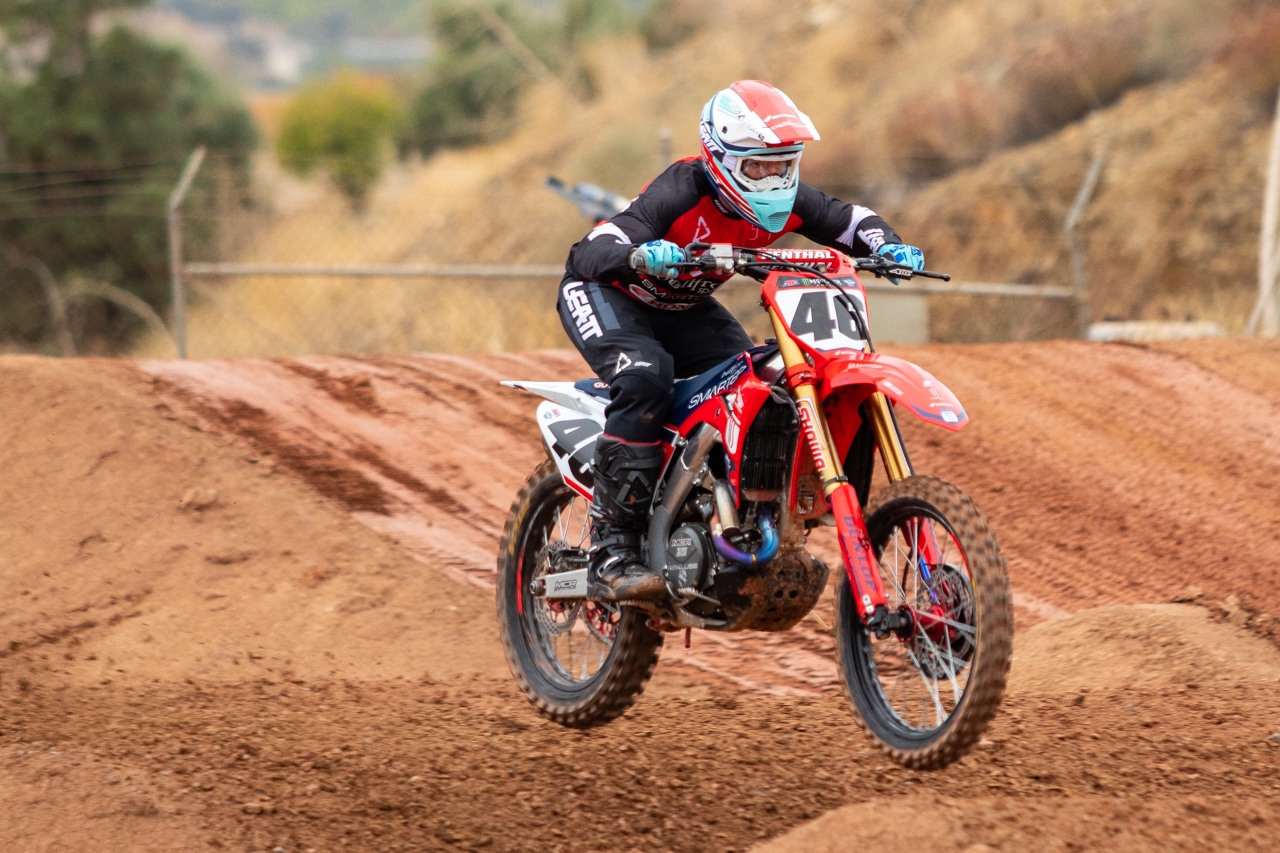 Justin Hill skims the whoops at the Honda test track in Corona, California.
YOU SEEM TO BE EXTRA MOTIVATED RIGHT NOW. I would say that I am more dedicated because I'm really excited about the future right now and I'm a wiser person than I was just one year ago when I started riding the 450 again. I think I have a better opportunity right now to do something special than I ever have. I think a lot of people are actually thinking that I'm going to do well, and I agree. The bike is giving me a lot of confidence. If I'm feeling it, I think I can be top dog. If I'm not feeling it, maybe I can be over dramatic. So I need to work on feeling it and I think if I do it can be killer.
I've never earned a point from getting the fastest lap time, I've only made my money and made it to this point in my career by finishing main events.  I think everyone will be surprised with how I am this year. 
WRAPPING UP, HOW DO YOU FEEL GOING INTO 2020? I feel like it's going to be something that you haven't seen from me and I haven't seen from me yet. In my good years, like my really good years, maybe I haven't been super aggressive throughout the whole race. I think you're going to see more of that from me this time. I've been able to do that at the practice track lately. There have been times when I could and times when I couldn't do that. Last year was not one of those times when I could have that intensity the whole time, the whole 20 minutes. A couple years prior, I've been able to throw in a heater lap, and be really good for a lap or a 5-lap sprint. During the last few years, I would get really excited about going fast for one lap  and the people around me got excited about me being able to do that. But it was counter productive for the long main events. I've never earned a point from getting the fastest lap time, I've only made my money and made it to this point in my career by finishing main events.  I think everyone will be surprised with how I am this year.