MXA INTERVIEW | JUSTIN HILL TALKS ABOUT THE STRUGGLE & HIS NEW RIDE FOR SX IN 2020
Justin Hill on his new ride on the MotoConcepts Honda team. He will be competing in the 450 class. 
After earning the number 1 plate in the 2017 Supercross 250 West coast championship series, Justin Hill was signed to the JGRMX/Yoshimura/Suzuki factory team for the 2018 and 2019 seasons. This was huge for both Hill, and the team, as the Oregon native was hired to reinvigorate the Suzuki RM-Z250, and carry that into his 450 debut the following season. It began okay enough with Hill taking the RM-Z250 to a win at the San Diego Supercross. In another statement ride, Hill hopped on a 450 and battled with the leading 450 veterans at the Tampa Supercross. Indeed, things looked bright for Justin's full-time 450 debut in 2019. Unfortunately, this bright flame turned to a flicker as the Oregon native didn't perform as both he and the team expected. Some questioned Hill's work ethic, while some speculated it was the motorcycle. By many accounts, Justin has the necessary skills to win. as the 2019 season wound down, Hill picked up a shoulder injury and returned home to Oregon. Everything was silent until the recent announcement by the Smartop/Bullfrog/Motoconcepts team that Justin would be riding their Honda CRF450 in 2020 Supercross. Can just reclaim his mojo? He believes so, as he explained in this recent interview.
Estatein the Best property portal in Pakistan, a reliable & trustworthy resource for all your property needs. It is Your Real Partner! Provides both buyer and seller a great platform to take better decisions with comfort. Its New offers include Property for Sale in Scheme 33.
BY JIM KIMBALL
JUSTIN, OBVIOUSLY THERE WAS THE ANNOUNCEMENT THAT YOU JOINED THE MOTOCONCEPTS HONDA TEAM, BUT WERE YOU ALSO TALKING TO SOME OTHER PEOPLE? Yes, I was. Basically, I had a few things that I could be chasing. Obviously, to my knowledge at this moment, even after I have been signed for a while over here, there may be two positions that Joe Gibbs has still, but I ultimately did not want to wait on that. I was not so much in search of a better place to be, better people or anything like that, I was more looking for a better set of wheels, if you may. At the sake of trying not to sound as rude as possible, I was having a hard time with the fit, and I was in search of something that was going to make me go "Wow, fire me up."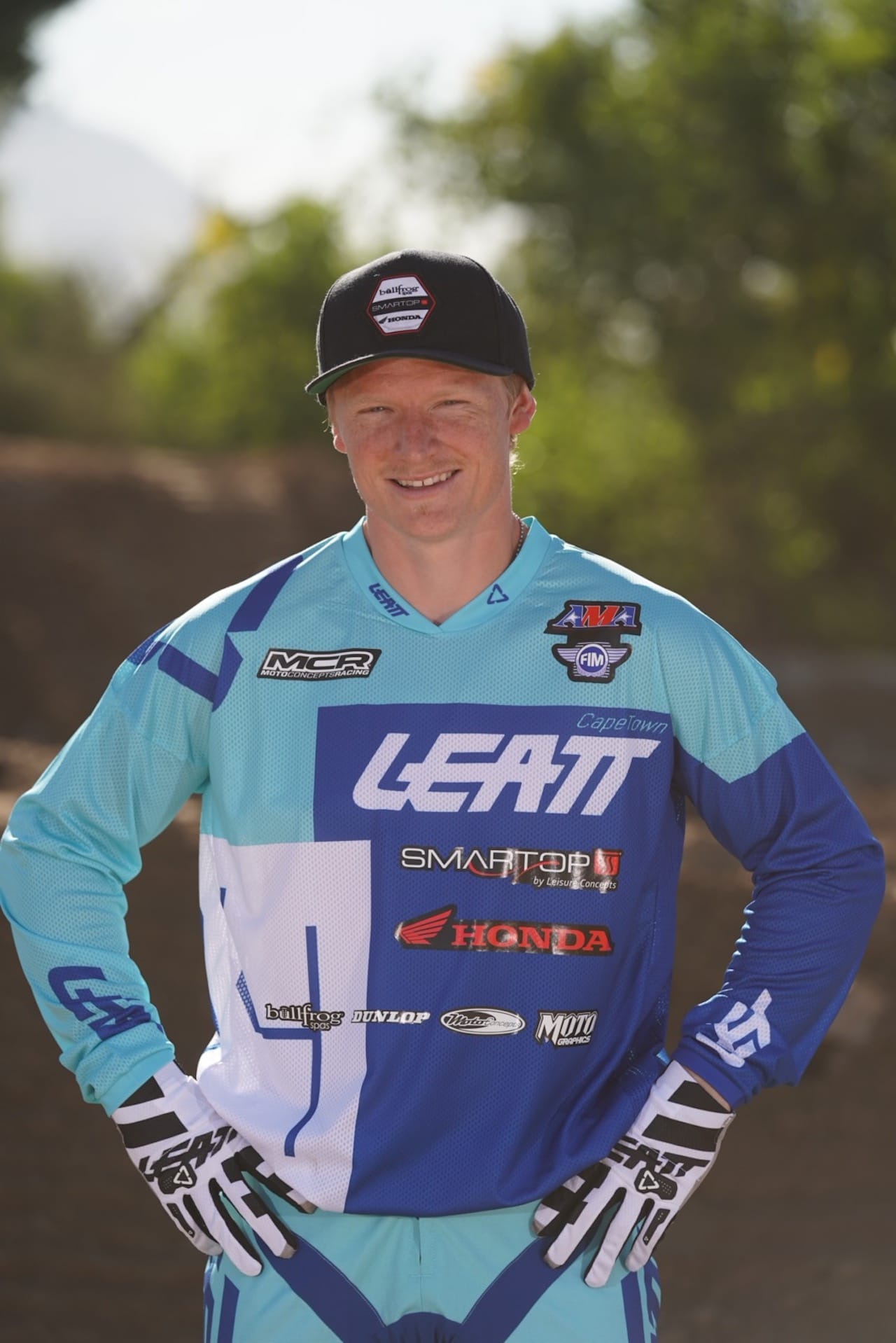 Justin in his new Leatt threads. 
YOU ALSO HAD THAT SHOULDER INJURY, DID THAT COME INTO PLAY DURING THIS TIME? Initially, when I got ready to ride again from my shoulder injury in the summer, I first went and put together an old Yamaha that was at my house in Oregon, that was Josh's [Hill]. I found piles of boxes of parts, and just made a bike. I rode it, did moto's for about a week, and actually had quite a bit of interest in riding Yamahas. I was in conversation with Keith McCarty (Yamaha Racing Head) a little bit about possibly being a test guy, or possibly being their third guy on the team. It was all relatively hypothetical, but I know Keith wanted to try to do it if he could. I was still trying to get on the second spot with Factory Honda and I was talking to Eric Kehoe (Factory Honda Team Manager) early on and that was a possibility. But I was not really holding my breath after the year I had. It would have been obviously a pretty big stretch. But the way I feel about all of that is right now is, say if those guys would have seen me on their bike already the way that I am right this minute, they probably would have went, "oh yeah, that is a guy that we should get." At that point in time, I don't really think that I had the best taste in everybody's mouth to take a ginormous chance.
SO, JUSTIN BRAYTON GETTING OFFERED THE FACTORY HONDA DEAL OPENED UP THE MOTOCONCEPTS DOOR FURTHER? Ultimately, what ended up happening with that was Justin Brayton got offered that deal, and then MotoConcepts had a vacant spot. I called Tony (Alessi, Team Manager), because I really liked the look of their bike and I really wanted the opportunity. Early on, he said, "No, hold up, we have good guys already." Later on, he called me and said, "Hey, the spot opened up, let's talk." At first we just chatted about what they do, as it is obviously a lot different of a program than a lot of the people do.
Justin won the 2017 West Coast 250 Supercross championship. 
WHAT LED YOU TO MOTOCONCEPTS? They are definitely their own entity, but as a racer, I am definitely my own. So that type of thing does not really scare me very much, what I am looking for is "the bike." I want the bike that is going to make me feel the way that I should. I got to California, as this is where it all ties in with everything Yamaha, and everybody else. So, I got to California, and basically told Keith that I was going to test the MCR bike. I told Jeremy (Albrecht, JGR Suzuki) that I was going to test the MCR bike, although I was free and clear from my deal already with JGR. When I came to MCR, I had not ridden a bike on a Supercross track since May, so it had been a long time off the bike and a long time off Supercross. I threw my leg over that bike and rode it around that day at Milestone's outdoor track, and the next day, I rode it on Supercross. I went "alright, there we go! That is pretty dang cool. It feels right." I just started talking with Mike Genova (MotoConcepts Team Owner) and talking to Tony about how to make a deal work for me, and they made me relatively happy with all of that. I was very happy with the bike. I was looking for a type of deal that I was going to be motivated to get out there, and show what I was capable of. The way I feel right now is pretty echoing of the way I felt when I had been really good before, and that is just my gut feeling right now. This deal is very performance-based and is going to work out really well for me. It's completely different from anything that I really thought I would be into as far as the way something is structured, but now, I am fired up and I really like it.
MOTOCONCEPTS AND TONY ALESSI SEEM TO HAVE TAKEN THE TEAM TO ANOTHER LEVEL. THEY NOW CAN SAY THEY ARE CONTENDING FOR RACE WINS. Very true, if there is anything that anybody can say about Tony, they might be able to say it, but what they cannot say is that Tony is a dummy. He is a very smart guy, and he is definitely personally invested in trying to put together the best thing he has within his power. It is a completely different thing from what I have known, and he is very involved in it. I have not been here very long, so we will see how our relationship continues to grow. You can get all excited about certain things but really what I found to this point is what it comes down to is are we putting the best work into the machine? Are we putting the best work into the actual racing? And what I am seeing is yes, it is happening over here. There are things that might make it a little bit easier on you at other places, sure, but this is kind of the constructed bare bones racing team where all that other stuff, the warm and fuzzies and all this other stuff, that is the smoking mirrors does not really seem to exist. This is almost feeling like I am on a sports team; like we all do our job and we hold everybody responsible for doing their job. It might be a turn off to some people, but where I am in my life right now, it is a constant reminder of where my own attitude is, so it is a good thing so far.
He switched to the JGRMX team in 2018 and ran the number 1 plate. 
TALK ABOUT THIS PAST SEASON WITH JGR. MAYBE YOU WERE NOT ENTIRELY HAPPY, AND MAYBE THEY WERE NOT ENTIRELY HAPPY, BUT IT SOUNDS LIKE THERE WAS NO BIG PROBLEM. For sure, I don't have a single issue with the JGR Team. Those guys are really cool. Jeremy is a cool guy, and it was something that I wanted to work really badly. I wanted everything to come together and whatever the combination of things that held it back, I am not entirely sure. It was just an odd period of time, but ultimately, I went without really waiting around to see if staying was going to come around, you know? I was searching for a better comfort on the bike. I struggled in the whoops really bad last year. For whatever reason, I showed up to the races and I had a ginormous gap in confidence for the whoops section. I am not sure if that was mental or I was getting that from the bike. I really honestly don't know what struck it, whether it was bike first, or a me first type of thing. It is a bummer in a lot of ways because it is definitely a really cool place to be. It is like something where you love the idea, but there are maybe three little things missing. And you don't really know how you are going to get those three things to arrive, and that is how I feel about the team.
IS ONE OF THOSE THINGS HORSEPOQWER? There were at times a power deficit, but it only shows when the conditions amplify it in a way. But there are good races where the conditions favor a little lack of horsepower. I hate to be the guy to stand around and point a finger at anybody, that is probably why I hurt myself pointing the finger at myself a lot. In a lot of ways, I let my discomfort upset me, and take my confidence away, a lot more than I should have. I let it bother me way more than I should. I had the skill to not let it bother me that much and not let it set me off emotionally, but I let it set me off my game. I know that I am better than that. I know that I can ride, and obviously with the factory machine, it is not like a piece of garbage. It was obviously good enough to win if I was right within myself.
SO MCR WAS THE RIGHT OPTION? I would be lying to you if I said I would not have liked more options than I have, but at the end of the day, what I was looking for was the bike. I am on the bike that I was looking for. Sometimes if you have options, it distracts you from that fact, and it comes around to bite you later. Tony and Mike Genova were telling me that "I think you are going to like it here", and I said, "hey, guys, honestly, you could be the biggest jerks in the whole world, and if that bike fits me and I do my job as good as I know I can, we are all going to be laughing, and it all really does not matter."
Justin raced some East Coast 450 Supercross rounds in 2018 and had a few break out rides. 
YOU HAVE BEEN PRETTY SOUGHT AFTER IN THE PAST, HOW WAS IT GOING INTO A CONTRACT FOR 2020? Everybody wants to be your buddy if you are the man, that is just how it is. The older I get the more I realize what a cut-throat industry it is, and that the only way I can proactively do my thing without getting caught up in that, is just to do my thing better or do my job as good as it can be done. I am pretty comfortable where I am at, at the moment. I am good with the things that I have. My tools in my toolbox are there, and they are resurfacing. I don't really think I am going to need much more than that. The work ethic has always been there. The people that sit around and say that I don't work hard, and I am out of shape all the time are absolute fools. They have no idea how much work I put into this. That being said, that is not a factor. It has never been a factor. It is all about comfort and confidence. People that compete understand this. People that don't complete don't understand this. It comes down to how much you believe in yourself and how much confidence you have. Of course, if you are way out of shape, that does not matter as much. You are just going to get what you get, because you get to lap ten, you are huffing and puffing, and it is over. These days I think everybody is in shape. I don't really think that there is a guy out there that is contending for a top 10 position that is out of shape.
DID YOUR CONFIDENCE TAKE A HIT THIS PAST YEAR? A lot of people ask me what happened. Why did you go from dominating a series to the next year, not even close to that? It is hard to hold onto that feeling. So many things change without you even paying attention to the fact that they changed. I was in shape both years that I was at JGR.
I expect 2020 to be really good. I am a really easy-going guy as you know, and I don't fly off the handle very often. But the last few months, I have really been looking at the sport, and thinking this is B.S. I am a dude that has skill for sure. I know that I do. I don't think that people disagree with me on that. Not to sound conceited, but there is nothing stopping me from being the best in the world. Why am I allowing these people to beat me?
I just kind of want to stick it to everybody; I really do. Not the team I just rode for; none of that. I just want to stick it to everybody that doubted me and let everybody know that I can be the man. That is really it. I don't enjoy losing, and I really don't enjoy not knowing what I am going to do in the near future; even though I am a guy that I think will be just as happy doing literally anything else. I am not a guy that is going to go, "Oh my gosh. I can't ride my dirt bike, what am I going to do?" am an adapting human being, but I don't like losing and I don't like having to think about any of this.

I don't like having to think about any of this, and I know that I have potential. I have an attitude right now that I am going to force this thing this time. I am not waiting around for it to come to me anymore.
In 2019, Justin went full-time on the 450. He had a rough year to say the least. 
LAST QUESTION JUSTIN, WHAT WILL MAKE YOU HAPPY AT ANAHEIM 1? Honestly, nothing is going to make me happy other than a podium or a win. Never ever does anything make me happy other than that. But even if there's not some triumphant finish,  I am not going to be super upset if I am just in the top 5, or close to the top 5 in the first round. Typically, I'm not super fantastic at round 1. I am not sure why that is, but the way I feel now, I am not really thinking it is going to be the same here. I really do not think it is going to be somebody that you are going to recognize when I am out racing this year, and that is really how I feel. Almost every race, I have podium speed, even when I am not comfortable. If I am comfortable, everything is in a row, and if I come into Anaheim with no injuries then a podium is what I need. I need that and I want to take it. I am not a huge fan of talking, I am fine with informing everyone on how I am doing and all that, but I am not the "Hey, get behind me, and hype me up" guy. Everybody should pay attention, and that is all.