MXA INTERVIEW: KENT HOWERTON ON LIFE GETTING IN THE WAY OF LIVING
MXA INTERVIEW: KENT HOWERTON ON LIFE GETTING IN THE WAY OF LIVING
BY JIM KIMBALL
KENT, WHEN DID YOU START RIDING? When I was about 15. I got my first motorcycle when we moved from Kansas back to Texas. I had a couple of friends who had a little Honda with the handlebars that you pulled down; it was called a Trail 70. I rode that a little bit, and when they got full-on motorcycles, I wanted one. So, I cut grass all summer long until I got enough money, and then my parents helped me pay for half of it on my birthday. It was very hard getting that motorcycle!
WHEN DID YOU START RACING MOTOCROSS? When I was 16, a buddy of mine got a brand-new Yamaha AT-1 125 with an 18-inch front wheel and low fender. He asked me if I wanted to race it and I said, "I guess. I don't know." 
We went out to the local track, and he watched me practice with the other riders and said, "I'm going to enter you in the Expert class." 
"Where?" I asked. I did not know what I was doing. I just wanted to ride his bike. In my first-ever race, I got third place in the Expert class. I won $15. Not long after that, I got sponsored by the local Kawasaki/Husqvarna dealer.
WHEN DID YOU TURN AMA PRO? I was just racing local races with the Husky dealership in 1973. They suggested that I might like to try a couple big races. They said they would take my bike, and we could race the Baldwin, Kansas Inter-Am. I got second place overall behind Jaroslav Falta. Later that summer, I raced the 1973 AMA Nationals that were close to Texas, like Lake Whitney, Rio Bravo and Moto West in Louisiana. I made the top 10 in most of them and even had a fourth at Lake Whitney.
"IF IT WERE NOT FOR MY MECHANIC, ERIC CRIPPA, I WOULD PROBABLY NOT HAVE FINISHED VERY OFTEN, LET ALONE WON THAT 1976 CHAMPIONSHIP. HE KNEW THOSE HUSQVARNAS BETTER THAN ANYONE."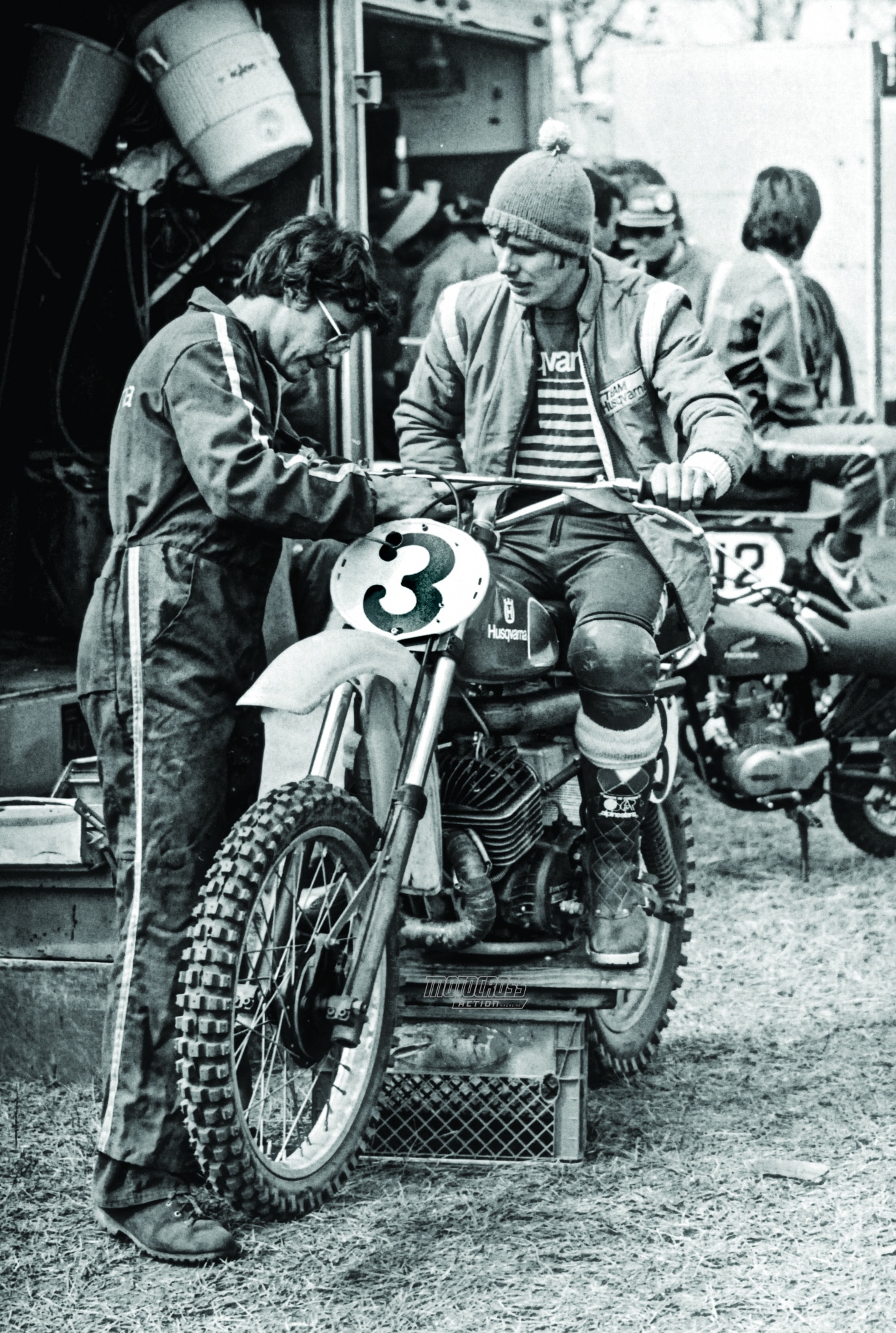 YOU WON YOUR FIRST AMA 250 NATIONAL IN 1974? Yes, but I was still a privateer in 1974. Husqvarna would transport my motorcycle, but I had to work hard to get to the races. I often slept in the Husqvarna transporter. Until you win a National, it is tough, but once you win one, it gets a lot easier to win another one because you know what to expect. Getting the first one out of the way is really important. My first National win was at the Moto West track in New Orleans. It was raining, and I was standing in the truck, watching the people walk by, and someone asked, "Who is going to win?" The people yelled out a lot of names, but they never said my name. That made me angry. I rode really hard, and I ended up winning both motos for my first win.
THAT MUST HAVE IMPRESSED HUSQVARNA. After that, Husqvarna offered to help me, but it did not really mean a whole lot. The bike was basically stock with a few trick parts on it. I did not get any true help from the factory in Sweden, because they did not know what was going on in America. The team manager was just spending money on dinners and not spending it on us. I was paid $8000 to race that year. It was a big mess, though, and my mechanic, Eric Crippa, had to make all the parts.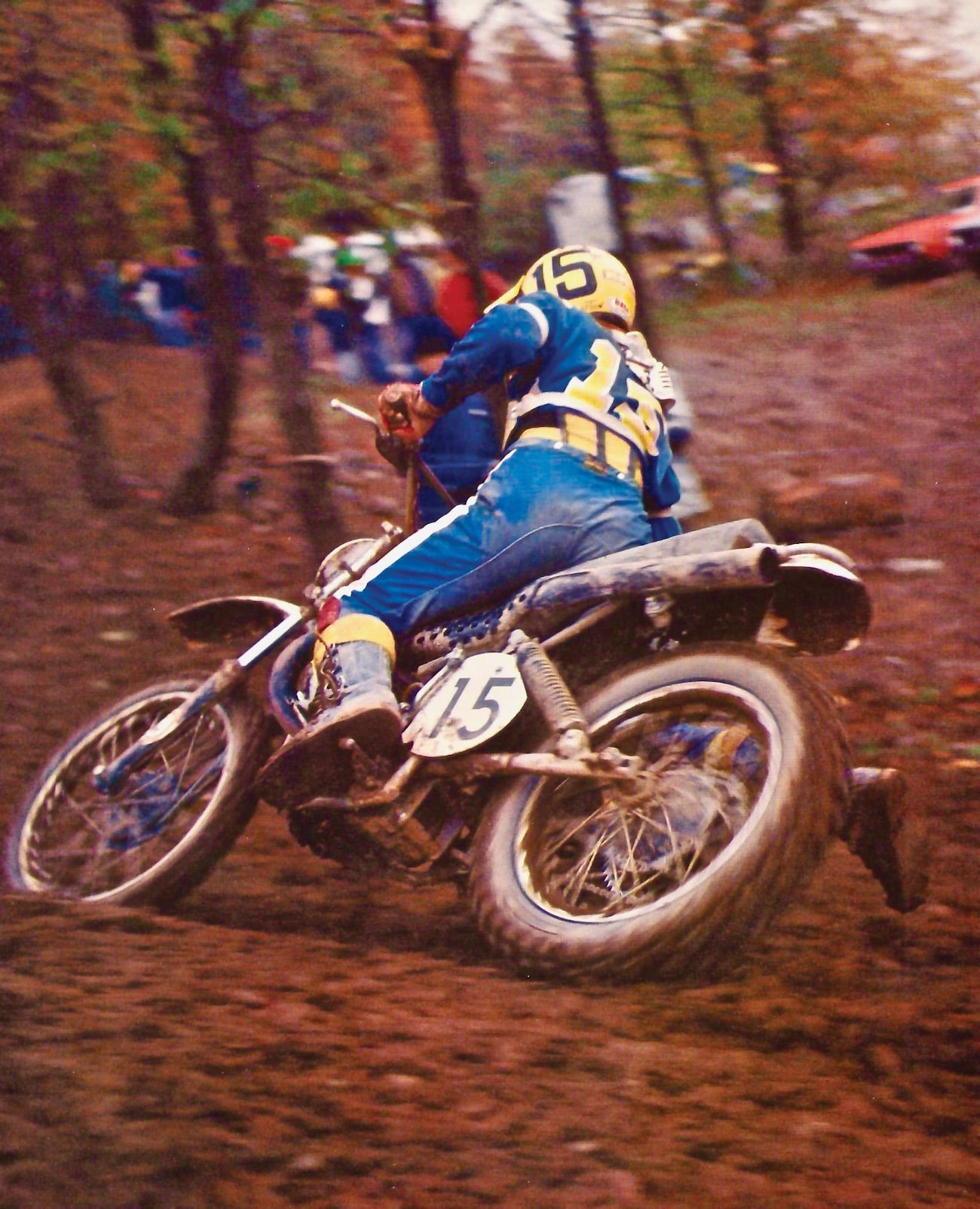 THEN YOU WERE SIGNED TO THE FACTORY HUSQVARNA TEAM FOR THE 1975 SEASON. That is true. I was a factory rider, and when they signed me, it changed my attitude. Suddenly, I thought to myself, "It is my job to win races now; I have to do it." I almost won the 1975 AMA 250 National Championship that year. I believe with the scoring system they use today I would have. (Kent won three of the five rounds, but in the two rounds that Kent didn't win, he was eighth and fifth. Tony DiStefano won one round but was never out of the top four, with a win, two seconds, a third and a fourth).
THE NEXT YEAR YOU WON THE AMA 500 NATIONAL CHAMPIONSHIP. I enjoyed riding the 500 because the power was fun, but I was probably a better 250 rider than a 500 rider, because the 500 wore me out more. The 250 was easier to ride. I actually was a really good 125 rider, but no one would give me a bike to ride. I must say that if it were not for my mechanic, Eric Crippa, I would probably not have finished very often, let alone won that 1976 Championship. He knew those Husqvarnas better than anyone. At the Mexico, New York National, my chain kept falling off. Eric took two chain guides and welded them together to make a really beefy one, then he put a 530 chain on the bike and we never had any problems after that.
HOW WAS YOUR FACTORY 1976 HUSKY? Oh, it was truly an enduro bike. It was very slow, just really soft and smooth power. But, it was a good trail bike. I can speak on the differences, because I got to ride a very similar Kawasaki 500 when we were in Belgium testing. It had night-and-day different power. It was light and had suspension that I could not even compare to that of my Husky. The only thing that made my 1976 Husqvarna ridable was that Bob Fox had built me a pair of air shocks for that bike. That smoothed over the rear end, but the front-end was still horrible.
TONY DISTEFANO STOPPED ME AND ASKED, "WHAT ARE YOU DOING TO THE CLUTCH, KENT?" I SAID, "WHAT DO YOU MEAN, WHAT AM I DOING TO THE CLUTCH?" HE SAID, "YOU GO INTO THE CORNER AND YOU COME OUT SO FAST." I REPLIED, "I SLIP THE CLUTCH." THAT IS ALL I TOLD HIM.
HOW DID YOU GET THE "RHINESTONE COWBOY" NICKNAME? I used to wear all these wildly colored tennis shoes that were coming out at that time. Keith McCarty heard the Glen Campbell song, "Like a Rhinestone Cowboy," and they started calling me the "Rhinestone Cowboy" because I was from Texas and had these flashy shoes. I said it would never stick, and I definitely did not want that nickname, but it did stick. I never got rid of it 
YOU GET A LOT OF CREDIT AS THE RIDER WHO POPULARIZED SLIPPING THE CLUTCH OUT OF CORNERS. I invented that technique on the Husqvarna. Before that, riders would come into a corner and downshift, and then would shift up when they came out of the corner. I decided to carry a little bit more speed into the corner and not downshift. Midway through the turn, I would turn the throttle wide open and slip the clutch a little bit to carry more speed. It worked really well. When you carry a little extra momentum, it really makes a difference to stay in third coming out of a corner.

I IMAGINE YOUR NEW TECHNIQUE WAS SOON COPIED. Tony DiStefano stopped me and asked, "What are you doing to the clutch, Kent?" I said, "What do you mean, what am I doing to the clutch?" He said, "You go into the corner and you come out so fast." I replied, "I slip the clutch." That is all I told him. He went out in the next practice and burned up his clutch. His mechanic Keith McCarty came over and asked, "What did you tell Tony? He is burning up the clutches on the bikes now." Tony didn't understand exactly how to do it. You just had to slip it gradually and feed it back slowly or it would build up too much heat. Tony did not understand it at all. He came out of the corner, slapped it, and it did not do anything. He probably went slower.
YOU WERE THE 500 NATIONAL CHAMPION IN 1976. WHAT HAPPENED IN 1977? There were a lot of mechanicals that people never knew about, and that really let me down. Husky convinced me to stay with them, because they said they would take care of me and give me the best bike. And when you are young and naive, you believe people. I did a lot of testing, but they would never listen to anything I said. When I went to Team Suzuki in 1978, I asked, "What can I do to the bike?" They said, "Anything you want." So, we went to Japan and spent two weeks working on the bike. I enjoyed it. They listened, and I got to learn a lot of stuff. I had questions about frame geometry and things like that. Husqvarna would always tell me, "It's too complicated for you." In Japan, they said, "You tell us." It was a completely different way of looking at it.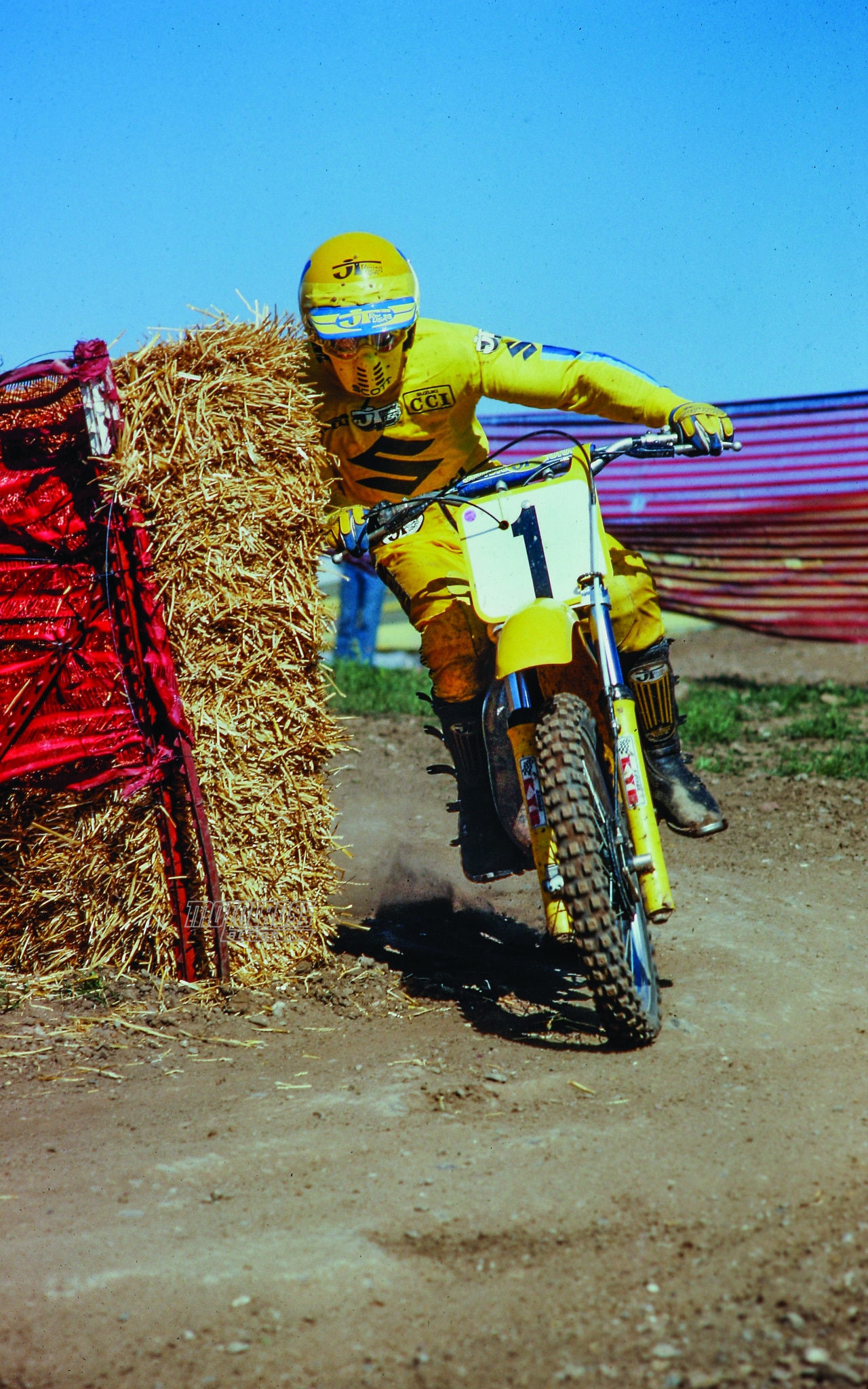 SO, THE MOVE TO SUZUKI WAS GOOD? Suzuki only paid me $15,000 in 1978, which was not very much. I was somewhat skeptical about what I had gotten myself into because things hadn't gone well for me in 1977 at Husky. I just wanted a good ride and to prove myself. My next Suzuki contract was for three years, and when I told them how much money I wanted, they kind of coughed. I also told them that I wanted complete control over the bike. I had a contract ready to sign at Honda, and that forced Suzuki to work on it. When I went to visit the factory in Japan, the head guy said, "We would like you to go look at the bike and tell us what you think." They had a couple of things that looked wrong, and I told them. The next morning, everything had been fixed. I tested three different engines and picked the best one. It was in my contract that no matter what I said, they had to do it. I won almost every race that year. You would think they would have listened, but then they went back to the normal way of just doing it their way. I was just dumbfounded. 
YOU WON THE 1980 AND 1981 AMA 250 NATIONAL CHAMPIONSHIPS FOR SUZUKI AND MADE AN ENEMY OF BOB HANNAH. When we raced before, I noticed that I could pass Bob early in the race and then he would pass me back at the end of the race. I did not train at all; I just rode the bike. So, I thought, "I will try training." After a week of training, I was so tired that I was ready to give up. I should have done it in the off-season, because I was tired all the time. Finally, I got used to the training, and I started feeling better and better. Running was all I really did. I started getting better results and knew how important training was. Once I started doing that, I could catch Hannah and pull away from him in some races. Everybody has a good day and a bad day, but training made a huge difference. I wish I had done it earlier in my career. 
TELL US ABOUT THE INFAMOUS "SADDLEBACK MASSACRE" RACE? We wanted to kill each other. I certainly wanted to kill him. If I hit him any harder than I did, he would have died. That is how mad we were at each other. It all started when he came back from his water-skiing accident. Bob had been the 1978 and 1979 AMA 250 National Champion, but he broke his leg badly and had to miss the 1980 season. I won the 1980 AMA 250 National Championship, and going into the 1981 outdoor series, I had the number-one plate. Everybody was talking about what would happen when Hannah came back. Who was going to win? Bob or me? They kept building it up, which is fine. I don't mind that. I think it helps the sport. In a newspaper interview before the Saddleback race, I was asked what I thought about Hannah's riding this year versus what he used to do. I said, "I think he is riding faster today than he ever has." But in the paper, it quoted me as saying, "Hannah has never ridden as fast as I have." 
"WHEN I CAUGHT UP TO HANNAH AND PUSHED HIM, HE FOUGHT BACK. IT DEVELOPED INTO A WAR, GOING DOWN THE HILLS WIDE-OPEN AND LOCKING HANDLEBARS. IT WAS CRAZY. IT IS ALWAYS DIFFICULT TO BE FRIENDS WITH YOUR COMPETITORS, BECAUSE SOONER OR LATER ONE OF YOU WILL PUSH A LITTLE TOO HARD."
SO, THAT STARTED THE FEUD? I think he read that and got very angry. I had beaten him by over a minute at the first 250 National in Hangtown the week before. That is a pretty good trouncing. Then, at Saddleback, I had the flu. I was weak and did not feel good. So, I am at Saddleback in fifth or sixth place and I am thinking, "I have to win this." I was obsessed with it, but I had a hard time getting around the riders. I was pushing on them a little too hard, and when I caught up to Hannah and pushed him hard, he fought back. It developed into a war, going down the hills wide-open and locking handlebars. It was a crazy deal. It is always difficult to be friends with your competitors, because you are trying for the same thing, and sooner or later one of you will push a little too hard.
WHAT WAS BOB HANNAH LIKE, BOTH BEFORE AND AFTER THE "SADDLEBACK MASSACRE"? Before Saddleback, Hannah used to come down to my house and we would go fishing on the river. But, I think once he got fast and famous, things changed. I think a lot of people took advantage of him. For a while, at the races, he used to stay inside his van. He would not come out except to race, and then he would go back into hibernation. He was a different person. He was rude, abrupt and obnoxious, and people did not like him. 
TELL ME ABOUT WINNING THE ABC-TV SUPERBIKERS RACE TWICE. I loved that race, especially the speed of it. I loved the feel of the bike being that loose, sliding around but still in control. It feels good going that fast over the high-banked ovals and short tracks. It was really a nice motorcycle that I built. I made $10,000 for that race, and that was a pretty good payday. I was going uphill at 117 miles per hour. At the end of that long straightaway, that is pretty fast for a two-stroke. Then, in 1984, I won it again on a Kawasaki.
YOU WERE AT KAWASAKI IN 1983 AND 1984. YOU WERE STILL A TOP-10 RIDER IN THE 250 CLASS AND TOP FIVE IN THE 500 CLASS. WERE YOU SATISFIED? Not really. I did not want to ride the KX250, but team manager Roy Turner wanted me to. I was more interested in development and testing and less interested in racing. There was a new generation of riders coming up, and to tell the truth, I did not want to race with them. One day I was sitting in a lawn chair at the top of a hill, and I realized that I just didn't want to race anymore. I told Roy, "I think it is time I go. I don't even know the guys I am racing against, and if they pass me, I don't care." I had one more year left on my contract, and I spent most of it testing.
YOU QUIT AFTER THE 1984 SEASON BUT WERE TEMPTED BACK A COUPLE OF TIMES? Actually, Kawasaki called me up in 1985. Billy Liles got hurt, and they needed manufacturer's points, so I went to the Las Vegas National and finished fourth. Kawasaki asked me to race the Mt. Morris National also, but I hurt my knee and couldn't do it. It was pretty nice to get the call to race if I wanted to. I later did two races for fun in 1987. My last professional National motocross race was on a Honda CR250 in 1988 at the Good Times track in San Antonio. I finished 11th. I think Rick Johnson won that day. 
WHAT HAVE YOU BEEN DOING SINCE YOU STOPPED RACING? Well, my wife and I raised a couple of boys. For some years, I did a lot of automotive tire testing until it became too much of a job. I had some partnership in VP Fuels that I have since sold off. I started a masonry business with a partner but recently sold that off. I really enjoy the technical and engineering side of things. But, life has been getting in the way.
"ONE DAY I WAS SITTING IN A LAWN CHAIR AT THE TOP OF A HILL AND I REALIZED THAT I JUST DIDN'T WANT TO RACE ANYMORE. I TOLD ROY, 'I THINK IT IS TIME I GO. I DON'T EVEN KNOW THE GUYS I AM RACING AGAINST, AND IF THEY PASS ME, I DON'T CARE.'"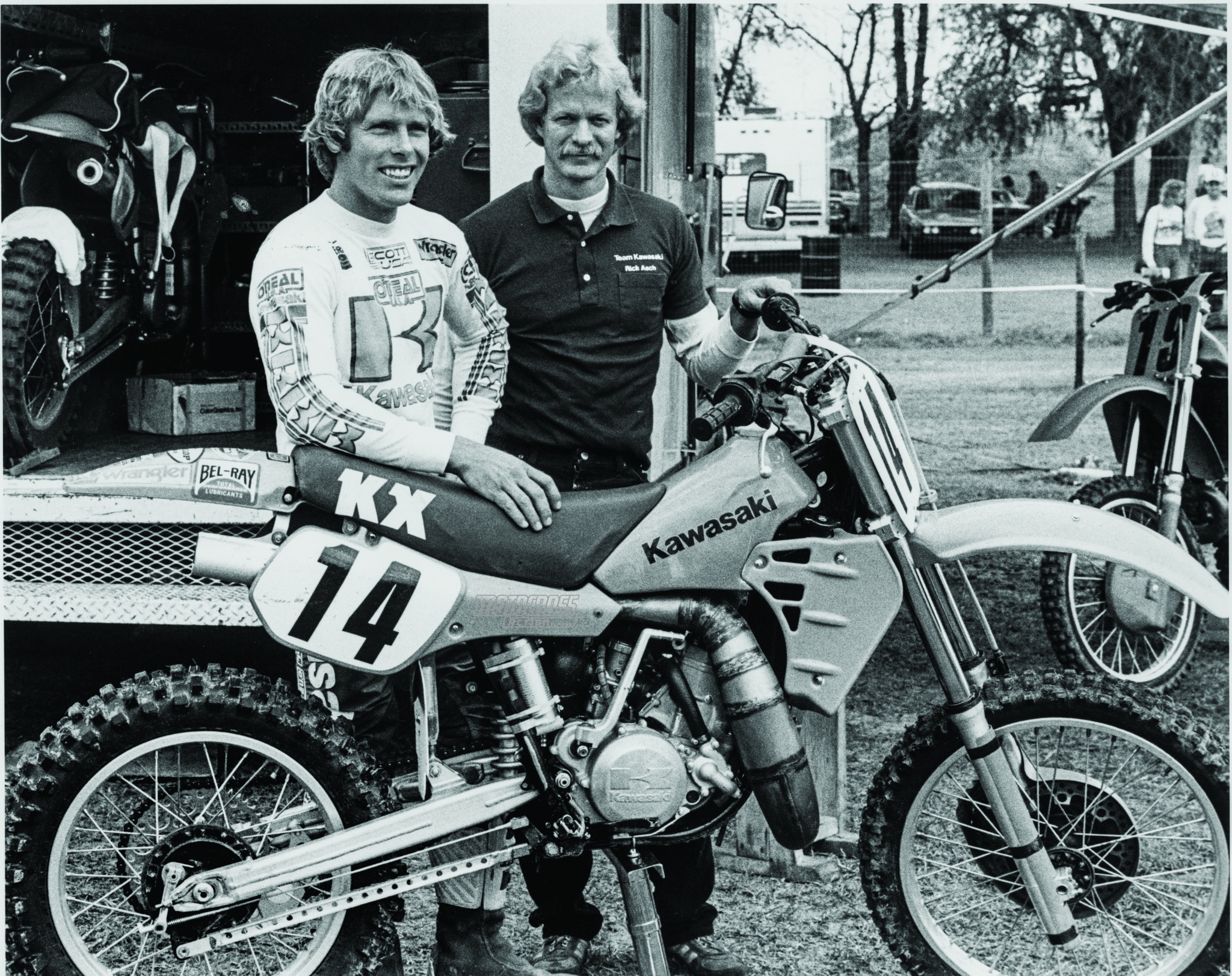 WHAT DO YOU MEAN "LIFE HAS BEEN GETTING IN THE WAY"? I have Parkinson's disease. I was having some different symptoms and began seeing different doctors. Eventually, I had an MRI, and they found a lot of scarring on my brain. The doctor asked me if I had many concussions when I was racing, and all I could reply was, "Oh, yes." I went to a specialist in Parkinson's disease, and he told me, "I am pretty sure that you have Parkinson's, but the only way to 100 percent know is to take a slice out of your brain, but I doubt you want to do that right now." Of course, I agreed with him.
THE ONLY THING THAT PEOPLE KNOW ABOUT THE DISEASE IS THAT MICHAEL J. FOX HAS IT. The medicine I have to take is so strong that I take medication for the side effects! I only have about four good hours a day; the rest of the day is spent fighting to get through it. My balance and coordination are very poor. It seems to affect your entire body, like my speech, my thinking, and my writing. It's a progressive neural disease that only gets worse. The disease may not kill you, but it will affect everything else that will kill you. I haven't really told many people about it and have kept it quiet. I don't like to even learn about it anymore as it just gets me depressed.
YOU WON THE OVER-40 WORLD VET CHAMPIONSHIP TWICE AFTER YOU RETIRED. ARE YOU ABLE TO RIDE AT ALL NOW? I ride trails some. I used to have a KTM XC, but it got too heavy for me. I absolutely loved that bike. It just got to the point where I was falling all the time. I kept getting hurt. I now have a KTM Freeride that is much smaller and lighter. My balance got bad, and I would fall down the hills and could not stop. A friend said he was going to put a rope on me to keep me strapped on the bike. I have some good friends that help me do things. They will take my boots off me if I get too tired to get them off. If I am on the bike, it is weird; I am almost normal. I can ride really fast, and it freaks everybody out.
YOU WON THREE AMA NATIONAL CHAMPIONSHIPS, TWO TRANS-USA TITLES, TWO ABC-TV SUPERBIKER EVENTS, TWO WORLD VET CHAMPIONSHIPS AND RACED ON THREE MXDN TEAMS. IT IS PRETTY INCREDIBLE. What is hard to believe is how many races I won. It takes so much preparation to win a single AMA National, let alone 28 of them.
IF YOU SUBSCRIBED TO MXA YOU WOULD HAVE READ THIS INTERVIEW TWO MONTHS AGO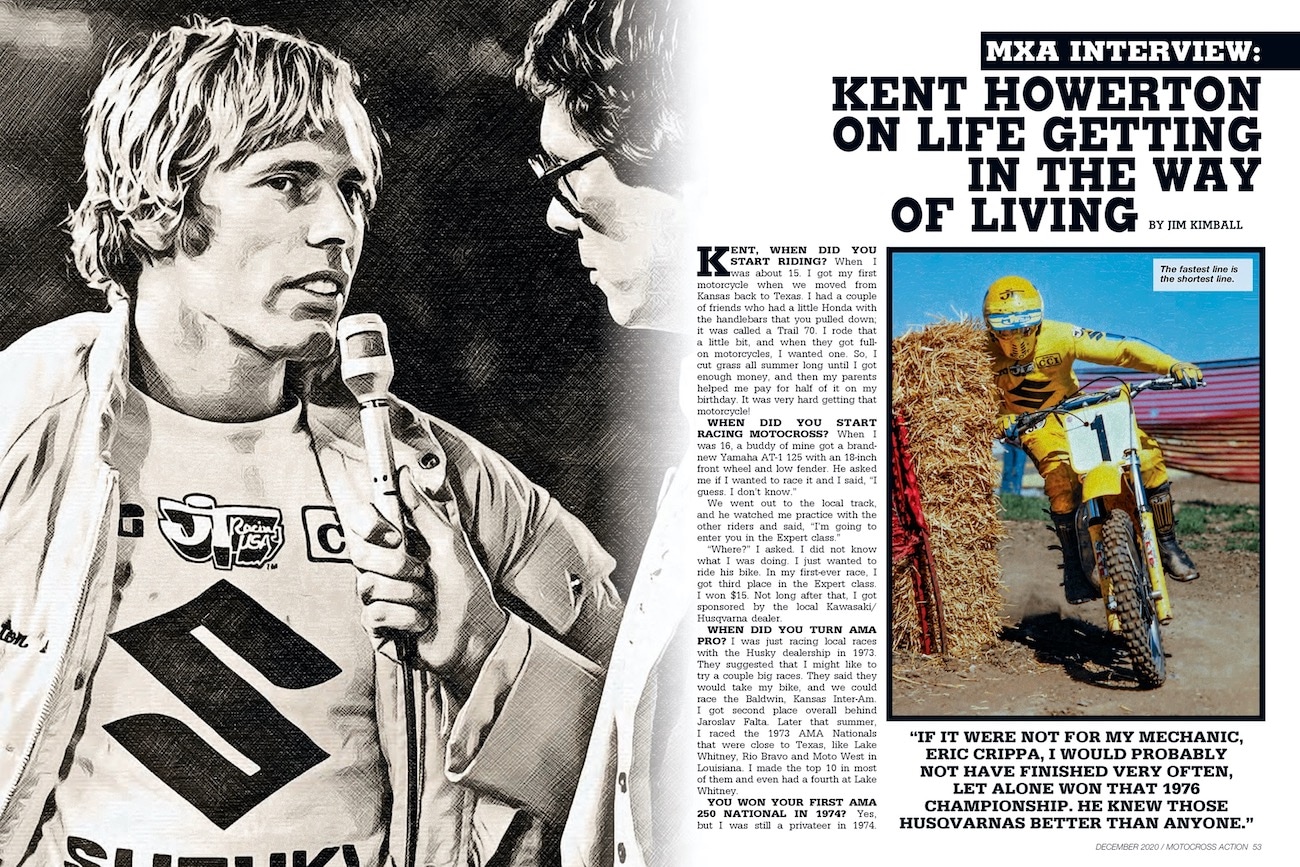 HOW TO SUBSCRIBE TO MXA SO THAT YOU NEVER MISS ANOTHER ISSUE, PLUS GET A $25 ROCKY MOUNTAIN GIFT CARD TO COVER YOUR COSTS
If you subscribe to MXA you can get the mag on your iPhone, iPad, Kindle or Android by going to the Apple Store, Amazon or Google Play or in a digital version. Even better you can subscribe to Motocross Action and get the awesome print edition delivered to your house by a uniformed employee of the U.S. Government. Did we mention that Rocky Mountain ATV/MC will send you a $25 gift card so you can purchase anything you want from their catalog or website? In simple math, you can subscribe to MXA for one full year and make a $7 profit. To subscribe, call (800) 767-0345 or Click Here (or on the box at the bottom of this page) to subscribe.