MXA INTERVIEW: KTM'S MARVIN MUSQUIN
Click on images to enlarge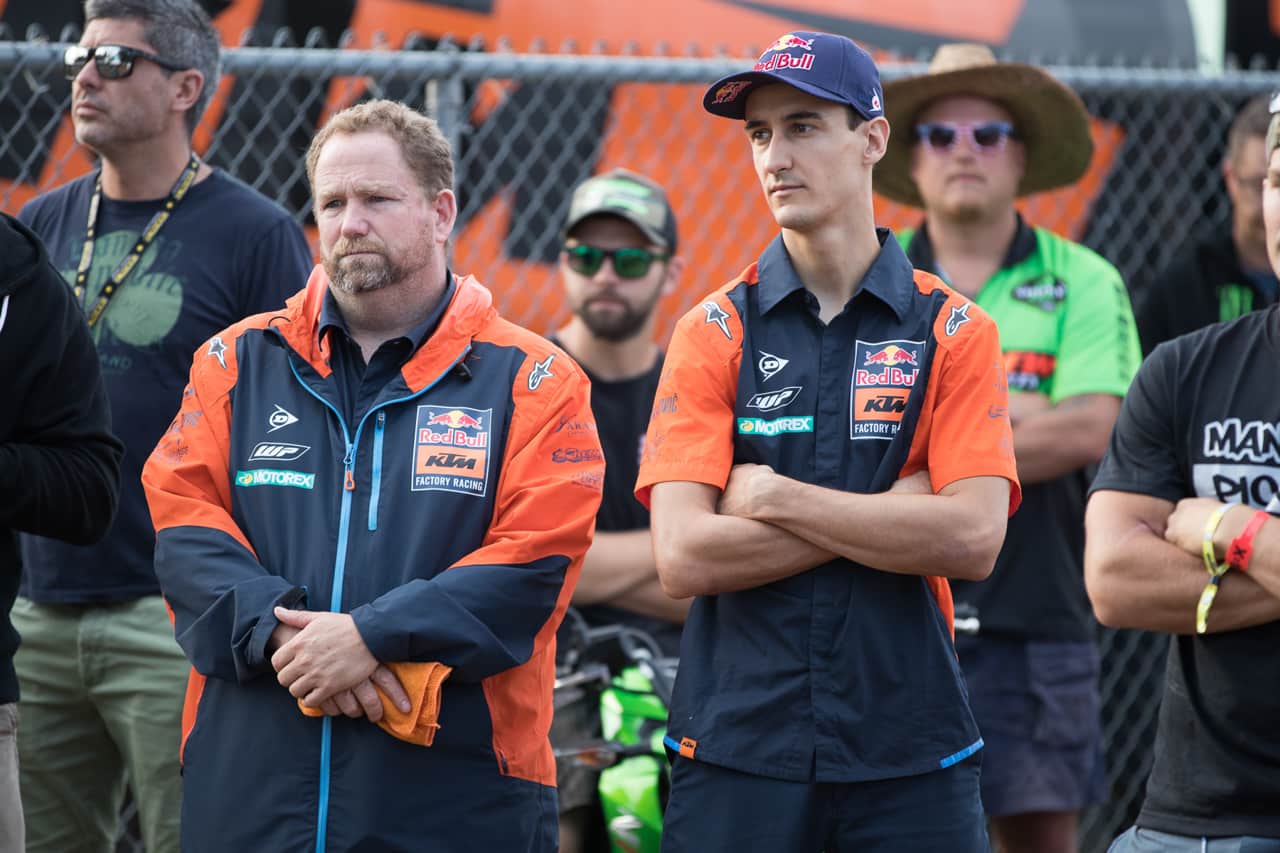 Marvin Musquin and Frankie Latham.
By Jim Kimball
Finishing third overall in a stacked 450 class at Red Bud is impressive in itself. But when you add in the torn meniscus that he suffered prior to round four of the AMA Nationals, it could be considered an epic ride. Trying to keep his championship hopes alive, Red Bull KTM's Marvin Musquin has continued racing with an injury that often requires surgery and extended recovery. Marvin took the time to tell us what's going on.
Marvin and Roger.
MARVIN, WHAT IS THE STATUS OF YOUR KNEE INJURY? My leg is a lot stronger and is feeling better. Basically, the first week, it was just super hard to have any strength in the knee after I tweaked it. Right now it feels like its back to normal. That is awesome, and I am really happy.
YOUR INJURY COULD HAVE REQUIRED SURGERY, HOW IS IT THAT YOU ARE STILL RACING? There are some ligaments that are gone, and the knee can be a little unstable. But you know with some strength building, and rehab, there are people that live, and race with no ligaments.
Marvin on the podium with Blake Baggett and Jason Anderson.
WHAT ABOUT THE TORN MENISCUS? Racing with a torn meniscus can hurt me if I drag my leg on the ground, and tweak the knee a little bit. But, overall, it is not as bad as it could be. Nothing bad happened at Red Bud, so that was nice. Wearing a DonJoy knee brace it helps a lot. I got a really nice brace from them, and we had it made even stronger now, so it is helping a lot.
WE HAVE SEEN A COUPLE RIDERS HAVE FRONT BRAKE PROBLEMS THIS YEAR. WAS YOUR MUDDY CREEK BRAKE ISSUE SIMILAR? Yes, it was just a rare situation, a rock hit the piston in the front brake. It started locking the front brake, and then locking the wheel up after one lap, so I could not go anywhere. Things happen beyond your control like that. I could have had the rock hit my hand, and been over for the season. Things happen, and that is racing.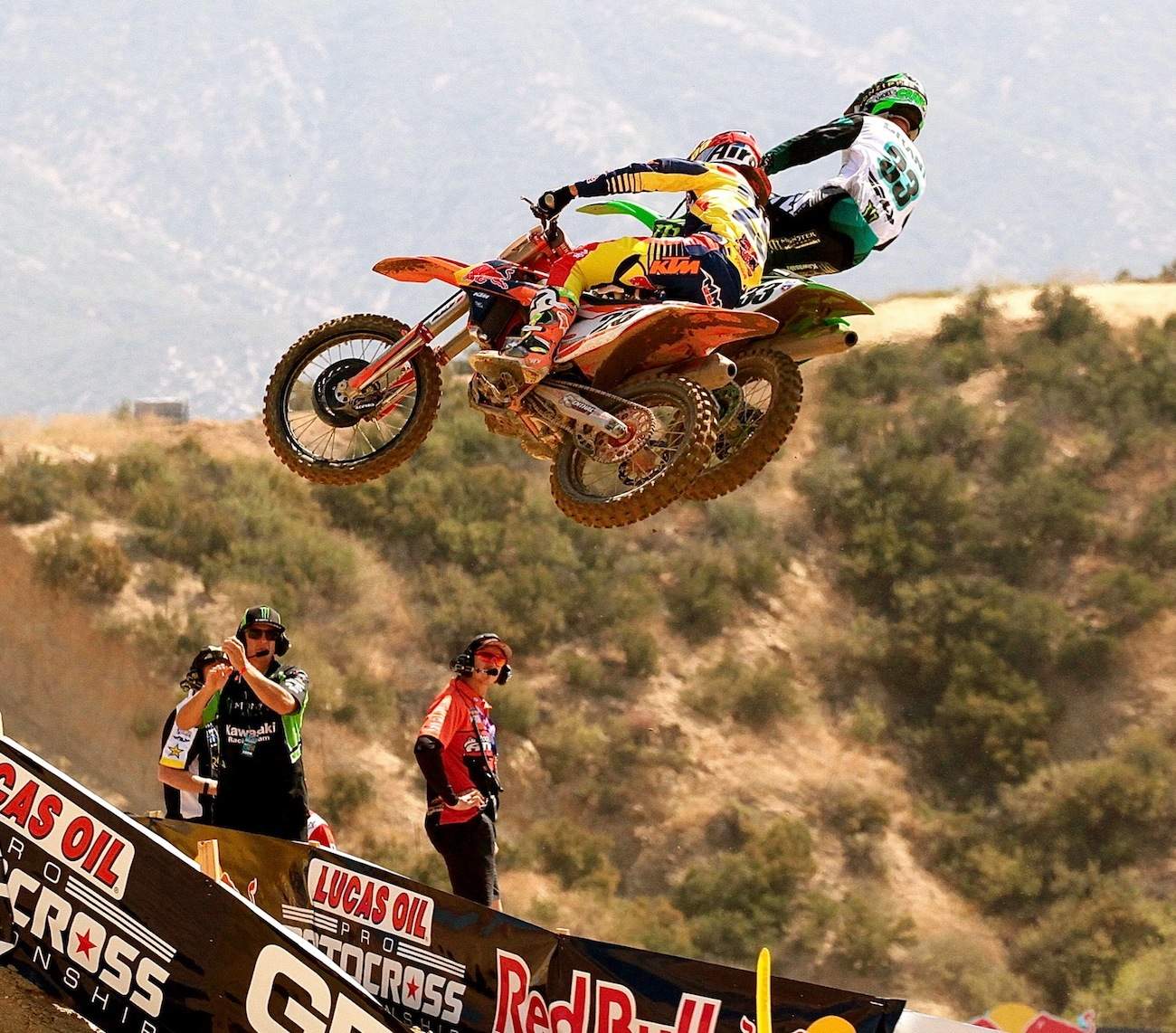 Marvin and Josh Grant.
2017 HAS BEEN A PRETTY BIG YEAR FOR YOU. DO YOU FEEL LIKE YOU NOW HAVE TAKEN IT TO ANOTHER LEVEL? For sure. When you have a team like I do with Red Bull KTM, a trainer like Aldon Baker, my wife Mathilde, and Frankie (Latham) as a mechanic, you just want to constantly improve. Ryan Dungey retired and we are going to do our best to step it up. I have been able to win some Supercross races, and one Outdoor race so far. I just want to keep going, and do my best.
AT THE BEGINNING  OF THE NATIONALS YOU WERE THE ONLY RIDER IN THE SEMI, BUT HAS IT CHANGED NOW THAT TREY CANARD HAS RETURNED. Just a little bit, yes. If there are any questions on bike set up, or the track Trey and I can talk about it. Obviously, the team has been a little busier with Trey here, but that is how it is supposed to be. It is good to have him back.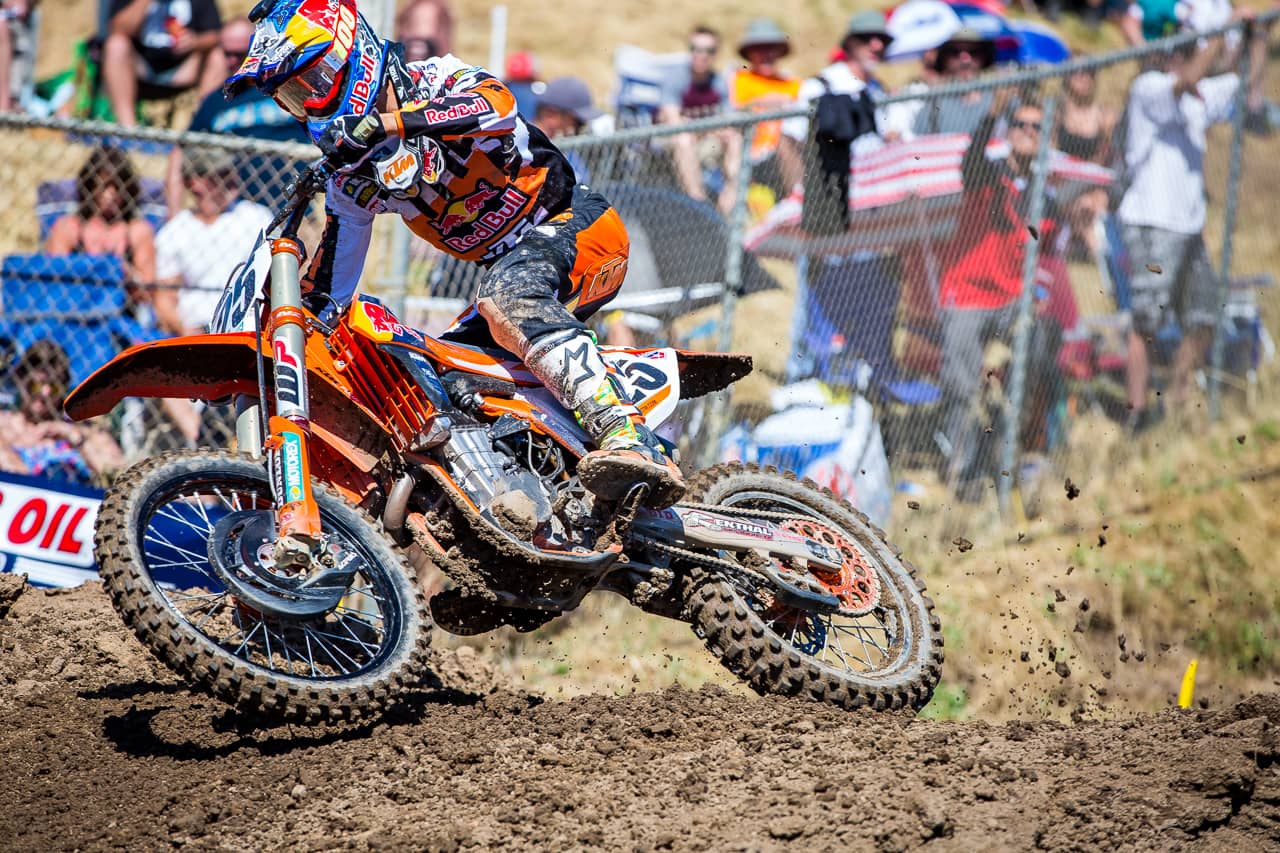 RYAN DUNGEY WAS  AT RED BUD; WERE YOU ABLE TO TALK MUCH? Actually I did not see him much at Red Bud. Ryan had a lot of fans to talk too, but if I need anything from him, he is there, so that is nice. We talked a little bit, but not much.
YOU HAD THE RED PLATE UNTIL YOUR KNEE INJURY, CAN YOU STILL WIN THE CHAMPIONSHIP? Right now I'm not even looking at the Championship. I do not even know what the points are. I just want to go race by race and give my best. That is all that I can do. I know the championship is not over for me, but it almost is.