MXA INTERVIEW: LARRY BROOKS TAKES A DIFFERENT APPROACH TO THE MOTO LIFE (UPDATED)
Larry in 1986 racing Daytona on a CR250.
BY JIM KIMBALL
LARRY, I KNOW YOU WERE A TOP MINICYCLE RACER. HOW DID MOTOCROSS BEGIN? I got a motorcycle for Christmas when I was 9. My sister and I both had motorcycles, so it was a family activity. We went to an Indian Dunes family day, and they were doing a Mickey Mouse Club race. My parents signed me up. I got third place and was pretty much addicted from that point. By the time I was 11, I was racing the Expert class and went from there. It started off as family fun on weekends, turned into doing local races, and from there to racing for Championships in 1977.
Initially, it was all my parents buying the equipment. Then, in 1978, Honda came out with its CR80, and I got a factory Honda ride. I started with Honda, went to Yamaha and later Suzuki throughout my mini career. 
AT SOME POINT, DIDN'T YOU JOIN MOTOCROSS ACTION AS A TEST RIDER? I was racing Indian Dunes all the time. But all the fast kids raced at Saddleback, so my dad took me there. I ended up meeting Jody Weisel at Saddleback, and he wanted me to do a minibike test. I did that test, and from there on out, I was a Motocross Action test rider. Jody taught me a lot about what to feel for on the motorcycle and what made different bikes good or bad. He really educated me on the workings of motorcycles. I started test riding for MXA around 1982 and was a Motocross Action test rider all the way to the end of my racing career in 1996. Being at MXA really helped me through my professional career, because I was able to ride a lot of different motorcycles and realize the different feel of them.  
TESTING APPEARS TO BE SUCH A CRITICAL ASPECT OF PROFESSIONAL MOTOCROSS. Absolutely. The testing part, getting your bike set up and having it work for you, is critical. There are so many different parts that the teams try, but the rider must choose what is best for him. Knowing that is probably one of the most important things in the sport. Choosing the best engine and suspension package is essential. What is best for one rider is not necessarily good for another rider, so he must choose what is best for him. All bikes are good nowadays. It used to be back in my day that different brands fit different riders and worked better or worked worse for them.  
WHEN DID YOU TURN PRO? I was riding for R&D Suzuki, Suzuki's factory minibike effort, but I got too big for an 80. Suzuki wanted me to continue racing the minis, and I didn't want to. It was time to move up, so I left Suzuki. The Honda Amateur Support team picked me up for the 125 class. I raced amateur until the Ponca City Championship and went straight to Unadilla as a Pro and finished 17th. That was in 1984.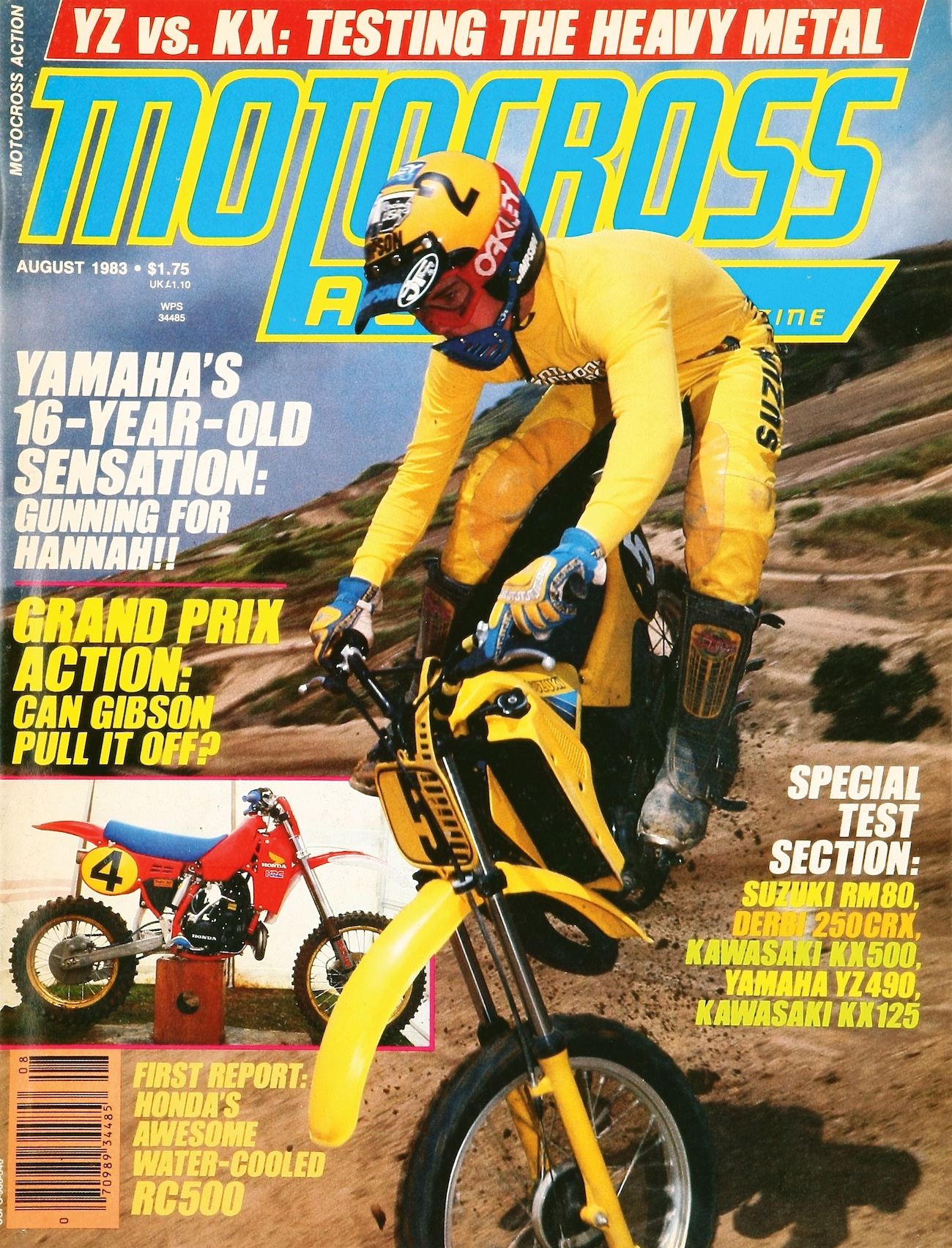 Larry Brooks on his first MXA cover. He would appear on over 100 covers during his time at MXA.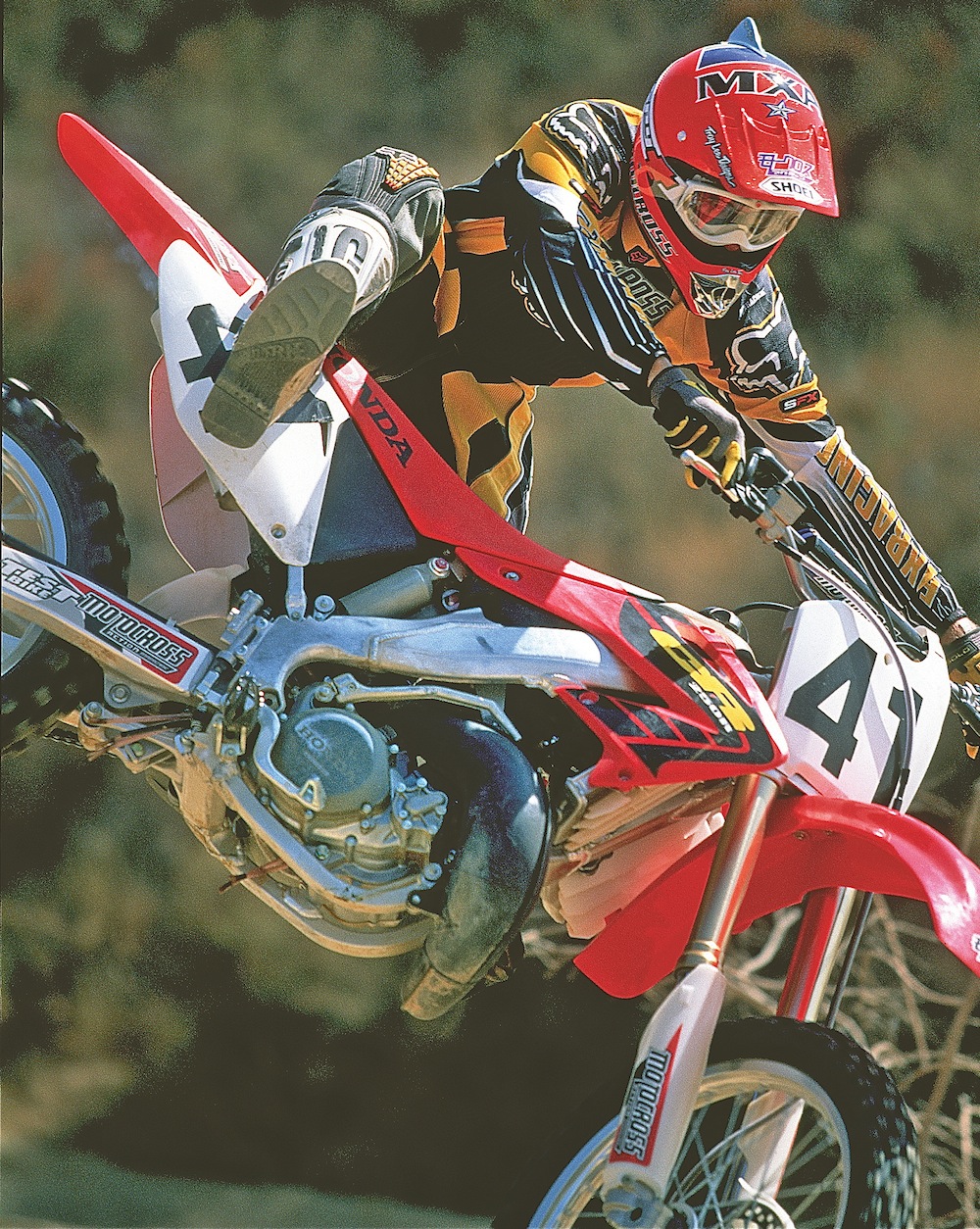 Classic Larry Brooks at MXA. He tested for MXA from 1982 to 1996.

"INITIALLY, IT WAS ALL MY PARENTS BUYING THE EQUIPMENT. THEN, IN 1978, HONDA CAME OUT WITH ITS CR80, AND I GOT A FACTORY HONDA RIDE. I STARTED WITH HONDA, WENT TO YAMAHA AND LATER SUZUKI  THROUGHOUT MY MINI CAREER."
WHEN WAS YOUR FIRST BIG WIN? I came into the pro ranks as a nobody. I had broken my wrist right before the 1985 season began and missed the early Anaheim Supercross races. Atlanta was my first 125 Supercross, and I finished second. The next weekend was the Orlando Supercross, which I won. 
HOW COULD YOU WIN YOUR SECOND EVER SUPERCROSS? I had no Supercross racing experience at all. Supercross just came to me easily on a 125. I had good success on the 125, but when I went to the 250 class, I did not have as much success. It was a bigger motorcycle and tougher on me. It took me quite a few years to get that ball rolling in the 250 class, but the 125 came to me quick. I had a good and fun 125 career, that is for sure.
WHY DID YOU MOVE TO THE 250 CLASS AFTER ONE YEAR? I raced the 125 class that first year in 1985. That is when they started the 125 Supercross class, and I pointed out my very first year. The AMA points system was terrible back then. I didn't know the rules. I just did as well as I could, and they point me out right away. I was forced to ride the 250 the following year. Nowadays, these guys make a career out riding the 125/250 East/West series. Because they did not have the unfair pointing out rules in the AMA Nationals, I could still ride the 125 class outdoors. I had success in the 125 class. I could manhandle it more and felt more confident. I rode 250 in Supercross and a 125 outdoors.
WHEN DID YOU SWITCH FULL-TIME TO THE 250 CLASS? 1988 was my last season doing 125 outdoors. Then in 1989, I raced some 250 races, but I had a lot of injuries in 1989 and 1990 and I lost almost two years. In 1991, I raced 250 Supercross and 250 outdoors again. I did well in Supercross with some top-10 finishes. In the 250 Nationals, I did better and finished eighth overall in the 250 Championship. I had a Team Green ride, but that was just for stock bikes and parts. Everything else was out of my pocket. With my budget, my racing future was looking bleak.
BUT YOU FOUND A NICHE IN PRO RACING THAT SAVED YOUR CAREER. Yes. In 1992, I signed with Clark Jones and Noleen Racing. I did the Nationals and Supercross rounds that did not conflict with the Mickey Thompson Ultracross series, but the team's focus was on Ultracross. It was based around the Mickey Thompson off-road car racing series. They would run the track clockwise for the cars and counterclockwise for the bikes. So, we were hitting all the jumps backwards. It was big jumps, high speeds, steep faces and flat corners. There was good purse money, prize money and bonus money. I won an Ultracross Championship, and I made a good living.  
WHAT PROMPTED YOU TO RETIRE FROM RACING? I had told myself that I was going to stop racing when I was 30.  My body was beat up. It was different back then; the motorcycles were not as good as they are now. Riders can have longer careers now because the motorcycles are better. It was just time for me to stop racing and go on to the next part of my life. 
THAT NEXT PART WAS A TEAM MANAGER POSITION. HOW DID THAT HAPPEN? A good friend of mine, Bill Berroth, told me, "Hey, I have a friend, Dave Damron, who owns Chaparral. He is thinking of starting a race team and needs someone to run it."  Bill and I went to San Bernardino and met with Dave. We came to an agreement and talked about what riders to hire. It was a new, untested team, so it was very difficult to hire riders. So, in 1996, I had to race for one more year for the team. But, in 1997, the Chaparral team grew quite a bit. We got Yamaha support, and in 1998 we signed Jeremy McGrath. We were the first private effort racing team that won championships. Before that, it was only the factory teams. Yamaha supported us and gave us the factory YZ250, which was a super important part. Dave obviously had the money and the backing to support the team, and I built the infrastructure. 
In 1993 Larry raced for the Noleen Yamaha team.
HOW MANY YEARS DID THAT TEAM LAST? We started that team in 1996 as a privateer effort. In 1997, we had Yamaha support with motorcycles, parts and money. In 1998, we hired McGrath and raced 1998, 1999 and 2000. Then Jeremy and I started our own team in 2001.  
WAS THAT WHEN MAZDA GOT INVOLVED? Yes, we were sponsored by Mazda Trucks. Jeremy and I had a great relationship. We worked closely together but were friends on top of that. Jeremy was coming to the end of his career. He was still winning races but not dominating like he had in the past. We had Mazda as the title sponsor the first year, and then Bud Light the following year. At Chaparral, we broke that mold. We would only get motorcycles from the manufacturer, but we would bring money in from "outside the industry" sponsors. It changed the sport. I cannot take the credit; I was able to do that because of Jeremy McGrath. You could sell the name Jeremy McGrath because he was the face of our sport. But Jeremy was getting to the end of his career, and we were switching the team to KTMs. But the switch to KTM did not work out the way it was supposed to. Jeremy dislocated his hip in a crash and retired from racing.
HOW DID YOU BECOME THE KTM TEAM MANAGER? We did the first seven Supercross events when Kurt Nicoll, who was the overall head of KTM's racing, asked me to manage the KTM factory team. I thought it would be a good step. I had never worked for a factory before. I decided to take the offer.
"WE HAD MAZDA AS THE TITLE SPONSOR THE FIRST YEAR, AND THEN BUD LIGHT THE FOLLOWING YEAR. AT CHAPARRAL, WE BROKE THAT MOLD. WE WOULD ONLY GET MOTORCYCLES FROM THE MANUFACTURER, BUT WE WOULD BRING MONEY IN FROM "OUTSIDE THE INDUSTRY" SPONSORS."
Larry as the KTM SX team manager.
WHO WERE THE KTM RIDERS AT THE TIME? We had Grant Langston, Brett Metcalfe, Joaquin Rodriguez and Steve Boniface. There were no real American riders. KTM had hired a lot of European riders, because that is who they knew; they were a European company. At that time, European riders did not have much Supercross experience, so it was difficult.
WHY DID KTM FOCUS SO MUCH ON THE 125 CLASS? It was because of the PDS system. The non-linkage system is why the bikes struggled in Supercross. It seemed like the 65, 85 and 125 using the non-linkage PDS systems were not too bad. We could make them work. But, when you added more power and weight with the 250 two-stroke and 450 four-stroke, the rear suspension struggled. 
BUT KTM WAS SUCCESSFUL, PDS OR NOT. I started managing that team halfway through the 2003 Supercross Series. We did okay in Supercross, and we won the 125 National Championship with Grant Langston, with Ryan Hughes in second. We got KTM its first American National Championship, which was cool. But for 2004, everyone was coming out with new four-strokes while we were still racing two-strokes. We struggled through 2004. But for 2005, KTM came out with the new 250 four-stroke and gave me free rein to hire the riders and build a team around the bike. I was able to hire Nathan Ramsey, Josh Hanson, Mike Alessi and Ryan Mills.
THE 2005 KTM 250SXF WAS SUCCESSFUL, WASN'T IT? Yes, we won quite a few races and finished on the podium almost every weekend. Josh Hanson tied for the Supercross Championship, but we lost on overall victories. We had good success the very first year on the 250SXF, but again, we still had the PDS non-linkage system. The extra power and weight of the four-stroke made things difficult for us in Supercross. We could get it to work in the whoops, but then it wouldn't work in the corners. Or, we could get it to work in the corners, but it would not work in the whoops. It was a very difficult system to set up.  
Larry was the team manager of the Chaparral Yamaha team. Pictured is Dave Damron, Jeremy McGrath and Larry Brooks.
DID KTM LISTEN WHEN YOU ASKED FOR RISING-RATE LINKAGE? No, not at all. They wanted to win, but they did not know how to win. When I would say, "We need linkage to really seal the deal and make the bike competitive," they wouldn't listen. They were looking at the manufacturing cost of a new suspension system, not the performance of the motorcycle.  
HOW WAS 2006? We had the same riders for 2006. They all had a second year on their contract. We had a lot of success during Supercross again and were battling for the championship on both coasts. I decided to part ways with KTM and start my own team in 2007. KTM had made it clear that they were not going to put linkage on the bike. I felt it was in my best interest to do something else. I decided to build another team. I had done it a few times; with the Chaparral team and McGrath team, so I knew how to do it. And then I had the opportunity, so I thought it was time.
WHAT WAS THAT OPPORTUNITY? Mike Kranyak was the financial backer of the team, and I was the working part of the L&M team. Mike did not get involved in the day-to-day working of the team. He left that all up to me. He allowed me to do it the way I wanted to. That was a good thing. We got the San Manuel Indian Casino to sponsor us. Chad Reed had a relationship with Yamaha and was already racing for them, but he had seen the success and the freedom we had with Jeremy. Chad knew Yamaha would support us with good equipment. It always comes down to having good equipment to attract a rider. We had all the pieces to the puzzle, and we were able to get competitive bikes and good riders. We added Nathan Ramsey, who had been with me at KTM, but he had pointed out of the 250 East/West class and wanted to race 450s. 
Larry Brooks (230) leading the pack in 1991 with Bradshaw (11) and Larocco (6) in tow.
HOW DID IT GO? I wanted to win badly. Chad always wants to win, too. He is a great test rider as far as knowing what he wants. We had a good two-year relationship on the professional side. The first year we did Supercross only and finished second to James Stewart. Then, in 2008 we won the Supercross Championship. We would have kept on winning with Chad, but his agent was trying to get as much money as possible.  We were paying Chad around $3,000,000 for Supercross only. The manager wanted double that for 2009. I kept telling him, "We can't afford what you are asking for." It got into some heated conversations, and his manager just ruined the deal. It was nothing to do with Chad.
James Stewart when he was on the San Manuel Yamaha team.
THEN YOU SIGNED CHAD'S ARCHRIVAL JAMES STEWART! Yes, but James was not the greatest test rider, which made it hard on the team. He knew what he wanted but could not tell us what that was. I would have to listen to the things he said and translate it from "rider talk" into words that the mechanics could understand. Unfortunately, San Manual backed out after James got arrested for impersonating a police officer by flashing police lights from his truck. San Manual pulled their sponsorship because they did not want to have anything negative reflecting on the tribe. I don't think James knew it was as serious as it ended up being. He was just trying to get to the airport and had lights on his car. Impersonating a police officer is a big deal, but it got blown out of proportion.  
IS THAT WHEN YOU TEAMED UP WITH MCGRATH AGAIN AND ESTABLISHED THE SUPERCROSS.COM HONDA TEAM? In 2012, Jeremy and I built that Honda team with Andrew Short as the rider. Supercross.com was the title sponsor. But then Andrew injured himself and was out for five races or so. The Supercross.com guy quit paying right around that same time. We were trying to find another title sponsor and were behind in paying Andrew and the mechanics. Chaparral came on board when Andrew came back to racing, but we had dug such a hole without having a title sponsor during the time Andrew was injured that we never recovered from it. Andrew did win a Supercross, which was great for the team, but you must pay your people, and we were unable to.
WHAT CAME NEXT? I went to work for Chaparral. They had started building their own roll cages, bumpers, and roofs for the side-by-side market. That industry was blowing up. I went in and ran that division for Dave. It was not racing, but I had a lot of fun and learned a lot. But my heart was in racing. It was hard for me to switch from managing a Supercross/motocross team to working a 9-to-5 job. I enjoyed being at the races, working with riders and teams.
IS THAT WHEN THE SLATER/BLUE BUFFALO TEAM CAME UP? Exactly. John Slater had the Blue Buffalo relationship. He started that team and hired me to manage it. That was a weird deal. I don't think he had the amount of money needed to go racing at the level that he wanted to. Then, he had the Glen Helen National fiasco. He got in trouble with the security guards and the team got thrown out of the pits. Because I was not involved with the whole security guard situation, they allowed me to stay there with the riders. It was not the position that I wanted to be in at that time, so I parted ways with them.
"IT WAS HARD FOR ME TO SWITCH FROM MANAGING A SUPERCROSS/MOTOCROSS TEAM TO WORKING A 9-TO-5 JOB. I ENJOYED BEING AT THE RACES, WORKING WITH RIDERS AND TEAMS."
Dilan Schwartz on the BarX RM-Z250.
DID BAR X SUZUKI COME NEXT? After Blue Buffalo, I started coaching amateur-level kids. I got to know the amateur circuit a little bit and had a great time doing it. Then I was approached by Nick Barbieri, who owned a trucking company in Northern California, and Myron Short, who owns 2X Promotions. He promotes races like the Mammoth Mountain Motocross and the California Classic. They were putting together the Bar X amateur team and asked if I wanted to be involved. I took the job, and we raced amateurs from 2017 until 2020. That was the most fun that I had in a long time, working with young kids to prepare them for the jump to Pro racing.  
BUT THEN BAR X BECAME A PRO TEAM. Our riders were graduating from amateur racing to professional racing. We had raced Loretta Lynn's with Dilan Schwartz who was going to go pro. The AMA allowed some riders to do a couple of professional races yet keep their amateur status. We decided to do this with them and help them make a name out there. Doing the pro races invigorated Nick and Myron and got them excited. We were still doing amateurs while also doing the pros. It was a big workload for me and the team. Honestly, it took me a year to get my feet back underneath me and learn about the Pro racing scene again. Now, we are strictly a Pro team but kept Chase Yentzer as our amateur rider. He had not reached his potential in amateur racing, so we kept him on board.
BAR X IS UNUSUAL BECAUSE IT IS A SUZUKI-SPONSORED TEAM. THOSE ARE RARE.  We are their 250 East/West and 250 National factory effort. Twisted Tea is their 450 effort. We build our own equipment as far as the engines and chassis. We get help, but we don't get factory parts like it used to be. We try to build a production bike into a "factory bike."
DOES SUZUKI PAY THE TEAM? No, nothing besides giving us the bikes. The Suzuki RM-Z250 went through a big update in 2019 as far as a new chassis, new plastic, bodywork, and new cylinder head design. They did not put electric start on it, and that is what everyone looks at now. "Suzuki does not have an electric start, so they are outdated."
DILAN SCHWARTZ TURNED SOME HEADS IN THE 250 NATIONALS IN 2021. Yes, that was great. People thought the Suzuki was totally outdated and not up to par. But we brought a rookie into the AMA National series, and he turned some heads. People started to think, "Oh my gosh, Suzuki can do it." Dilan made the top 10 in the 2021 250 Nationals.
HOW HAS LARRY BROOKS CHANGED? YOU WERE PRETTY INTENSE IN THE PAST. I have taken a different approach. Ever since I started working with amateurs, I feel my job is to build these kids up, make them better riders and, hopefully, better people. In the past, I was so driven and focused on winning that was all I thought about. I was over the top at times. Some people appreciated me while others disliked me. I wasn't always politically correct, but I told it like it was. Now, I have switched gears and enjoy watching the riders succeed more than me trying to win a championship for self-gratification. I really enjoy what I am doing right now. I don't see myself moving on any time soon. I love the people I am around.
After this MXA interview was done, Larry signed on to become the team manager for the 2023 Twisted Tea/Progressive Insurance Suzuki team. It will field three riders in the 450 class and one 250 East rider and one 250 West rider.