MXA INTERVIEW: LOOKING BACK ON TREY CANARD'S INSPIRING CAREER
TREY, TALK ABOUT YOUR EARLY DAYS IN OKLAHOMA AND WHEN YOUR DIRT BIKE INTEREST BEGAN. My parents owned a motorcycle shop. It was always my dad's passion to ride motorcycles. Growing up, he never really had the financial ability to buy his own bike, and neither did his parents. So, when he got old enough, he bought a bike and fell in love with it. Not only did he like riding bikes, he also enjoyed working on them. That was his passion. The motorcycle dealership and racing motocross were a big part of his life. It was like growing up in paradise, and I loved it. It was really cool, because if you were in the motocross community, the local shop was the spot. That is where you got your parts, where you got your gear and where you came to talk bikes. There was something really genuine about it.
WHEN DID YOU START RIDING? My older brother followed my dad into motocross, and then I came along. My dad built me what kids today would call a strider, because he did not feel comfortable putting me on an actual motorcycle. But, by the time I was 3, he figured I was ready for a motorcycle. It started at such a young age for me that I don't really remember a time when I was not riding a motorcycle. At 4 years old I was at the track. It was not a competitive thing; it was just a fun thing to do. Some people go to the lake, some people go to the park and some people go to the beach; we went to the motorcycle track.
"I KNOW THAT SOME PEOPLE ARE TURNED OFF BY MY CHRISTIAN VIEWS. IT SOMETIMES CREATES CONFLICT, BUT I AM JUST BEING HONEST WHEN I SAY THAT I HAD GOD AT THOSE MOMENTS."
WHEN DID YOU START TAKING IT SERIOUSLY? Locally, to the people you see at the track, you are always going to be the next Jeremy McGrath, you know? But I never really believed that. I was like, "Okay, whatever; I am just having fun." But then I got a Team Green ride when I was 9. I was obligated to do a certain number of races, but I still didn't take it seriously until I was 15 and started doing really well. It took off from there.
CAN YOU SHARE THE STORY OF YOUR FATHER'S ACCIDENT? I don't like talking about it, but it is certainly a part of my story. I think everyone has a story that matters, and to me this is definitely a huge part of me. I just want to honor my dad. He did his best, and he had a significant impact in my life. That day is certainly ingrained into my mind. He was working on our track, and he had an accident with our tractor. I was the first one to find him. It is something that I think will always be sad, because death is sad. Losing people we love, especially at 12 years old, is a very difficult thing. I have struggled with it ever since. What I want people to know is that I empathize with people who have gone through the same thing, and I hope that they can empathize with me. It certainly brought realness to life for me. The thing that always keeps me honest is remembering who he was and the fact that he tried his best for us. He left us an amazing example, and I am really grateful that I can say that.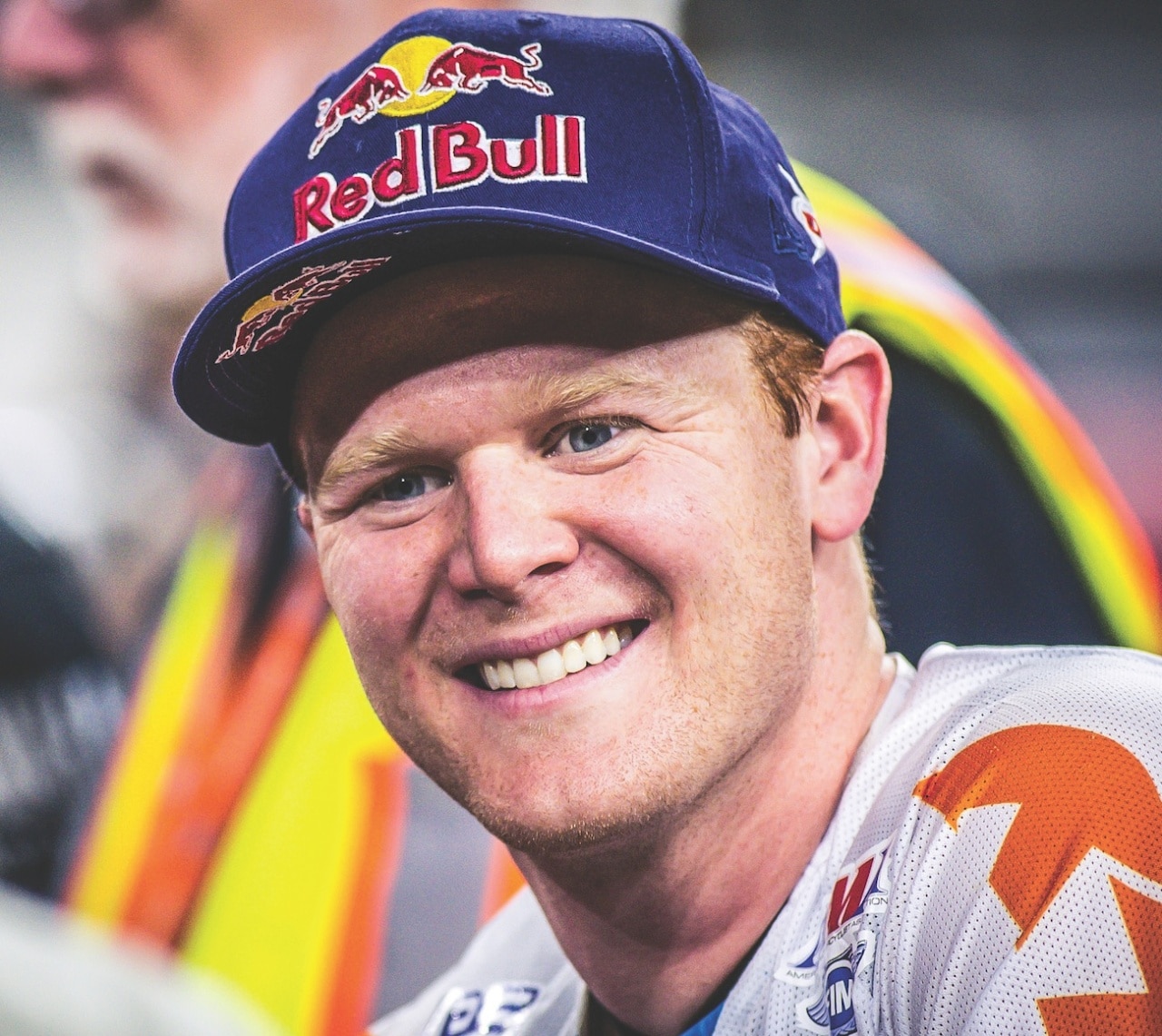 IT IS OBVIOUS THAT PEOPLE THINK OF YOU AS A GOOD EXAMPLE OF A CARING PERSON. Thanks for saying that. I hope that people who have been through traumatic events can see that it does not have to be the end. I know that some people are turned off by my Christian views. It sometimes creates conflict, but I am just being honest when I say that I had God at those moments. Some people may turn to alcohol, to drugs or whatever it may be. I was able to turn to God, and I was able to turn to my family, and I truly believe that got me through it.
DID THE CRITICISM OF YOUR CHRISTIANITY ON THE PODIUM MAKE YOU THINK ABOUT IT? There was a time earlier in my career when I really felt passionate about saying that type of thing on the podium—to use it as a platform. First of all, I want to communicate that I never thanked God for the race victory. Whenever I praise God, I am praising him for the breath in my lungs and for a chance at life. I hope people don't see me as forcing my views on them. I am just expressing my gratitude, and if I am not living it, I am not doing anyone any justice, including God. My goal is to be genuine, authentic and real. If I am not accomplishing that, it is just using words, and it is really not worth anything.
WHAT BROUGHT YOU TO THE GEICO HONDA TEAM? The Team Green effort at that time was unparalleled. There were just so many good people there that it was a difficult decision to leave them. We had history. A big part of leaving was my mechanic Brent Presnell. He had dropped out of college and come to live with me when my dad passed away. I have so much loyalty to him. Pro Circuit Kawasaki did not want to bring on another mechanic, and I wanted to bring Brent with me. That was a huge part of me going to Honda. Another reason was that Pro Circuit already had Ryan Villopoto, and Geico was pursuing me really hard. I felt like I would have just been "another person" at Pro Circuit. Looking back, it would not have been that bad of a deal, but at that point I wanted to have the attention that a team gives to its lead riders. Since then, I have gotten to know Mitch, and he is just such a good guy. It is cool for me to look back to so many years ago and see that I made a great decision. I think I did my mechanic a lot of justice, and I feel good about that.
IN YOUR ROOKIE SEASON YOU WON THE 2008 AMA 250 WEST CHAMPIONSHIP OVER VILLOPOTO. Yes, but it was something that I did not expect. That is what makes that series so magical for me. I did not expect to win the championship. I did not expect to even win a race. But, I had a little catchphrase: "200 percent." I was going to give 200-percent effort. To be a 17-year-old kid in your first year on the circuit and win a title was something else. I am so grateful that I was able to do that—and what a series that was!
"I WAS ON THE INSIDE AND TRYING TO PASS HIM. IT WAS TIGHT, BUT I DID NOT GO IN THERE WITH THE INTENT TO CLEAN HIS CLOCK. IT IS UNFORTUNATE IT ENDED THAT WAY, BUT I HAVE A GOOD, CLEAR CONSCIENCE ABOUT IT."
YOU WON THE CHAMPIONSHIP AT THE FINAL ROUND WHEN YOU AND VILLOPOTO COLLIDED. Yes, that was at the last round. I hear a lot about that one! People can say this or that, but I never had any intention of taking him out. I would not have touched him if my back wheel had not slid out. Usually, when you are taking someone out, you are running into their front wheel or T-boning them. I was on the inside, trying to pass him. It was tight, but I did not go in there with the intent to clean his clock. It is unfortunate it ended that way, but I have a good, clear conscience about it.
TALK MORE ABOUT WINNING THAT FIRST CHAMPIONSHIP IN YOUR ROOKIE YEAR. Winning the 250 East Coast Supercross Championship was probably one of the better things for my career, but it was also probably one of the worst things, because I had a lot of pressure from that point on. I thought that once I won I should do it again. But, it was tough, especially my first outdoor season. I broke my femur at the end of that, and then when I came back and got rolling again in 2009, I broke my wrist. That first year and a half was really difficult for me. A femur break is not an easy injury to come back from, and then to add a wrist injury on top of that was difficult. But, 2010 definitely made up for any lost time that I had. I would probably call that my best year of racing. I won a couple of 250 Supercrosses. I was on the podium five times on the CRF450 filling in for Andrew Short. I won the 250 National Motocross Championship and was part of the Motocross of Nations team. I started Supercross rough, but it's still one of those series that I look back on and have a lot of thankfulness about.
WHEN YOU MOVED UP TO THE 450 CLASS FULL-TIME IN 2011, WAS IT NATURAL TO STAY WITH HONDA. Yes. I had a couple times when I filled in on the CRF450, and even before my last 450 fill-in ride, they offered me a deal, which was, especially for that time in the bad economy, a no-brainer for me. I took the Honda offer, whether there was more opportunity on the table or not.

"IT SEEMED LIKE I COULD DO NOTHING RIGHT. I SERIOUSLY CONTEMPLATED HANGING IT UP. IT IS NOT LIKE I POP BACK FROM THESE INJURIES. IT IS A STRUGGLE. I CERTAINLY CAME OUT OF MY BACK INJURY A DIFFERENT PERSON."
HOW DO YOU FEEL ABOUT YOUR FIRST FULL-TIME SEASON IN THE 450 CLASS IN 2011? It was a great rookie season. Yes, it ended short with another broken femur near the end of Supercross, but overall it was good. We were outdoor testing just before the Seattle Supercross when I crashed and broke it. There were three rounds left in the series, but at that time there were five of us within 25 points of the championship lead, and it was a great year. I thought it was the best, most aggressive riding that I have ever done. I won three races and was on the podium a few times. I was right there, and that was really cool for me as a rookie to be battling alongside James Stewart, Chad Reed, Ryan Villopoto and Ryan Dungey. I was pumped because of the level of respect that they had for me. They were really generous and kind to me. I felt like I was one of them—not only just competing against them, but having their respect.
IN 2012 YOU SUFFERED A NEAR-CAREER-ENDING INJURY, RIGHT? Many people see that, but they do not see the months before that, ending my Supercross season early with a broken femur in 2011 and then coming back in 2011 for the outdoors and re-breaking it at Washougal. I came back from that and broke my collarbone in the off-season leading into 2012. I returned from that really quickly and then broke my back. That was just an emotional roller coaster. To have not just a severe injury, but one that was considered a career-ending injury was tough for me to come back from. It seemed like I could do nothing right. I seriously contemplated hanging it up. It is not like I pop back from these injuries. It is a struggle. I certainly came out of my back injury a different person.
MANY INJURED RIDERS SAY THAT THE TIME OFF HEALING WAS A BLESSING IN DISGUISE; WAS THIS TRUE FOR YOU? That can be true. I ended up having a lot of time off, and that was when I met my wife Hannah. I have told her that I would have gone through all that again if it meant meeting her. Something good came out of something bad, and I am forever grateful that I got to meet her. That summer was when I got to meet the person that I want to spend the rest of my life with.
HOW WOULD YOU CHARACTERIZE YOUR 450 CAREER? Difficult. Even on the local level, there are times when you love it and there are times it is your worst nightmare. I have heard the TV announcers say on the broadcasts that injuries are the story of Trey Canard. But, I hope that my career is a story of perseverance—and a story of success. I  won races. I may not have broken any records, but winning races is something that not everyone is fortunate enough to do. I hope that people don't look at me as some sort of charity case. I had a wonderful career.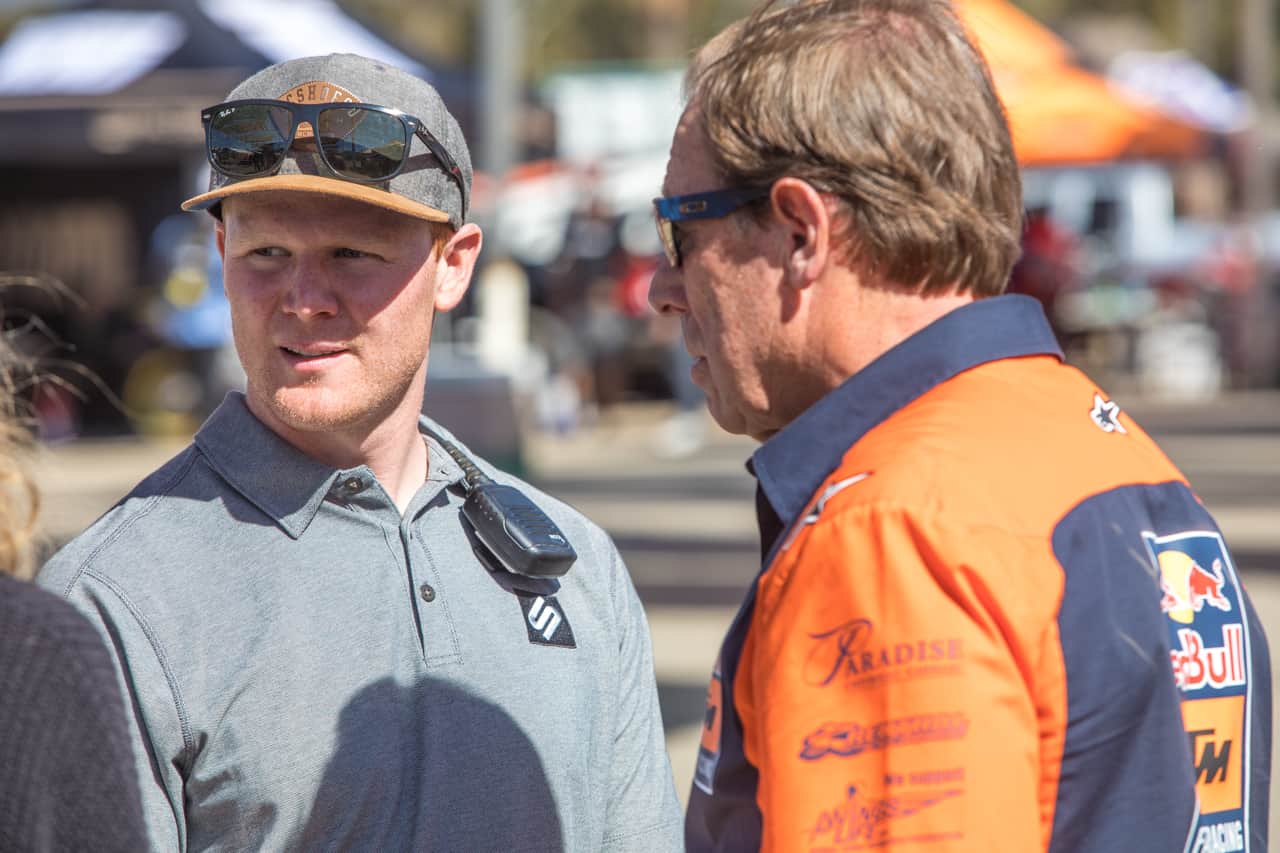 YOU BLED RED FOR MOST OF YOUR PRO CAREER. WHEN DID YOU REALIZE THAT HONDA WAS GOING TO GET RID OF YOU? Going into 2016 it really looked like we were going to do a contract extension. But, I had a big crash at the start of the year when my bike went into neutral. I went over the bars and really messed up my groin. I tried to ride through that, but then my hand got landed on, so it was a crummy start. When I heard that they were talking to Ken Roczen, they gave me an option to be a test rider. But, I wanted to keep racing. I hope I represented Honda well. I did the best that I possibly could, and I really appreciate all they did for me. I am happy to had the opportunity to sign with Red Bull KTM and have been teammates with Ryan Dungey and Marvin Musquin.
ANYTHING THAT YOU WANT TO ADD? Racing is a small part of life. It is easy to get so caught up in it that you miss the good parts of life. I have had a lot of chances to see that, and I am really grateful for that. Had everything gone perfectly for me, maybe I would have missed that. I think I get it as far as life is concerned. As part of my faith, I do everything to honor God. I just hope that my story in some way can help people. I believe that in some way people can look at my story and find hope, encouragement and some sort of light there.