MXA INTERVIEW: MALCOLM STEWART LOOKING TO PICK UP WHERE HE LEFT OFF IN THE 2020 SUPERCROSS SEASON
MXA INTERVIEW: MALCOLM STEWART IS READY TO PICK UP WHERE HE LEFT OFF IN THE 2020 MONSTER ENERGY SUPERCROSS SEASON
Coming into Anaheim 1 and the 2020 Monster Energy Supercross season, Malcolm Stewart is feeling good and recovered and he's looking to pick back up where he left off when he was injured during the Glendale Supercross in 2019. The Smartop Bullfrog Spas MotoConcepts Honda rider was upfront at the Monster Cup when he scored one Main Event win and landed on the overall podium in third after the three-race format was completed. In this interview Malcolm talks about the Monster Cup, his leg injury, being teammates with Justin Hill, his outlook on the new season and more. 
Words by Josh Mosiman.
Photos by Josh Mosiman and Travis Fant.
I WAS AT GLENDALE LAST YEAR AND YOU WERE ON FIRE BEFORE YOU CRASHED, HOW DID YOU FEEL LEADING UP TO THE INJURY? I felt good. Unfortunately the end results didn't really come out the way I wanted. But leading up to it, A1 was good, besides the mud. But it was still fun to be up there mixing it up with the guys. The heat race went well and then obviously we had our issue in the main event. But here we are, ten months later bouncing back from it. We had a good race at Monster Cup as well as Montreal (Canada) and we went to Paris (France) and I did well the second night.
Out of the three riders on the Smartop Bullfrog Spas MotoConcepts team, Malcolm Stewart is the only rider who isn't wearing Leatt gear head to toe. He's wearing Seven MX gear with Gaerne boots, Shoei helmet and Scott goggles. 
HOW DOES YOUR LEG FEEL? I feel good, I don't have any issues with my leg. It's one of those things where I just put it behind me a focused forward. It's not the only injury I've ever had in my life. As a professional rider, that's what we do, it's our job and that's the risk we are willing to make every day we throw our leg over a dirt bike. So for me that's just a little set back. In a way, I can say that I kind of enjoyed some of my time off. It's not the time off that I really wanted, but it's just one of those moments that happened and here we are. Going into the 2020 season we are happy.
ANYTIME YOU TAKE THAT MANY MONTHS OFF, YOU'RE KIND
OF UNDER THE RADAR. EVEN FOR MYSELF, I DIDN'T KNOW
WHERE I WOULD BE.
– Malcolm Stewart
Malcolm's bike at the 2019 Monster Energy Cup.
YOU WERE RIPPING AT MONSTER CUP TOO, GOOD JOB. Yeah Monster Cup was cool, that was a good little three race format. That was basically one of the biggest offseason races there is and it was really good. Just to come out and finish third was good. My expectations where to go out there and win a race and get a top three overall and I achieved both of those goals. Nobody really knew how fast I was going to be. Anytime you take that many months off, you're kind of under the radar. Even for myself I didn't know where I would be. Obviously we showed a lot of speed and there's a lot more in the tank leading into next season.
Malcolm Stewart has always been strong in the whoop sections. 
YOU'RE RIDING WITH VINCE FRIESE AND JUSTIN HILL AT THE TRACKS AND YOU'VE BEEN FRIENDS WITH JUSTIN FOR A WHILE NOW RIGHT? Yeah me and Justin are really cool. I've known him throughout our whole amateur career, as well as his brother Josh Hill. Josh was teammates with my brother James (Stewart) back in the San Manuel Yamaha days, I wanna say back in 2010. We all know the Hill family and they're always good people. Reuniting with Justin was cool. He's a cool kid to hangout with, you know how he dresses, like the Oregon style, just a kid in the woods and I respect it. He's a super laid back kid and he rides good and has a lot of potential. I've been sparring with him, as well as my teammate Vince (Friese).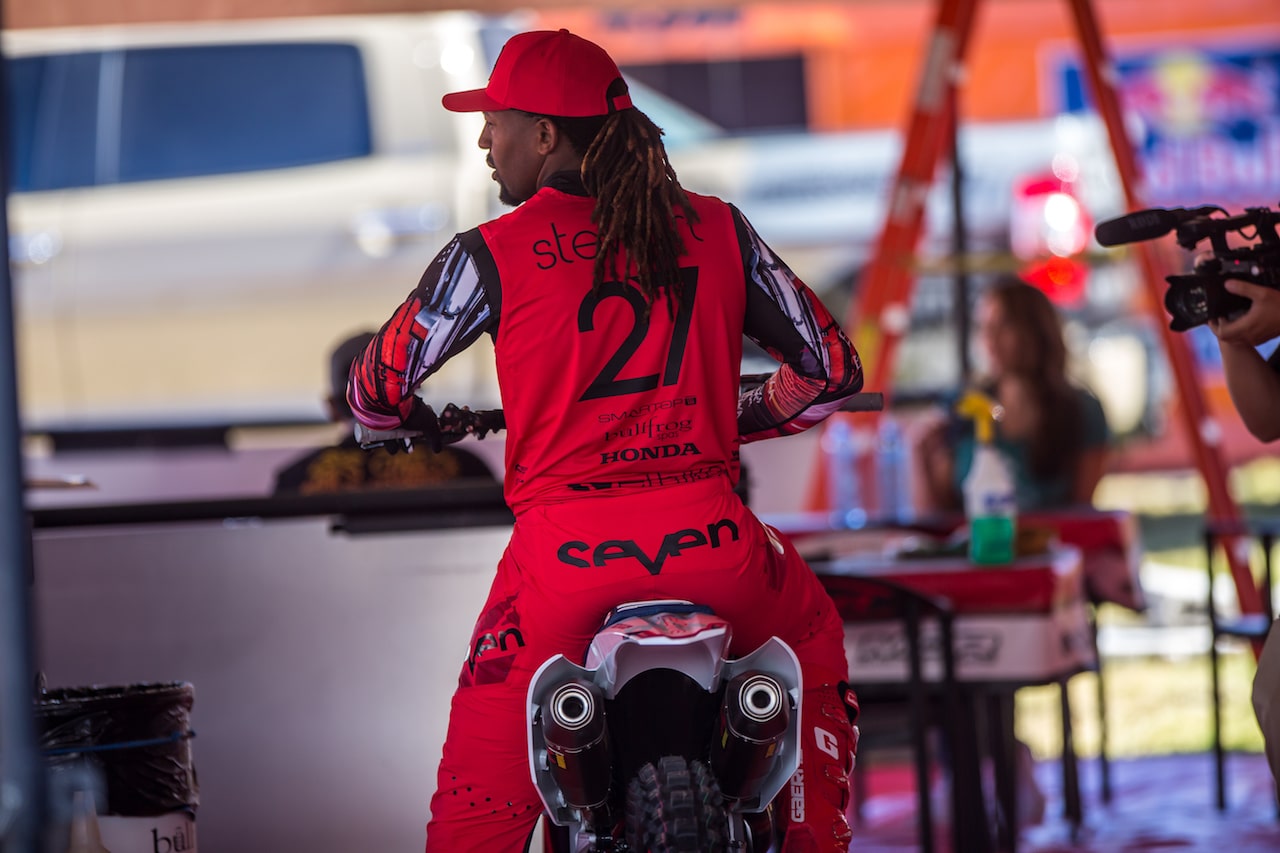 Malcolm Stewart surprised the industry and himself when he won a Main Event at the Monster Cup and scored third overall.
WHAT IS IT LIKE BATTLING WITH JUSTIN AND VINCE DAY IN AND DAY OUT AT THE TEST TRACKS? It's cool! Vince is a great rider and he shows a lot of heart. Justin is as well the same, especially when it gets to the technical tracks that's when Justin really starts showing his true potential and he just keeps me on my game. Like I said, we have three good riders going into the 2020 season, so I'm looking forward to seeing how we do. because I know we should be sitting up in the top ten no matter what, even on our worst days.
Even on Supercross tracks, the corners get rutted.
ARE YOU LIVING AND TRAINING HERE IN CALIFORNIA FULL-TIME? I'm here in California full-time. I got to spend sometime with my family during Thanksgiving so that was cool. I've been training out here with my trainer Gareth Swanepoel and the team's out here as well. It's just kind of a better fit, that was kind of the ritual. For me to be on the team, I needed to be out here. Plus, I needed to be out here anyways. Riding by yourself back home isn't that fun anyways. During the summer it's what ever, we have (Ken) Roczen, Adam Cianciarulo and those guys come over. But it's kind of hard to get everything back into Supercross season over there, there's too much stuff going on, testing and flying back and forth as well as training with my trainer. I'm sure in the next year or so I'll be probably back in Florida full-time once I get my feet wet a little bit. But who's to say, you gotta take it one day at a time. I enjoy being out here and I enjoy being around the team. It's just different scenery. We got snow on top of the mountains and stuff like that in California.
Malcolm Stewart is always cracking jokes and laughing with his friends at the races. 
WHAT DO YOU DO TO PREPARE FOR THE GNARLY CONDITIONS AT THE RACES? HOW SHOULD ROOKIES PREPARE? I can assure you, everyone went into A1 last year not expecting it to be a flooded race. Every track fits different people a little bit better. As a rookie you really don't know where you're limits are and where you fit in the field. But I think that's cool too, it's like getting your feet wet. But each and every year, as a racer, you learn more and more and you get better and better. Whether it's a mistake in the corners, or whoops or on top of that with bike chassis setup too.

Malcolm Stewart at the 2019 Monster Energy Cup.
HOW WOULD YOU COMPARE THE 250 AND 450 CLASSES? The field is stacked on the 250 and 450 side. I always look at the 250 class as college. Everybody is trying to kill each other out there because everybody wants to earn a spot in the 450 class and you don't really have time to make mistakes because the series is so short, it's only like nine races for them in Supercross. I'm glad I'm out of the 250 class, but then you're sitting on the gate in the 450 class and you look to your left and right and you see gnarly dudes. You got at least 17-18 guys that have won a championship or at least have done something in the 450 class like top five or won a race whatever. It speaks for itself, that's why the 450 class is so stacked nowadays. It's cool to have the rookies come up and mix it in with us and it just makes us step our game up.