MXA INTERVIEW: MARTIN DAVALOS IS LIVING THE 450 DREAM
Click on images to enlarge
By Jim Kimball
Martin Davalos has often been criticized for his long tenure in the 250 class, but that is what he was hired to do. What would you do? Martin knows that many people question his time in the 250 class, but no one more than he. Martin wanted to move to the 450 class, but it wasn't until this Summer that he got the chance. Now, Martin Davalos has been turning heads in the 2017 AMA 450 Nationals—making podiums and believers out of the naysayer. We sat down with him to hear how his dream came true.
MARTIN, HOW DID YOU END UP IN THE 450 CLASS FOR THE AMA NATIONALS? A few years ago, before I signed with Husqvarna I had wanted to move to the 450's. I told Bobby Hewitt when I signed at Husqvarna, "I really need a shot on the 450. I know I can ride this motorcycle." He agreed to that, but, obviously, I continued to race the 250, and was close to winning a 250 Supercross title.Then this year, I said, "Bobby, when Supercross was over, I need you to give me the opportunity."
AND HE OBVIOUSLY AGREED. WHAT DO YOU THINK NOW THAT YOU'RE THERE? Just to be able to perform at my best, at the highest level of competition on the 450 has been a great experience. It is a dream come true. Training with Tim Ferry in Florida, has been amazing. We struggled at the beginning of the season because my strength on a 450 was not there. But, I got stronger both physically and mentally. Riding at home is one thing, but to see how fast these guys go at a race, is a different story. So ,it took me a little bit to get started, but I am coming around.
LET'S TALK ABOUT THE FACT THAT PEOPLE CRITICIZE YOU FOR BEING A LIFER IN THE 250 CLASS. HAS THAT BEEN BY YOUR CHOICE? People don't understand what goes on behind the scenes. There have been many times that I have been waiting to move to the 450 class, but things did not play out. It's not really my choice. At the end of the day, I have to do whatever I can to be racing professional motocross.
YOU NEVER GOT A 450 OFFER? My offers have come from teams wanting me to race the 250 class. Should I turn down those offers, and race a 450 as a privateer? I love riding the 450, and have wanted to do this for so long. I am glad that things are going my way, and hopefully I can get something to go my way for next year.
HOW WAS THE ADJUSTMENT FROM THE 250 TO THE 450? It was a big adjustment. When the 250 East rounds were going on, I told the guys to send me a 450, so I could ride it once a week. But I wasn't in the 450 class until two two weeks before Hangtown, when Bobby Hewitt called and said "Hey Bud, we are going to do what you have been wanting to do. Do you want to do it? It is your call." I was on board. I was a little stressed out, as I had not tested at all. I stayed in California after Glen Helen and did some testing with the bike to tune it in for myself. I am still learning how to ride the bike a little better, and I feel like I am in a better place. I'm happier with the bike. When you are happy with the way you are riding, that is when things are clicking.
WHAT'S THE BIGGEST DIFFERENCE BETWEEN RACING A 250 AND A 450? The weight and the power; it is more physically demanding. The 450 throws you around a lot more, and you can't be as aggressive as you are on the 250. You have to respect the bike. It has plenty of power and you must be able to finesse the throttle, yet still go fast.
IT WAS A RISKY MOVE TO GO TO THE 450 CLASS. WHAT IF YOU HAD FAILED? It was very risky, but I wanted to do this for myself. I told myself that whatever happens at the end is going to happen. I wanted to race the 450 outdoors for myself. I wanted to prove to myself that I am capable of doing it.
PEOPLE THINK YOU ARE A SUPERCROSS-ONLY KIND OF RIDER. YOUR 2017 OUTDOOR SEASON HAS SHOCKED EVERYONE. I am so proud of myself, because we work so hard during the week that when we come to the race, it is so much easier. We are in Florida where it is really hot, and sandy, and you are just struggling. It is hard to put in all the effort needed to succeed. So, to come Unadilla with the rain and mud is a big change from the previous races. But I did not race a perfect race at Unadilla. I made mistakes, but that is what learning is all about—taking everything in.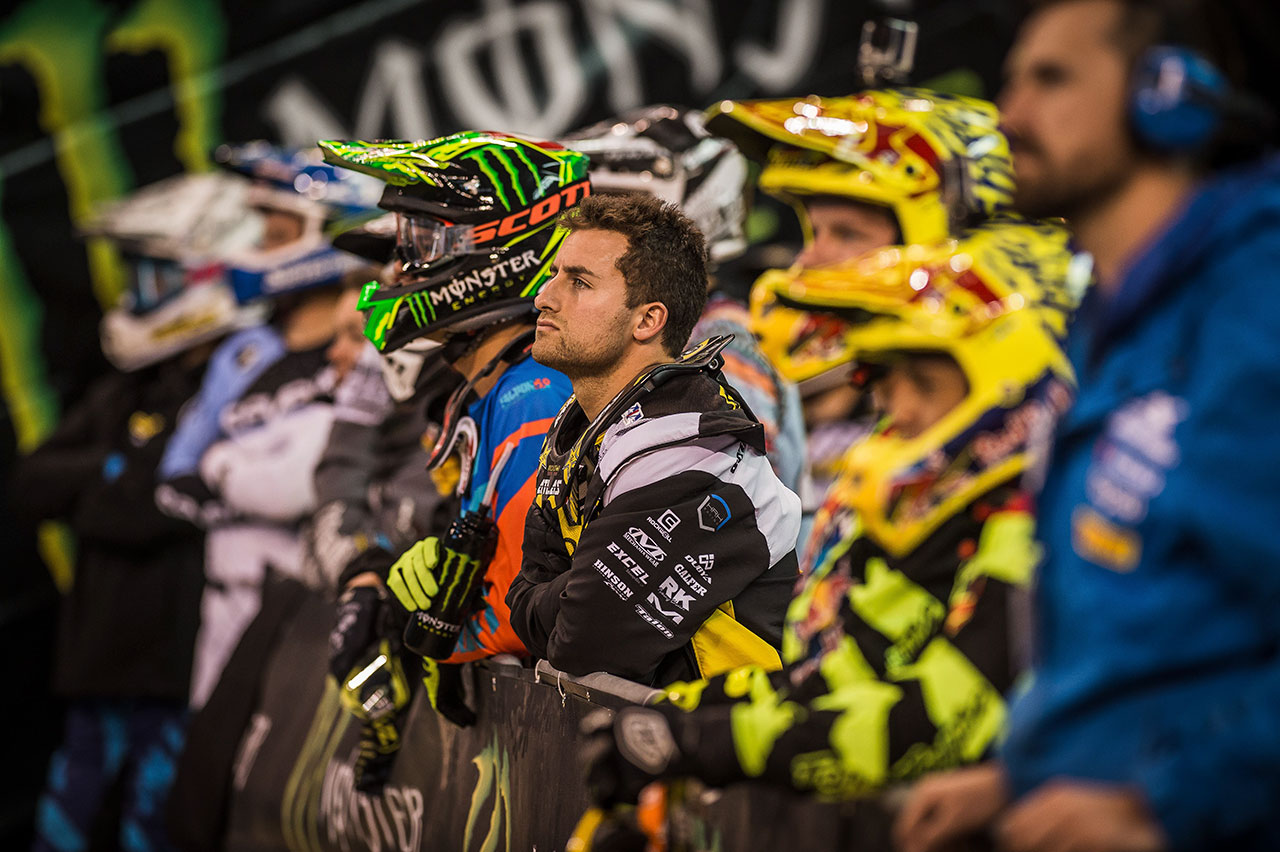 YOU LATCHED ONTO MARVIN MUSQUIN IN THE SECOND MOTO AT UNADILLA WHEN THE TRACK WAS AT ITS WORST. Marvin is such a great technical racer. So being behind Marv, I knew that I could learn from him. I wanted to try to stay with him, not let him get away, but still keep it in control, and ride within my limits. I stuck with him, and once I saw that we had pulled a gap, I said to myself, "Okay, this is good rhythm, let's stay calm, be loose on the bike, and have patience."
IS EVERYONE AT ROCKSTAR HUSQVARNA ROOTING FOR ZACH TO CLINCH THE 250 TITLE? Yes, we have an awesome atmosphere in the rig and we are all pulling for each other. We are always rooting for Zach this summer, as he is close to getting the championship. I am happy for Dean, and he is happy for me..
YOU WILL NOT BE ON THE HUSKY TEAM NEXT YEAR, RIGHT? It is looking like I won't be here, and looking like I have to wait it out; that is the only thing I can tell you. I don't have anything done for next year, but of course I am hoping to soon.

THIS MUST BE A VERY TENSE TIME FOR YOU. I am not too stressed about it, because I can't let that ruin my season. God knows my path. Whatever that path is, I know that he is going to look after me, and until then, I am going to do my best. That is all I can do, and if something pops up, I will be blessed, and take the opportunity. Until then, I will do my best, and have fun.
IN AN IDEAL WORLD, WHAT WOULD YOU LIKE TO RACE NEXT YEAR? I believe Supercross would be good for me on the 450. I have improved a lot, and have learned a lot this year on the 450. It has been totally a positive year so far. I do not want to get too ahead of myself, but I want to stay positive. I can't pick and choose right now. I just have to keep doing what I am doing and at the end, whatever comes is what we will do.