MXA INTERVIEW: MIKE GOSSELAAR'S LONG & WINDING ROAD
By Jim Kimball
HOW DID YOU GET YOUR START? IT COULDN'T HAVE BEEN WITH TEAM HONDA. I was working for the California Highway Patrol as one of four motorcycle mechanics they had. I also had a little side business where I would work on Harleys, motocross bikes—just a little bit of everything. I went to school with Dave Arnold's brother Richard. Dave was Marty Smith's mechanic back in the day. We grew up in the same neighborhood, and I was always thinking, "Man, I can't believe Marty Smith's mechanic lives right there." Because I went to school with Richard, they would always send me work.
HOW DID THAT LEAD TO TEAM HONDA? One day, Dave was racing at LACR and I was helping. I did not make much money working for the CHP, so on the weekends I would work for the CRC club as the starter. Dave always knew that I wanted to be a factory mechanic and said, "Hey, we could use you. I have an opening for a mechanic. Would you really be interested?"
I took a one-year leave of absence from the CHP, and I have never gone back.
WERE YOU WORKING WITH STEVE LAMSON RIGHT AWAY? Yes. Dave told me that he was probably going to put me with Steve Lamson. Steve was doing all these European races. We would literally come home and fly back to some other country the next week. He was making money doing it, and I got into it right away. There was no messing around.
"THEY TAKE PICTURES AT THE END, AND THERE ARE LIKE 100 PEOPLE THERE. AND YOU ASK YOURSELF, 'WHO ARE ALL OF THESE PEOPLE AND WHAT DID THEY DO?"'
STEVE CRUSHED EVERYONE AT THE 1996 MOTOCROSS DES NATIONS ON HIS CR125. Steve does not get enough credit for that. Johnny O'Mara is a really good friend of mine, and Johnny did it first and beat everybody on a 125. It seems like that is the one that everybody remembers. Steve did it, too, and I believe that in the race he won there were five current National and World Champions in his class. All three of the European Championship guys were in his class; Jeff Ward, who had just won a championship, was also in his class. He beat everybody on a 125, came from behind, passed them and it was awesome.
I will never forget that day. He was doing a giant jump on a 125 that the Europeans would not do on a 500. He did it in practice, and the Europeans all wanted the track changed. Back then, the Europeans didn't have jumps like that. Steve and Jeremy McGrath decided they could do this section and make it into a quad jump. The Europeans were all upset with it. That day was just awesome, and everything clicked.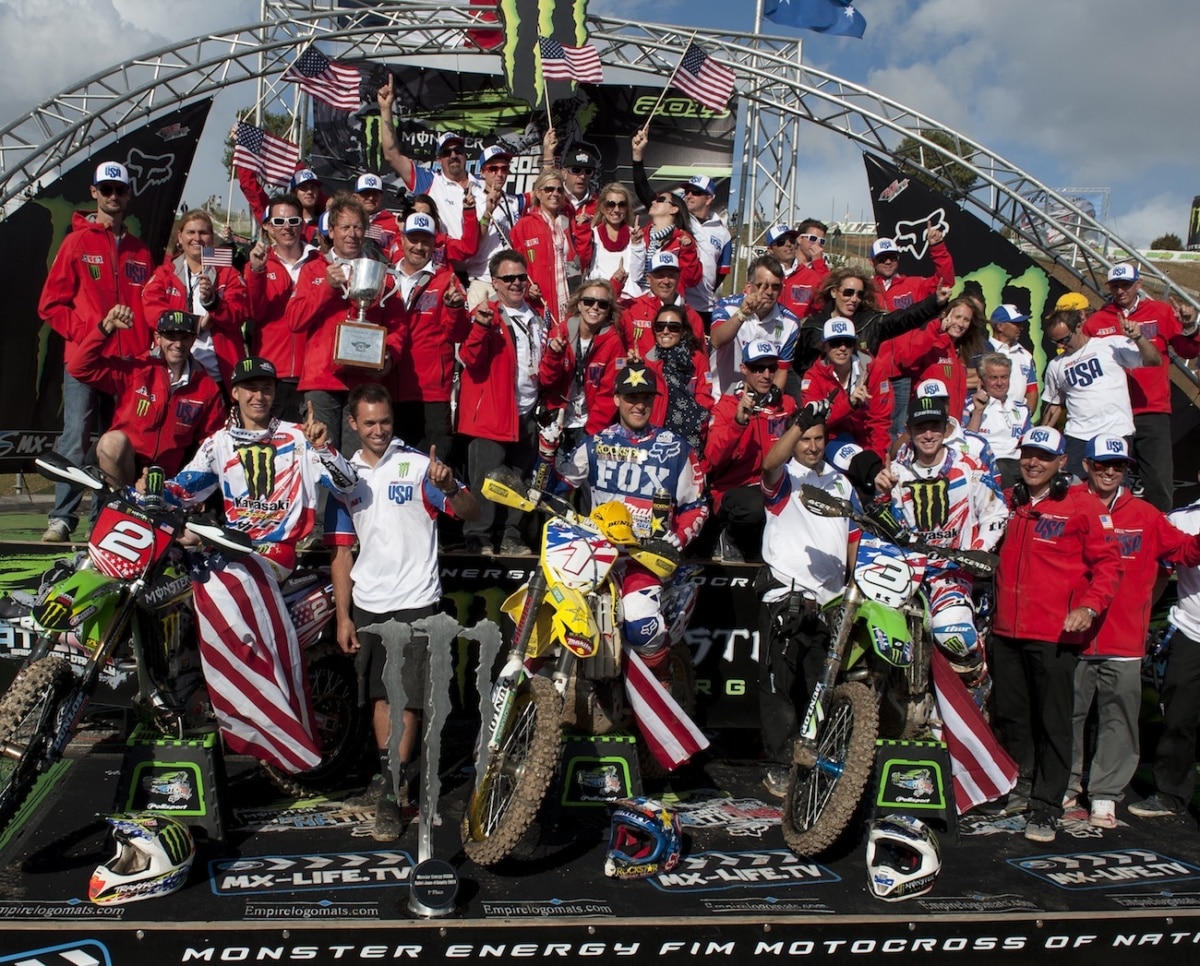 WHAT WAS THE MOTOCROSS DES NATIONS LIKE BACK THEN? It was so different from now. Back then, the team manager would go, plus a mechanic for each rider, maybe a suspension guy and Roger DeCoster as the overall Team USA manager. Maybe there were 15 people on the team.
Now when we go to the Motocross of Nations, everyone is wearing team jackets and crew shirts. They take pictures at the end, and there are like 100 people there. And you ask yourself, "Who are all of these people and what did they do?"
HOW DO YOU FEEL ABOUT THE MOTOCROSS DES NATIONS NOW THAT THE RIDERS ARE RELUCTANT TO GO? I understand the riders' point of view and the mechanics' point of view too. You don't hear very often about the mechanics' viewpoint. There is so much prep work required to race the Motocross des Nations. I know it is super prestigious, but for one race, the amount of work that goes into it is crazy.
When most of your competitors are going on to the next thing, which is Supercross, and you still have to hang it out and do one more outdoor race, you feel like you are falling behind. People do not realize the amount of money it costs. Even though the AMA tries to pay for it, there are still huge expenses involved. The riders are not getting paid for it. The mechanics are not getting paid. No one is getting paid.
"WHEN RICKY CAME ON BOARD, SUZUKI OPENED THE FLOODGATES AND SAID, 'WE WILL DO WHATEVER IT TAKES TO WIN.' THOSE WERE SOME AMAZING TIMES."
EVENTUALLY, YOU LEFT LAMSON BUT STAYED AT TEAM HONDA. In 1998 I went to work for Ezra Lusk. That was on the new aluminum-framed Honda CR250, which debuted in 1997. The guys went to Japan in 1996 and rode the new bike and actually liked it. But then it went through some changes, and the production bike was very different. Steve was still at Honda in 1998, and Dan Bentley worked with him.
Ezra was really fast but inconsistent. There would be one little thing that would set him off, and he would just struggle. Then the next race he would show up and kill everybody. The factories would race all the events in Japan in the off-season. At Ezra's first race over there he killed everybody, even Jeremy McGrath, who was on top of his game. So, I thought, this is going to be interesting. In Supercross, we won a lot of races that year, but inconsistency hurt him.

THEN EZRA LEFT FOR KAWASAKI AND RICKY CARMICHAEL CAME TO HONDA. HOW DID YOU TWO GET TOGETHER? Ezra wanted me to go with him, but Honda was like my home. Dave Arnold said, "Stay on board. We have new riders coming up, and you can pick whichever rider you want. Or, you can take a break from the racing circuit and be our chassis guy." I thought the in-house job sounded pretty interesting, because Dave was my mentor through those early years, and I was always blown away with how much stuff he knew about the chassis—and it interested me too. So, I thought I would do that for a year.
At the beginning of the next year Ricky needed somebody to work for him. Something happened with the mechanic that he had, and I ended up being in the right place at the right time. Honda put me to work with Ricky, and I was with him for years on end.
EVEN WITH YOUR HONDA RELATIONSHIPS, YOU WENT TO SUZUKI WITH RICKY CARMICHAEL IN 2005. I was not planning on it. I loved Honda, but Ricky kept telling me, "You have to go to Suzuki with me. You've got to go to Suzuki." I was torn between Honda and a rider that I had a really good relationship with. But, a little thing happened at Honda that I am not going to go into, and on the day it happened, I called Suzuki and said, "I am ready to come over."
WERE YOU SCARED TO LEAVE HONDA FOR SUZUKI? Yes. I was going to a company that wasn't as big as Honda. I was doing really well at Honda, but Ricky said, "If you go to Suzuki, I will take care of you and get you on par with what you are making at Honda." So, I made the move and ended up building a really good relationship with Suzuki. In my second year they really stepped up, and it was awesome working at Suzuki.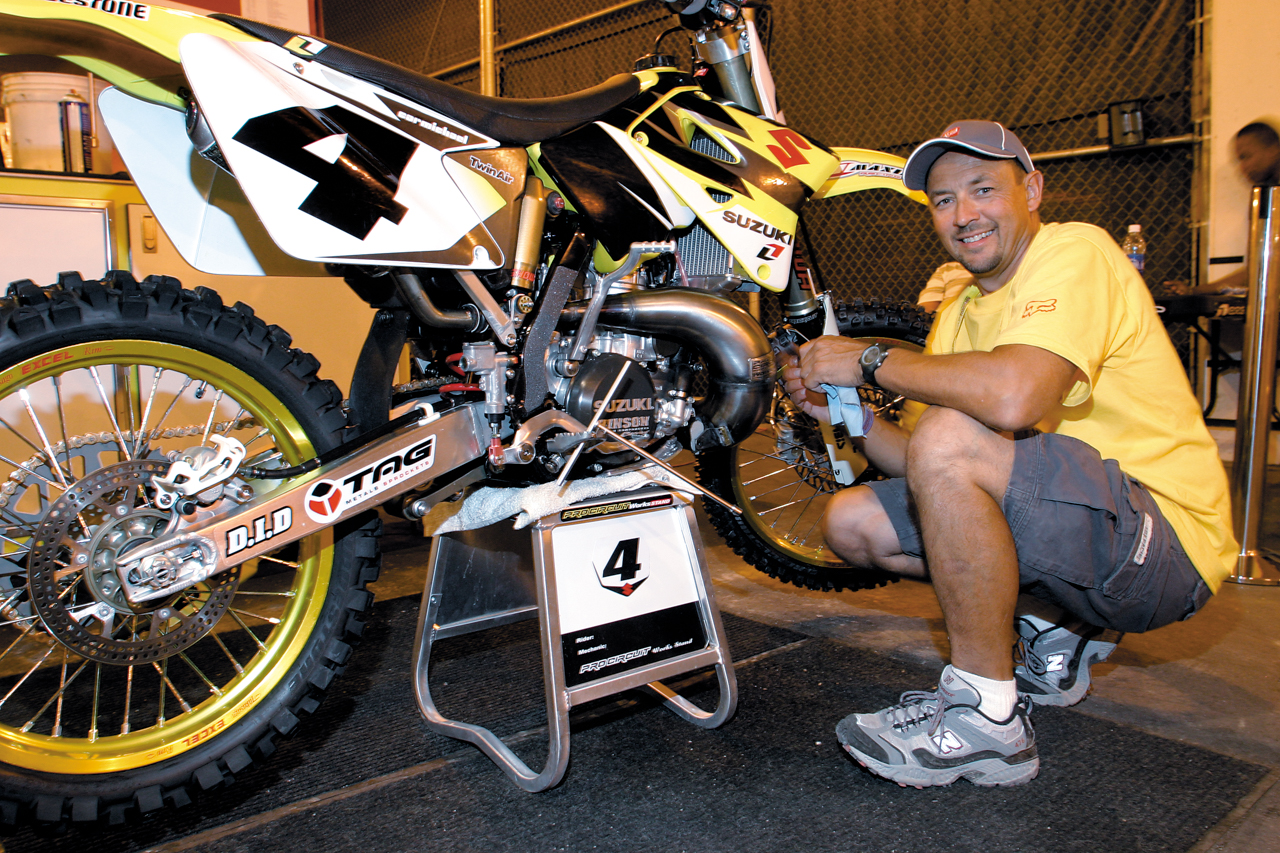 YOU SAW SUZUKI AT ITS BEST AND WORST. I was with Suzuki from the end of 2004 to the end of 2011. I saw the good times and the bad times. I saw Suzuki when it was at the best you could ever imagine. When Ricky came on board, Suzuki opened the floodgates and said, "We will do whatever it takes to win." Those were some amazing times. It was not what I expected. I thought that Suzuki could never be as good as Team Honda, but at Suzuki, there were a few years that I do not think will ever happen again in this sport as far as backing a race team goes. Maybe KTM is doing the same thing now, but those were great times at Suzuki.
RICKY MADE YOU THE MOST FAMOUS MECHANIC IN THE SPORT. That's all well and good, but I am a regular guy, spinning wrenches, and I got lucky by being in the right place at the right time and having the right riders. There are a lot of guys in this industry who work their tails off and do a great job and don't get that attention because their riders are not winning. When your rider wins, it is all good.
WHAT HAPPENED WHEN RICKY RETIRED? Actually, Suzuki had a big plan. They were going to hire James Stewart and they said, "Mike, we will give you a three-year deal. Stewart is going to join us in a couple of years, and you are going to be his mechanic. In the meantime, we have hired Mike Alessi, and you are going to work for him for one season. Afterwards, we are going to switch you over to Stewart."
But the Stewart thing never happened. I ended up working for Alessi for most of the year, but he got hurt in Supercross and outdoors. The following year Chad Reed came on board, and I went to Australia with him in the off-season for about three months. We got to be really good friends, and then we were together that one season when he was at Suzuki.
HOW WAS IT WORKING FOR MIKE ALESSI? It was a challenge, because he was so young. And when the guys I had worked with before spoke to me about their bikes, they had an idea of what needed to be done and could guide me in the right direction. Mike did not have the experience, so the challenge was to try to teach him about the motorcycle itself—not about riding it, but about what the motorcycle does.
It would have been nice to be able to finish the full Supercross and National series with him, but he kept getting hurt. That Supercross series was the best he had ever done up to that point. I think in Anaheim he got a fourth. Outdoors, James was winning everything and Mike was getting seconds. Mike would get the starts and then James would chase him down.
THEN SUZUKI SWITCHED YOU TO CHAD REED. Yes. I worked with Chad the following year, and he won the 2008 AMA 450 National title with Suzuki. It was actually a barn-burner in the Supercross season too. He and James were really close in points until the last couple of races.
Then Chad left for Kawasaki in 2009. I remember him winning the first National on the KX450F and thinking, "Oh boy, here he goes again. He won the previous year on Suzuki, and now he will crush it on the Kawasaki." But he had mechanical problems right off the bat, and I don't think his health was that good.
"WHEN I HAD THE MEETING WITH ROGER AT KTM, I DID NOT HAVE A GOOD FEELING ABOUT IT. SO, I DIDN'T GO WITH RYAN."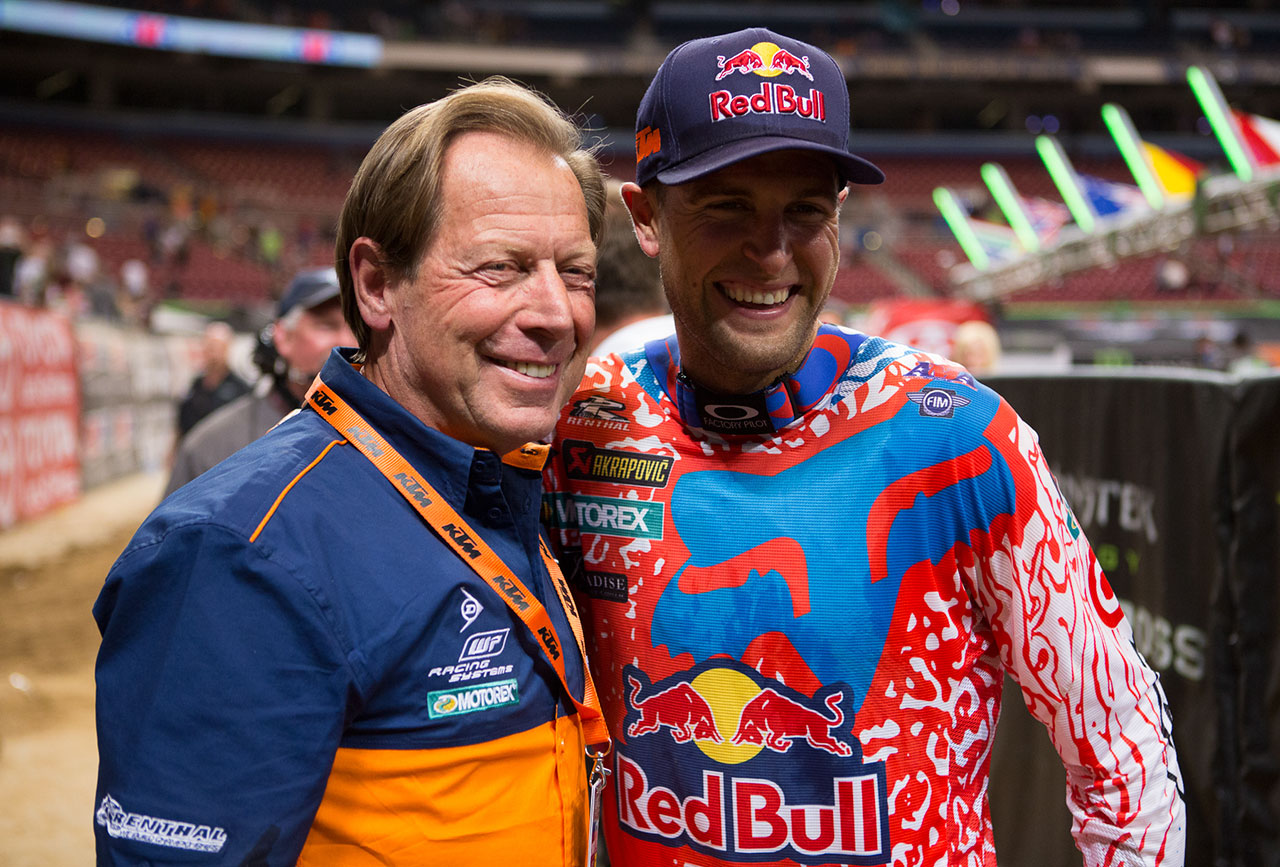 Roger DeCoster and Ryan Dungey.
CHAD LEAVING WAS A BLESSING, AS YOU BEGAN YOUR STINT WITH RYAN DUNGEY. That is for sure. He was a young kid like Mike Alessi and did not have much experience. We hit it off, and it was amazing how composed he was from the very first race. At his first 450 Supercross race, he led for a while before James Stewart passed him with a couple of laps to go. Larry Ward called me the Sunday morning after and said, "I am really impressed by your guy. Here is a young kid who jumped on a 450, and in his first race he leads most of it and then gets second. He crossed the finish line, and he did not even do a fist pump. I think he is going to do really well because he wants to win." That was pretty cool that Larry saw that in him right away.
WHEN RYAN LEFT FOR KTM TO REJOIN DECOSTER IN 2012, WHY DIDN'T YOU GO WITH HIM? When Roger and Ian Harrison went to KTM, they wanted Ryan and me to join them the next year. Ryan wanted me to come, but I felt that Roger had built up a relationship with the people around him and already had a plan for Ryan. Roger offered me the spot, but I thought it was too far of a drive and that I would be stepping on toes if I went there.
It was ironic that I ended up working for Chad's Team 22 Motorsports, and his shop was one exit farther away than KTM's. I drove 215 miles a day round trip to work for Chad.
DID YOU THINK THAT RYAN AND ROGER WOULD BE SUCCESSFUL AT KTM? When I had the meeting with Roger at KTM, I did not have a good feeling about it. So, I didn't go with Ryan. I knew Suzuki was having financial problems and it was time to move on. I remember going to the Suzuki race shop to prep for the Motocross of Nations and there was nobody at the shop. Nobody. It felt weird. I had no job opportunities on the horizon, and I thought, "I should call Chad and see if he has a spot on his team."
I am not kidding you; within that same hour Chad called me and said, "Hey, what do you have going on next year?"
I said, "Funny you ask. I was going to ask you the same question."
WHAT APPEALED TO YOU ABOUT JOINING CHAD'S PRIVATEER 22 MOTORSPORTS HONDA TEAM? I did not have anybody standing over me. I did not have to go to a shop every day. I just had to get the work done. I was not at the shop back in the days when we were driving to the races in box vans, because we had good people in the shop doing their jobs. So, I was able to keep that concept going. I ended up moving to Idaho. I was flying to the races on the weekends, doing what I was contracted to do and not spending a bunch of time in the shop during the week. I am old school. I go to the semi at the track and do all my work, then fly home and get a few days off before I go back to it.
During the off-season, there is no way around not being in the shop, because you are testing and building stuff all the time.
MOVING TO IDAHO WAS A DARING MOVE FOR A MECHANIC. Yes, but I knew it was going to bite me in the end. The manufacturers want everybody in the shop. You go to the races, then you fly home and you are in the shop until it's time to go again. It's almost a seven-days-a-week job, but I think my career has lasted so long because I had the freedom not to be in the shop.
BUT CHAD CLOSED DOWN HIS TEAM AND LEFT YOU OUT IN THE COLD AGAIN. During the 2014 Nationals, Chad closed down the team. I was out of a job and thinking, "I did this to myself. I moved to Idaho, and I am not going to get an opportunity to work in the industry again."
In December Chad called and said, "I am going to sign with Yamaha. Would you like to be my mechanic again?"
I said, "Of course." I have always wanted to work for Yamaha. I used to work at a Yamaha dealership when I was a teenager. So, Yamaha called and asked me if I wanted to work fulltime, and I said, "No, I am not willing to move back to California. I would love to do Supercross only with Chad." They agreed to that, and I thought, it does not get much better than this, working six months out of the year and being able to do my own thing in Idaho.
AND NOW IT'S HUSQVARNA WITH CHAD? It is interesting working for Chad, because he is really into it, and you really learn a lot working for him because he is always changing things and always has ideas. His drive for racing motivates you, because when a guy really wants to hang it out, you want to be a part of it.