MXA INTERVIEW: MINI SUPERSTAR JACE KESSLER
Being from Michigan I get extra excited when I see a Michigan native making his way in motocross. So I was especially pumped to see eagle, Michigan's own Jace Kessler win a moto in the Supermini class at the recent Monster Energy Cup! Unfortunately, the 15 year old broke his triple clamps in moto one, yet he still finished 12th, giving him 5th overall! A couple days after his big win; i caught up with Jace as he was getting ready for a bicycle ride.
By Jim Kimball

JACE LETS BEGIN WITH YOUR RIDE AT THE MONSTER ENERGY CUP WHERE YOU WON MOTO TWO. Yes, it was good; the Monster Energy Cup went great. It is such an awesome experience being able to go there. It is by far the biggest race of the year for us, and something that I take very seriously. All of the sponsors are watching, all the fans are there, and being under the bright lights of the stadium was great. My first moto was not too good. I did not get off to the best start, and I ended up breaking my triple clamps. I am not really sure how I got to finish the moto, but I ended up 12th in the first one, and after that I was petty bummed. I felt like I let a lot of people down, so the second moto, I told myself that I had to go out there, and get it done. In that second moto, I got off to a decent start, made a few passes, got into the lead, and basically just tried to ride my own race. There was a lot of pressure from behind.
IT WAS QUITE AN ORDEAL TO ACTUALLY LINE UP THERE RIGHT? Yes, it was a couple crazy months just prior to it. I badly broke my wrist a week before Loretta Lynn's this summer. I felt that I had been riding better than ever, and had a legitimate shot at winning the Super Mini and Schoolboy classes there. When I got invited to race the Monster Energy Cup I wasn't sure I could make it. My Doctor gave me the green light to start training, and the next day I flew to California with my good buddy Antonio Calavano to train for The Monster Cup. That first couple of weeks were rough to say the least. The very first day that I got there I blew up my engine, and coupled with all the pain I had it was difficult. On top of that I had to take a couple days off due to a practice crash where I got pretty banged up. I really only had about one solid week of riding. Breaking my triple clamps in moto one was pretty discouraging, but I kept me head up and won moto two. I know that I didn't get the overall, but winning a moto there was amazing!
YOU HAVE BEEN TO THE MONSTER CUP BEFORE RIGHT? Yes, last year I went, and it was good. It was an experience for sure. I had never been to anything like that before. I came away with 5th overall last year, so last year was just a good experience getting my feet wet in Supercross in the Monster Energy Cup. This year, I felt like I had a great shot to win the overall, and I had a lot more experience coming in.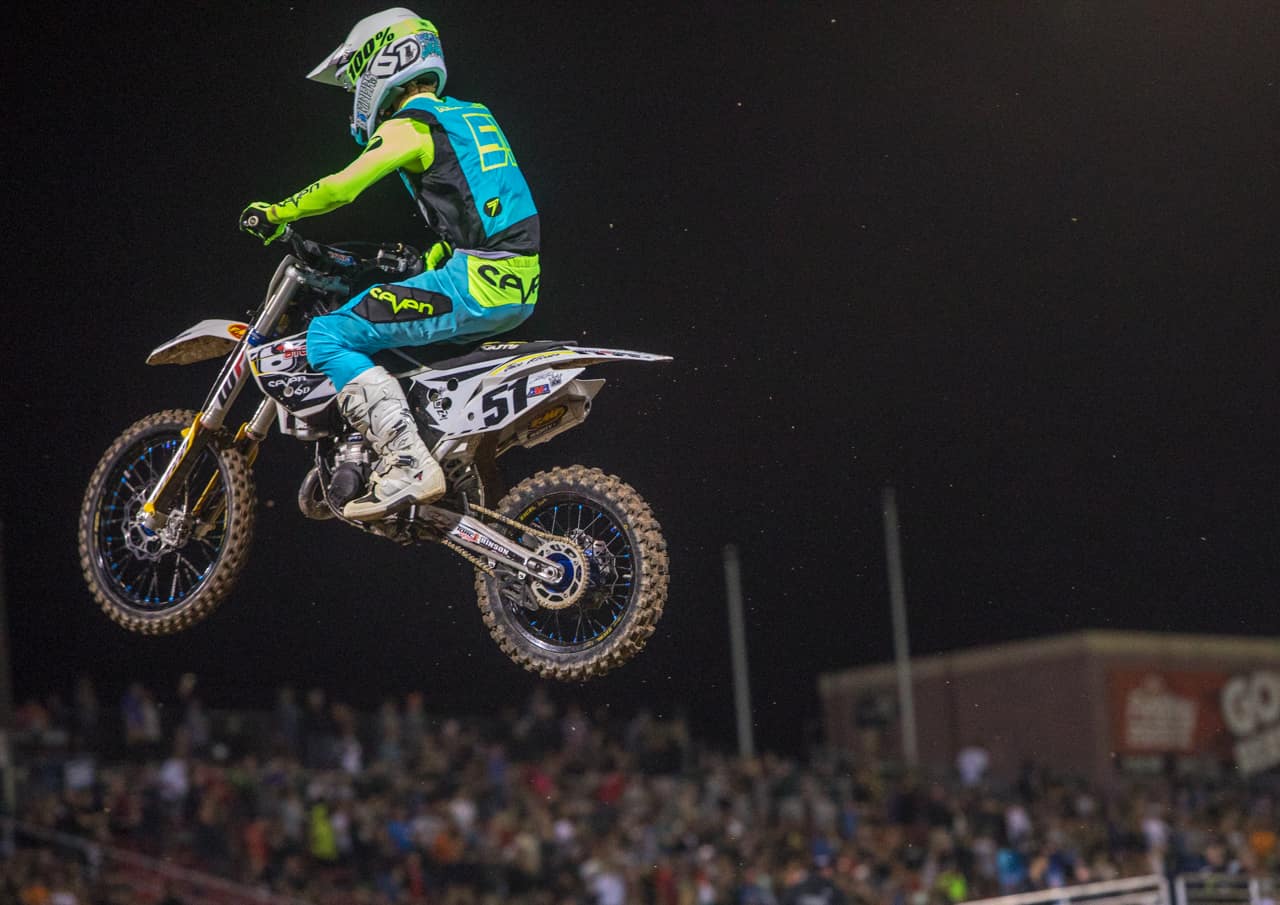 HOW WAS IT TO BE IN THAT STADIUM WITH ALL OF THOSE PEOPLE, UNDER THE LIGHTS AND ALL THAT? It was amazing. I cannot even describe the feeling. It is so cool being in the stadium like that, and racing on a Supercross track with the pros. As an amateur, we don't really get to experience racing on a Supercross track like that. Being in the stadium with all of the fans cheering you on, all the sponsors and all the hype around it. There is nothing like it really.
HOW DO YOU PREPARE FOR SOMETHING LIKE THE MONSTER CUP? YOU PROBABLY DON'T RIDE ANY TYPE OF TRACK CLOSE TO THAT DO YOU? There is really nothing like the Monster Energy Cup. For amateurs, we really do not get to ride Supercross much. I went out to California to train for Monster Cup because there are some Supercross tracks around, but even then they were only open a few days a week, so there was really not much preparation for it.
JETT REYNOLDS TOOK THE OVERALL, IS HE THE SUPER MINI RIDER TO BEAT RIGHT NOW? The Super Mini class is so stacked. There are always multiple kids that can always win, so you never really know. There is never really just one set person that is really on top. Jett is definitely a top rider and he is my competitor. I do not really know him much, and I have never really talked to him. Basically there is not really one person. There are a lot of people that could win; it is so stacked.
REWINDING A BIT, HOW DID YOU GET INTO DIRT BIKES? I started riding when I was about three. My dad got me a bike, and I started riding in a field in back of our house. I started racing when I was around 4 or 5, and basically took off from there. I have always rode dirt bikes, and have been racing ever since. Now being on a National level is pretty cool. I can't believe where it has taken me. My goal is to one day be a top professional rider, and hopefully be on a team and be in the pro ranks.
AT ONE POINT YOUR PARENTS AND YOU MUST HAVE REALIZED "JACE HAS A FUTURE IN THIS AND WE SHOULD GO FOR IT". We really kind of figured out that I could possibly do something and have a future after Loretta's.  In 2009, I went there on a junior bike for my first time and I ended up finishing 6th and after that we really started to realize that you know; I could do something in this sport. It was something that I love, and after I did well at a lot of the top nationals, it was an eye opener that I could really do something.
YOU ARE FROM MICHIGAN, HAVE YOU MADE THAT MOVE TO A WARMER YEAR ROUND CLIMATE? Yes, for sure, when I was younger we use to just stay in Michigan, because I was not as serious about it. But now being that I am moving up and going to be on a big bike next year, and because the Super Mini is so competitive now we go down south because it is cold, and snowy in the winter, so it is hard to ride. I go down to Real Deal Training Facility in South Carolina, and that is where I train usually in the winters.
Every day, I am riding, and working out. It prepares me good for the Nationals. It is a great environment and I love it there, so it works out good for me.
HAVE YOU HAD TO GIVE UP MUCH TO FOCUS ON YOUR MOTOCROSS CAREER? Well, I do on-line schooling, and most kids my age go to public school. So maybe I am giving up that to pursue my dream. But motocross is what I love to do and I have my own path rather than a normal kid that goes to school everyday
MICHIGAN HAS A RICH TRADITION OF PROFESSIONAL MOTOCROSS RIDERS. DO YOU TALK TO ANY OF THE MICHIGAN PROS OR FORMER PROS? Nick Wey always reaches out to me here, and there, and I would say that I have a decent relationship with him. So he is always someone I talk to once in a while, he is pretty much whom I go to. Other than that, nobody else really reaches out. We live not that far from Nick's home in DeWitt.
WHO IS YOUR PRIMARY SPONSOR? I have a support deal with BTO Sports, and that is something that they started this year.  They came up with an amateur team and they reached out to me and asked me if I was interested in it. I took that, and we now have some awesome sponsors. I am so thankful to be a part of that, and get support from them. Being on a Husqvarna is cool, but I really do not get bikes yet from anywhere. We get them from a dealership, so I am still privateer, but very thankful to have people supporting me.
IT SOUNDS LIKE THE BTO DEAL HAS REALLY HELPED YOU. Yes, I really never had much before. I just was always trying to work hard, and show people who I am. With the Monster Energy Cup that is a big race for me because all of the top people are watching, all the sponsors, all the factories, so for me, one of the main goals is to go there and really show them who I am for a possible factory deal.  BTO helps me and support me with a lot. As far as bikes, and parts and all of that, we are still paying for that, so that is my main goal, trying to impress people.
MANY FACTORY 250 TEAMS HAVE AMATUER PROGRAMS, IT WOULD BE GREAT IF YOU COULD GET HOOKED UP WITH ONE OF THEM. Oh, for sure, I hope so. I have just been working hard. I try to stay humble and do my thing, but winning that second moto was good for sure, and that is something that I really needed to do. I feel like it will help me out. I have already had people reaching out to me with stuff already, and it is good.
WHAT DO YOU HAVE COMING UP IN THE NEXT COUPLE OF MONTHS? Basically next for me is preparing for Mini O's.  I am going to go back down to Real Deal here in a few weeks and start preparing for that. At Mini O's, I am jumping up to the big bike, a 125, and I actually might ride a 250 there too. Monster Cup was my last race in the Super Mini, so basically now just focusing on getting stronger and bulked up a little bit for the big bikes.

COOL! LIKE YOU SAID, YOU ARE KIND OF GOING TO START RIDING THE BIG BIKES THIS NEXT YEAR? LOOKING A LITTLE FURTHER OUT, DO YOU HAVE SOME KIND OF TIME LINE AS FAR AS WHEN YOU MIGHT TURN PRO? As of right now, not really.  Like I said, I am still privateering it, so my main goal is to get on a team, and be able to have that opportunity to go pro.  Right now, there is not really a time schedule, just really starting to get on the big bikes right now and basically just work hard at it and see where it takes me.  One of my goals is definitely to try to race Monster Cup next year on a big bike.  That would be a great opportunity to step into that class and be able to race that race again.