MXA INTERVIEW OF THE WEEK: ADAM CIANCIARULO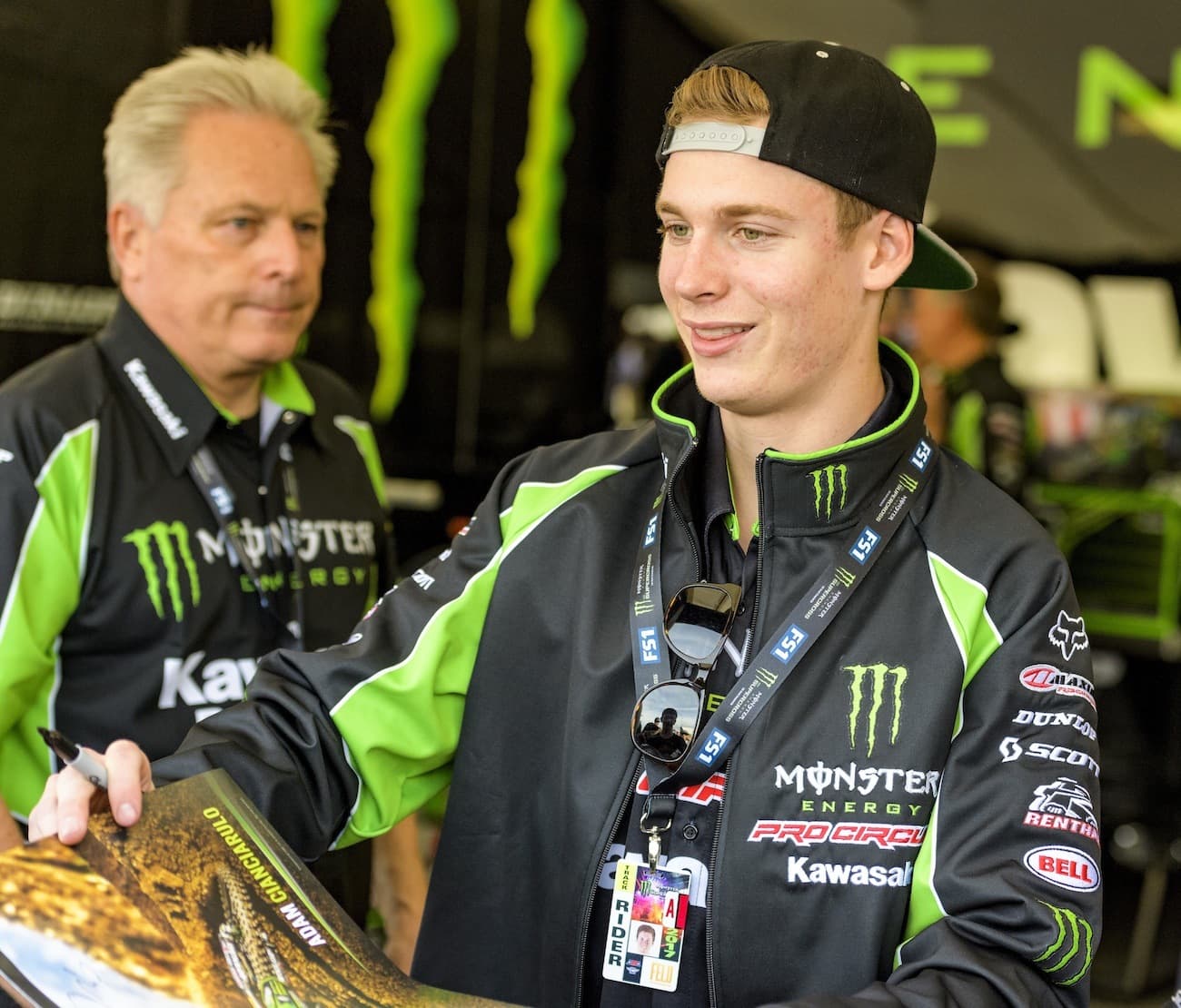 By Eric Johnson
WHAT'S GOING ON IN THE WORLD OF ADAM CIANCIARULO? It's an exciting part of the year for me and I think for everybody. Being a fan of the sport, you kind of get excited from a fan perspective at this time of the year and it's about time for me to start racing too. I'm doing the East Region this year, so you kind of get a little bit more of a sense of urgency in regards to testing and riding and making sure you have everything down going into the first round of the year. Right now Saturday is kind of our off-day and kind of a fun day. I've come to the races to study and watch the 250 and 450 guys and to see how fast everybody is going and just enjoy it.
YOU'VE SAID IN THE PAST THAT YOU'D BE AT THESE RACES AS A FAN EVEN IF YOU WEREN'T A RACER. IS THAT STILL TRUE? Definitely. Growing up, and I've said this a million times, my parents weren't crazy into it or anything like that. It was kind of born in my mind. It just grew on me. It was something that I've kind of created for myself. It's kind of independent. I feel like almost everything in life you learn from your parents, but this was my thing from the time I was little. I still enjoy going to the races. It's weird now being in the industry and people notice me and stuff like that. That's crazy to me because when I was a little kid walking around the pits at Daytona in about 2000, I would have never thought that would have been the case. I'm super-stoked to be in the position that I am. I still really, really love watching the races. I still get nervous watching. I think even more so than when I'm watching than even when I'm on the gate.
AFTER YOUR LIST OF INJURIES ARE YOU 100 PERCENT? Oh, I'm 100-percent.
YOU WERE WINNING THE 250 EAST IN 2014 BEFORE YOUR SHOULDER INJURIES. IS IT GOOD TO BE BACK ON THE SAME TRACKS AFTER TWO YEARS AWAY? I think the East is cool, because the last time I raced Supercross I was in the 250 East and I was the points leader at the time. I'd like to go back there and try to win that championship, without a doubt.
AUSTIN FORKNER IS NOW WHERE YOU WERE THREE YEARS AGO. WHAT DO YOU THINK OF AUSTIN? It is is hard so watch in a rookie sometimes. They just want to pin it all the time. I think he has been doing an amazing job. It's cool to see that. Supercross is the pinnacle of the sport. The energy doesn't really get any bigger than that – unless there is a Championship on the line. I think he's going to be really successful for years to come.
DO YOU TALK WITH AUSTIN MUCH? I haven't talked to Austin too much other than at the races. Motocross is a team sport because there are teams, but I don't think like that. I've talked to Joey Savatgy about this and it' goes like this, "You and I both know that when we go to a race, I'm the only person that matters." It's a very selfish mentality you have to have as a motocross racer. At the races, I'm not really wishing anyone else the most success when I'm racing. Even though as a human I'd like to see other people do well, and I like to see other people succeed, when it's my turn, I'm the only one that matters. It's tough because you have to manage that and keep it at the racetrack. In your home life you have to separate that.
PROFESSIONAL RACING IS A TOUGH BUSINESS? Absolutely. It's not like we're doing this until we're 40 or 50 years old. If you're going to win, it's right now. We're on Monster Energy/Pro Circuit/Kawasaki, but if somebody doesn't get good results, they could be gone. I could be gone next year. The time is now! There are a thousand people who want the opportunity that we have under the semi's tent, so there is a sense of urgency. You do it right now and you give it your best shot and you do everything you can because in 10 years when we're done racing, we want to be able to look back and say, "Maybe I didn't dominate everything, I tried my best and I wasn't trying to be friends with everybody."
DO YOU BELIEVE THAT YOU'RE ONLY AS GOOD AS YOUR LAST RACE? Yes, absolutely. A rider could win the first three Supercross races and then get hurt on week four. People would forget that he even existed until he came back and won another race. That's the nature of the sport. The nature of any sport. You're only as good as what you're doing at the moment.
YOU WERE ALMOST INVISIBLE LEADING UP TO THE START OF THE 250 EAST, WAS THAT BY PLAN? Yes. I've had some injuries and when I get interviewed they always ask about my potential and what I think I can do when I come back. I'm over that. I just want to be the guy that can do it. That's what I've been focused on and that's all. I'm at the best point that I've ever been and   I want to let that speak for itself. I don't want to brag about how great I feel or anything like that.
DO YOU ENJOY ALL THE PERIPHERAL STUFF OF BEING A PRO, THE AUTOGRAPH SESSION, MEDIA INTERVIEWS AND  SPONSOR DUTIES? I enjoy being a good role model and having kids come up to talk to me or parents who say that they ask their kids to act like me I enjoy that. I think it's a part of the sport we're kind of lacking. I think we need to pay more attention to that. But you can only be a good ambassador if you get results—otherwise there' no credibility behind what you're saying. My motivation is winning. That's always been my motivation and I want people to look at me and say, "That guy is winning and that guy had success but he can still be humble and still take time and talk to people."
BECAUSE IF YOUR SHOULDER INJURIES, MANY PEOPLE THINK THIS IS YOUR LAST SHOT. DO YOU FEEL THAT WAY? No. In regards to proving yourself to other people, that's kind of for them to decide. You can get lost trying to prove people wrong and forget why you're doing it. It's my mentality to do the best I can every day. The idea bothered me back in 2014 when I was 17 or 18, but I've already overcome it. It's never going to make me miserable, and it's never going to do any of that stuff. I've conquered that aspect of it and now it's about me proving to myself.
YOU MADE IT ALL THE WAY THROUGH THE 2016 NATIONALS IN ONE PIECE AND GOT STRONGER AS THE SUMMER WENT ON. WAS THAT CONFIDENCE INSPIRING?  Oh yeah. Definitely. Coming into outdoors last year, I was coming off a couple of injuries and coming off of Epstein-Barr and a wrist injury. I also had some other things lingering at the start of the season. It was bad. I probably started the outdoor series at maybe 60 to 70 percent of my strength. It's tough because your confidence can't waver because if you lose the belief in yourself, it's over. The talent is too good. You have to believe in yourself. I started to believe more and more as the season went on. I was like, "Okay, this isn't THAT hard. I came off Hangtown and Glen Helen and it was like, "I don't know… That speed is crazy." Every weekend it seemed like it was getting a little more realistic and by the end I was like, "Okay, I get it now. I get what I need to do." It was a different season for me because I'm not used to sitting in the back and trying to be patient, but it was a really productive season.
OKAY, FULL SPEED AHEAD FOR THE 250SX EAST REGION. WHAT'S THE ADAM CIANCIARULO BATTLE PLAN? The battle plan is always to win. You have to get a good start and you have to pin it, pretty much. I mean one mistake and somebody is going to pass you and you're going to have three other dudes pass you. I'm just looking forward to the atmosphere of supercross. It's like addicting. It's something I haven't felt in so long that I almost kind of forget.
YEAH, YOU WIN AND YOU'RE THE STAR OF THE SHOW. Yeah. Totally. I love that. I love being able to work hard and I've kind of sacrificed my whole life for this. I like going out in Supercross and getting a chance to prove it in front of the 50,000 people that are there. That's why you do it. That feeling. Those 45 seconds after you win a race and you're rolling from the finish line to the podium…there's nothing like that. That's the best 45 seconds you're ever going to feel in your life. I mean I think about that all the time. Everything I do will be to get back to that point.
Photos: Pro Circuit