MXA INTERVIEW OF THE WEEK: JUSTIN HILL
Click on images to enlarge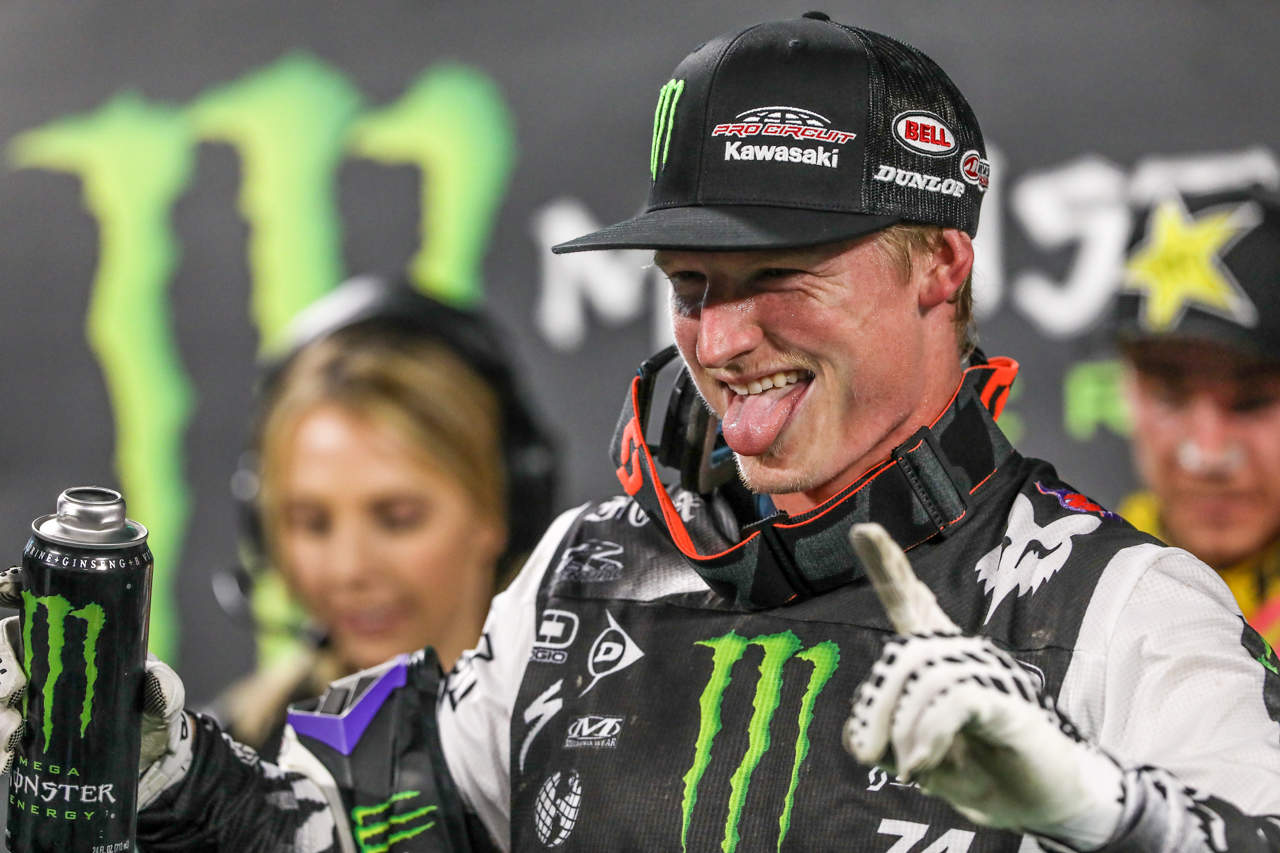 There is no better feeling for a racer than to stand on the top step of the podium and receive the adulation of the fans.
By Eric Johnson
The 2017 Monster Energy Supercross Series marks Josh Hill's fifth in the 250SX Supercross division. And while there have been flash-bright moments of excellence – wins in San Diego and the East/West Shootout in 2014 as well as a triumph at Toronto in 2016 that come to mind – as you're about to read, it's not really where the 21 year-old from Yoncalla, Oregon, wants to be. Like his older brother Josh , Justin Hill wants to be a 450cc competitor. To get there, at least to his way of seeing things, Hill needs to not only be consistent winner in the 250cc classification, but a champion as well.
And so far, so good. After placing a somewhat blasé fifth at the curtain-raising round at Angel Stadium, Hill stormed back from an off-song start  in San Diego to nearly pip Shane McElrath at the finish line. Then, this past Saturday, it all came right for the Monster Energy/Pro Circuit/Kawasaki rider to stamped his authority on things by winning convincingly.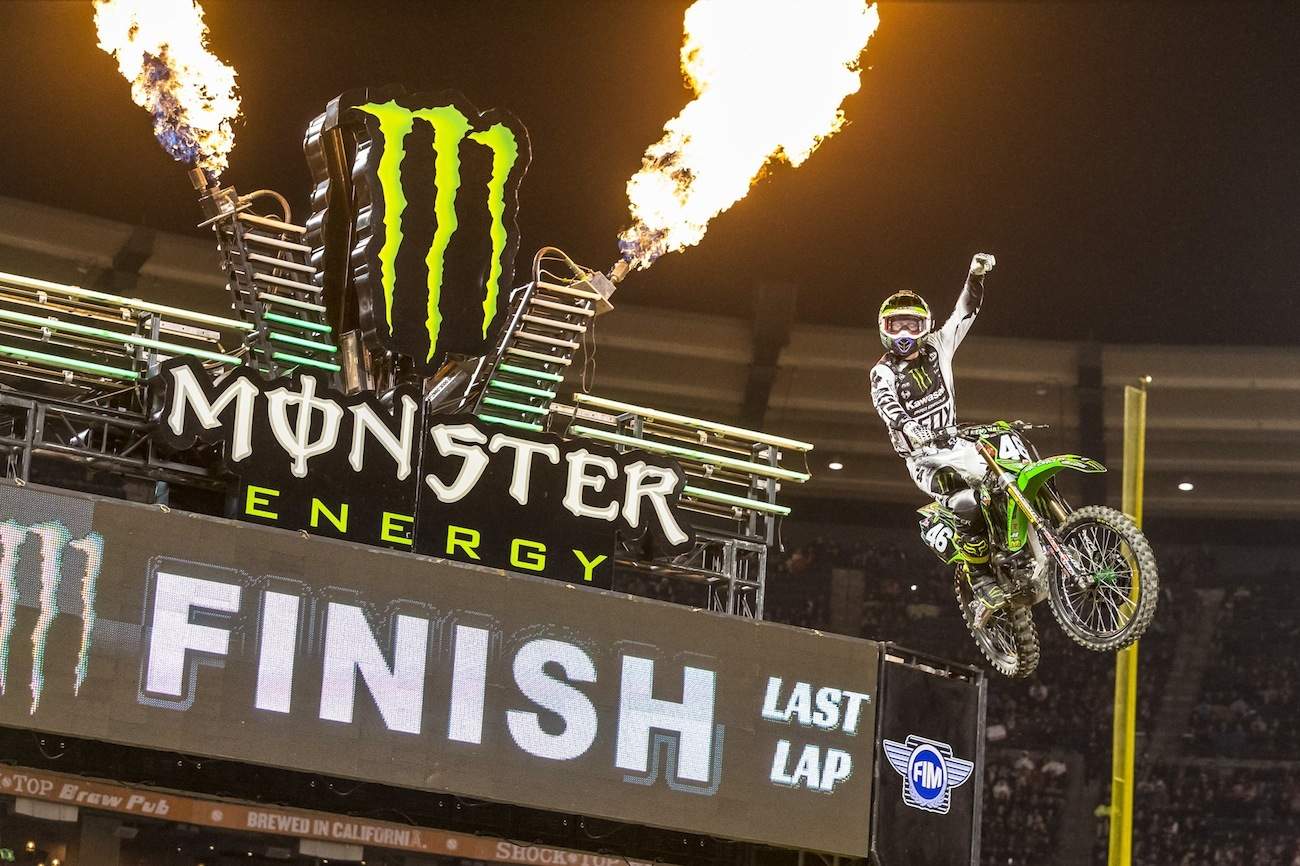 Justin celebrates after winning Anaheim 2. Justin has won in the past, but between victories he has been inconsistent. He has a new game plan for 2017.
JUSTIN, A BIG WIN ON SATURDAY NIGHT. WHAT DO YOU THINK ABOUT WHAT PLAYED OUT INSIDE ANGEL STADIUM? I feel good about it. More than anything, I just want to keep doing it. I kind of knew last weekend we could do it when I came up and almost beat them from way back. I didn't want to be thinking could have, should have, would have when I woke up before Anaheim 2. As far as being excited about it, I am, but I'm more excited about doing it again, again and again and trying to win this championship.
YOU WERE FIFTH AT THE OPENING ROUND AT ANAHEIM, BUT SEEMED TO FADE IN THE FINAL LAPS OF THAT MAIN EVENT. THEN, IN SAN DIEGO YOU CHARGED FROM WAY TO FINISH A HARD EARNED SECOND. THOUGHTS? This season, and not a whole lot of people know it, but it's probably the absolute least amount of time I've had on the bike before a season began. Not a great position to be in when you want to win the thing, so when I came in fifth on the first night, I was like, "Man, it's a bummer, but it's something we can build off of and do better." I honestly didn't think I could get enough work in before the season started. I made every day count. I made every single day count from the moment that I got that fifth place. I said, "We can do this, it's just going to take a lot of elbow grease." I've been working real hard every single day since, whether it's working hard on the track or working hard in the gym, it really paid off with getting a win. That was rad and that was the step that we wanted to take towards the whole deal, but it was tough. It was really tough to get there.
WAS THE SAN DIEGO PERFORMANCE CONFIDENCE-INSPIRING? San Diego put me in a good mental place. I took that that race as a, "I just came from way, way, way back and almost beat these guys. There is no reason why I can't beat these guys straight-up in any situation. If we are ever up there at the start, just run away and forget them." Sometimes it works out really easy for you and sometimes it doesn't work out that easy. At Anaheim 2 it worked out easy.
SO YOU WERE FEELING GOOD ABOUT ANAHEIM 2? No. At San Diego, I felt way better all day than I did at Anaheim 2. I felt terrible at Anaheim. You don't want to tell anybody that because you don't want to put it in your own head and bring it up, but I didn't feel great all day. Then, when we lined up for the main event and the flames were shooting out above the gate, I thought, "Well, this is for points so it's time to put it up." That's just my mentality. San Diego should have been a win, but it was a confidence booster knowing that I could come from way back and do it. I think from that night on I know where I'm at. I don't have any doubts about myself, I don't have any doubts in the bike and I don't have any doubts in my physical ability.
"IN PAST, WHEN I HAD THE ABILITY, THE SPEED AND THE FITNESS, I DON'T THINK THAT I GAVE IT EVERYTHING I COULD HAVE GIVEN IT. THERE WAS A LOT LEFT ON THE TABLE OVER THE LAST FOUR YEARS COMING INTO THIS ONE."
This is Justin Hill the first time he raced for Mitch Payton back in 2013-2014. It's rare for a rider to get a second chance to come back to the Monster Energy Pro Circuit Kawasaki team and Justin wants to make the most of his second chance in 2017.
IT'S A VERY WELL-WORN TOPIC, BUT WHEN IT COMES THE MAINS IS ALL ABOUT THE STARTS. RIGHT? Yes, no doubt. At Anaheim 2 I didn't really have the speed on Aaron Plessinger in the heat race and when I got to start right behind him in the main, I thought, "Well, I better just try and zap this guy because he's on tonight and I just need to get out front." As far as the start in the main goes, when I see the guys that I need to battle with right there, it's hard until you get separated. It's like the start is the worst part of the night. If you can start and get away from everybody, that's nice, but that hardly ever happens. You're always going to have the guys you have to beat right next to you. I think I've improved my starts a little bit as I came out in fourth place at Anaheim 2 and passed into first place in the first four corners. I led every single lap and that's a perfect night in my mind because I didn't have to pass anybody after the fourth corner. That's just the way every single race could go.
HOW WAS IT COMING BACK TO THE PITS AFTER WINNING ANAHEIM 2? That was so cool. My mechanic Shawn, he's the man and he's with me all the time. He puts in such good work. I couldn't ask for a better guy. Mitch, obviously, has been a longtime supporter of me and he's given me another chance on this team and I'm grateful for that. Not too many people get the opportunity to ride for him and then ride for him again. I was a fool to take off from him in the first place. I have a lot of respect for him and I really, really want to fill that empty spot on the truck's door with a number one plate. I think that would be one of the coolest things to do for him. I think it would be awesome.
Justin left the Pro Circuit team in 2015 for the factory KTM team and in 2016 he was on the Troy Lee Designs KTM team.
THE LAST RACE YOU WON WAS AT TORONTO ON MARCH 12, 2016. HOW COOL WAS IT TO WIN ANOTHER ONE? As far as the wins go, I got up the next morning and I grabbed my trophy and I grabbed my champagne bottle and I got everything hung up on the wall. I've got four now including the shootout (note: Hill won three 250 Supercross mains and the 2014 East/West Shootout in Las Vegas) and thought, "That's all cool and it feels good to have accomplished these things, but there is still something missing." As I get older and as I get better and as I win again, this win is less and less important to me than the big picture which is to be able to show everybody that I am consistently a good guy.
WHAT IS THE BIG PICTURE? Truthfully, it's a little bit of mixed emotions for me because while it's great to win in the 250 class and it's great to show everybody that I'm still around, the 250 isn't my bike. I want to win this Championship and I want to get on a big bike because I think that's my bike. There's mixed emotions just because I just want to move forward from here. It's not like I don't like this class, it just means I want to win so I can get in the big boy class.
WHAT IS THE BATTLE PLAN TO GET TO THE 450 CLASS? IT HASN'T BEEN AN EASY STEP fOR MOST 250 EAST/WEST RIDERS. I'm older and I've learned a lot. I have been through some things – and not all good things – and I just know that you have to keep a certain mentality throughout the year. In past, when I had the ability, the speed and the fitness, I don't think that I gave it everything I could have given it. There was a lot left on the table over the last four years coming into this one. The game plan is to keep the mentality that I want to win every single time I ride That's it! and that's it. If I can just keep that mindset I don't think that we're going to have a problem.
Justin Hill and Austin Forkner (right) signing autographs at Anaheim 2, where they went 1st and 4th respectively.
DO YOU HAVE EVERYTHING IN PLACE FOR THE FUTURE? I think I'm good enough. I have a good thing going with my mechanic and with Johnny Louch. We're in-tune on what we think and we agree on a lot of things. I also have a good thing going with my brother and my dad, where they are constantly telling me what they think I can do better on the bike. That's extremely helpful to me. Moving forward, it's all on me. I have the best stuff. I have the best people. It's all on me because it comes down to how much work I want to put in and how much I'm willing to gain and to get.

WHAT DOES SUCCESS LOOK LIKE? WHERE DOES IT COME FROM? When there's 25 points to be gotten, I'm going for it. That's what I have to do. That's what I have to think about all the time. That's what Dungey does. The guys that are successful, when you look at them, it's because they want to win. These guys are persistent and they do what they have to do to win.
HEART AND DETERMINATION ARE A VERY BIG PART OF BEING SUCCESSFUL, AREN'T THEY? Oh, it's everything. As a kid growing up watching the sport, you knew the guys who were stubborn and who had the will to continue to battle. You also knew the guys that didn't have heart and would pull off if something wasn't right. Now, as I get older, I understand it a lot more. Heart is the big deal because everyone faces adversity in this sport. There is no way it can go your way every single time. Look at Ken Roczen. One of the best guys in the world had a gnarly crash that came out of nowhere. It's not always going to go your way, so you just have the heart to continue to push forward.