MXA INTERVIEW: ROCKSTAR HUSQVARNA'S MICHAEL MOSIMAN SETS HIS EYES ON THE 2020 SUPERCROSS SEASON 
MXA INTERVIEW: ROCKSTAR HUSQVARNA'S MICHAEL MOSIMAN SETS HIS EYES ON THE 2020 SUPERCROSS SEASON 
Coming into the 2019 Supercross season, Michael Mosiman's name wasn't being tossed around as a podium contender. The twenty-year-old Rockstar Husqvarna rider started his Pro career out slowly, but after leading laps and battling with Adam Cianciarulo at the Denver Supercross, scoring an overall podium finish at the Thunder Valley National and grabbing podium finishes in multiple Motos during the Outdoor season, Michael has gained respect in the industry as a potential front runner for the 2020 seasons. He started out humbly by riding backyard tracks in his hometown of Sebastopol, California and now he's advanced through the ranks and earned his spot riding for one of the premier teams in Supercross. He's also training with the sports top trainer, Aldon Baker, alongside some of the best riders in the world at the Baker's Factory in Florida and at the brand new Supercross test tracks just next door to the KTM and Husqvarna headquarters in Murrieta, California. 
By Josh Mosiman
HOW WAS YOUR 2019 SEASON IN YOUR EYES? I came in with an injury and I was barely riding at all before A1 and I struggled at the beginning of Supercross. Slowly as the year progressed I started getting better and I was growing in confidence. My ankle started to feel better and I started to come into my own towards the end of Supercross. That led into Outdoors where I got an overall podium at round three and then I got another podium in a moto at round five. Then after that I got a concussion during a practice crash and that set me back and I kind of played catch up for the rest of the Outdoor season. Overall I'm stoked on the progression, if you look at my progression per year it's pretty incredible and I'm stoked on that, but I also have a lot more to go.
Michael Mosiman will run the #28 for the 2020 Supercross and Motocross seasons.
HOW DID IT FEEL TO STAND ON THE PODIUM? Standing on the podium for the first time felt really good. I was happy and it was just really cool to see all the people who have invested in me, my mom and Dad and my whole team just stoked. Just to see them happy was what I was probably most stoked about.
WAS IT EASIER OR HARDER THAN YOU EXPECTED TO GET ON THE PODIUM? On the day of Thunder Valley it came relatively easy, but also nothing really comes easy. I have years and years of hard training, so you can't really say it came easy.
Michael leading in the 250 Main Event at the Denver Supercross over Adam Cianciarulo and Jimmy Decotis.
YOU TRAVELED A LOT DURING YOUR TIME OFF. WHAT WAS THAT LIKE? It was really good, after the last round at Ironman I was able to stay in Indiana with my friend Jake for some time and then I went to visit friends in Kuwait and then visit family in Sweden and now I'm back in California and we're back into training now. To be able to recover and rest and get my mind off things was really refreshing and I remember when I got back onto the bike that it was so much fun and enjoyable. There's a certain point when you're grinding through Outdoors when you lose that. So to be able to stop and refresh was good, and I grew a lot as a person during my time off.
Michael has begun his 2020 season training in California with his mechanic Daniel Castloo and the Rockstar Husqvarna team and soon he will head to Florida to train with Aldon Baker at the Baker's Factory until January.
AFTER A SOLID 2019 SUPERCROSS SEASON WITH YOUR BEST FINISH BEING A FOURTH PLACE. WHAT IS IT LIKE JUMPING BACK INTO SUPERCROSS? DO YOU FEEL LIKE YOU ARE RIGHT WHERE YOU LEFT OFF? I think before you get back on Supercross you think you have to start all over again and you have some nerves, but after riding the first day, second day it's like "man I'm pretty good at this stuff!" My starting point this year is already really good.
WHAT IS SOMETHING YOU ARE PICKY ABOUT WHEN IT COMES TO TESTING? I'm not particularly picky when it comes to my bike. I think my front end is usually what I notice first, if it's diving or if it's rolling out. I'm still learning how to test, I'm not the best tester right now so I'm working on that.
This is the view from KTM and Husqvarna's two private Supercross test tracks located in Murrieta, California looking over the Temecula valley. The KTM and Husqvarna headquarters are just below the tracks. 
HOW COOL IS IT TO HAVE TWO SUPERCROSS TRACKS RIGHT NEXT TO THE HUSQVARNA AND KTM HEADQUARTERS? Having the track right here is pretty wild, just to be in such a civilized area and have a motocross track. It's super nice and convenient and it makes you feel like a true professional. It makes the work day easy. I'm super stoked for KTM and Husqvarna to make the investment in us and I think it pays off for us in the end. I'm super stoked to be here and it really feels like an honor considering where I've come from. Thinking back on the small backyard tracks I was riding as a kid and now to be riding this pristine track is pretty incredible.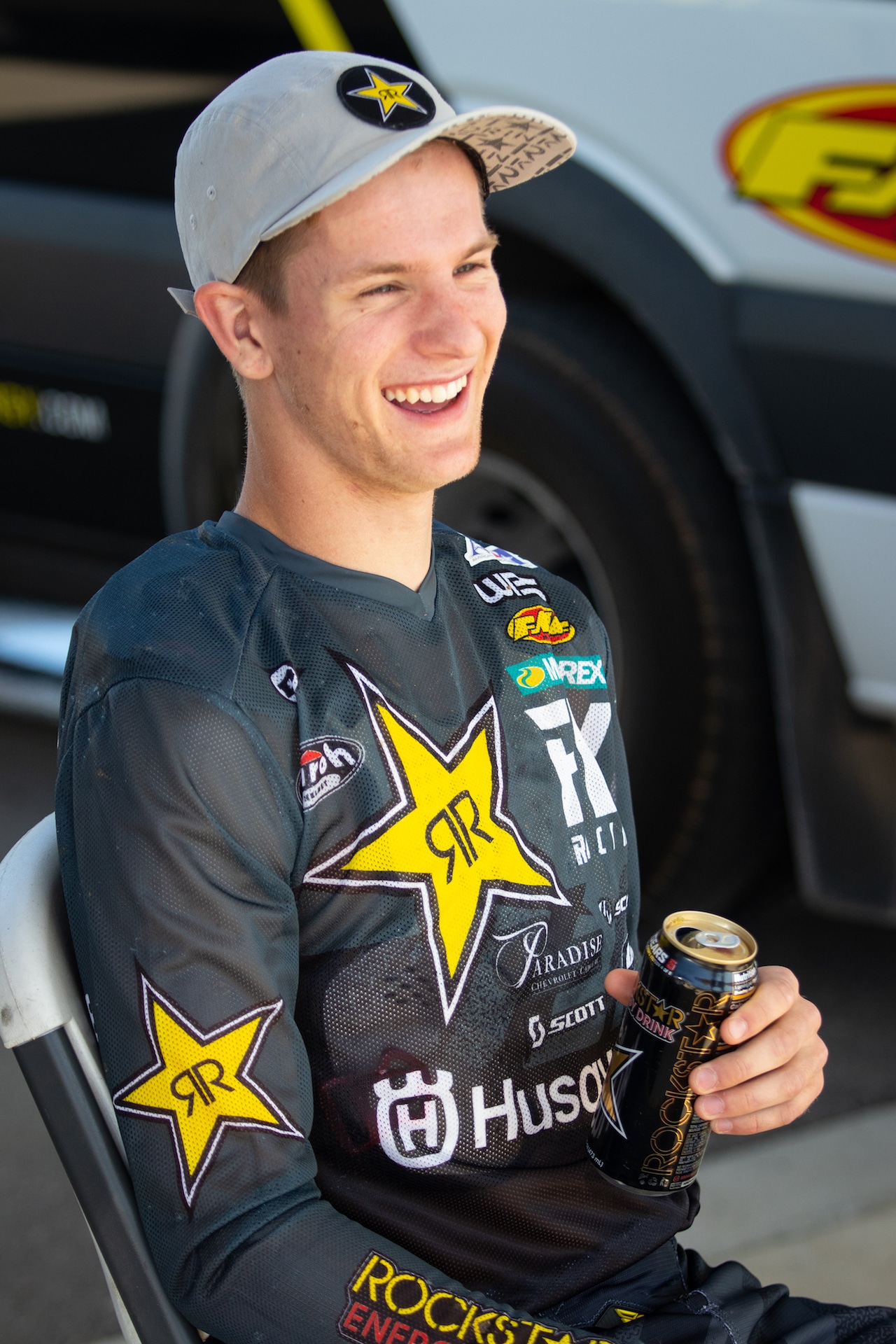 Michael expects to compete in the 250 West Coast division. 
TODAY YOU WERE DOING SPRINT LAPS WITH 2018 SUPERCROSS CHAMPION JASON ANDERSON, WHAT IS IT LIKE TRAINING WITH A RIDER AT HIS LEVEL? Riding with Jason is good, there's always something to learn and he pushes the pace a lot. He challenges me and we're able to talk about the track and he's really open and he helps me out a lot. He also pushes me, I can't push him a whole lot but I try my best.
Many people wonder how KTM and Husqvarna were able to put two Supercross tracks near populated business and housing developments. Normally neighbors would be able to complain about noise, but with the runway for the small French Valley airport right next door, there aren't any sound restrictions in the area. 
WHAT'S THE BIGGEST DIFFERENCE BETWEEN THE PRACTICE TRACK AND THE RACE TRACKS? The ruts and the inconsistency and how much the track changes is tough. The whoops get chewed up at the race tracks. A lot of times if you're uncomfortable you're pretty unsure to change your line, where at the practice tracks we get so confident and so comfortable, we're just hitting the same line day after day. When you get to the races it's all new rhythms and you have to learn them on the fly. It really helps to have these private tracks because I feel like our track is a lot more similar to the races than the public Supercross tracks. Also, at the Baker's Factory in Florida the tracks break down a lot and they get nasty and mean. It gets pretty close to the races and we have Aldon there to keep us accountable even when the conditions are tough. Just having an assortment of tracks with different types of dirt helps you build your base. The more experience you have the more comfortable you'll be.
One of the biggest benefits of riding for a factory team is to be able to battle with your teammates during the week. Practicing with fast riders helps a lot when it comes time to race.

HOW DO YOU FEEL COMING INTO 2020 AND WHICH COAST ARE YOU RIDING? I feel good, it's still pretty early and I haven't thought about the racing too much. I've just been trying to study and do my work in the offseason and let the cards fall where they may. I'm focusing on starts a lot and as of now I'm supposed to be riding West, but we'll see you kind of don't really know until the gate drops.