MXA INTERVIEW: RYAN SIPES IS A RENAISSANCE MAN – SUPERCROSS, GNCC, ISDE, FLAT TRACK & MORE
MXA INTERVIEW: RYAN SIPES IS A RENAISSANCE MAN – SUPERCROSS, GNCC, ISDE, FLAT TRACK & MORE
BY JOSH MOSIMAN
WHERE DID THE IDEA COME FROM TO RACE ALL THESE DIFFERENT EVENTS? In 2017 I won a GNCC, my first one ever, and it was cool. I got a lot of media and press out of it. And then I did a 125 all-star race, and I got more press for that than I did for winning a GNCC. So, I got home and was like, "Man, I'm doing it the hard way." GNCC is one of the hardest races you'll ever do. The 125 race was four laps, and it was super easy for me. If I didn't win, it would have been a disgrace. So I thought, "What happens if I just hit every kind of racing?" Instead of having 80 percent of the GNCC off-road audience pay attention to me, what if I had 20 percent of five different audiences watching me? It would add up to be more. It was kind of a hair-brained idea to most people. The first year I did it on my own was in 2018 with the help of Rockstar and Husqvarna.
"I DID TWO FLAT-TRACK RACES, WHICH I HAD NEVER PRACTICED OR RACED BEFORE. I DID SOME PRO MOTOCROSS RACES. I DID THE MOTOCROSS OF NATIONS FOR TEAM PUERTO RICO WITH KEVIN WINDHAM AND TRAVIS PASTRANA AND A BUNCH OF DIFFERENT STUFF."
WHICH RACES DID YOU DO IN 2018? I did a bunch of GNCC and a bunch of Sprint Enduros. I did two flat-track races, which I had never practiced or raced before. I did some Pro motocross races. I did the Motocross of Nations for team Puerto Rico with Kevin Windham and Travis Pastrana and a bunch of different stuff. Before I did all that, all the sponsors were kind of like, "I don't know about this. You can't win a championship." But I told them to just trust me. Then we did it, and I think I did well. I won a flat track, won a bunch of sprint enduros, and so on. People were pretty stoked, but Red Bull called me and said, "You're idea is awesome. We think this is kind of the future, and we want you to do it for us." So that's what I did, and that's kind of where the whole thing started. 
DO YOU HAVE FACTORY SUPPORT FROM KTM, OR IS IT MOSTLY FROM RED BULL? Red Bull and Leatt are my biggest sponsors. KTM helps with parts and bikes, but for everything else we kind of take it from there.
HOW DO YOU PREPARE FOR SUCH A WIDE RANGE OF RACES? That's been the hardest part—trying to figure out how to prepare for everything. It used to be that when it was time to get ready for Supercross, you rode Supercross four days a week, and that's all you thought about. Eat, sleep, drink, live it, you know. But now, I have to be good at that but also be ready for a flat track and GNCC. You can't be on the Supercross track four days a week, so where's the line? It took a while for me to figure it out. If you look at the results, I didn't do great at the beginning of the year. I was solid, but if you look at my results from around May and June, you can see I figured it out. I figured out how much to practice this and that, and how much to train. The toughest part is, if you want to be a Supercross racer, you can look back at what other people did. You can look back and say, "That's what that other guy did and he won." But, there's no way for me to look back now. Nobody has ever really done it, so I can't call somebody up and say, "Hey, what did you do?" I just gotta figure it out. That's been the tough part, but it has also been fun, because once you figure it out, it's like, all right, I did it by myself, sorta." I mean, I've had a lot of help. My coach Steve Hatch helped me out a lot, but even he was figuring it out as we went. So, that's been kind of a unique part of what I'm doing.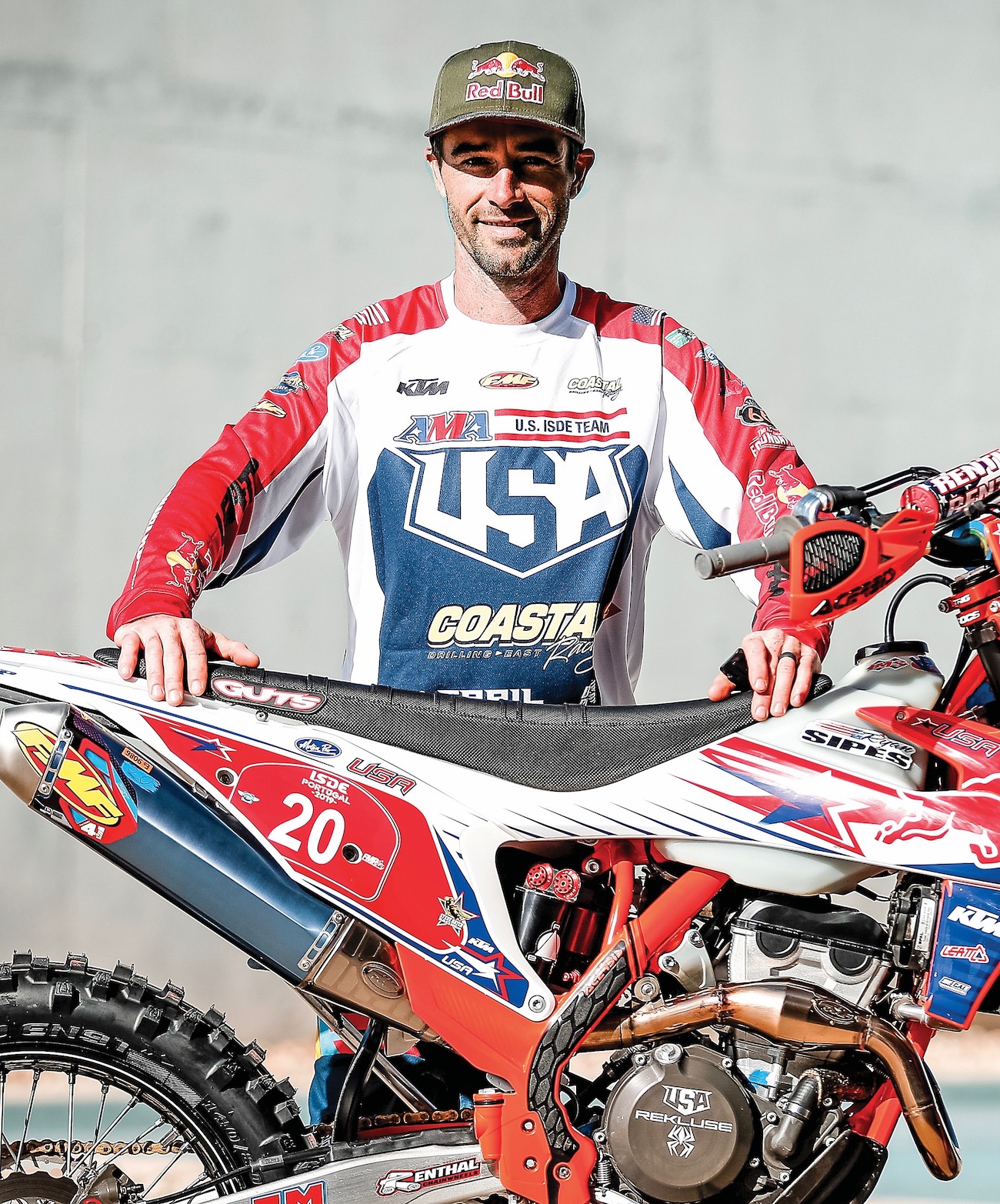 WHAT'S YOUR MINDSET ON THE STARTING LINE OF A SUPERCROSS MAIN EVENT COMPARED TO BEING ON THE LINE FOR A GNCC, FLAT TRACK OR ERZBERG? They are all different. For instance, going into Supercross, I had no idea. It had been six years since I had even ridden a Supercross track. I spent about a month and a half preparing for it, and it went well for taking that much time off. Then I went to Nashville and did even better. But going into those races, I was just on the line thinking, "I'll just do my best." I have no clue. And then compare that to Erzberg, where I know I'm not going to do well. Let me just try to make it. Then compare that to flat track, where I kind of know I can win. I'm not saying I'm going to, but I know I can. So, it's all over the board with the different things I'm going for.
"I HAVE TO BE GOOD AT SUPERCROSS AND ALSO BE READY FOR A FLAT TRACK AND GNCC. YOU CAN'T BE ON THE SUPERCROSS TRACK FOUR DAYS A WEEK, SO WHERE'S THE LINE? IT TOOK A WHILE FOR ME TO FIGURE IT OUT. "

 
IS IT MORE NERVE-RACKING WHEN YOU KNOW YOU HAVE A SHOT AT WINNING? I don't really get too nervous. I don't know, I'm pretty easy-going. I used to get super nervous and get all these emotions. I try to just take emotion out of it now. I've been through all of it. I'm older now, and it's just like, "I'm gonna do my best, and that's the best that I can do. I'm not going to do any better than my best, so I'll just do that and it'll all work out."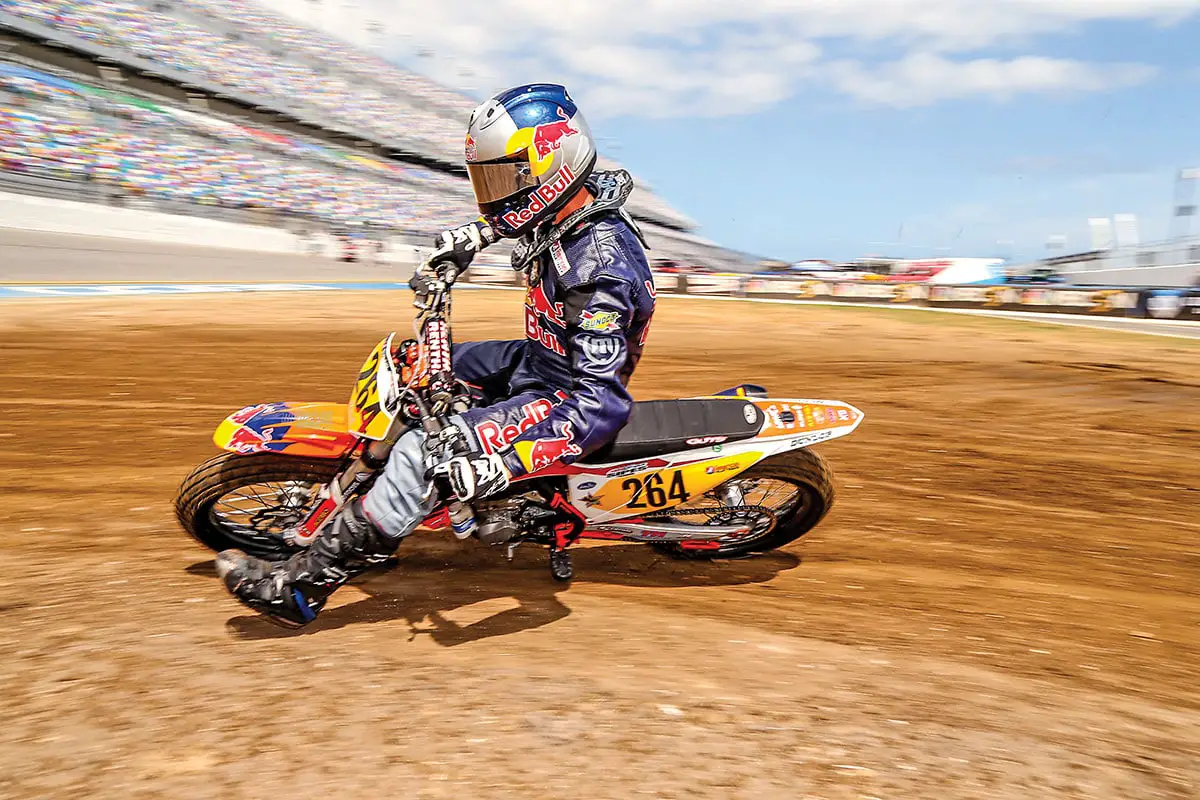 YOU BEAT JUSTIN BRAYTON AT THE HAWAIIAN SUPERCROSS. WHAT WERE YOUR EXPECTATIONS GOING INTO THAT? Yeah, that was pretty surprising for me. I expected to get worked by Brayton, but I thought I could beat everybody else and maybe get second or third. But, for whatever reason, I was just on that weekend. I think the track suited the 250 that weekend better than a 450. But still, it's Justin Brayton. I thought he would beat me. We were in Hawaii, so even if you lose your race it's still a good time. But then to go 1-1-1; it was pretty sweet.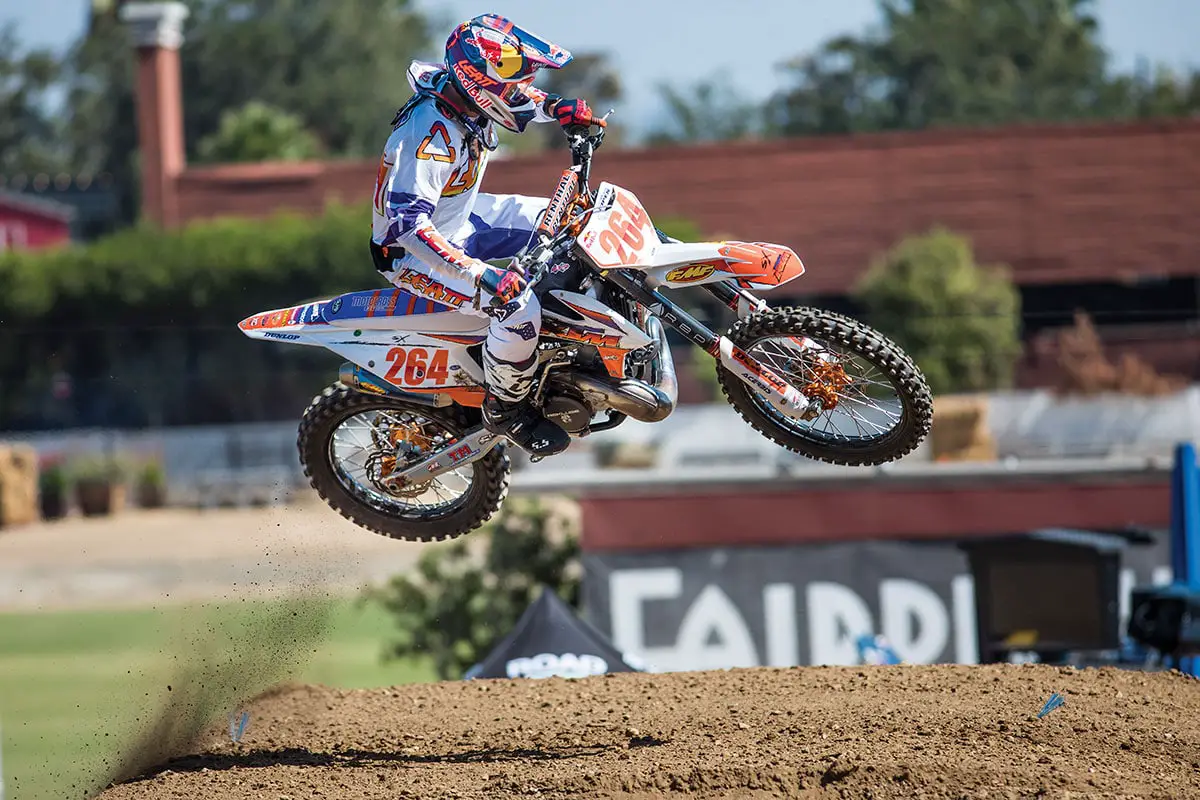 YOU'VE BEEN WITH LEATT FOR A LONG TIME. HOW MUCH INPUT DID YOU HAVE ON THEIR NEW BOOTS AND GEAR? I've been with the company for 13 years now from when they just made neck braces, and I've been through all this stuff. I started wearing the boots in January 2019, and those were pre-production boots. They haven't changed a lot since then. I thought they were good, but I helped them make a few changes, and I like them a lot now. I'd put them up against any kind of boot. That's cool to have a little bit of a say in the development. Basically, they developed it; I just tested it. 
"I DON'T KNOW, I'M PRETTY EASY-GOING. I USED TO GET SUPER NERVOUS AND GET ALL THESE EMOTIONS. I TRY TO JUST TAKE EMOTION OUT OF IT NOW. "

 
WHAT ARE YOUR PLANS FOR 2020? The same kind of plans are in place; the same ideas we had in 2019, just some different races. Right now we have the Daytona Supercross, Daytona TT, Wild Boar GNCC, Hawaiian Supercross, Erzberg Enduro, Megawatt Enduro, Washougal National, Sturgis TT, Peoria TT, Weston Beach Race, Straight Rhythm and the Australian Supercross on the schedule. We're also trying to get some guys to go along with me—not for the whole thing, but for a race here and there. They aren't confirmed yet, but there's some big names who could be joining me under the tent at a few races. So, we'll let them experience that, too, and see how they do. If they beat me, this whole thing is a sham, and I should be fired. I think it's going to be a lot of fun to have some other people join me in what I have been doing. 

CONGRATULATIONS ON WINNING AT THE INTERNATIONAL SIX DAYS ENDURO. Thank you. That was super special for me. I missed out on Team USA's first championship. I got hurt the day before we left that year. I was on the team, and I got hurt. We were flying out that night when I crashed. Then they went and got a replacement rider and won the championship. That one was super bad for me. So, this year to go back, I knew we had a super-solid team. I wanted to be a part of that. I wanted to be a world champion, so I was pretty dialed in. I was pretty serious about it, because that's what I wanted to do. I think I rode pretty well. Everybody else rode really well, and we got it. 
"IT'S JUST DIFFERENT NOW. MAYBE IT JUST COMES WITH AGE. I WISH I COULD
HAVE APPROACHED RACES BACK THEN LIKE I DO NOW. I'M LESS AFRAID
TO LOSE NOW, WHICH ACTUALLY FREES YOU UP BIG TIME—TO NOT
BE AFRAID TO LOSE OR NOT BE AFRAID TO NOT WIN."

 
WHAT DO YOU THINK IS HELPING YOU AND HURTING YOU NOW THAT YOU'RE 35 YEARS OLD AND YOU'RE NOT FOCUSED ON ONE FORM OF RACING? It's just different now. Maybe it just comes with age. I wish I could have approached races back then like I do now. I'm less afraid to lose now, which actually frees you up big time—to not be afraid to lose or not be afraid to not win. I believe I can do it now. Before I thought I could do it, but now I believe or know I can do it. There's a big difference in thinking you can and knowing you can. My dad always said, "If they can do it, I can do it. I just gotta figure out how." And for him, it wasn't about racing; it was about anything in life. He was a farm equipment mechanic. That's a pretty good thing to take through life. So now, that's what I try to do. I'm not good at it, but if he can do it, I probably can. Just let me watch him and practice it.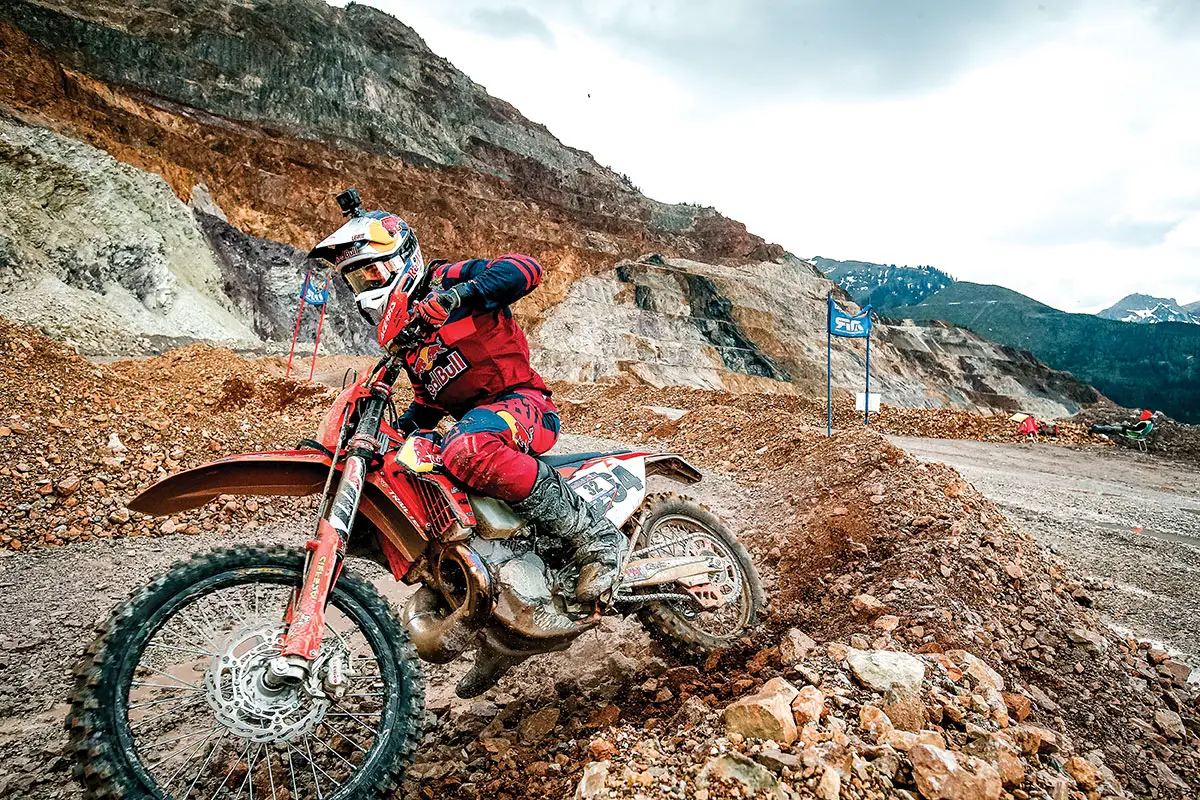 WHAT DO YOU THINK HAS CHANGED MENTALLY? A big thing is that I don't have to show everybody I'm awesome anymore. Not that I'm just awesome and I don't have to show them, but I don't really care that much anymore. I used to think, "Well, that's super sketchy, but I gotta do it." But now, I'm less scared of what people think. I'm smarter about it now. I used to think, "Oh, he did it?" And then I would hold it wide open, crash and get hurt. Now I'm like, "Ah, that's only half a second. I'll make it up somewhere else." And that's to do with having a family. I have to make money now. It's not like it was when I was younger. Now I have to because I have to pay for stuff, and I have kids in school. I'm smarter now.