MXA INTERVIEW: SIXTEEN-YEAR-OLD ROOKIE JETT LAWRENCE TALKS ABOUT HIS PRO DEBUT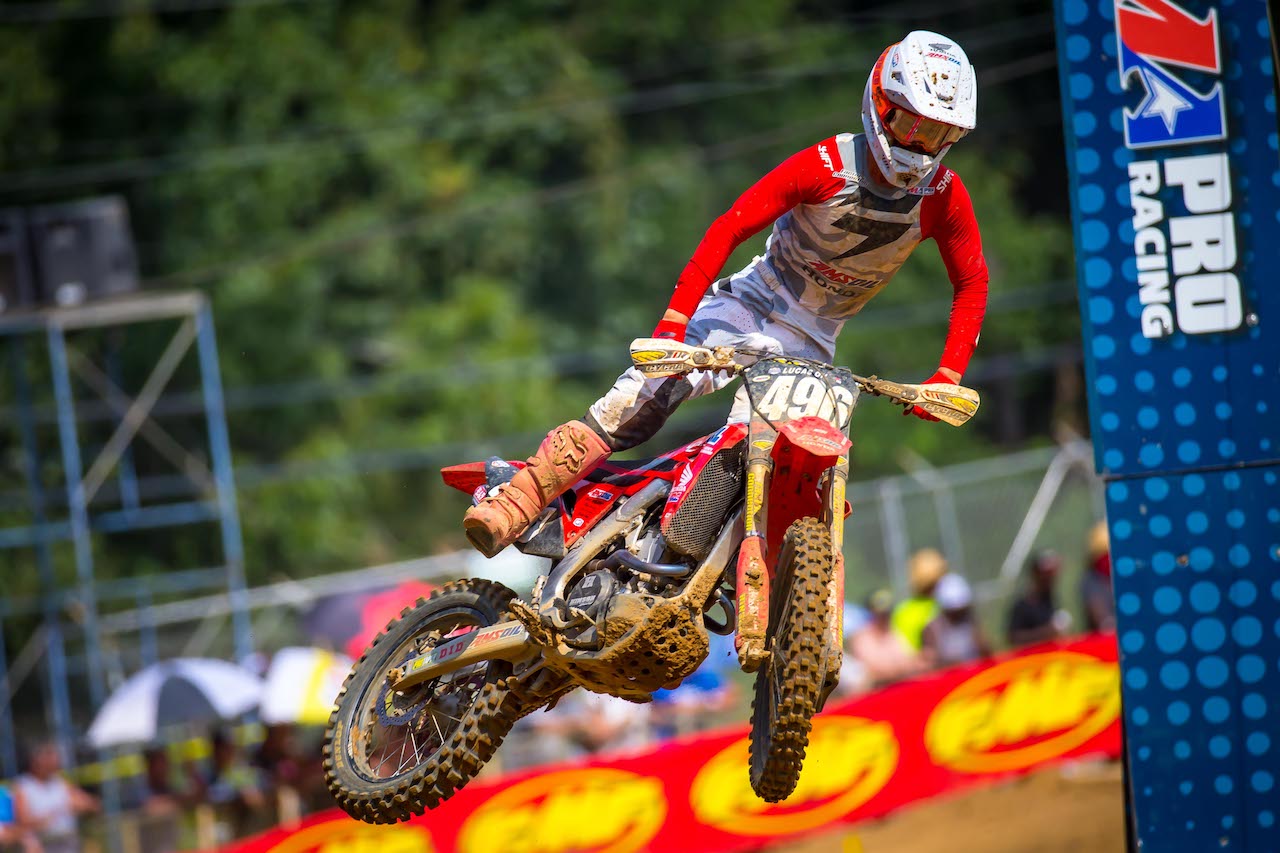 Jett Lawrence utilized the new AMA Pro Motocross rule that allows amateur A-class riders to race at the Outdoor Nationals without losing their Amateur status. Jett just had to make sure he didn't score anymore than 40-points. 
"Wait until you see his younger brother" were the words from my friends in Europe when Hunter Lawrence was racing for factory Suzuki in the World MX2 Championships back in 2017. From a global motocross point of view, one of the most anticipated amateur riders to turn pro lately has been Jett Lawrence. Making is Pro debut at Unadilla, just several days after his sixteenth birthday the younger brother and teammate Hunter Lawrence finished an impressive eighth in the second moto. Making his ride more impressive was that he came through the pack to pass a few seasoned veterans. Like older brother Hunter, Jett was a factory Suzuki rider in the World Motocross EMX Championships, and now is under the Geico Honda awing here. It's no doubt that Jett will turn full-time pro in 2020, but he isn't sure if it will be starting in Supercross or in the motocross series.
BY JIM KIMBALL
JETT, WHAT WAS IT LIKE TO LITERALLY TURN 16 YEARS OLD A FEW DAYS BEFORE YOUR PRO DEBUT AT UNADILLA? I was feeling pretty confident coming into Unadilla, although I knew I was not going to set the world on fire at all. The first moto was going well, but I had a little bit of a mistake, it bit me in the butt, and I crashed. Then in the second moto, I did not get a very good start, but I was able to come through the pack from 18thto 8th, so the second one was really good. My fitness was pretty well, and all that stuff.
YOUR EIGHTH PLACE MOTO FINISH HAS BEEN THE HIGHEST OF ANY OF THE ROOKIE GROUP THIS YEAR, THAT HAS TO FEEL GOOD? Honestly, yes it feels pretty cool to feel like the fast-amateur, or highest placed amateur. It always feels good with being the best at something. It is not really accomplishing anything, but it feels good, and gives a little bit more of motivation. Just because I am that though, it does not mean that I am going to stop training harder, or like I am just happy where I am. Obviously, I want to keep on training, and improving. But again, it does feel pretty cool to know that I finished in that way.
Jett Lawrence finished off his time in Europe with a win in the EMX250 class at the Assen GP and by winning the ADAC Youngster Cup series. 
YOUR OLDER BROTHER HUNTER RACED THE MX2 CLASS IN THE MXGP WORLD CHAMPIONSHIP, AND YOU DID SOME EMX RACING. DID THAT PREPARE YOU MUCH FOR UNADILLA? I raced EMX250 in Europe, and that is pretty similar to MX2, so nothing was much of a surprise to me. Every race is a race, it is nothing different. Every track has a turn, a jump, a start gate and a rut. The only surprise is the scenery, and the stuff around the track. I always really like seeing the fans, and I enjoy the first time coming into the racetrack.
IT HAS TO BE A BENEFIT TO YOU THAT YOUR BROTHER WHO HAS MORE EXPERIENCE THAN YOU CAN HELP YOU LEARN QUICK.Yes, it helps a lot having him. I would not be where I am today without him.  Obviously, I would be trying to get where I am now without him, but he has helped me a lot, and I thank him a lot. I hope in the future we can race each other, which we probably will next year. I love him to the moon and back and he means a lot to me. It is always good to train with someone like him, especially because he is such a nice character guy, and he jokes around a lot.
Fans can't get any closer to the action than this. Only a chain link fence separates Jett Lawrence and the spectators.
I HAVE TALKED TO YOUR BROTHER SEVERAL TIMES EVEN BACK WHEN HE WAS RACING THE MX2 CLASS IN EUROPE, AND IMMEDIATELY HE SEEMED LIKEABLE. OBVIOUSLY, YOU TAKE RACING VERY SERIOUSLY, BUT YOU WANT TO HAVE A LITTLE FUN TOO. Yes, I am that type of guy for sure. I can be serious if I want to, but everyone likes having fun, and I'd rather have fun. I always joke around with my mechanic, the team, and even my teammates like R.J. Hampshire, Chase Sexton and my other teammate, Joe Shimoda. We always joke around. I am quite an open person, and some other people when they come around are very serious. I am serious but not that serious where like I am going to sit off in my locker room, and not say hello, or talk to anyone because I am focusing on my race.
IS YOUR AMATEUR CAREER DONE NOW WITH YOU RACING THE LAST FEW OUTDOOR NATIONALS? My amateur season is not over yet, so I am racing still as an amateur. But I want to do Monster Cup in the Amateur All-Stars class to get a little Supercross racing in, and then race the Mini O's Amateur National so I can get some good money if I win. Obviously, I am not going fully pro yet, that is the reason why I pulled off at Budds Creek, so I would not get so many points. I still want to do Monster Cup, so I could get Supercross experience, because I have not really done a full Supercross race yet, so that would help a lot. Basically, I think I will go Pro full-time around Supercross and we will see how my winter is with Supercross training. If it goes well, I will probably go on the East Coast series. But if I am not ready, I will just go and train a little more Supercross, and then just switch over to Motocross like halfway through Supercross season. Just get a little bit of a head start on Motocross. But I am truly hoping to go Pro at Supercross.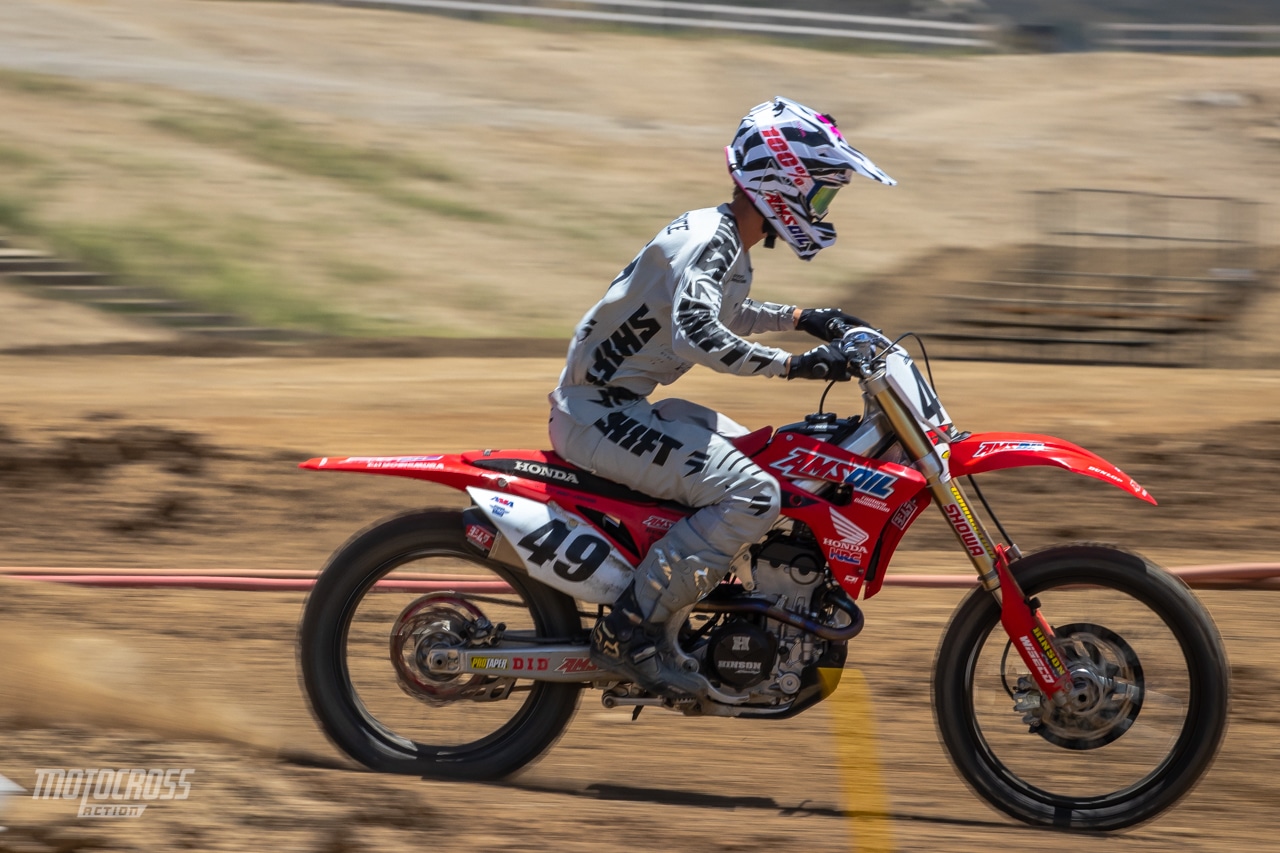 Jett Lawrence can be seen training at the local Southern California tracks with his brother Hunter Lawrence during the Motocross season.
TRADITIONALLY, RIDERS FROM AUSTRALIA THAT HAVE COME TO AMERICA HAVE BEEN PRETTY GOOD AT SUPERCROSS. DID YOU RIDE ANY SUPERCROSS IN AUSTRALIA? When I was in Australia, I had not ridden one bit of Supercross at all. Just this year I got to ride Supercross for the first time, so it is fairly still new to me. Whoever trains for Supercross always is pretty decent. You can get people from Europe that train for Supercross, and they come over here be fairly decent. I am hoping I will do good because I feel like I am quite a technical rider. I want to make sure that I get my riding nice and neat, so hopefully I do well.
DO YOU FEEL LIKE YOU ACHIEVED YOUR GOALS AT UNADILLA AND BUDDS CREEK? I came in here with like a goal of just finishing the races healthy. I did not really have any expectations at all until I got out there. I just went out there and rode my hardest. But yes, I think I have done pretty well for me so far, especially because of my age. I need to sort out my first moto's as they have not been the best.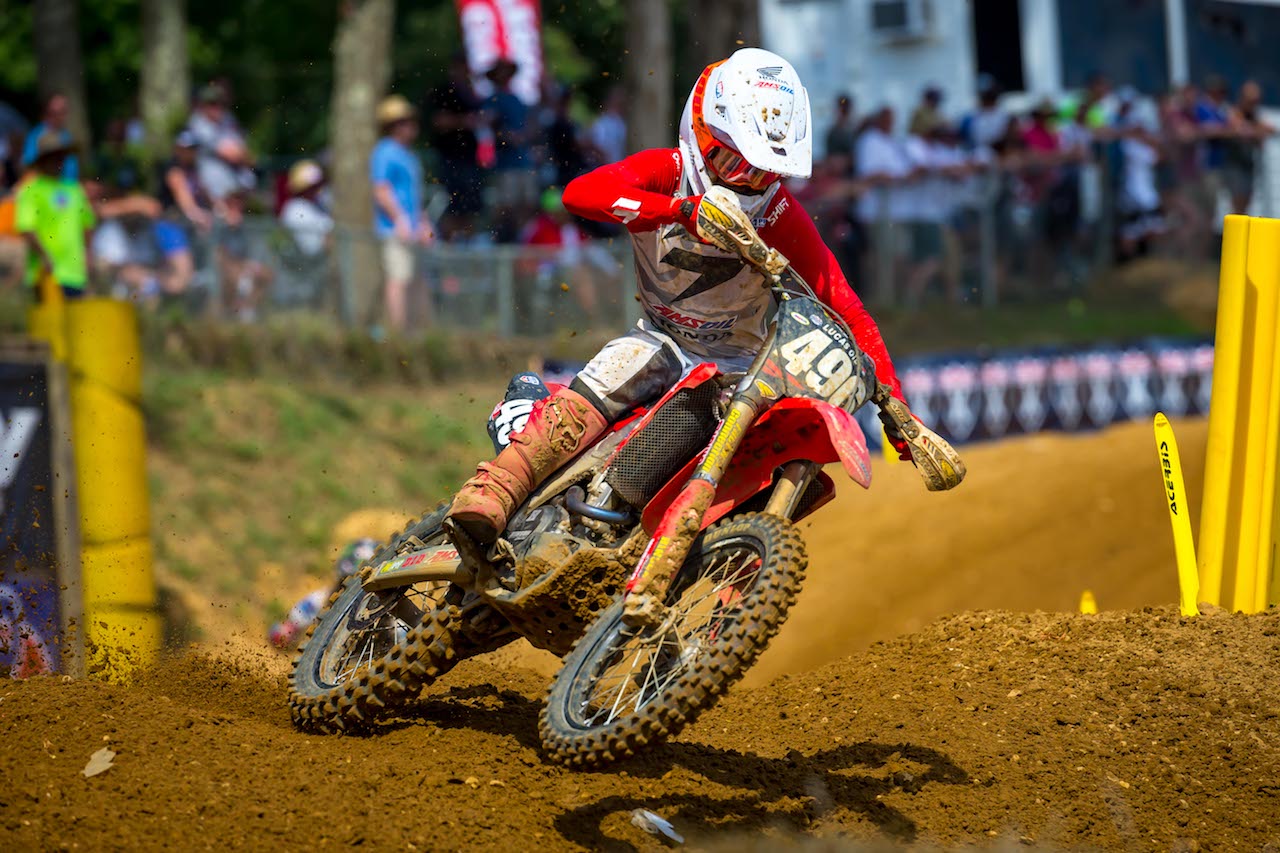 Jett was running in 10th when he pulled off the track in the second moto at the 2019 Budds Creek National.
MAYBE THE FIRST MOTOS WERE TOUGH BECAUSE YOU HADN'T RIDDEN THOSE TRACKS BEFORE? Yes, that is one thing. All of these tracks are fairly new to me. Like my first-time riding, where a lot of the guys have already ridden them. But like I said before, a track is a track and it does not really change. So, I will just go out there with the same mentality of going out to a prep track. It is like a practice day, just with a nicely prepped track with some fast guys on it.
LET'S WRAP UP WITH A BIT MORE ON YOUR PLAN FOR RACING NEXT YEAR. I feel like I want to do Supercross because I need the experience. I might just do the first two races and if I am not ready, I am not ready. I don't want to take the year off with an injury. I will just go there and give one hundred percent effort and see how it goes.