MXA INTERVIEW: STAR YAMAHA'S DYLAN FERRANDIS
Click on images to enlarge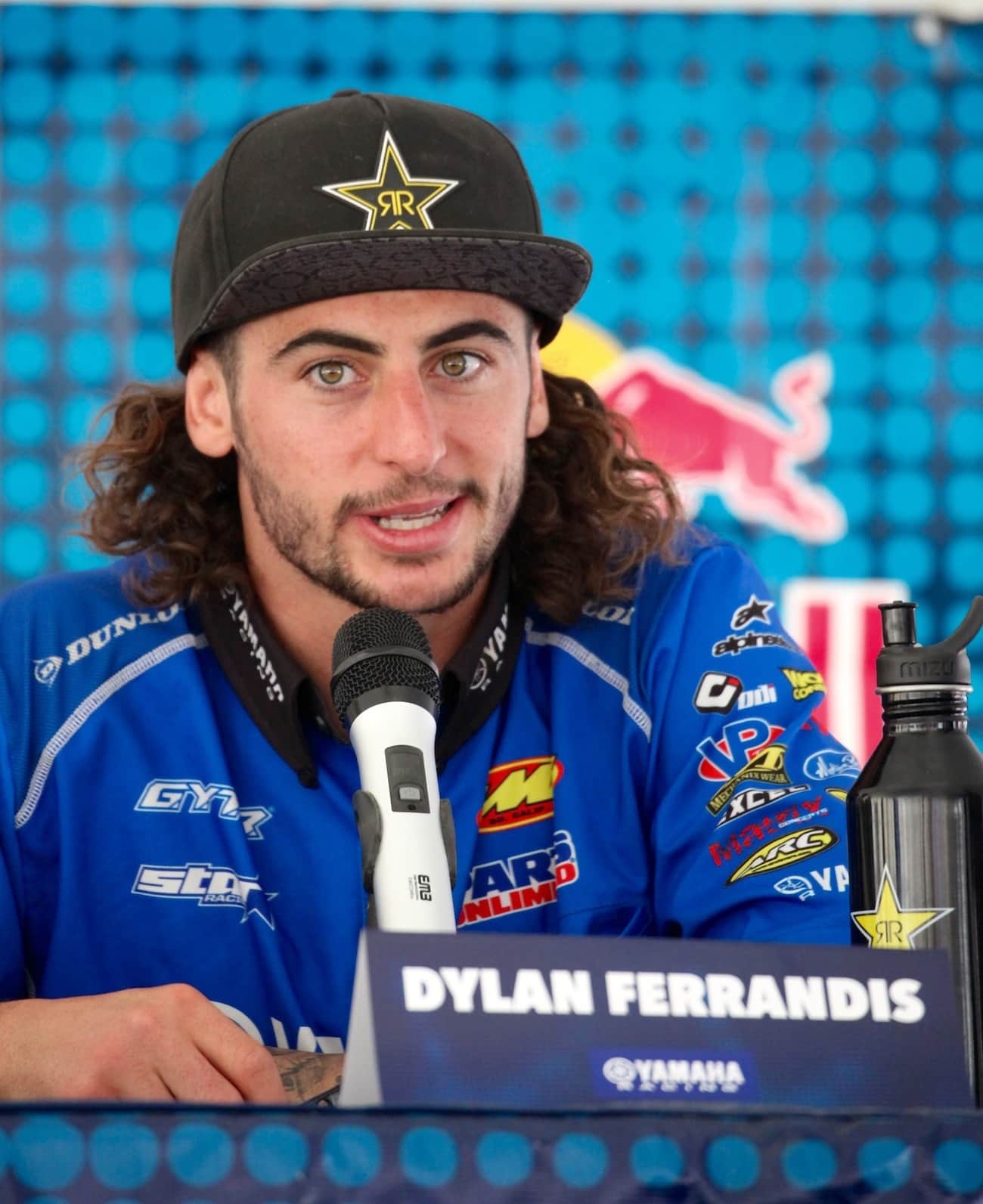 Dylan Ferrandis is where he wants to be — and having the time of his life.
By Jim Kimball
Although new to American Supercross and Motocross, many American race fans had heard of Dylan Ferrandis before he moved to the USa for the 2017 season. The rider from Southern France made a big impact in the 250 World Motocross Championships by challenging, and beating KTM superstar Jeffrey Herlings on several occasions. Dylan was also on the winning 2014 French Motocross of Nations Team.
Injuries may have lessened his actual rankings in the championships, but Ferrandis was always a rider to give his all. Along the way, Dylan developed a reputation of an aggressive hard charging rider who was not afraid of "mixing it up," which likened him more to the American style of racing. Now with a two-year contract with the Yamalube/Star Yamaha team, the recently turned 23 year old is eager to make his mark in America.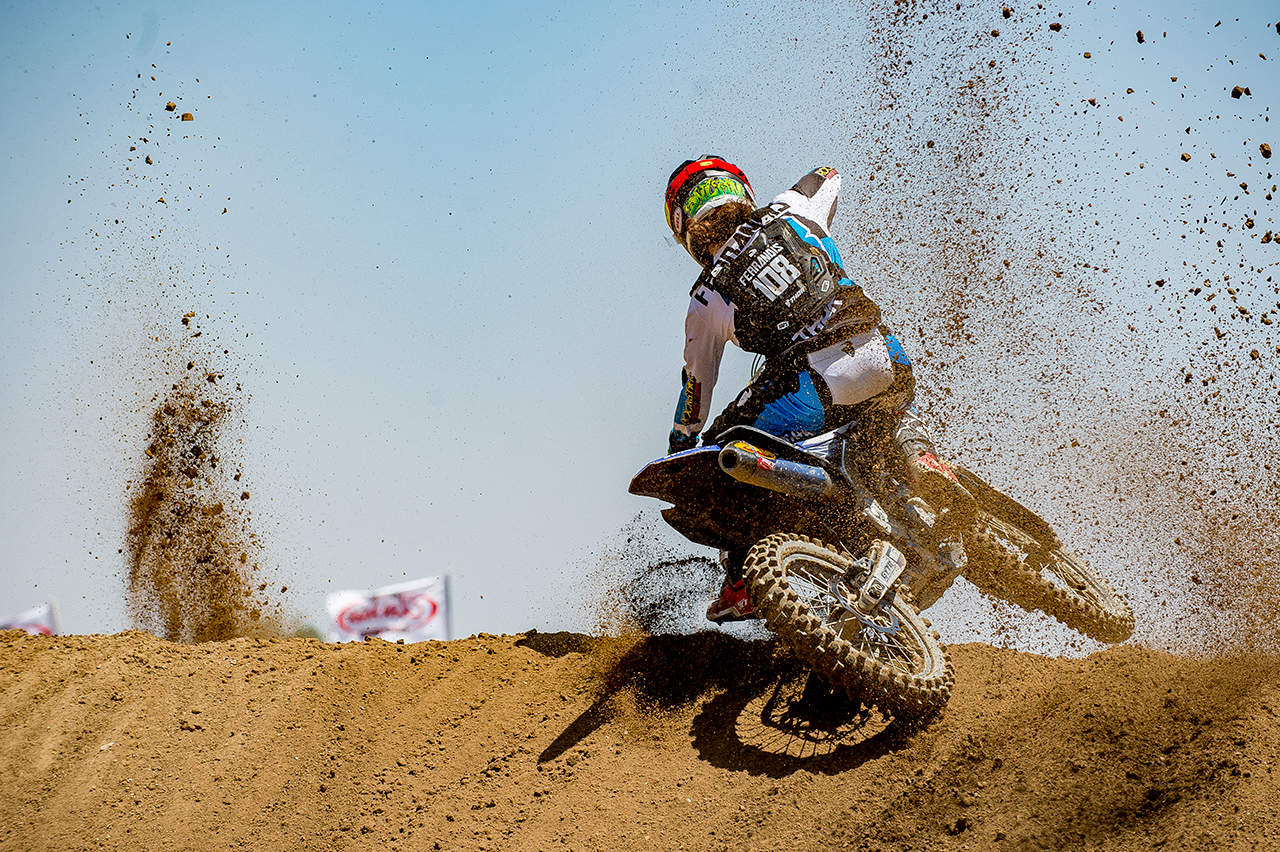 When Dylan Ferrandis won the second moto at Glen Helen he served notice that he will be a force to be reckoned with in the future.
YOU WERE ONE OF THE FEW TO EVER BEAT JEFFREY HERLINGS. I raced four years as a professional in the 250 World Championships. It was a pretty up and down career. I did win a few GP's, and I made many podiums, but I also had a lot of injuries. There were many times that I felt a couple of the GP tracks were too dangerous, and I feel that caused some of my injuries.
IS THAT WHY YOU WANTED TO COME TO AMERICA? That was a little bit of a factor with me leaving Europe and coming here to race. But that racing is what built me to where I am now here, and I have a lot of experience with racing. I traveled so much, and went to so many types of tracks, and learned so much. I did have many years racing against Jeffrey. It was a big rivalry – but that is racing.
WERE YOU AN AGGRESSIVE GP RIDER, AS JUSTIN BARCIA HAS BEEN LABELED IN AMERICA? For me Justin Barcia is not aggressive on the track, he is dangerous. I don't believe that I am like that. I just want to win, and will do everything to do that. If I have to protect my line, I will. If I have to be aggressive to pass a guy I will do it. I may be aggressive at times, but I will never do anything to injure a rider. Tthis is a crazy and dangerous sport, and sometimes its difficult to pass a rider, so you have to be aggressive, but I don't go over the limit.
YOU MENTIONED THE GP TRACKS BEING A CONTRIBUTOR TO YOU COMING TO AMERICA. DID 23-YEAR-OLD AGE RULE CONTRIBUTE AT ALL? I never really worried about the 23-year-old rule because I always wanted to come to the USA to race. I don't really have much of an opinion on the 23-year-old rule. Having to move to the 450 class after turning 23 is both good, and bad. For sure that rule was good for a guy like Herlings as he won so easily in the 250 class. Everyone wanted to see him move to the 450 class. Then, if you look at a guy like Zach Osborne who is 30, he is just now competing for a 250 Championship. It is the rule over there, so we cannot do anything about it.
Dylan finished fifth overall in the 250 East Supercross series in his first season. He says he wants to win the 250 Supercross and Nationals crowns and move to the 450 class.
YOU WERE A FACTORY KAWASAKI RIDER, WHY DIDN'T YOU END UP ON THE PRO CIRCUIT KAWASAKI TEAM? Yes, I had been on thea Factory Kawasaki Team for sometime and I had signed for one more season with them. But I wasn't happy with a couple decisions the team made. I had always wanted to come to America and I even spoke with Pro Circuit about it, but I never got an offer from them. Also, you could see that the Star Yamaha Team was winning everything in America with Jeremy Martin and Cooper Webb. My agent asked many of the American 250 teams  about signing a contract with me, and I signed with who I felt was the best choice – Star Yamaha.
YOU HAD NEVER RACED AN AMERICAN SUPERCROSS BEFORE, BUT YOU WERE SUCCESSFUL RIGHT AWAY. HOW? Supercross was easy for me, I have always had a Supercross track at my home in France. I always dreamed about racing Supercross. I watched lots of video's to try to learn as much as I could about the sport in America. We had a little Supercross series back home in France, and I always raced them. Then after the GP season ended I would always race the big European Supercross races like Bercy and Genoa. The main reason I came to the USA was to ride Supercross. It's been something that I have had inside me.
DOES FRANCE HAVE MORE OF A SUPERCROSS EVENTSTHAN THE OTHER EUROPEAN COUNTRIES? Yes, definitely. For many years we have had a pretty good French Supercross Championship, and that is why we have seen so many French riders over here in the US. For the past ten years this series in France has been pretty good, and the level of the riders is very high. And even in Germany and Italy they are having some Supercross racing. Where I am from in the South of France, everyone has a Supercross track, and trains for that type of racing. Actually, most of the French riders probably train more for Supercross than they do for motocross. In France Supercross is very, very important.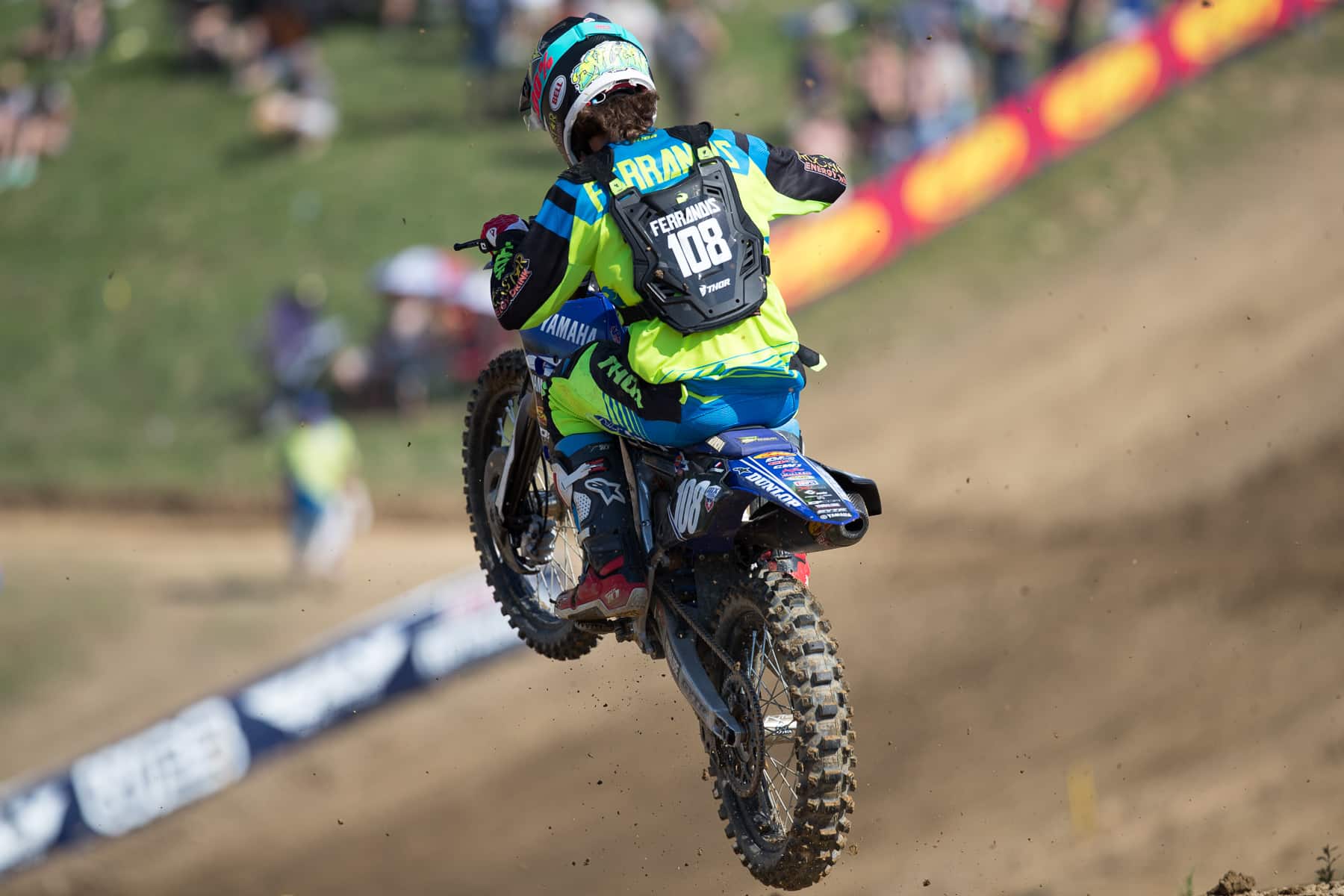 HOW DO YOU ACCOUNT FOR SO MANY SO MANY GOOD FRENCH RIDERS? That is easy, we have so many great tracks in France. You can go anywhere in France and find an amazing track. Most of the tracks are not even used for racing, they are using for training. Tracks can be in a busy city area, or out in the middle of nowhere. Motocross has been around in France for many years, and even if it is not a huge "famous" sport, many kids ride dirt bikes.
WHAT ARE FRENCH MOTOCROSS TRACKS LIKE? The tracks in France are very technical, and many have lots of trees around them, so they can be dangerous. And we have tracks that are sandy, hard pack, or muddy, so there are many types of terrain that we train on. The North of France is much different than the South. In the northern part it rains a lot, so that is how we get used to riding in wet and muddy conditions. So, based on all these different track conditions, we become good at all types of motocross.
NOW THAT YOU LIVE IN THE USA, DO YOU STAY IN TOUCH WITH OTHER FRENCH RIDERS?  I keep in touch with many of the French riders because I have been racing them for a long time. I don't often speak much to riders that American fans may have heard of though. As far as a guy like Gautier Paulin, we don't really talk  a lot. He is a bit more reserved, and serious that I am. And back in 2014, I hade some big battles with Romain Febvre, and there was a big rivalry, so I don't talk too much with him either (laughing).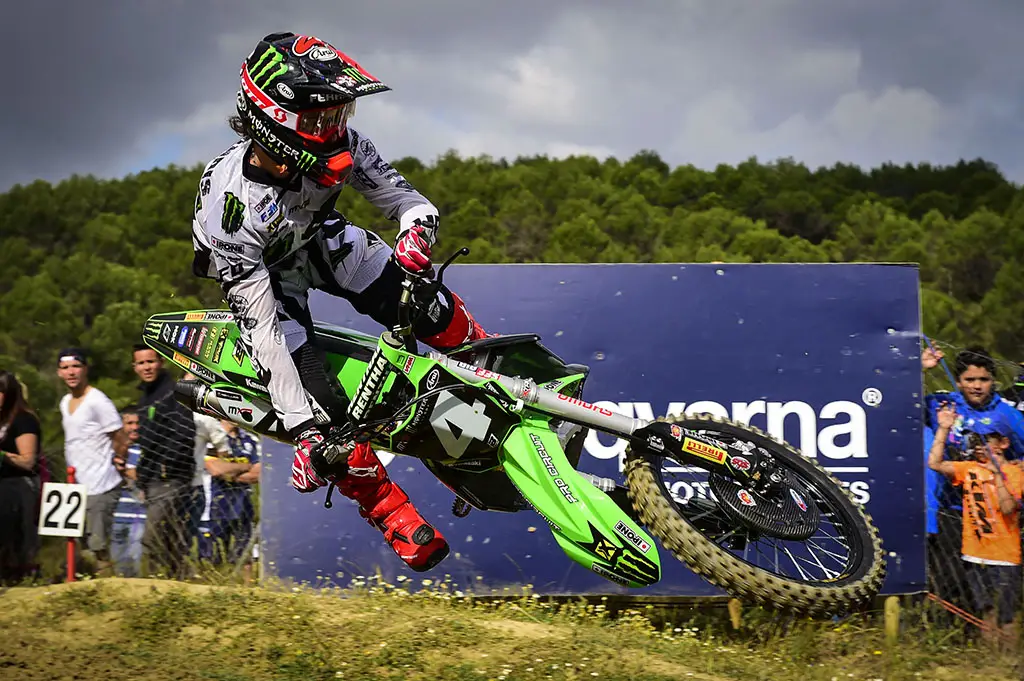 Dylan is not a staid, old man of the GP circuit. He was part of the French invasion that is changing the GPs.
TELL US ABOUT YOUR AMERICAN EXPERIENCES IN THE AMA OUTDOOR NATIONALS. I came here late last summer, and all I did was practice Supercross. Racing Supercross and training for Supercross was the only thing on my mind. So, after the 2017 Supercross series ended, I only had two weeks to get my bike set up for the outdoors. Two weeks was definitely too little of time!

My bike wasn't ready, nor was my body ready for Hangtown. Hangtown was my very first outdoor, and I didn't know what to expect; everything was new to me. I put a lot of pressure on myself to do well, and then I had a small mistake, which turned into a big crash. But before that crash I felt pretty good. I didn't have a great start, but I came into the top five. That following week we just continued to work on the bike to improve it.
At Glen Helen I could show my true skill, my speed, and what I could do on a dirt bike. The first moto at Glen Helen I had another bad start; again I think I put too much pressure on myself. But in that second moto I got a good start and could just ride smoothly, and just think about myself. When I was riding "free" like that, I could just be myself, and not think about anything else.
ALL OF YOUR COMPETITORS HAVE RACED THE NATIONALS TRACKS MANY TIMES, ARE YOU AT A DISADVANTAGE? You are exactly right. Everywhere I go is new. I have to be careful about everything, because I don't know where I am going, or what these tracks are like. Like everyone says to me "this is a learning year." If I can just ride like I know how to, it will be good.
Dylan was Kawasaki's main hope in the 250 GPs, but injuries and Jeffrey Herlings kept him from winning the crown.
HAVE YOU MADE ANY ENEMIES ON THE AMA CIRCUIT YET? I am not a young cocky kid coming into racing. I think that everyone knows that I have been racing the GP's for a long time. They have seen me at the Motocross des Nations, so they know who I am. Some people may be jealous, but that is normal. When I see Zach Osborne win I am jealous of him.
HAVE YOU BEEN ABLE TO MAKE SOME GOOD FRIENDSHIPS WITH YOUR TEAMMATES? Maybe not "good" friendships. That is something that takes time. Conversations can be difficult as my English is not so good, nor is their French. In America there are a lot of different accents for me to learn. All my teammates are very nice and really cool.
Dylan Ferrandis flies by the French flags at the 2014 MXDN.
DID THAT MOTO WIN AT GLEN HELEN GIVE YOU THE CONFIDENCE THAT "HEY, I CAN WIN ANY RACE I LINE UP TO? Yes and no; I knew that I had the speed to win here, butI need to get more confident here and get used to everything. At Hangtown before my crash, I wasn't riding that well, so no one really could tell whether I was good or bad. With that moto win at Glen Helen I was happy to show everyone that I could win, and that was why I was here.
THIS IS A "LEARNING YEAR" FOR YOU. WHAT WOULD YOU BE HAPPY TO ACHIEVE? My goal is to always be on the podium, and finish this championship on the podium. But anything can happen in racing. It will be a long season, and a long year of learning, so we will see.
WOULD YOU SAY THAT YOUR FOCUS IS REALLY ON WINNING THE CHAMPIONSHIP NEXT YEAR? Yes, that is my goal. I have a two-year deal with Star Yamaha. My dream would be to win both the 250 Supercross and 250 National  Championships next year, and then move to the 450 class. I don't want to spend too many years in the 250 class. I believe that I ride a 450 very well.