MXA INTERVIEW: TALLON VOHLAND ON HAND-ME-DOWNS, EUROPE AND THE LONG ROAD HOME
BY JIM KIMBALL
YOU WERE FROM NORTHERN CALIFORNIA, BUT ALL THE PRO RIDERS CAME FROM SOCAL BACK WHEN YOU STARTED RACING. Pretty much all the factory riders came from south of Los Angeles at that time. All the factories were in SoCal, and while many riders were not quite as good as you, they would get the rides just because they were close to all of the manufacturers, magazines and press. It was easy for the SoCal riders to work with the teams.
THAT MUST HAVE BEEN FRUSTRATING FOR NORCAL RACERS? It was. We had to do twice as much to get half the attention. That was what it was like, not only for Northern California, but for all the far-away states. It was just so different back then.
"I WAS ALWAYS GIVEN THE HAND-ME-DOWNS AND TOLD TO JUST GO OUT
AND HAVE A GOOD TIME RIDING. IT WAS GOOD, BECAUSE I DIDN'T
HAVE AS MUCH PRESSURE ON ME."
SINCE YOUR OLDER BROTHER TYSON WAS MAKING A NAME IN MOTOCROSS, DID THAT HELP YOU ANY? I was always given the hand-me-downs and told to just go out and have a good time riding. It was good, because I didn't have as much pressure on me. Tyson turned pro at 14 because our family did not have a lot of money, and Tyson could make a couple of hundred bucks on the weekend. So, at 14, he was riding 125 and 250 Pro.
WHEN DID YOU TURN PRO? I turned Pro in 1989 and raced the 125 West Supercross series. I finished 4th overall. I was still doing the bigger amateur races, like Loretta Lynn and Ponca City, but not the AMA Nationals. In 1990, I signed on with Team Green. I was not good enough to get on the factory team. Team Green gave me $15,000 in gas money and some bikes. I was my own boss; I would hire my own mechanic and go out on the road. I went out as a privateer in 1990 and had an extremely good year. That was like my launching year.
YOU HAD AN INCREDIBLE ROOKIE SEASON IN 1990, RIGHT? Yes. Halfway through the season, I was running third in the 125 Nationals. I got third at Hangtown and second at High Point. At High Point, I was second overall to Jean Michel Bayle, and he literally passed me on the last lap to win the National. If those things happened these days, I probably would have been a millionaire by now.
DIDN'T YOU WIN A 125 SUPERCROSS IN YOUR ROOKIE SEASON? I did. It was weird how that worked out. I was riding the 125 East Coast that year, and Denny Stephenson was killing it, along with "Mad Mike" Jones. They were the main guys who were super fast in the 125 East. I had gone down to Gary Bailey's and ridden all week, but I did not seem to get a lot out of it. I did not know if it was worth it; but, when I went to the Tampa Supercross and won, I called Gary and said, "Hey, I won the Supercross!" I told him that I felt slow, and he said, "Slower is faster."
IN 1991 YOU SIGNED WITH SUZUKI. DID YOU HAVE OTHER OFFERS? I had three offers: Suzuki, Yamaha and a new team called Team Peak Honda. Mitch Payton had approached me, and I wanted to be on Team Honda, but Team Peak was a satellite team, and as a kid I wanted to be on a real factory team. Peak was going to pay me $30,000, but I had to cover expenses and pay my own mechanic. So, I said no. Next I went to Yamaha, but the Yamaha deal was not anything spectacular. Finally, Suzuki said, "Okay. We'll give you $20,000 plus per diem, a mechanic, and everything paid for including flights." I was 19 years old and thought, "Wow! I am getting paid $20,000."
IT DIDN'T TAKE YOU LONG TO LEARN THAT TEAM PEAK WAS THE TEAM TO BE ON. In hindsight, when you see how well Team Peak did that first year, that was the place to be. They went one-two in almost every Supercross race. We had our Suzuki running well, but Mitch's bikes were better. His bikes always ran well. If we were spot on, our RM125s could be as good as the Peak bikes; but, if we were a little off, we would be down about 20 percent to those Hondas.
"I HAD JUST TURNED 20. I LOST MY FACTORY RIDE, AND IT SEEMED LIKE IT WAS OVER. BUT, MY BROTHER TYSON HAD GONE TO EUROPE IN 1990
TO RACE. WITH NO RIDE FOR 1992, I WENT OVER TO DO
THE FASTCROSS EVENT, AND IT WENT VERY WELL."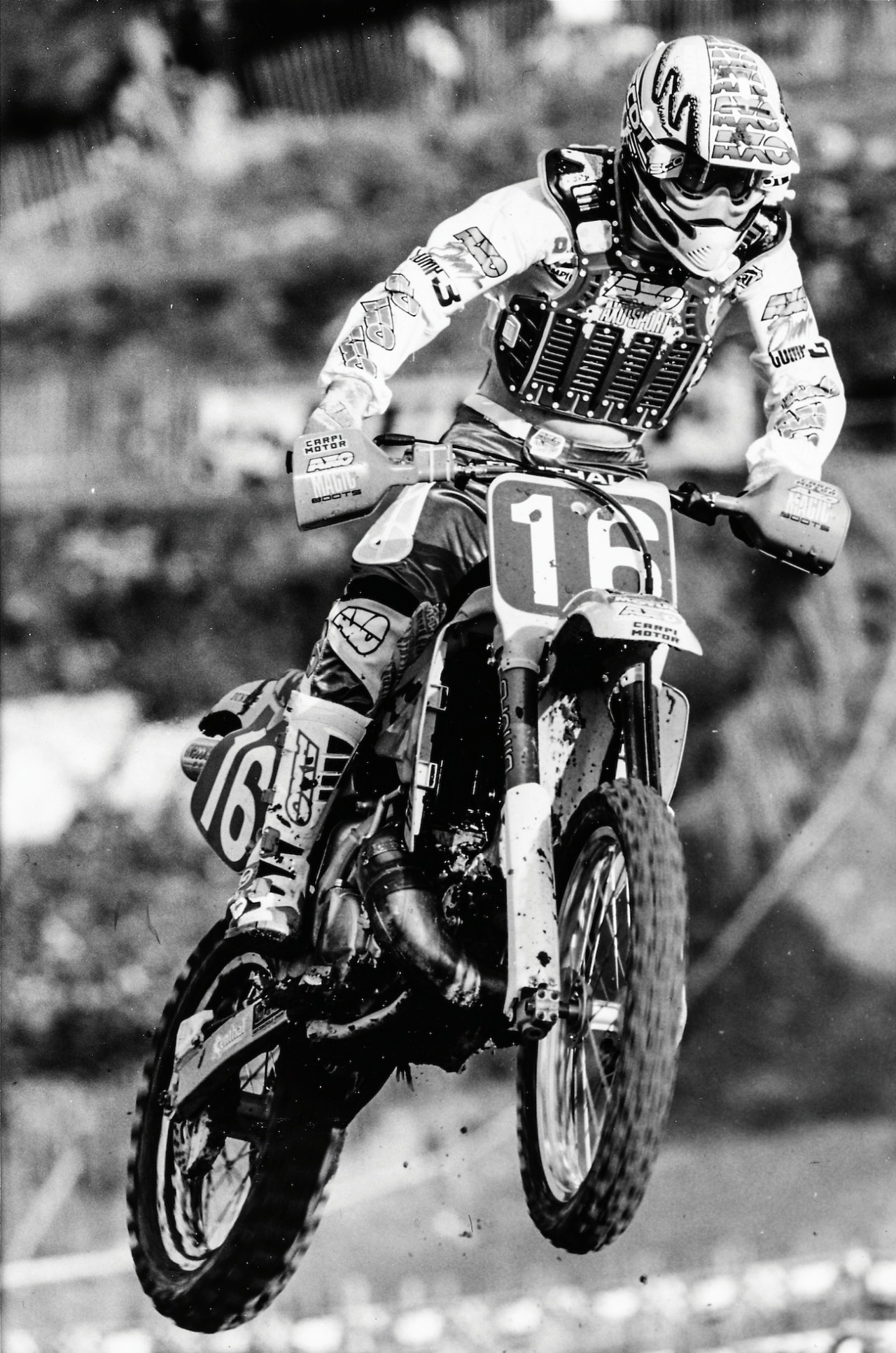 WHAT WAS THE REST OF 1991 LIKE? I had dislocated my shoulder rollerblading before the season started. I got through the whole Supercross season. Then, at the Unadilla National, I dislocated it again. It wouldn't go back in, so I had to go to the hospital. The doctor told me, "If this is the second or third time it has popped out, you need surgery." I elected to get surgery, but unfortunately that was when the team was choosing who they would sign for 1992. They hired Steve Lamson, so I did not have a ride going into 1992. At the time, there were not all these good privateer teams like they have now. If you lost your factory ride, your career was basically done.
DID YOU THINK THAT YOU WERE WASHED UP AS A PRO? Yes. I had just turned 20. I lost my factory ride, and it seemed like it was over. But, my brother Tyson had gone to Europe in 1990 to race. With no ride for 1992, I went over to do the Fastcross event, and it went very well. I was racing with Alex Puzar, who had just won the 250 World Championship, and Ricky Johnson; and I was leading the race. They passed me, but I battled the whole moto. I still got third. The Carpi Motor Suzuki team offered me $30,000 to race the 125 GPs. I did not know anything about the European guys and thought, "Those guys look stupid. I will go over there and win the World Championship, come back as the World Champion, and get my ride back in the States."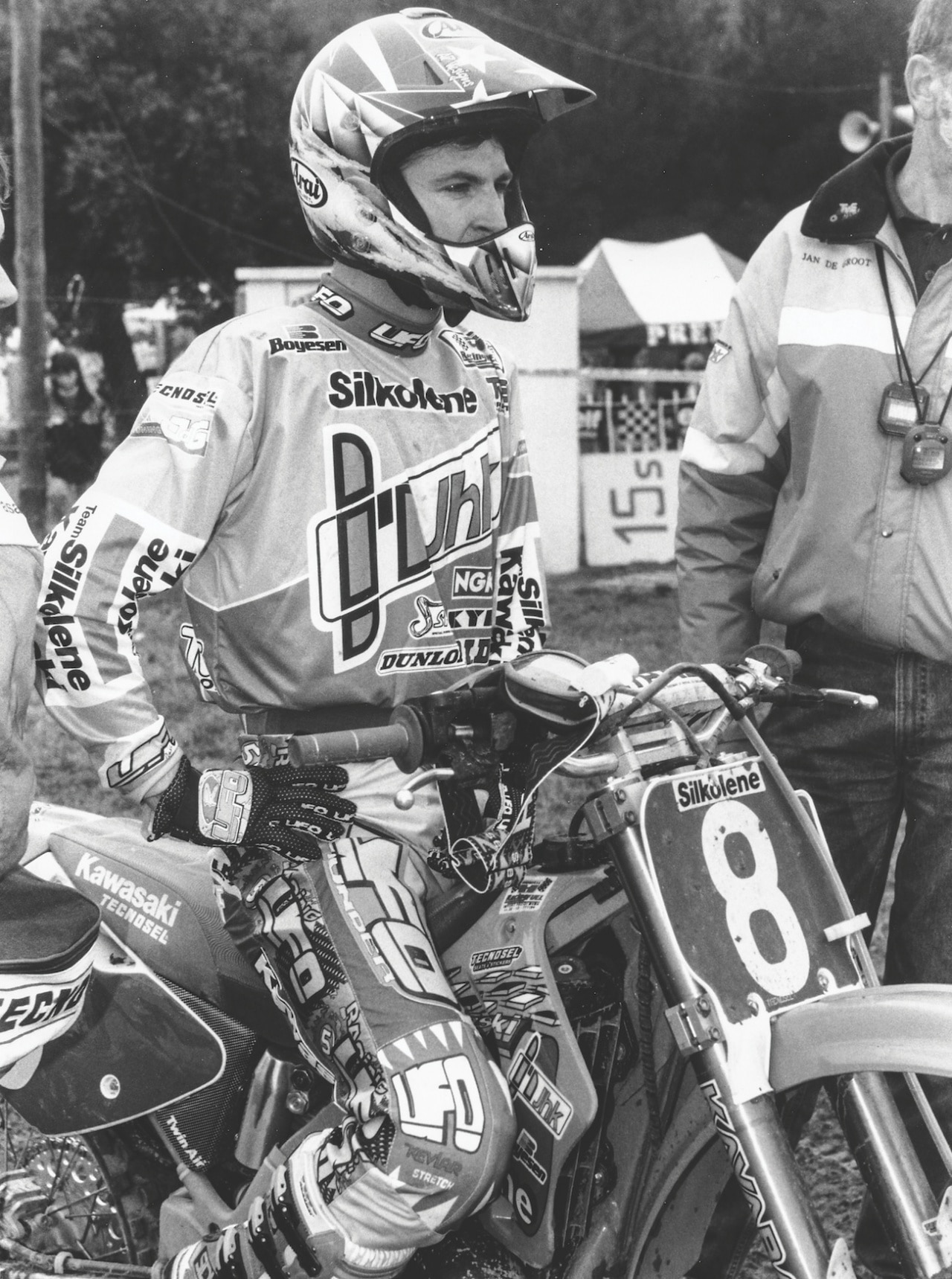 WELL, YOU DIDN'T WIN THE WORLD CHAMPIONSHIP, BUT YOU HAD SOME SUCCESS, RIGHT? Yes. But back then there was no internet to know what was going on in Europe. I was eighth in the 1992 125 World Championship, eighth in the 1993 250 World Championship and eighth in the 1994 250 World Championship. Greg Albertyn won all three. In 1995 and 1996, I was third overall in the 250 Championship behind Stefan Everts. In 1997, I missed five of the 12 rounds and finished sixth overall. Unfortunately, 1998 was not quite as good a year. I was a third/fourth place rider but ended up sixth (Sebastien Tortelli won that year).
AFTER SEVEN YEARS ON THE GRAND PRIX CIRCUIT, YOU CAME HOME. HOW DID THAT HAPPEN? When riding for Rinaldi Yamaha, Bobby Moore and I shared a house. When he retired, he became the team manager of the FMF Honda team. He called me in late 1998 and said, "If you come back to the USA, you could make $25,000 a race." So, we started talking. He sent me an FMF Honda contract that paid a $25,000 bonus to win a race. That was insane compared to the World Championship, because in the World Championship it was like $3000 if you won a GP. The salary was just okay, but the bonuses were huge. I thought to myself, "If I am ever going to go back to America, this is my chance."

HOW WAS IT LIKE TO RETURN TO THE AMA 125 CLASS AGAINST RICKY CARMICHAEL? RC was the man. I could run his pace, and if I did not beat him, I was pretty close. He was obviously the sickest dude ever. He won 10 straight National titles. When I caught and passed him at Glen Helen in 1999, he had never been beaten at that track. People went nuts when I passed him in the second moto. It was crazy around that track, because he was this unbeatable person. I didn't win that day, although I did win at Budds Creek over Ricky later in the year. But, catching him at Glen Helen got me a two-year contract for 2000 and 2001.
IS IT TRUE THAT RICKY TOLD MITCH PAYTON TO HIRE YOU? I heard that they were in a rental car, and Mitch asked Ricky, "Who should I hire for 2000?" Ricky said, "I would hire Tallon Vohland. I think he is going to win next year." I ended up signing a two-year deal with Mitch, which was my best deal ever as far as money goes.
"I WAS SITTING THERE ON THE STARTING LINE WHEN THIS YOUNG KTM FACTORY RIDER, BEN TOWNLEY, CAME WALKING UP TO THE GATE
WITH HIS FANCY SUNGLASSES ANDHIS TEAM HAT ON.
HE HAD THAT SMUG LOOK THAT WINNERS HAVE."
AFTER YOUR TIME AT PRO CIRCUIT, YOU RETURNED TO EUROPE FOR 2002. WHAT HAPPENED TO MAKE YOU RETIRE? My two years with Mitch were not the greatest results-wise, so I returned to Europe for 2002. I remember the moment that I first thought about retiring. I was sitting there on the starting line when this young KTM factory rider, Ben Townley, came walking up to the gate with his fancy sunglasses and his team hat on. He had that smug look that winners have. When I was leading the World Championship, that was the way I used to feel. I remember sitting there looking at him and thinking, "I remember when I felt like that." Then it came to me, "I am done." It was over.
YOU RETIRED THAT SEASON AND WENT TO WORK AT ACERBIS. I retired in 2003, and I started working at Acerbis that same season. I'm still here now. When I started with them, I began in the Racing Division, because I knew all of the team managers and riders. It was very tough for me, because I would drive Acerbis' big old truck into the pit area and think to myself, "I used to be the guy, and now I am driving a truck." But, you have to earn your way in life. I only drove the truck for that one season. Then, little by little, I moved up in the company. In 2008 I transferred from racing to the marketing and sales division, and in 2010 I took over as sales manager.
DO YOU ENJOY IT? Yes. It is almost like racing. In racing, you are only as good as your last race. In sales, you are only as good as your last sale. I can use my competitive spirit that I have from racing in business, and I still get that same feeling. If I see some of our competitors doing something better than us, it makes me want to do better.