MXA INTERVIEW: THE TOP-TEN PRIVATEER JOHN SHORT
MXA INTERVIEW WITH TPJ FLY RACING PRIVATEER JOHN SHORT
Eli Tomac, Ken Roczen, Cooper Webb and Marvin Musquin may have been the headlining riders from this years AMA Motocross season, but there were many others that contributed to the summer's motocross excitement. You also had riders like Pilot Point, Texas native John Short. The privateer had several solid top ten finishes, the best being a seventh overall at the Spring Creek National in Millville, Minnesota. Short would eventually finish fifteenth overall in points. With the season now well over, we tracked down the TPJ/FLY Racing Texan to recap 2019, and talk about 2020.
BY JIM KIMBALL
JOHN, LET'S BEGIN WITH THIS PAST SUMMER, YOU HAD SOME GREAT FINISHES DURING OUTDOORS. Yes sir, it was good. I felt like the summer was definitely a confidence booster. I hit my stride at Southwick. I had a top ten moto finish, and that gave me a little confidence. Then it seems like I just built off that during the rest of the summer. I am very excited with the way the season went, and I would love to build more off of it for 2020.
IT APPEARED THAT THE ROUGHER THE RACE WAS, THE BETTER YOU DID. SOUTHWICK WAS HOT AND HUMID, WHILE MILLVILLE WAS MUDDY AND WET. To be honest, I really take pride in my work ethic, my heart, and my determination, so for me, when the conditions get brutal, the better I do. You can see guys and how good of shape they are in. That stuff (difficult race conditions) play into my favor a little more because I do not give up. I train here in Texas, and we ride in the rain, shine, mud and the hard pack. I am pretty sure that the more technical rounds, and the tougher tracks are an advantage to me.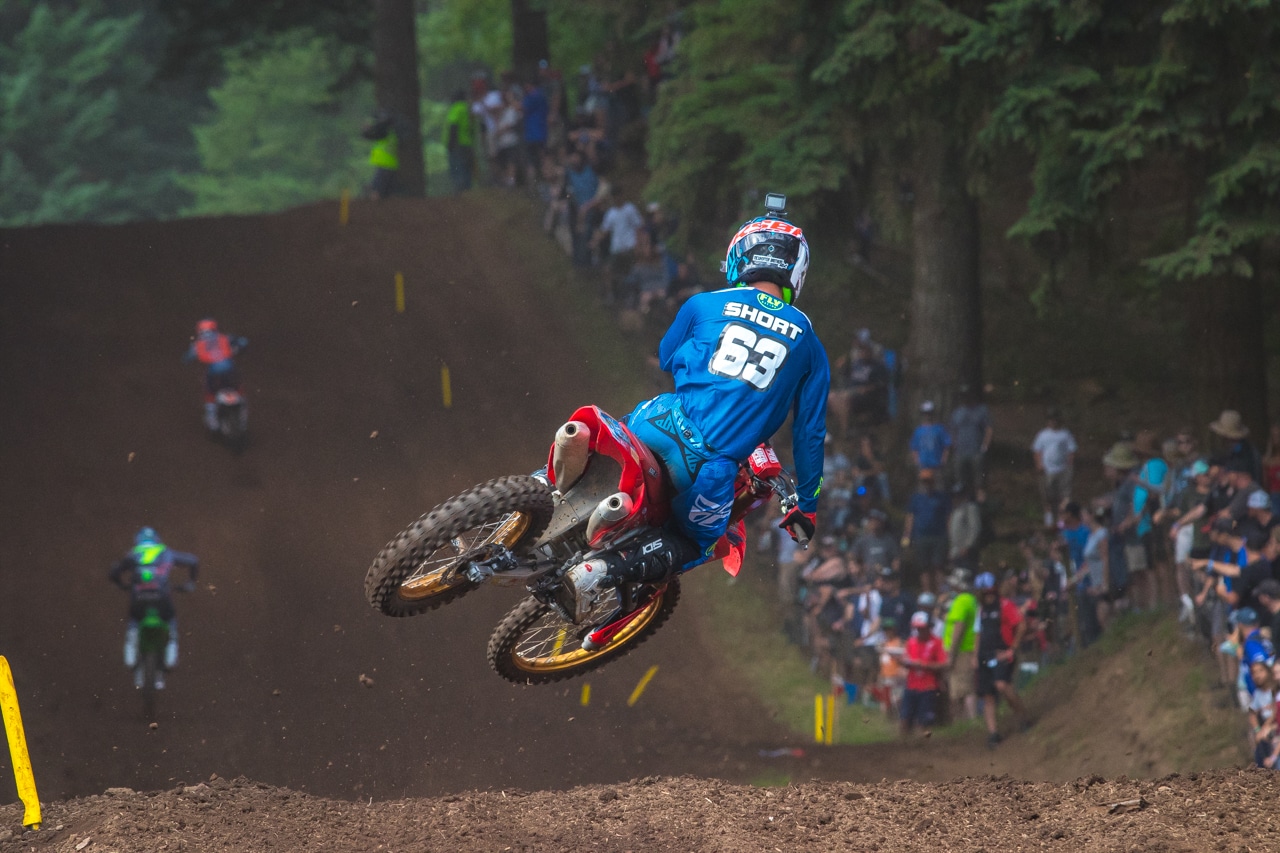 "It is cool to be the first privateer, or maybe beat a couple of factory guys, but the way I also see it too, is why would they hire the guy finishing right behind the factory guys?  I feel like you have to beat those guys, and show the speed to win to really garner that type of support." -John
YOU GAINED NOTORIETY AND GOT SOME GOOD EXPOSURE FROM THOSE OUTDOOR MOTOCROSS ROUNDS; HOW DID THAT AFFECT THINGS FOR YOU? Well, I think as far as a fanbase goes, I definitely noticed more people stopping by, and not just stopping by because they see the bike. They are stopping by to see me in particular, and that really is cool to see. People are actually following me, and keeping up with what I am doing, so I am gaining attention. As far as sponsorship, or a factory ride or anything like that, really no. Nothing else really came from that, but that is just how it goes. You have to go to races and consistently get in the top five before those types of things come, in my opinion.  
THESE DAYS THE FACTORY TEAMS PULL FROM THE YOUNG, FAST AMATEUR RIDER POOL. UNFORTUNATELY, IT APPEARS THAT FAST PRIVATEER GUYS LIKE YOU, AND HENRY MILLER OFTEN GET OVERLOOKED. WHAT ARE YOUR THOUGHTS ON THIS? I think with me being a privateer, it should be that way a little bit. The teams should be more interested, but at the same time they want a guy who is going to go win a race and shows that potential. It is cool to be the first privateer, or maybe beat a couple of factory guys, but the way I also see it too, is why would they hire the guy finishing right behind the factory guys?  I feel like you have to beat those guys, and show the speed to win to really garner that type of support. But I do see that where the teams are signing these kids that are super young, and I personally am not the biggest fan of it. I think that you should have to earn your spot a little bit more. Maybe wait until they are on a big bike, about to turn pro, and pick them up where they are at. I don't know, that is not my call. I just have to deal with the circumstances that are in front of me.  
Texas locals, John Short and Blake Wharton chat during the Arlington, Texas Supercross press day.
I UNDERSTAND WHAT SOME OF THESE FACTORY TEAMS DO AND I GET IT. SOME OF THE RIDERS GO ON TO HAVE GREAT SUCCESS, BUT SOME OF THEM DON'T. BUT HERE YOU ARE GRINDING IT OUT AND BEATING FACTORY GUYS. It is kind of wild to see at times the guys that are finishing behind me or right in front of me, not only riding for factory teams, but making more money, obviously.  Most all of my racing comes from what I am earning on the weekend, or the sponsor that might be helping me get to the races. Definitely everything I make goes right back into my program. I think one of the advantages of having a factory ride is having the mechanics, technicians, and suspension guy. It takes a lot of the weight off the rider's shoulders, I could imagine, anyways. Even if my equipment is pretty good, just having a good mechanic would go a long away, like a consistent good mechanic. Just all of those little details are what make the factory team a factory team, but you have to earn your spot on there.
YOU ARE FROM TEXAS, WHICH I WOULD IMAGINE IS SIMILAR TO FLORIDA IN TERMS OF A GOOD BASE TO BE IN, WHY DO RIDERS CHOOSE FLORIDA OVER TEXAS? That is a question that I can't really answer. I did go to Florida this summer though, and what you do get out there is good riders to ride with. That is where most of the factory guys train, and that is an advantage in itself, just riding with factory riders. You don't have an issue pushing yourself. I can't really answer your question. Down here in Texas, if you had faster riders, the training would be every bit as good.  I did all my training for outdoors here in Texas, and it was brutal hot this summer. When I went to Florida for a few weeks before Millville, everyone talked about how hot it was in Florida and I was like "man, this is a little bit of a relief from Texas heat." It made me realize just how hot it is in Texas. I think it's that all the riders are in Florida and that just makes it easier. It is like going to California, all of the factories are there.  Most of the riders are there during Supercross, so that is the place to be regardless of you know conditions or weather.
John Short's best Supercross finish of 2019 came at Daytona when he scored a 12th place in the 250 Main Event.
WHAT HAVE YOU BEEN DOING SINCE THE OUTDOOR MOTOCROSS SERIES ENDED? I pretty much continued my training. I took a few days off from riding, but I continued all my gym training, my cycling and all of that. My goal was to try to race Monster Cup, and some other off-season races.  I went to Africa last week and did a smaller international race there. That was a lot of fun. I went to Uganda, got to ride my motorcycle, and check out a safari. I went on a short vacation with my family. So, I have not really stopped training, but I have taken a little bit of time off here, and there to go do some different things, while we are not in race season.  
THEN ARE YOU GOING TO RACE MONSTER CUP? That was the plan, but it is not looking like it is going to happen now.  We just had some unforeseen circumstances come up, but I also would like to go do some other off-season Supercross races overseas. Maybe go to Germany, or anything I can do to stay racing. But I can't afford to go race and lose money. I have to build my budget up for the 2020 season, so I can have the best equipment I can, and the most support.
John's best Outdoor finish of the season was a 7th overall in the 450 class at the Spring Creek National, he beat eight factory riders that day in the mud.
YOU HAVE RACED BOTH THE 250 AND 450 CLASS IN SUPERCROSS, WHAT ARE YOUR PLANS FOR 2020 SUPERCROSS? I got my options open. I have not signed anything with anybody. I am open to anything, but ideally, I would like to race the 250 East Coast series. I have done well there in the past. I want to go ahead and jump up to the 450 on the West Coast, and ride maybe five West Coast rounds on a 450 and get my feet wet there just to get a little more experience and see where I stack up in that class. I would like to just keep racing as much as possible, that is how you get better, staying on the gate.  
DO YOU HAVE SOME GOOD SUPERCROSS TRACKS IN TEXAS THAT YOU CAN PREPARE ON? We actually do, the weather stays really good here. There are a couple of weeks in the winter where it gets cold to where maybe you don't want to ride, but we are talking 40's which is about as low as it gets normally. We have some tracks just north of Texas in Oklahoma that are very good. There is honestly about five or six good Supercross tracks. We are starting to get a lot more riders here in Texas that are trying to race Supercross, and it's growing a little bit more. 
John's never-say-die attitude has helped him press forward each year. Short earned national number 43 for 2020.
HOW ARE YOU FEELING ABOUT 2020 SUPERCROSS? I am pretty confident. Honestly, I feel like every year I am getting more and more experience. I was not the guy who grew up riding Supercross on superminis or anything like that, so after a couple of seasons now, I really feel comfortable with it. I got back on the Supercross track a week or two ago, and I felt like I just picked up where I left off last season. I went right back into trying to build some of my weak areas and pick up some speed. Supercross to me is a lot of fun. I like mixing it up, riding Motocross all summer, and then hopping on the Supercross track; it puts a smile back on your face.
YOU WERE ON THE TPJ TEAM FOR 2019. TALK ABOUT THAT TEAM AND WRAP UP WITH LOOKING FORWARD. The TPJ Racing program with Ted Parks has helped me a lot over the years. At the end of the day, he does not claim to be a factory organization. He is there to help guys and give them the platform to move forward. He does a great job with that. Merge Racing, Devol Racing, Rekluse Motosports, Pro Taper, Vertex Pistons, Moto Ink, EKS Brand goggles, Pirelli, Sidi, Acerbis, Polar, Twin Air, Bolt, Engine Ice, and Motion Pro are the key companies supporting me. Coming into the season, there are a couple of things that I feel like I need to implement into my program in order for me to take the next step, so I am anxious to see what we can put together. I just want everything I need to just put my best foot forward and show everybody what I can do on a dirt bike.

To follow John and stay up to date with the privateer, search @johnshort43 on instagram.
IS THERE ANYTHING MORE THAT YOU'D LIKE TO SAY? If you don't mind, I would like to give a shout-out to some of my personal sponsors. I have a great group of supporters here in Texas. From Maxim Honda-Yamaha Powersports, they do a lot for me.  If it was not for them, I would not be going racing. McWhorter Consulting LLC, McWhorter Brothers MXCD Booth, Monarch Heavy Haul, DCS Construction, Gainesville Sheetmetal, CCR Transportation, Xclusive Truck Customs, Firm Automotive, LapKing, Ary Company A/C and Heating, Game Moto also help. There is a long list, every year we put it together and make it work. I am very grateful to be able to go race every year. I really look forward to this next season. Hopefully we can put together enough support to make it happen and go show everyone what we can do.