MXA INTERVIEW: THOMAS COVINGTON ON LEAVING THE GP'S FOR THE AMA
Thomas Covington will be coming back to the USA for the 2019 season.
By Eric Johnson
Alabamian turned Southern Californian will leave behind the waving Tricolor flags, air horns, rain and knee-ruts of the MXGP for a return to the United States in 2019. Thomas will head back home this autumn to prepare for a new gig which will see him race for the Rockstar Energy Husqvarna team on the AMA Pro circuit. After five seasons in the Old World of European motocross, Covington, will try his hand in American Supercross starting in January. It should be noted that Covington has no Supercross experience. In fact, he has never raced an AMA National. He left the Loretta Lynn Amateur Nationals five years ago and moved to Europe. For these reasons, we tracked down Covington while he was wandering around the Low Countries
YOU DROPPED A BOMB BY ANNOUNCING YOU'LL BE COMING BACK TO THE UNITED STATES TO RACE IN 2019 FOR THE ROCKSTAR ENERGY HUSQVARNA TEAM. HOW DID THAT ALL GO OVER? Yeah, I got the win in that qualifying race and I figured it was as good as time as any to let everybody know what was going on.
Although it is doubtful that Covington will be much of a threat in the 250 East Supercross series, he will be a force in the 2019 AMA 250 Nationals.
HOW LONG HAVE YOU KNOWN YOU'D BE LEAVING MXGP FOR THE AMA? It's been in the works for a long time. Towards the end of the season last year I signed a letter of intent with Rockstar Husqvarna's Bobby Hewitt and at the 2017 Motocross des Nations in England I signed the official contract.
SO YOU'VE HAD TIME TO MAKE PLANS. Yes. But for the first few months after signing the deal, I was like, "Man, I'd really like to stay here one more year and finish out my last eligible year in MX2." However, after thinking about it and talking with both teams – here and with Bobby back in the States – I think it's in everybody's best interest for me to go back home for next season.
The move to America is more lateral than vertical. He will still be racing for Husqvarna, just the country will change.
WAS THIS REALLY THAt TOUGH A TOUGH DECISION TO MAKE? Yes. It was a really tough decision for me because as much as I'd like to go home and live in the USA., I love racing the GPs. Where I live, between Holland and Belgium, kind of feels like home to me. All the guys in the pits here ahve become family to me. It's going to be pretty tough to leave them behind and start fresh again in the U.S. It's been an awesome experience here.
WHEN YOU DECIDED TO RACE IN EUROPE DID YOUR HAVE ANY OFFERS TO RACE IN AMERICA? A lot of people think that I didn't have any other options and that I had to come over here. Actually, I did have the option to race supercross with a good team in the U.S. but something about the GPs intrigued me. I decided to go for it and I'm really glad I did. It's been an awesome experience.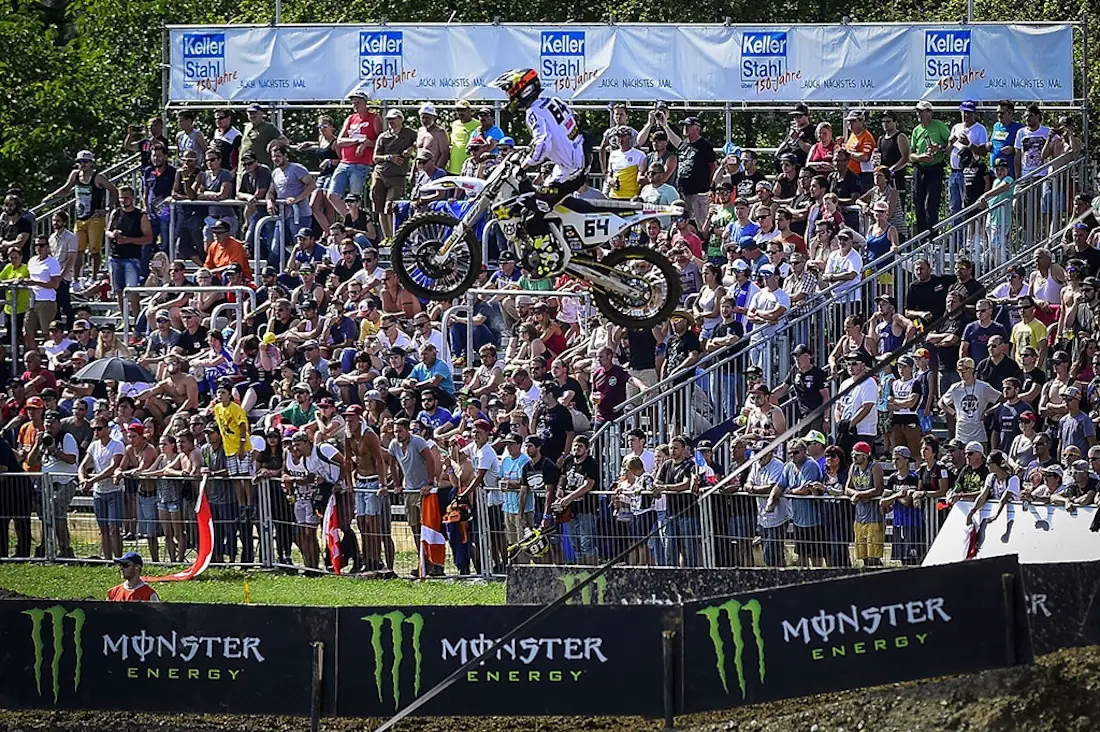 In Europe, where Thomas has been for the last five years, he has a fan base. In America he is virually unknown—since he has never raced an AMA National or Supercross in his life.
WHAT DO YOU MAKE OF JEFFREY HERLINGS' DOMINANCE IN THE 450 CLASS THIS YEAR? It's incredible. You can't knock the guy at all. He's really on it. He's almost not human. It's really cool to be able to watch him in person. Watching him and Tony go at it is pretty amazing.
JEFFREY HERLINGS DEFINITELY GOT HIS HOUSE IN ORDER THIS YEAR. Yes. I think he's a little bit older. And mentally, he seems a bit more stable. Last year Cairoli would get in his head with things he said at the press conferences or whatever. This year he's not worried about at all. It doesn't matter what Tony says or posts on social media or whatever, he's focused confident.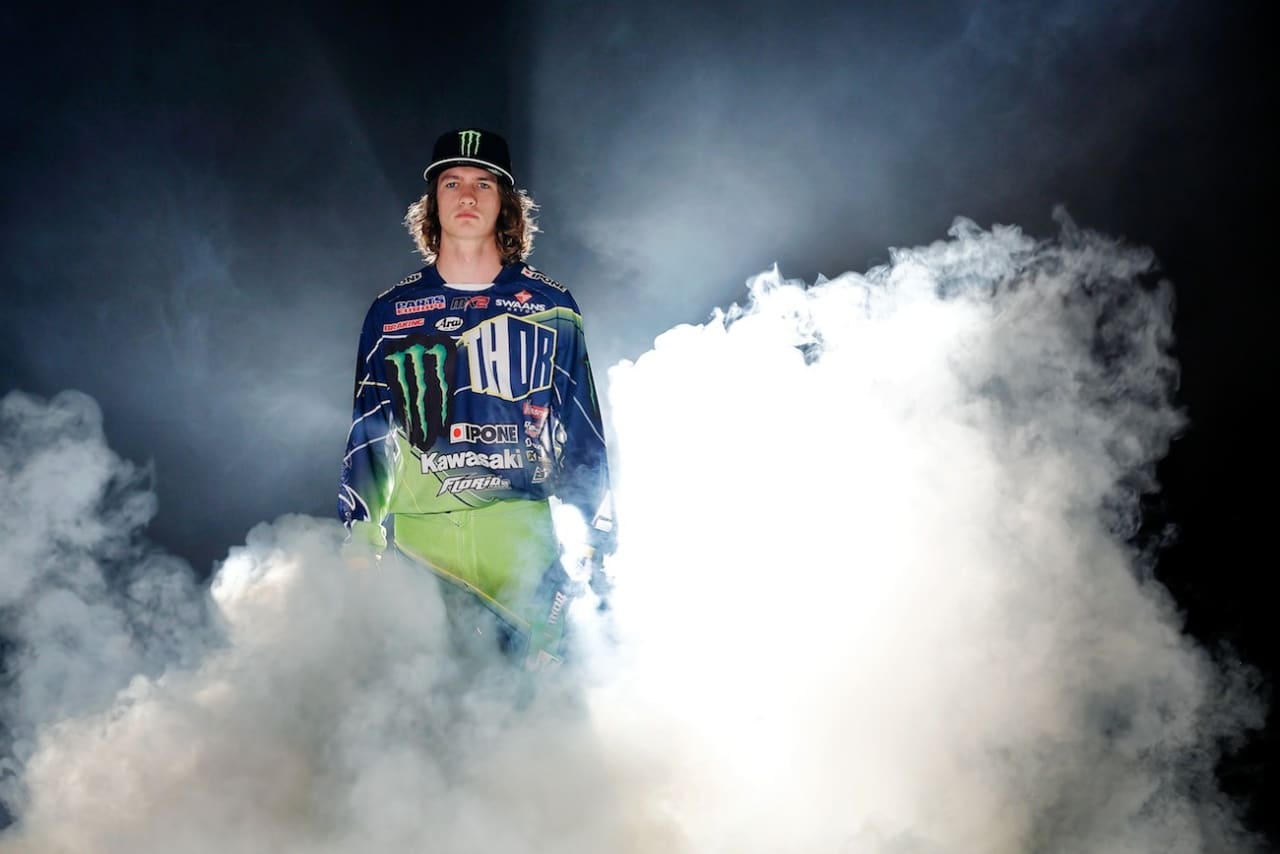 When Thomas Covington first went to Europe he started with a Kawasaki team that was related to Pro Circuit, who he raced for as an amateur.
AS FAR AS YOUR RACING EXPLOITS GO, EVERYTHING CERTAINLY CLICKED FOR YOU LAST WEEKEND IN FRANCE. In the practice sessions I wasn't blazing fast or anything. I was around the top 10 or so in times practice. In the qualifying race I knew I needed to get a good start because it was a really technical and rutted track and I knew it wouldn't be easy to pass on. I was third on the start and by the time we got around the finish of the first lap I got into second and then kind of stalked Jorge Prado for half the race and finally made the move on him. I had a pretty nice race with Jonass. He was all over me at the end. It was a cool to get a qualifying win in front of all the fans in France.
In the first moto I pulled the holeshot and just led every lap. It was a flawless race. It was probably one of the best races of my career. I had no mistakes and it was smooth sailing all the way through. The second moto there was a little pressure on me because I nearly had the perfect weekend going. I really wanted the overall. We had some rain the night before and the start straight was a mud bog. They had ripped it, but it was really heavy.
I actually decided to go with the scoop tire – the sand tire – for the start, which is pretty crazy at a hard pack French track. We needed it for the start. But I did something wrong over the gate. I just made a mistake and came out of the first turn in mid-pack. I made some quick passes in the first few corners and got up into the top 10 and then somebody went down in front of me on the first lap and I got stuck and went to the back of the pack and had to work my way back up. By the time I got into third, there wasn't any time for me to make the pass into second for the overall. It is what it is. I think I made the best of a mediocre start in the second race.
Next year in the AMA Nationals, the vast majority of racetrack will be new to Thomas and there won't be very many sand tracks like in Europe.
WHAT FELL INTO PLACE FOR YOU IN FRANCE? It really came down to the start. That was such a big part of the race. If I don't get a star with the KTM boys, there is no chasing them down.My starts have struggled and we've really been working on that during the week – just trying some things to get me off the gate and they seem to be working pretty well. I just have to be a bit more consistent with it. If I can be in the top three on the start, I think I can win. I've got the speed of those guys; it's just a matter of the start.
WHAT WAS THE REACTION IN THE PITS TO THE NEWS THAT YOU WERE LEAVING AT THE END OF THE SEASON? Some people had already heard rumors, but I think everyone was kind of shocked that I just came out and said it on the podium in France. Nobody expected that. I think a lot of the Euro fans were kind of bummed. I had a lot of guys coming up to me and they were like, "This is the last time we're going to see you in person!"
That's why I'm so motivated so much for the second half of the MX2 season. This will be the last opportunity to ride in front of the Euro fans and ride at legendary tracks like St. Jean. I'd like to go home and remember having a GP win at some of these places. I'm really going to go for it here in the second half of the season.

Thomas Covington will have the same bike and same Rockstar sponsorship, but it will be a whole new world in the AMA.
HAVE YOU BEEN WATCHING THE AMA NATIONAL MOTOCROSS CHAMPIONSHIP ON TV? Yes. I was pretty interested, actually. Tomac looks impressive right now. He's on it. As usual, when he's on, he's on and he's really impressive. In the 250 class it's a bummer to see Osborne injured like that, but it's still really good racing. I think there are quite a few guys that can win and get podiums. It's been a fun series to watch so far. I'm not very good at watching other riders and saying, "Oh, I'd be faster than him." It's really hard to tellt. In any case, it's cool to watch those guys race the tracks that I'll be on next year.
WHERE WOULD YOU SEE YOURSELF AMONGST THE AMERICAN RIDERS IN 2019? I should be in the top five. I think that's realistic. I don't think I should be shooting for anything less than a top five. Supercross will be a bit of a different thing for me. My first season is going to be a bit of a learning experience for me, but I'm really looking forward to it.
DID YOU EVER THINK YOU'D COME BACK TO AMERICA WITH A FACTORY RIDE? In the back of mind I always knew that I wanted to give Supercross ar shot. I would regret it if I never came home and gave it a try. I've learned so much about GPs that it would be the safe bet to stay in Europe and keep doing something I know. I think it's the best decision to go back to America and give it a shot.