MXA INTERVIEW: TLD KTM'S ALEX MARTIN
Click on images to enlarge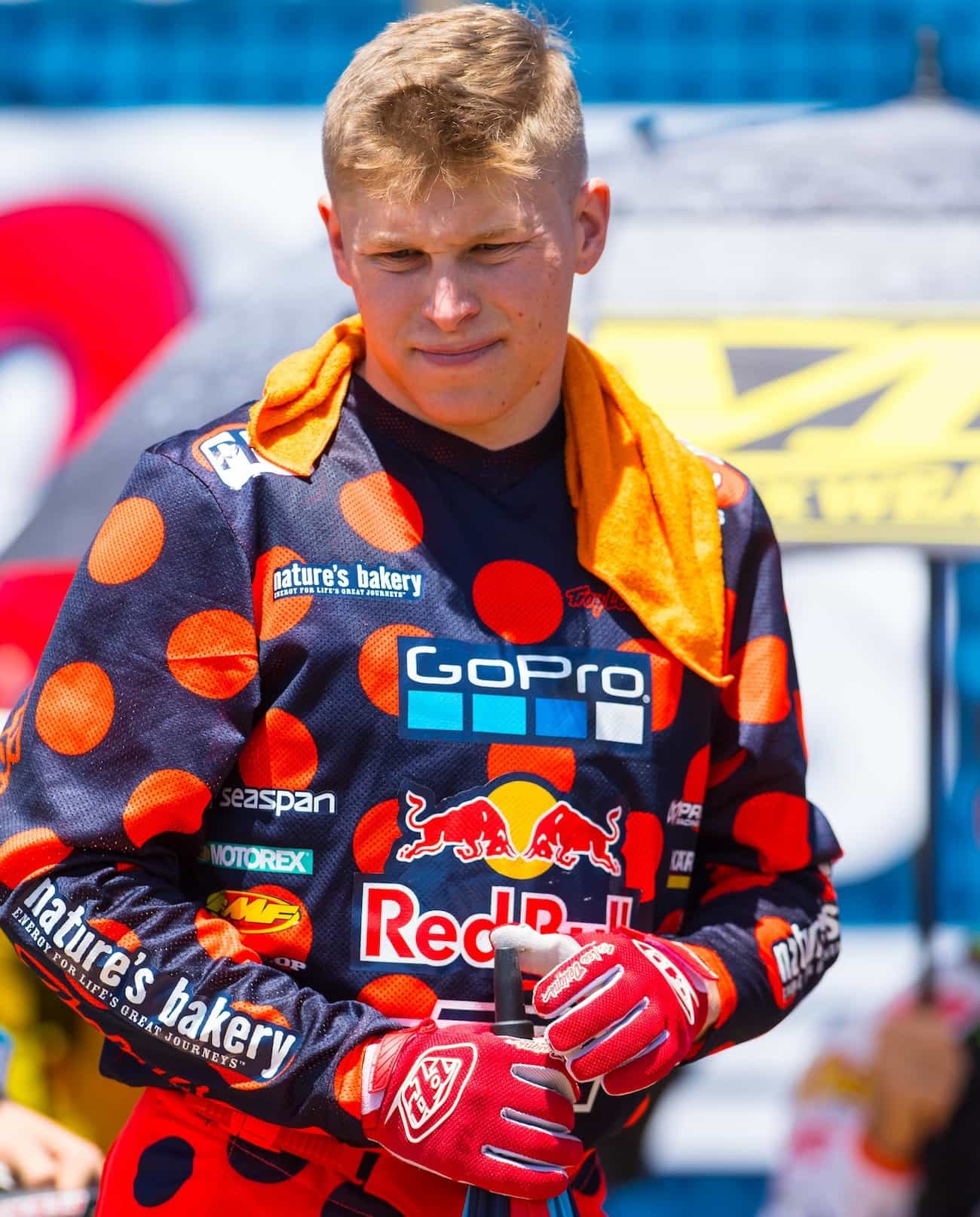 By Jim Kimball
At just over the mid point of the AMA National Motocross Championships Alex Martin is second in the 250 class standings. Consistency has been kind the Troy Lee Designs KTM rider, but what he now needs is moto wins to close the point's gap to leader Zach Osborne. While the 27 year old has been in the pro ranks for sometime now, it's easy to forget this is only his second year as a factory rider. With his home race at Millville coming up next, we tracked down Alex just as he was finishing his day of training.
WHAT DOES A TYPICAL TRAINING DAY CONSIST OF? It has varied over the years, but typically I wake up, and do some morning cardio. It could be a 20-minute run, 20-minute row or even a hour bike ride, but something like that. After morning cardio. I  will head out to the track. If its the Mondy after a National motocross it will be shorter moto sessions—just some sprints. Tuesday is typically a high volume day. I will do two 35 minute motos. Wednesday is an off day. Then on Thursday, I do a shorter moto, some sprints again and practice starts.
WHAT ABOUT GYM WORKOUTS? Two days a week, in the afternoons, I do some gym stuff. That is about it, morning cardio, riding and then gym stuff in the afternoons.
TYLA RATTRAY IS THE TROY LEE DESIGNS TEAM TRAINER. HAS YOUR TRAINING CHANGED MUCH FROM PREVIOUS YEARS? I have been racing for a long time, and I have always enjoyed the training aspect. Training with Tyla allows me to train with my teammates, and ride at the Baker Factory in Florida. There is a lot that comes with training with Tyla. But in terms of structure, it really has not changed a whole lot for me over the course of my career. I have always been pretty fit and I have always trained a lot. If anything, my volume of training is less now, but maybe the consistency of the training is a little bit more.
IS EVERY TRAINER DIFFERENT IN THEIR APPROACH? My training has definitely been pretty similar over the years—other than there was a period of time when I was with Johnny O'Mara. with Johnny we did a lot ofvolume. I definitely would say that I am not doing that much now. Even so, I don't take many days off or take it easy too often, other than in the off-season.
WHEN YOU'RE AT THE BAKER FACTORY DO YOU RIDE WITH ANDERSON, OSBORNE AND MUSQUIN? No, we do not training with them. I am on the track at the same time with Shane, Dean Wilson and some amateur kids. We do our motos and then when we are on a break, Jason, Marvin, Zach are on the track doing their thing. We have alternate track times. We do ride the same track, so it is actually good, so now instead of having three guys on the track, there is like eight guys on the track, so the track does get a little rougher, and the lines develop better for race conditions. Being able to ride at the Baker Factory is a huge advantage and it is nice, because you literally just show up, the track is prepped, and you do your motos and then you just leave. You get in, do your job, and head home, that is nice.
THAT'S YOUR BODY, WHAT ABOUT YOUR BIKE? IS IT COMING AROUND TO SUIT YOUR STYLE? We actually came up with a suspension setting this week that I am really pumped on, and pretty excited going into Millville.  I think it is going to help me quite a bit. We have searching a little bit with the bike setup the last couple of races. For me, I'm still learning the KTM, and it's getting better every weekend. To be second, I am pretty happy with it.  Obviously, I would prefer that Zach didn't have this big of a gap over me, but he is riding really well, so kudos to him.
AT THIS STAGE OF THE SEASON, DO MINOR BIKE TWEAKS MEAN THE MOST? Yes. You have to be careful, when you are a factory team because you have so much at your disposal, in terms of testing. Whether it is linkage, triple clamps or engines, and that is not even including suspension. There are so many different directions you can go. It can really play in your advantage, obviously, me being a shorter rider, I really need to set my bike up to be small so I am comfortable on it. Luckily, with my experience, I know what I want, but you can definitely get lost when it comes to suspension. I am still learning, as this is really only my second year ever on a factory team. In the past I didn't have that many parts to try. It is critical that I give the proper feedback to the team, so that I get what is best for me.
SETTINGS THAT MIGHT WORK GREAT FOR YOU MIGHT NOT WORK FOR YOUR TROY LEE DESIGNS TEAMMATES? Yes, although suspension wise, we are surprisingly not too different from ech other.  Even last year, on the Yamaha, we were all pretty close, and relatively in the same boat. I really like that I can get the cockpit of the bike (the bar set up, bar mounts and obviously like tall foot pegs) right for me. This is where my bike is the most different. Also, suspension wise, I am about 138 pounds, so I am 15 to 20 pounds lighter than my teammates.
WHEN THE 2014 YAMAHA YZ250F CAME OUT DID IT SET THE STANDARD FOR A 250F? For sure. That was THE one thing that was the bummer in leaving the Yamaha team. That engine was so good. Luckily, at KTM they were able to find some things in the engine over the past winter that really boosted it even more. I have gotten more holeshots on the KTM than I did last year on the YZ250F, so it worked out for me. The KTM is fast and chassis wise handles really well. But the Yamaha definitely has some grunt; there is no doubt about that.
WHEN YOU RACE AT YOUR FAMILY'S TRACK IN MILLVILLE  DOES BEING THE HOMETOWN HERO RELAX YOU OR CAUSE MORE TENSION? Early in my career, it was a lot of pressure, because maybe I put too much importance on it. At the end of the day, I had to learn that it is just another race. But it is hard because you have a lot of family and people that I know there that are pulling you in different directions, and wanting your attention. They just want to talk and catch up, but it is not really the weekend to catch up. I come back in the fall, and then we can catch up with family and friends. So I just try to treat it like a normal race and not let it get out of hand, because it is easy mentally to kind of get kind of scattered brained a little bit. I even try to minimize my time there, and not go there until Saturday, or just be there briefly on Friday because it can be draining.
GIVE US YOUR ANALYSIS OF WHERE THINGS STAND FOR YOU IN THE AMA NATIONALS RIGHT NOW. It is good and bad. I suppose I am excited to be in second, and at the same time, we have had some good races this year. But, I feel like I have let a lot of moto wins, and overalls slip away. For example, my ride at Red Bud was dumb. I was four laps away from wrapping up that win, and then I had a stupid little tip over. I am really fortunate and happy to be second in points, because it could be a lot worse.
WERE YOU FULLY UP TO SPEED WHEN THE NATIONALS STARTED? I was still in the  process of learning my new bike. Obviously getting hurt in Supercross did not help. Then coming into Hangtown, I was definitely not  100 percent. I was not prepared. I basically knew that I was racing myself into shape, and with coming down to Florida, we would be grinding it out in the heat. So that would only help me in terms of building the strength and the endurance. For me, it was almost the opposite of last year with Star Yamaha when I came into the series hot — 100% ready to go  and then lost the wind out of my sails midway through the season. This year started out slower, and has been slowly building up.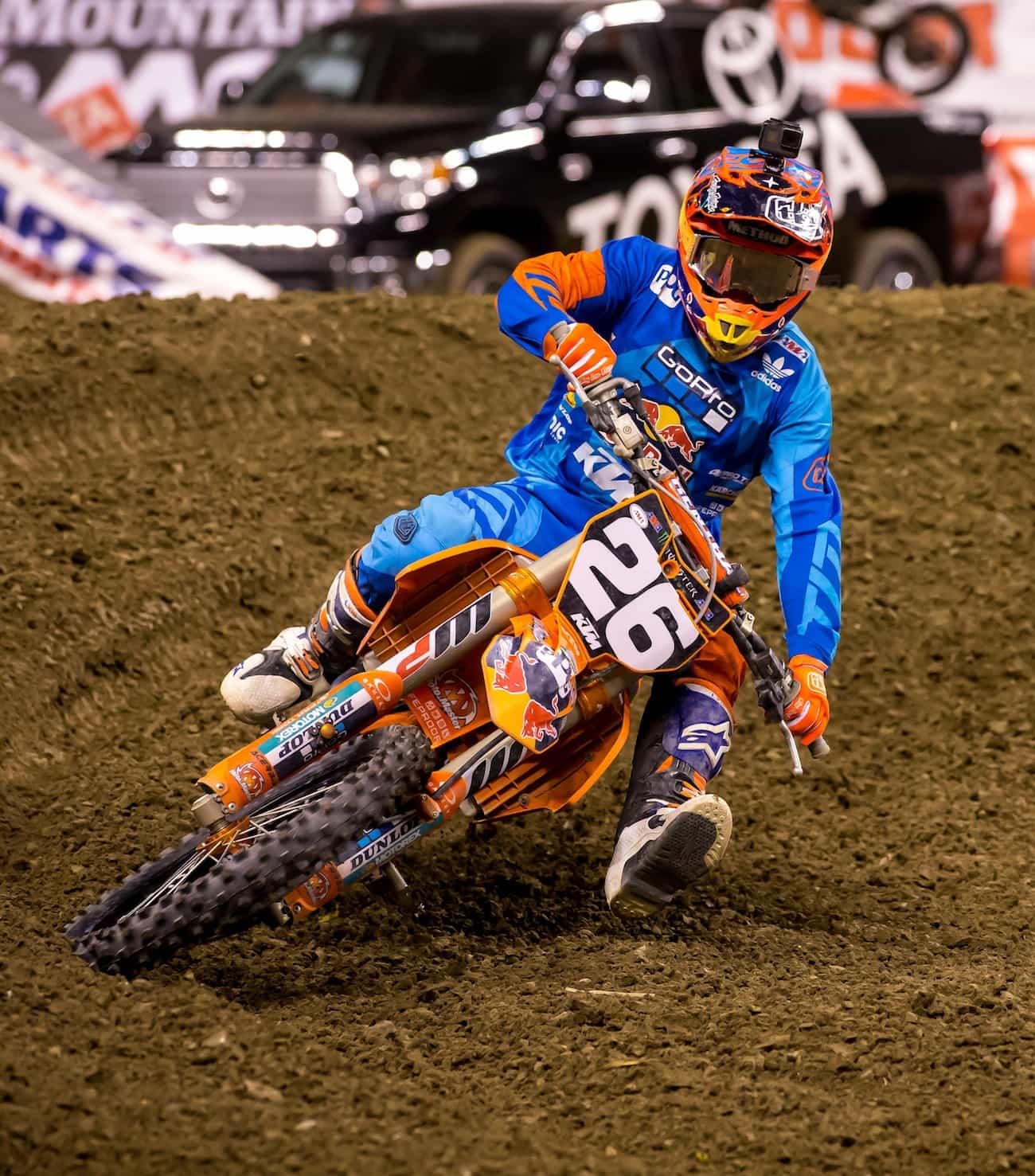 DO YOU HAVE ANY PARTICULAR STRATEGY FOR THE REST OF THE NATIONALS? No, for me there is no strategy.  Zach has a big enough points lead to where, even if I was close to him, I would not necessarily be riding dirty or gunning for him. I just feel like I am the type of guy where if you are the fastest, you have to prove it. I would rather beat him straight up then T-bone the guy.  That is not how I go about things, I guess my only strategy is just to get holeshots, and win races and that is what I am trying to do.

IS CONSISTENCY THE KEY TO CHAMPIONSHIPS? Zach has been very consistent and I have been very consistent. We have seen a lot of the other 250 guys have some up and down races, my brother included, but there are still five rounds left and we have not really had a mud race. There is a lot that can happen, and you never know. I will just focus on what I can control and for me that is the training and making sure that I am as prepared as I can be. I am just trying from here on out to get as many wins as I can, and see what happens.
ZACH OSBORNE HAS HAS NOT REALLY HAD ANY BAD RACES. He has been very, very solid, and very consistent. I think his worst race was a like an 8-5 in Colorado. I know that he was sick that weekend. Other than that, he has had some 1-1 days, and a lot of 1-2 finishes. But my saving grace is that I have been very consistent as well.
WHAT WAS YOUR WORST FINISH THIS YEAR? My worst finish so far has been a 7th at High Point. I was down in the first turn at that race, and was able to come back to 7th. Then, I have had a lot of 3-3's for me. I was still on the podium, but when you are talking about those top 3 spots, there is such a big point swings from 3rd to even 1st (5 points). LatelyI have been losing 5 or 7 points ton Zach a weekend. It's not a lot, but it is just like you are slowly bleeding out these points. For me, it is crucial with five rounds left to start winning. I need to max out as many points as I can.
Photos: KTM, Kyoshi Becker, Brian Converse