MXA INTERVIEW: TOMMY CROFT'S CAREER FROM HODAKA TO HODAKA
TOMMY, YOU ROSE TO PROMINENCE IN THE MID-'70S AS A HONDA FACTORY RIDER, BUT WHERE DID YOU BEGIN? My first bike was a Hodaka Super Rat in 1969. I was in seventh grade and 12 years old. I started racing at Carlsbad, but there were a lot of other local tracks close by us. I rode my Hodaka Super Rat in the Junior class for about a year and then moved up to Intermediate. I rode for the factory Hodaka team when I was 16 and went to the 125 World Cup race in Ohio. Later, I rode for factory Harley for a short time on a 125.
LET'S HEAR MORE ABOUT HODAKA. After I started riding in the Expert class, they picked me and were giving me bikes' like the Hodaka Combat Wombat. The bikes came from Japan but were designed in Athena, Oregon. I had gone to Oregon a few times to test when I was riding for them. To this day, they do "Hodaka Days" once a year in Athena, and they always bring my wife and me up there. We have a great time. 
"I RODE MY HODAKA SUPER RAT IN THE JUNIOR CLASS FOR ABOUT A YEAR AND THEN MOVED UP TO INTERMEDIATE. I RODE FOR THE FACTORY HODAKA TEAM WHEN I WAS 16 AND WENT TO THE 125 WORLD CUP RACE IN OHIO. "
I DIDN'T REALIZE THEY HAD A FACTORY TEAM. I was the only one on the factory team. Later, I started riding for a guy named Kelvin Franks, who ran the CMC races. I rode his bikes at Carlsbad and Saddleback on the weekends, but I always kept my Hodaka close by and would race it at the night races, so I stayed with Hodaka for a long time. Recalling the CMC races, my dad would take me up to Carlsbad on Saturday before the races on Sunday. We would string snow fences and pick up trash for free entry fees. My dad was the flag man, and we would make a little money to keep our racing going. Dad would come home on Saturday; we would unload his work truck and get ready to load the bikes on Sunday to go racing. Then, we would get home on Sunday and load Dad's tools back in his truck so he could do work.
WERE YOU MAKING ANY MONEY? I started racing in the seventh grade, and by ninth grade, I was a 125 Expert and making a couple hundred bucks a week. I would race two classes on the weekends. I would race a 125 Penton and a 250 Maico. When I got picked up by Harley-Davidson, they paid me $25 to come through the gate and $50 to win, and I got to keep the purse money! I was winning a lot of races on the Harley-Davidson, and I could race my Maico, too. That was tricky, because the Harley-Davidson shifted on the right-hand side, while the Maico shifted on the left side. Doing that on the same day was a little tricky.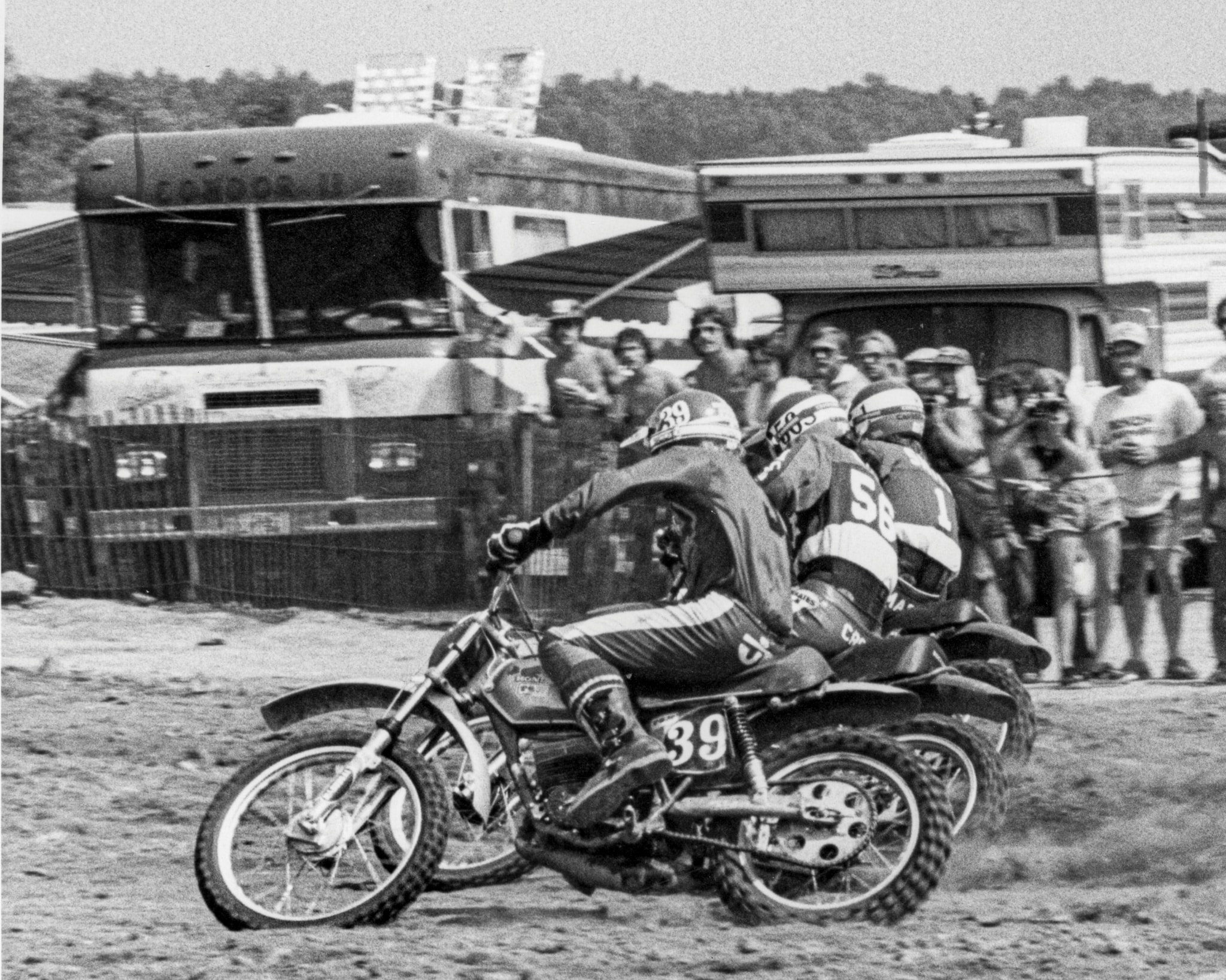 WERE YOU RACING A HARLEY-DAVIDSON BAJA 100? No. I was on a 125, not the Baja 100. You never saw the 125s very much. They were one-off, prototype factory bikes. I don't think they ever sold them. One day, they just closed up shop. That was about the last you heard of them until they came back in 1977 with Rex Staten and Marty Tripes on the orange bikes. 
WHAT CAME NEXT? Hodaka picked me up, and I was on a 125. The thing was a little rocket ship, and I did very well on it. I had a good relationship with Hodaka for a long time. The people there were just great.  
CLEAR THIS UP. YOU WERE ON A HODAKA, A PENTON, A MAICO, A FRANKS AND A HARLEY-DAVIDSON BEFORE GOING BACK TO HODAKA? Yes. When I first started on the Hodaka, I was not full factory yet. They were giving me bikes and parts. Then Harley-Davidson started paying me. They were full factory bikes, so I put the Hodaka on the back burner and just raced the Harley-Davidson for about a year. Harley-Davidson stopped, and Hodaka picked me up as a full factory Hodaka rider. Then, Kelvin Franks came along, and I started racing his bikes. I was on Franks 125 when I got picked up by factory Honda in 1975. I was a senior in high school when I signed with factory Honda, and Marty Smith went to the same high school.
LET'S HERE ABOUT THE KELVIN FRANKS BIKE. The Franks 125 had a Honda engine and Betor forks, and Kelvin built his own chromoly frames. The Franks had two Koni shocks underneath the seat, right above the air box. It looked like a monoshock. It was a cool bike and handled great. The Franks 250 was a Suzuki, as was the 400. They had their shocks laid down. They even had a little aluminum gas tank like a BSA. Kelvin was from Australia. His bikes were really good, and I won a ton of races on them. I was beating a lot of the factory guys at the CMC races.
BACK THEN, BEING ON TEAM HONDA WAS THE BEST OF THE BEST. All the factories and all the factory riders were in SoCal. I had been competing against them locally, but I had never gone to an AMA National. Guys like Gaylon Mosier, Rex Staten, Marty Smith and Marty Tripes were all there if it was a big race. Kawasaki, Yamaha, Suzuki and Honda were all there. I was riding the Kelvin Franks bike, and I got the holeshot. Marty got second on his factory Honda, and we went at it. I won the moto, but in the second moto something happened, and I got second or third overall, but I had beat everybody else. When I got home from school on Monday, my mom said Yamaha, Suzuki and Honda had called. I went to Yamaha first. They wanted to hire me but said, "You have to cut your long hair first." I said, "That is not a problem." But, I was good friends with Marty Smith, and I really wanted to ride for Honda. So, after I got home from Yamaha, I had my mom put my hair in a ponytail and cut it off. I went to Honda the next day, and I ended up signing with Honda. I had never even flown on an airplane before I signed with Honda. It was a lot easier traveling with Marty because he had done it the year before. We traveled everywhere together. They hired me as a 125 rider, and I had quite a bit of success on it. But, I only stayed on the 125 for one season, and then moved to the big bikes. I got my photo on the cover of Motocross Action riding a Honda CR250 coming over a ledge at Carlsbad all crossed up in 1975. I hadn't even gotten my Honda gear yet.
WHAT WAS YOUR FAVORITE HONDA? The CR500 is what I liked riding the best. But, I had won a lot of motos on the 250 and had some success in Supercross. I got a lot of top fives in the Nationals. Then, in the Trans-AMA, they kept me on the 500, and I ended up leading all the Americans in moto wins against all the Europeans.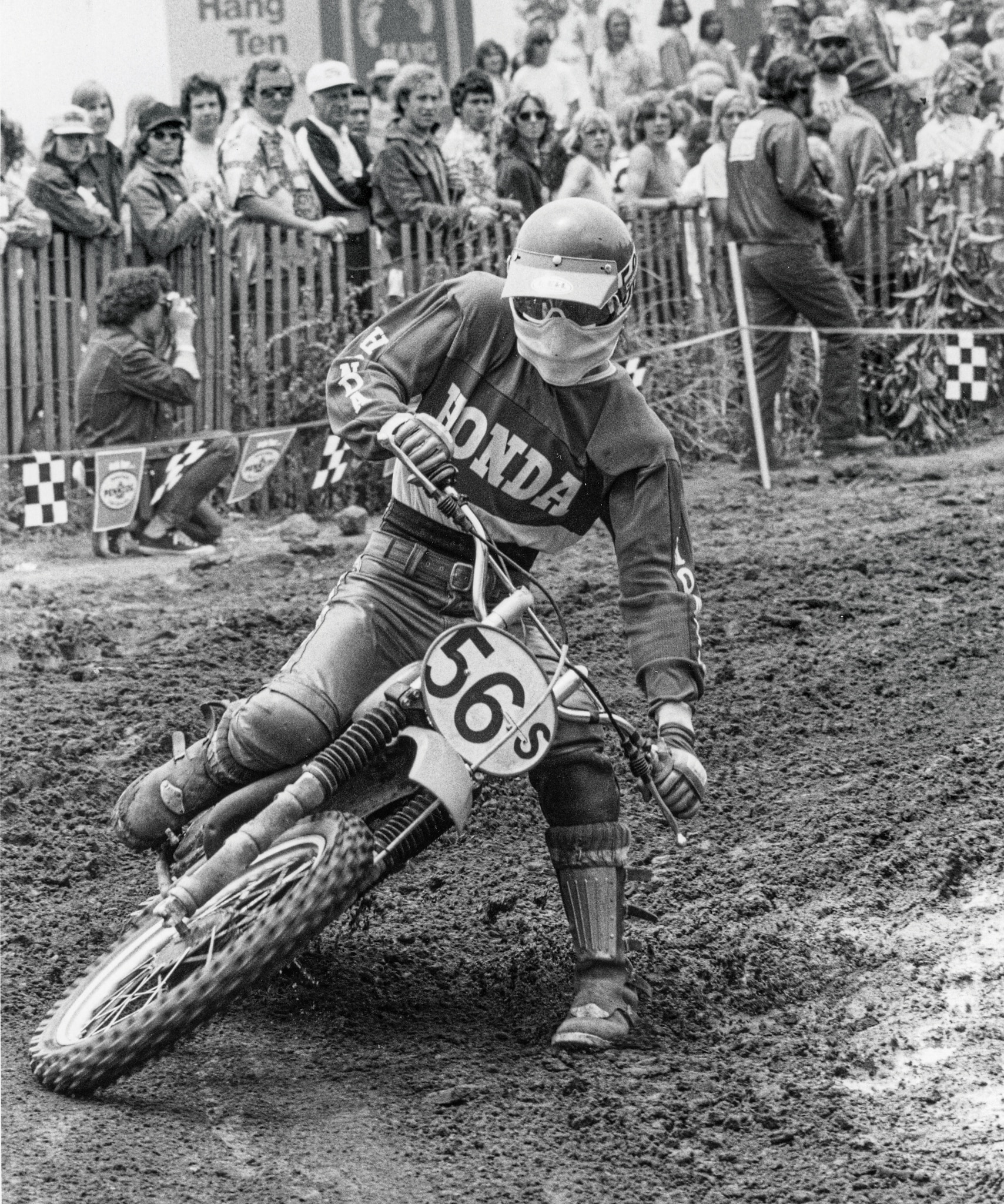 "I WAS LEADING THE FIRST MOTO AT A TRANS-AMA IN TEXAS, AND MY CHAIN FELL OFF. BUT, I GOT IT BACK ON AND FINISHED SOMEWHERE IN THE TOP FIVE. THEN, IN THE SECOND MOTO, I HOLESHOT AND WON THAT MOTO."
WHAT WAS IT LIKE RACING AGAINST THE EUROS IN THE TRAN-AMA SERIES? Just to break into the top five in that era was huge for an American. In that era, there was so much going on with suspension. When we were messing with long-travel suspension, we kept throwing chains. It was not a rare thing to be racing, and suddenly you had to stop and put your chain back on. Then, when you got back on your bike, your hands were all greasy. Here is a quick story. I was leading the first moto at a Trans-AMA in Texas, and my chain fell off. But, I got it back on and finished somewhere in the top five. Then, in the second moto, I holeshot and won that moto. I could have won that race overall, but Adolf Weil did.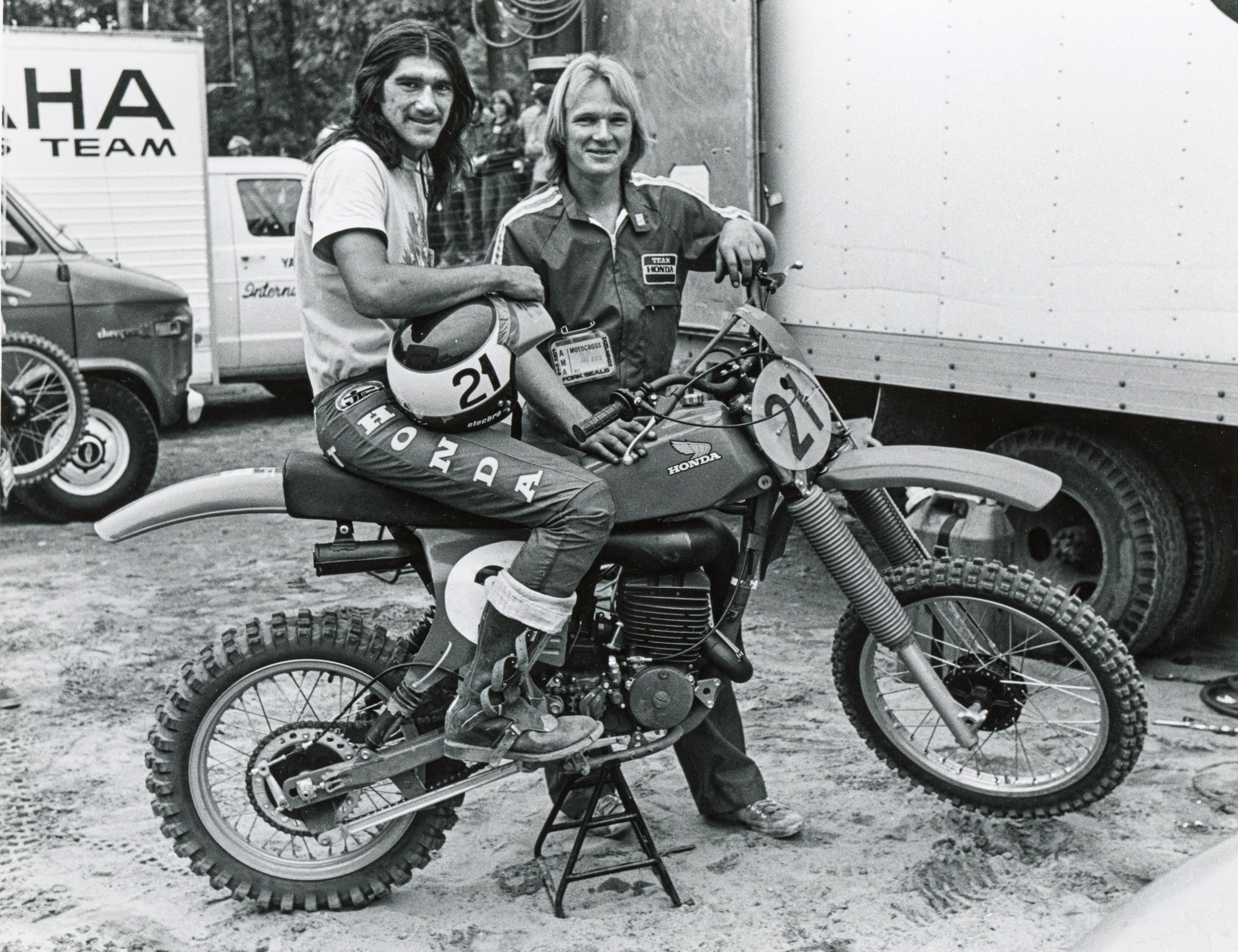 WASN'T THERE SOME CONTROVERSY SURROUNDING HIS WIN? When Weil went through tech inspection, they put the magnet on his front axle and the magnet didn't stick. That meant he had a titanium front axle, which was against AMA rules. They came and asked me if Adolf should be disqualified. I said, "To be honest, I don't think the axle made one bit of difference." They ended up giving him the win, and I got second. He deserved to win.  

HAD YOU MET ADOLPH WEIL BEFORE THAT? You bet. Marty Smith and I raced the Carlsbad USGP 250 Support class in 1975 and finished first and second. Then, in 1976, I raced the USGP 500 class. I was 19 years old and lined up next to Adolf, who was smoking a cigarette on the starting line. I looked over at him, and I was all happy to be there. He gave me a frown like, "What are you looking at?" We had a good race. I passed him and beat him in the first moto, but I ended up breaking a front wheel or I would have been on the podium.  
WERE YOU MAKING GOOD MONEY AT TEAM HONDA? Marty and I both had Porsche 911s, new vans, dune buggies and all kinds of cool stuff. I had been making some money before, but nothing like when I signed with Honda. I was driving a Porsche to high school. I was in the 12th grade, and the Honda team manager came to school because Honda did not want Marty and me dropping out of school to race. My team manager told the principal, "Tommy just signed a factory contract, and he is going to be racing all around the country. Here is a list of where he is going to be. He will be flying out on Fridays and flying home on Mondays, but we want him to go to school throughout the week while he is here." It was very cool.
EARLY 1970s MOTOCROSSERS WERE LIKE ROCK STARS. WERE YOU EVER TEMPTED BY DRUGS AND ALCOHOL? No. Marty and I were humble, and we were busy. Back then, if you did not have a race, you were going to a GP somewhere. We raced a lot, and back then the Supercross and National series were intertwined. When we had a weekend off, we took our dune buggies out to the sand dunes and went camping. Neither one of us went to our high school proms.
LATER YOU LEFT HONDA AND WENT TO KAWASAKI. WHY? I was doing well at Honda, but I had not put a whole series together. Kawasaki was just coming out with their new Uni-Trak single shock. They offered me good money. I thought Honda would match it, but they didn't. So, I ended up going to Kawasaki and initially had a lot of success with that bike. Later, at the New Orleans Supercross, I went off a giant jump and the rear end broke on the bike. I pulled all the tendons in my shoulder. The plans that we had of winning a Championship just started going away. Then, I hyperextended my knee and broke it backwards. That was about it. It was hard to come back after that injury, so I had to take a year off, and my contract with Kawasaki was only for one year.
WHAT HAPPENED THEN? I tried to come back. I was riding for Mitch Payton at Pro Circuit on a Husqvarna. He gave me a couple of bikes to ride, and I won the Golden State series race at Carlsbad. The next day factory Husky signed me away from Mitch. I was just getting a program together to go on the Nationals, but I just could not train. My heart was not really into it, so it was time for me to move on. I bought a race car, and I started racing cars in the Micky Thompson Stadium series.
TELL US ABOUT FOUR-WHEEL RACING. I started my own race team because I had always been driving dune buggies. Later, I ended up driving for factory Chrysler and Jeep and ended up winning five Championships. When I signed with Chrysler, they were flying me back and forth to the races, and I was making good money. So, I ended up having a good racing career for another 10 years. 
YOU WON SOME CHAMPIONSHIPS, DIDN'T YOU? I set a lot of records in the Mickey Thompson Series. I hold the record for the most wins in a row. I won eight races in a row. Also, I set a record for the most Championships in a row. I won three in a row. That was in the Jeep Cherokee. In my own car, a single-seat buggy, I won two Championships. I got a full sponsorship from Chrysler and Jeep. It was a full factory ride—flying and hotels—just like with Honda. But, I had a big crash in Texas coming out of turn two. My spotter saw smoke and told me to stay up high. Coming out of the smoke, I T-boned a guy going the wrong way. That was the end of my racing career right there. 
Tommy with his beloved Hodaka Super Rat.
"I WOULD HAVE TO SAY THAT OUT OF ALL OF IT—BEING WITH MY DAD AS THE FLAGMAN, HIM TAKING ME TO THE TRACK TO STRING FENCES AND PICK UP TRASH—THAT WAS JUST A GREAT TIME."
WHAT CAME NEXT? I came home and got my commercial driver's license. I got a job where I could have a 401K, medical insurance and raise my family. I'm a truck driver. I start at 6 in the morning, and I am always home between 1 and 2 in the afternoon. I work for Heartland Meat Company. I just love it, and the owner is a real motocross enthusiast.
WHAT IS YOUR BEST MEMORY FROM YOUR RACING CAREER? I would have to say that out of all of it—being with my dad as the flagman, him taking me to the track to string fences and pick up trash—that was just a great time.