MXA INTERVIEW OF THE WEEK: ADAM ENTICKNAP
Click on images to enlarge
Adam Eticknap has scored points in five 450 main events so far in 2017.
By Jim Kimball
Photos by Brian Converse and Daryl Eckund
ADAM, HOW YOU FEEL ABOUT YOUR YEAR? It has been going good after having a few injuries in the last couple of years that took some of my momentum away. I had a navicular injury two years ago, and a broken femur last year, which took me out for six months. I had been out for a long time, so I am happy to be back. It has been a rough couple of years, but I am really happy to be back at Supercross and doing well. Luckily, I still got a little of my speed, and we are working on that every day, but more of it is just getting the fitness back. The last three years was tough, especially because then I was rising, and trying to get to the top.
WHAT ARE YOUR PROBLEM AREAS? I was progressing quickly, but I do not think my fitness caught up with me as fast as I wish it could of. So we are still working on being that guy, as fit as the top 15, top 10 guys. That is the biggest thing I have been working on, just getting my fitness up. I am trying to ride as much as I can, and really focus on my starts as the second thing.  People do not understand how important starts really are. I qualify 28, or 29 pretty much all season, but at a couple of rounds, I qualified like 22 and 21.  But for some reason, those are the rounds that I didn't make the main, but when I qualify around 28, where it is normally about .5 to .75 of a second off that main event spot, I make the main getting a good start.
THERE IS NEVER A GOOD TIME TO HAVE A BROKEN FEMUR, BUT  YOUR OCCURRED RIGHT AT THE POINT WHEN YOU WERE IMPROVING. That was a hard time. I had trained my butt off last year. I had been in the best shape, and the lowest weight i've ever been in. I had just got that Rocky Mountain deal, so I was in a rig, and I had a great bike underneath me. I had a lot of horsepower and the set-up was good. I had a whole team behind me where I could go to the track and be like, "I need a new tire, I need this done, I need that done.  The oil needs to be changed, I am going to pick the bike up in the morning and put the work in."
HOW DID YOUR INJURY HAPPEN? I was feeling so good, and just that one day I did something differently. I was pushing a little too hard and it caught me off guard.  It was definitely one of those moments in your life, where you are like, "I just can't believe that just happened."  You know, it put me back to reality really quick, because I felt like I was on cloud nine, and I was improving, and doing well. I was making mains and starting to get that ball rolling.
DID YOU WORK ON YOUR MUSIC DURING THE DOWN TIME? At the time of that crash I felt like I had the world in my hands, and it got snatched out from me. But it is kind of funny because I think if I did not have that crash that none of that music would have came out, which is a blessing in disguise. That album hit the billboard charts, and I made quite a bit of money on it. Actually I am still making money today on it. I appreciate everybody that buys and listens to the songs. You guys are absolutely amazing, and I am going to keep trying to make good music for you.
CAN YOU RUN THE PACE OF THE FRONT RUNNERS IN THE FUTURE? It is just such an eye opener to be right behind a faster guy. Its crazy because sometimes it may be moving your line just five or six inches, that is all it takes. To apex that corner better and get over that jump just took moving your line four inches. You are up in the stands and are thinking, "Why can't I just do what Seely was doing, or like Musquin did there?" You are looking at them and feel like you are doing the same thing, but you are off by 6 to 8. That makes the difference – it really does.
BUT ACCORDING TO THE STARS THIS YEAR HAS BEEN ALL ABOUT GETTING A GOOD START. IF YOU DON'T START UP FRONT IT IS ALMOST IMPOSSIBLE TO GET UP FRONT. When you start up front with the good guys it carries you every lap. Your times are faster. Every single week, my practice lap times are faster than the heat races, the semis, and the LCQ. Everything about getting a good start is just that much better for the race. You have a clear track, and are riding with faster guys.  You get to choose the lines you want, and nobody is holding you up.  It is just night and day difference.  People just do not understand how much of a difference it makes. It may be just a second between finishing top twenty to top ten, but there is a 15 second difference on the first lap. You must get good starts too even be close.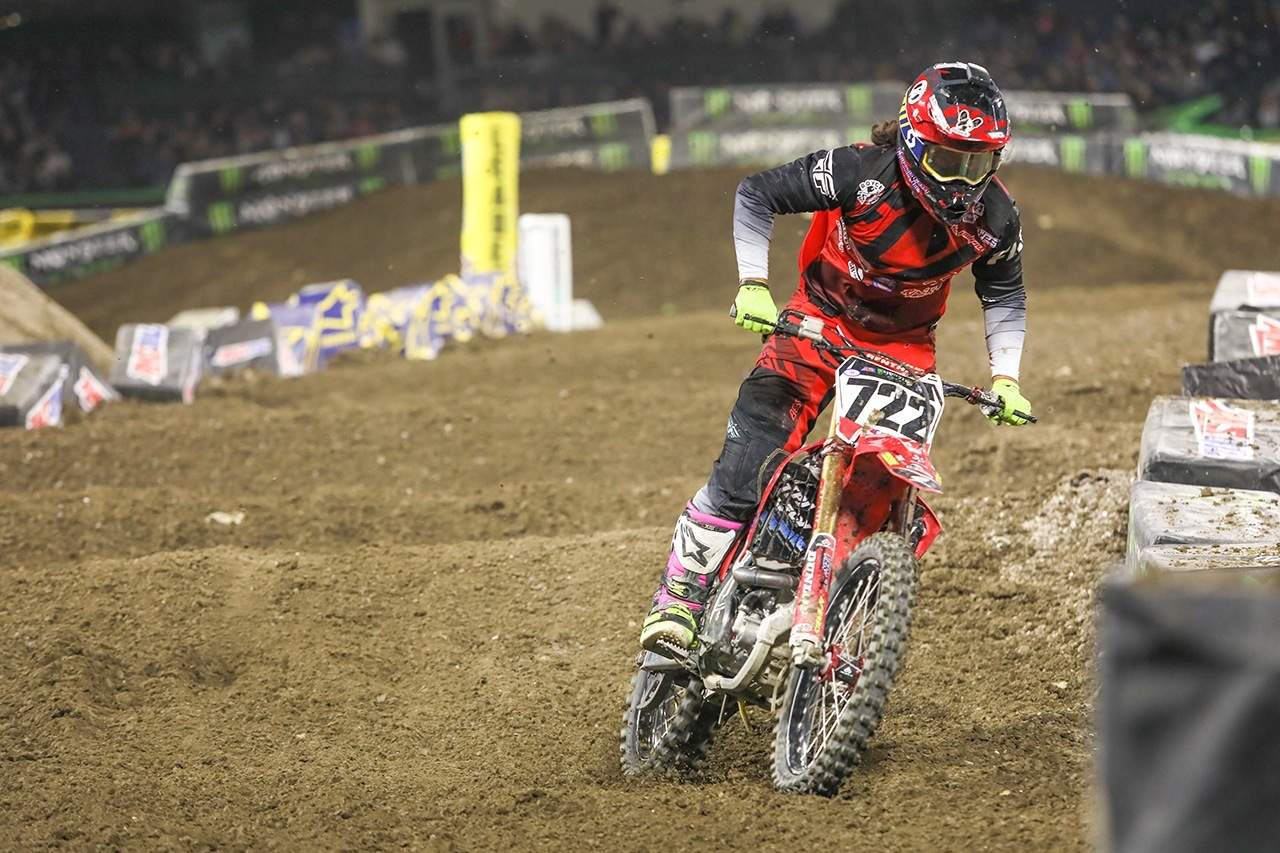 CAN YOU LEARN BY WATCHING THE FAST GUYS? Absolutely, during time qualifying I go up in the stands and pick a rider that is a little faster and look at his lines.  You look at what they are doing, how much momentum they are carrying and then you try to mimic it. It is crazy when you get behind somebody in the race and you are seeing what that guy does. Sometimes you think, I don't know if I can do that, but you just do it anyway. You are like, "Oh, I pulled that off, now I can do that every lap. Why was I not doing that before?"
ARE THERE ANY PARTICULAR RIDERS THAT YOU WATCH TO SEE WHAT THEY ARE DOING ON THE TRACK? I watch Vince Friese, Jake Weimer, Mike Alessi and Kyle Chisholm, because they are usually about 1.5 seconds faster than me on the weekends. It's frustrating to watch Eli Tomac. He's 4 seconds a lap faster than me! I focus on a few guys who are right ahead of me.
TELL US SOMETHING ABOUT TED PARKS? Without Ted Parks with The Privateer Journey (TPJ), I do not know what I would do. He hauls the bikes around and gets lots of us from race to race. He gets us there and he supplies us sponsors as far as oil, pipes and stuff like that. TPJ is really helps us out.  I would not be able to afford it without Ted. The whole TPJ team is absolutely phenomenal, just getting our bikes to the races, setting up this huge tent. There have been a few cold weekends, so they set up plastic, and heaters inside the tent for us.  It is definitely, I would say an upgrade from a full privateer, but we are still privateers trying to do it ourselves out here. I pay for all my flights; I pay for my entry fees.You are on a 2016 Honda crf450; why choose that bike?
WHY DID YOU CHOSE TO RACE A 2016 HONDA CRF450? I picked a Honda is because my dad has always rode Hondas. Ever since I was a kid, I have been a Honda boy. The 2017's came out a little bit late, and thee suspension was different.  I bought two sets of A kit suspension for the 2016's because they matched the 2015's, so I have had the A kit for two years. That stuff is expensive, and I have a practice set and a race set. I do not know the bike set up on the 2017 and my 2016's is so good already. One of the biggest things between a '16 and a '17 is the motor. Would I love to be on a 2017?  Absolutely!  Just to have a fresh bike would be a big deal, but it is not financially the smartest thing to do because I would need two 2017 bikes—and I already have two 2016 bikes.
Adam's brother Tyler also races the 450 Supercross series. Tyler found a soft spot on the tarck in this photo.

DOES HONDA HELP YOU? The whole Honda Power Sports crew really do want to help. People think that a lot of those factory teams do not help out the privateers and  obviously cannot give big contracts out to everybody, but they help me out with a lot of stuff. They give me engine parts, transmission parts, and stuff that wear out.  Even brake pedals or brake levers, seats, and any hard parts that they can help me out with. They recently invited me to go to the test track this next week, so that was a huge step in that relationship, so I am excited about that.
WHY DO YOU THINK YOU HAVE BECOME SUCH A FAN FAVORITE? I treat every single one of my fans like they are my friend, my brother, or a member of my family. I think the fans are one of the most important things for our sport to make it grow. I was one of those fans up in the stands watching Jeremy McGrath and telling my dad "One day, I am going to race Supercross, just like him." I am here now, and I am working my tail off to get better. I know where I came from and I know where I am going, and I appreciate all of the support all these people are giving me.
WHAT DO YOU DO TO EXPAND YOUR FAN BASE? I really work my social media. At the races I make sure to hand out posters, and take all of the pictures like it is a job. Social media is growing, and If you are not on top of that, you are not going to be able to make money, and I want to be in the sport long enough where I can make a living at this. It is so much fun; I love riding my dirt bike.