MXA INTERVIEW OF THE WEEK: BLAKE BAGGETT
Click on images to enlarge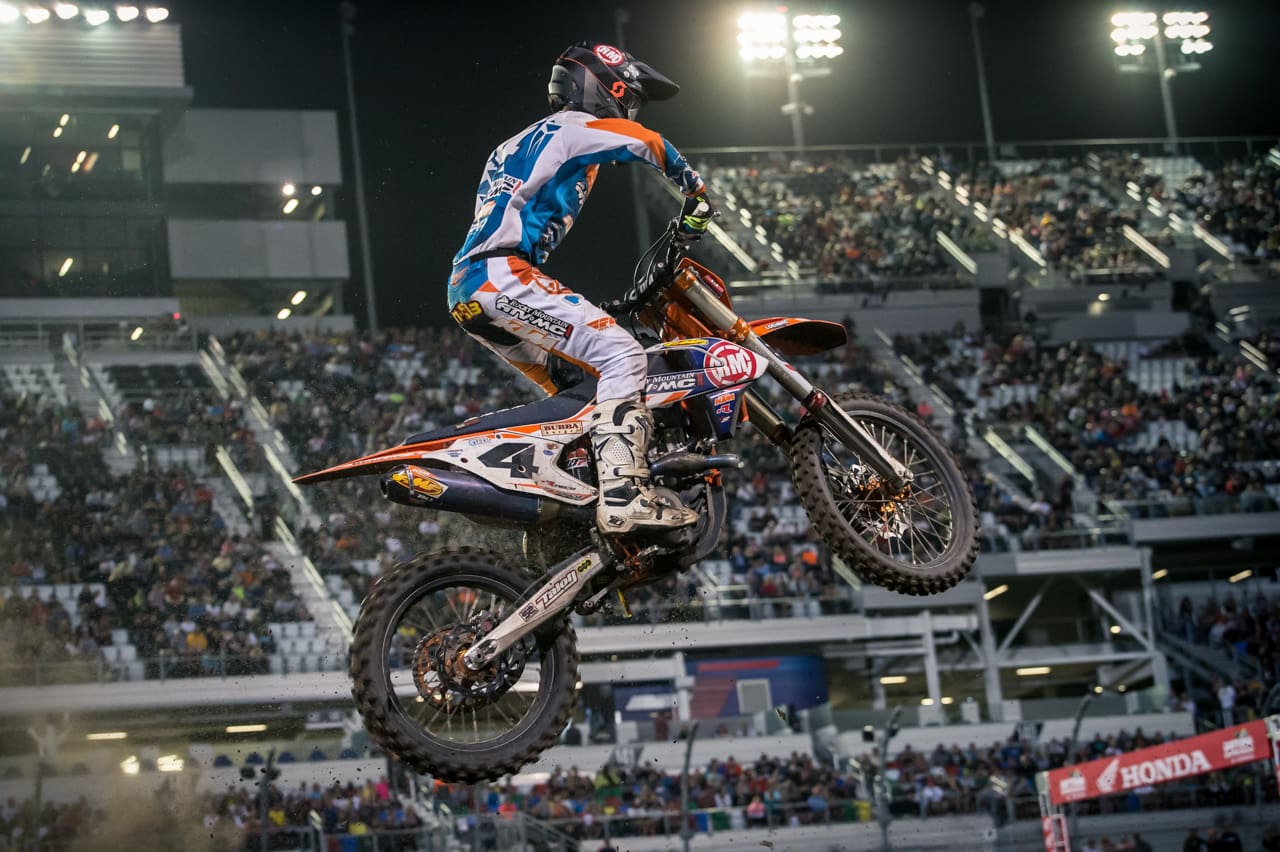 Blake Baggett is happy on his KTM.

By Jim Kimball
Photos by Brian Converse
Although his early 2017 Supercross results may have not totally told the true story, many industry insiders were talking about Blake Baggett's newly found Supercross speed. It may have taken some rounds in, but eventually at Atlanta Blake proved everyone's early suspicions were correct when he scored a podium finish with a strong 3rd. Not only was this eventful for Blake, it was the first Supercross podium finish for the Rocky Mountain ATV/MX WPS KTM Team.
After years as a 250 rider for Pro Circuit Kawasaki earned him the National Motocross Championship in 2012, Baggett moved up to Yoshimura Suzuki in the 450 class for 2015, where he put in many solid rides. Baggett's was one of 2016's earliest silly season signings when he moved to his new orange ride, and certainly he appears to have had the right foresight. Baggett, now 25 years old and relocated from California to Florida, was a solid third overall at the Indianapolis Supercross until a late crashed dropped him to fourth. Still a very strong ride, we spoke with Blake after the night was over.
Blake's 2017 steed is a Rocky Mountain ATV/MC KTM 450SXF. Blake gets full KTM factory support when it comes to engine and suspension parts.
WAS THE CHANGE FROM SUZUKI TO KTM A GOOD MOVE FOR YOU? Yes, definitely it has been good. They are a whole new team for me, a whole new environment, and they are just really willing to work with me. It is better for me, and I feel the motorcycle is what I want. They are able to make it with my requests, are able to give me exactly what I need, and it is making all the difference. I feel more confident on it, which helps me. Also I have Michael Byrne (Team Manager) helping me during the week, so we are just plugging away at it. The first two rounds were not too good, and I struggled a little bit at the beginning of the season. I had the speed, but just crashes. Since then I have had crashes here and there, and even one crash tonight, but at least the speed is there and starts are there. I got a fourth in Indianapolis, and as long as we are in the top five and are just plugging away will be the goal. I'm finally figuring out the Supercross thing and getting better each weekend.
WHAT ELSE HAS CHANGED? Just everything changed. The bike changed, gear changed, trainer has changed and just the whole environment has really changed, so everything changed basically. It is still I riding the bike, still me doing all the work, but everything else changed. The puzzle pieces are just aligning better now.
YOU MENTIONED A TRAINER CHANGE; WHO IS THAT? It's really all Michael Byrne, who the team brought aboard as the Team Manager. He lives 30 minutes from me in Florida, so he has kind of basically taken me under his wing as trainer, as well as riding coach and the whole nine yards as the Team manager. We have a good relationship going on and hopefully we can continue it for many years.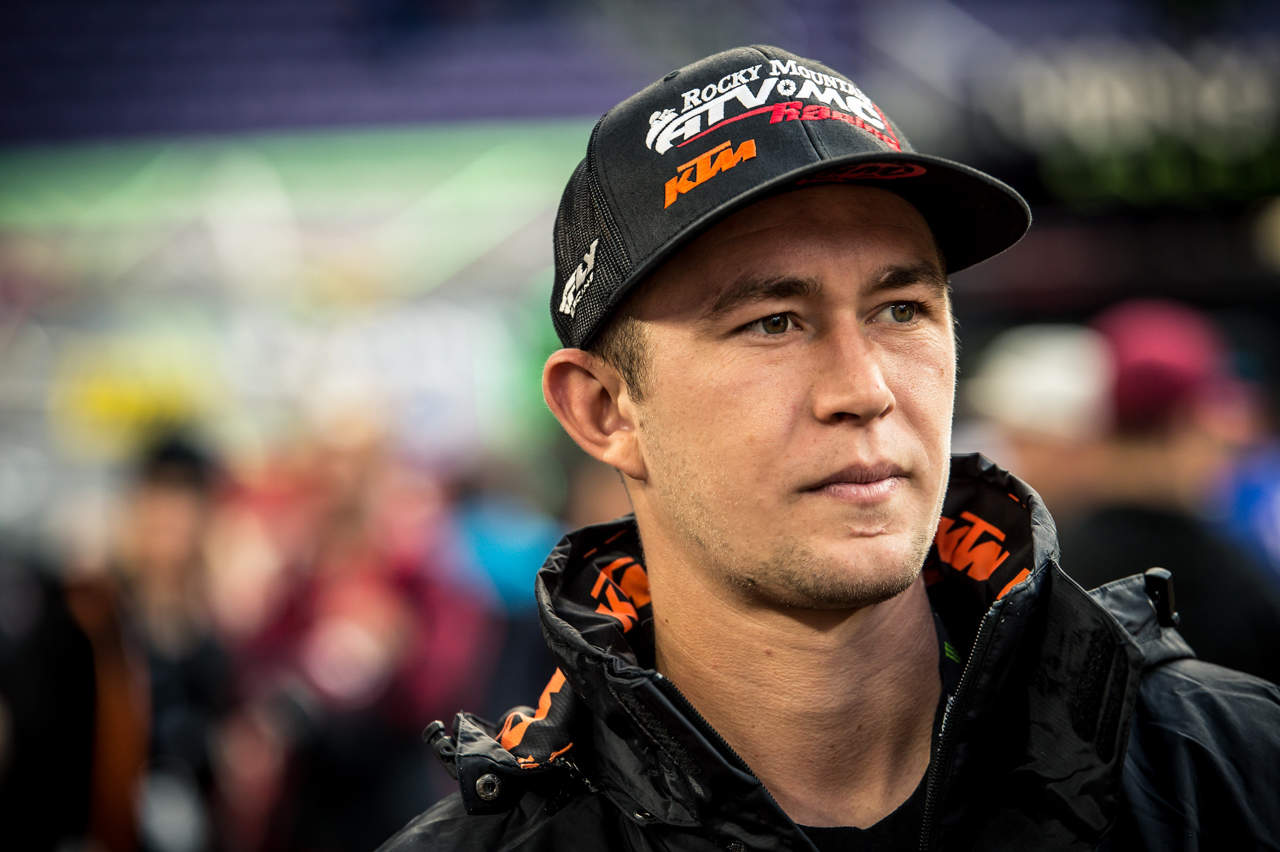 Blake has had several good runs ruined by crashes, but he is definitely podium material, which he proved in Atlanta.
HOW COOL WAS IT TO BE THE RIDER TO GET THE TEAM'S FIRST SUPERCROSS PODIUM? It was definitely it was very cool! Team owner Forrest Butler has been around a long time. He raced himself some years ago, and started the team when it was just he and his brothers. They were never able to get a podium, so it is pretty cool that years and years later down the road that I was able to come to the team and get them their first podium in Supercross. Hopefully we can better that and get them a second and a first too, before the year is over. The speed is there, and we just have to be a little more consistent and keep it on two wheels and it will happen one of these days.
ARE YOU PRETTY HAPPY WITH WHERE YOU ARE AT WITH YOUR RIDING, AND AT THIS POINT IN THE SUPERCROSS SERIES? Yes, ideally it would be to end up in the top five in points. It would be good because the first two rounds we were 20th and 17th and I think we had another 20th in there somewhere, so we had some struggles and just trying to plug away. The goal is top five from here on out. If we could do that the next six rounds and try to land ourselves back on the podium, and if there is an opportunity, the goal is to win. That is why we are all here and that is why all the spectators and fans come is to see a race, so ideally it would be to try to put it up front. All our puzzle pieces have not aligned for that, but at least they are in the plot now, and we just have to get them to connect.
YOU'RE BESTt KNOWN FOR YOUR OUTDOOR SKILLS. ARE YOU EXCITED FOR THE AMA NATIONALS TO START? Yes. I have not even ridden outdoors on this bike. The plan is to get through Supercross and when that time comes, that time comes. But with the results I've had in in Supercross and how I feel on the bike, that I should be fighting for wins outdoors.