MXA INTERVIEW OF THE WEEK: JUSTIN BOGLE
Click on images to enlarge
Justin Bogle signed with RCH Suzuki very late, although he got an RM-Z450 to practice on while waiting for the deal to be finalized.
By Jim Kimball
Photos by Brian Converse
Sixteenth in the 2017 Monster Energy Supercross standing is not what RCH Suzuki's Justin Bogle had in mind as the series winds down. Bogle has certainly shown speed, but has simply had too many dumb little things happen. He was leading a semi this past weekend in Seattle, when he stalled his Suzuki. Later at the start of the main, he hit a Suzuki tuff block. Confidence, momentum, and mental toughness play a big part in racing. I believe if the 2014 Supercross 250 East Coast Champion can have a couple races go his way that he can be back near the front.
THERE WAS A LOT OF SPECULATION ABOUT WHETHER OR NOT RCH SUZUKI WOULD FIELD A TEAM IN 2017, DID THAT AFFECT YOU? I guess at that point you kind of have to just trust that everything is going to work out and end up how you want it to end up. It took a long time to get my deals done, but I would not say it hindered us too much. Obviously, we did not get as much time as we would have liked pre-season, and this season itself has not been anything to write home about. It has been pretty frustrating, actually unbelievably frustrating. So I'm looking for some changes or something to turn this thing around, because it has been pretty bad this year. I am capable of much more than what I am doing, and I will believe that until the day I am done. I will keep working and figure this thing out.
YOUR RESULTS AND POINT STANDINGS ARE NOT GREAT, BUT YOU'VE HAD SOME REALLY IMPRESSIVE RIDES. WHAT HAS BEEN YOUR BEST MOMENTS SO FAR? Talking about the best moments, there is really not much. I got a heat win in Dallas, and got a good start there in the main. I was running up front and then had a fall, but that is actually my only single-digit finish this season. It has been unbelievably frustrating so far. I have in the mix quite a bit; just I have had a lot of little falls, and dumb stuff happen. I have just been beating my head against  wall trying to figure this thing out. Regardless, if I have to change a lot of things about my program, I am going to get it figured out.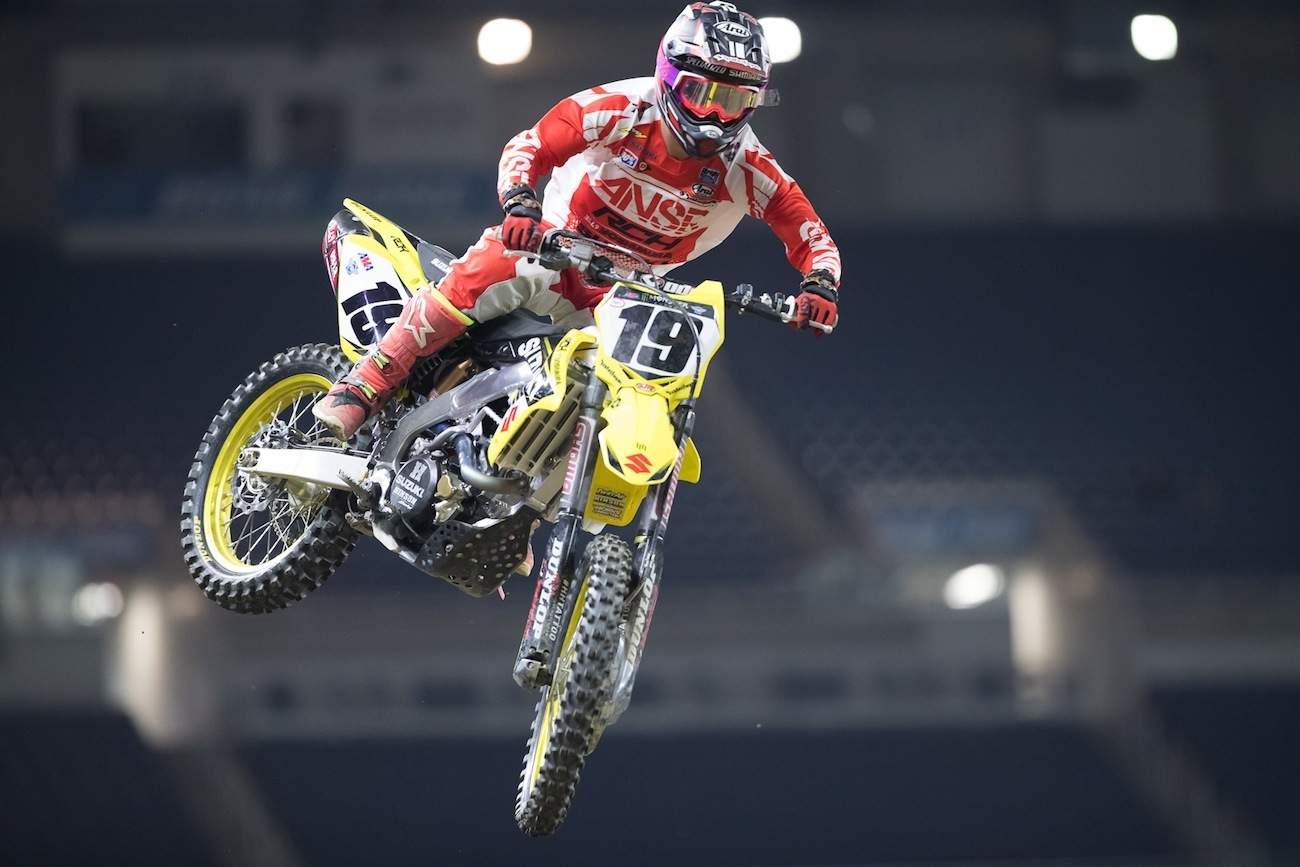 LAST YEAR IN YOUR ROOKIE SEASON ON THE 450, YOU HAD SOME PRETTY CREDIBLE RIDES. I had some decent finishes in my first year; I think my best was a fourth. Unfortunately. I was always super consistent on the 250, I was hardly ever off the podium my entire career. It has been a rough adjustment with injuries, and dumb little falls. I have just not really got everything figured out, so, I am looking to do whatever I have to do to switch this thing around and get the train back on the tracks. I am too good at this stuff to be getting the finishes that I am getting.
HAVE YOU BEEN ABLE TO PINPOINT WHAT YOU NEED TO WORK ON? When you get to this level; it is the small things that really matter.  I am not sure what those changes would be. I know that I have some work to do on myself, but it is small things at this point. The small things can take you from a 10th or 11th place guy to being on the podium. We are all so close. Look at qualifying times; they are within a second for the top 15 riders. My starts, which have always been really good at in the past, have been a problem for me this year. I believe I can get figured out, it is just obviously taking a lot longer than I would like—so all things in due time though. I think we are starting to get things figured out.
BROC TICKLE REITERATED THAT EVERYBODY IS SO CLOSE IN SPEED THAT THE STARTS ARE MORE IMPORTANT THAN EVER. A start is always going to be important and it always has been important, so I always put a lot of emphasis on that. Without a good start, you are not in for the best night of your career, no matter who you are. I don't care how fast you are or what your name is, you are at a huge disadvantage coming from a really bad start to a win. We are all so close. Like I said, the little things just make such a huge difference at this level, and I'm still working on those, but I will get it figured out.
HOW HAS IT BEEN TRAINING IN OKLAHOMA WITH SO MANY OF YOUR NORMAL RIDING CREW INJURED? It is actually an issue right now. I went back to California after St. Louis to start testing outdoors, and start doing things like that to get ready for the summer. As you mentioned, unfortunately, a lot of our group in Oklahoma has gotten injured. I have been riding with a couple of people, but for the most part, all of our top guys are hurt right now. The last couple of weeks have been not the best as far as having the talent to ride with, but when I first got back there it was incredible. You had guys like Benny Bloss, Jimmy Albertson, and some others that were going fast. Trey Canard was back there for a bit. It is super important now-a-days to have guys to ride with. It has been something that I have needed to work on, and I need to get back with some fast guys. Obviously, it is no fault of anyone's, injuries just happens. The Supercross tracks that Robbie Reynard has built are incredible. He is there to help with my riding, and anything like that. But like I said, right now at this particular time, injuries have taken a toll, and made it tough during the week to get that sprint speed up.
YOU'VE BEEN RACING THE SUZUKI FOT AWHILE, BUT HOW WAS THE TRANSITION AFTER BEING ON HONDA'S FOR SO MANY YEARS? It was not as difficult as I thought it was going to be making the transition to the new team, and bike. Obviously, I am still getting it figured out. I'm being positive, and trying to brush all that "change stuff" off. Still it is a big change no matter where you are going when you are changing brands. There is a new staff, new bike, and new everything to learn, and I am still getting it figured out. We made some good improvements in the last month with my bike, so we keep moving forward, man. That is all we can do. It is a process no matter what you are doing, so I am committed to it, and hoping it pays off.