MXA INTERVIEW OF THE WEEK: ZACH OSBORNE
Click on images to enlarge
By Anna and Jim Kimball
After the first round or two of the 2017 Supercross 250 East Coast series, it became obvious that Rockstar Husqvarna rider Zach Osborne was the man to beat. Osborne was super fit, and his Husqvarna was well dialed in. But after earning the red plate and point's lead, Zach had a couple rides hampered by riders crashing around him.
To salvage his Championship all Zach could do was to win, and hope to get back  in contention for the title. After a wild night in New Jersey, Osborne dominated the night, and took the win. After the race was over, points leader Joey Savatgy was docked for cutting the track. Now, going into the series finale, Red Bull KTM's Jordan Smith leads the championship by 1 point over Rockstar Husqvarna's Zach Osborne, who in turn has a 1-point lead over Monster Energy Pro Circuit Kawasaki's Joey Savatgy. The Las Vegas Supercross should be one of epic proportions as these three go for the title!
ZACH, YOU SEEMED LIKE A MAN ON A MISSION ALL DAY AT MET LIFE STADIUM. Yes, it was pretty clear cut what I needed to do, and what needed to happen for me to win this title. I wasn't giving up on winning this title, and I needed to come out and make a statement. And I think that I did a pretty good job on it.
IF YOU HAD THE RED PLATE, WOULD YOU RIDE ANY MORE CONSERVATIVELY? Yes, in a way that is true. But when I had the red plate it was so early in the series, and there were so many races to go that I was not riding in "protect" mode. But sure if I would have had the red plate right now, I would be trying to protect my points lead. For me now it's just a matter of attacking, and going for it; there is really nothing else for me to do than just hammer it. You always have to be extra careful though when riding to protect a points lead as you always get a little off your rhythm, and it can cause bigger mistakes.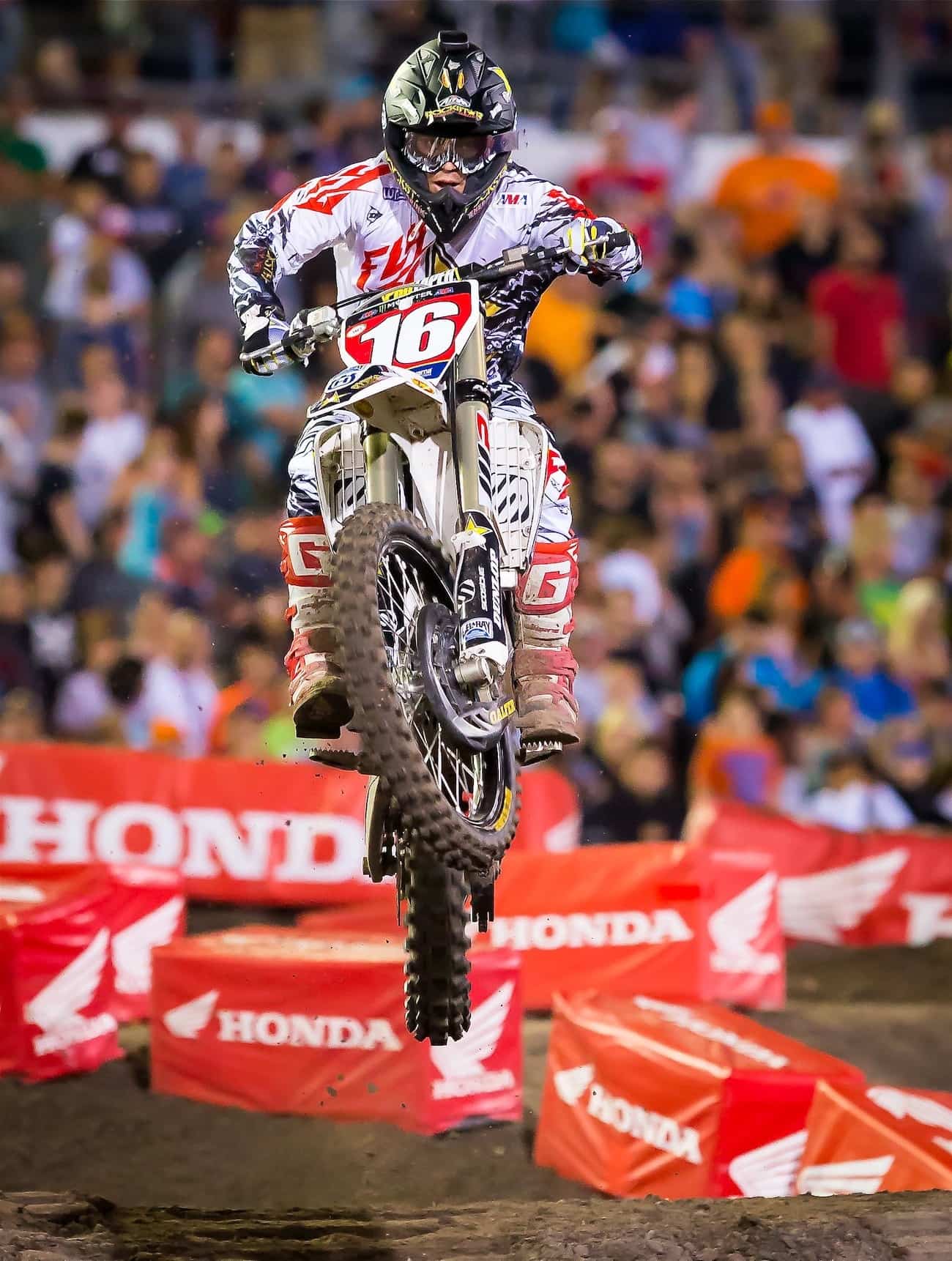 YOU NORMALLY FIST PUMP AFTER WINNING A RACE BUT AT MET LIFE YOU LOOKED EXTRA EXCITED TO WIN THE MAIN EVENT. Yes, I felt like I won the race with authority tonight. I came back from a poor start of around tenth place. I was able to work my way through the pack and all the carnage to get into the lead by the midpoint of the race. So yes, I felt pretty pumped about my night!
WHAT ABOUT THE INCIDENT WHERE JOEY SAVATGY CUT THE TRACK AND WAS PENALIZED. I didn't see it happen and really have no thoughts on it. I just need to worry about myself, and let the chips fall where they may.
YOU WOULD CONSIDER YOURSELF A FAVORITE TO WIN THE UPCOMING AMA 250 NATIONAL MOTOCROSS CHAMPIONSHIP? I am looking forward to the outdoor season. My Husqvarna will be great for motocross, and the team is very behind us. I'm really excited, as I am probably in the best shape of my career since I have been training with Aldon Baker.
WHAT DO YOU THINK ABOUT THE NEW 250 SUPERCROSS RULE SYSTEM, WHICH NOW ALLOWS YOU TO STAY IN THE 250 CLASS LONGER – WHAT DO YOU THINK? Everything is up in the air right now. I am up for contract renewal, and now I have a lot of options within Husqvarna. So I will likely end up back here with the team, but which class will remain to be seen. We will see how it goes at Las Vegas, and then make some decisions.