MXA INTERVIEW: WESTON PEICK TALKS ABOUT THE NEW BIKE, INJURIES & THE 2018 SEASON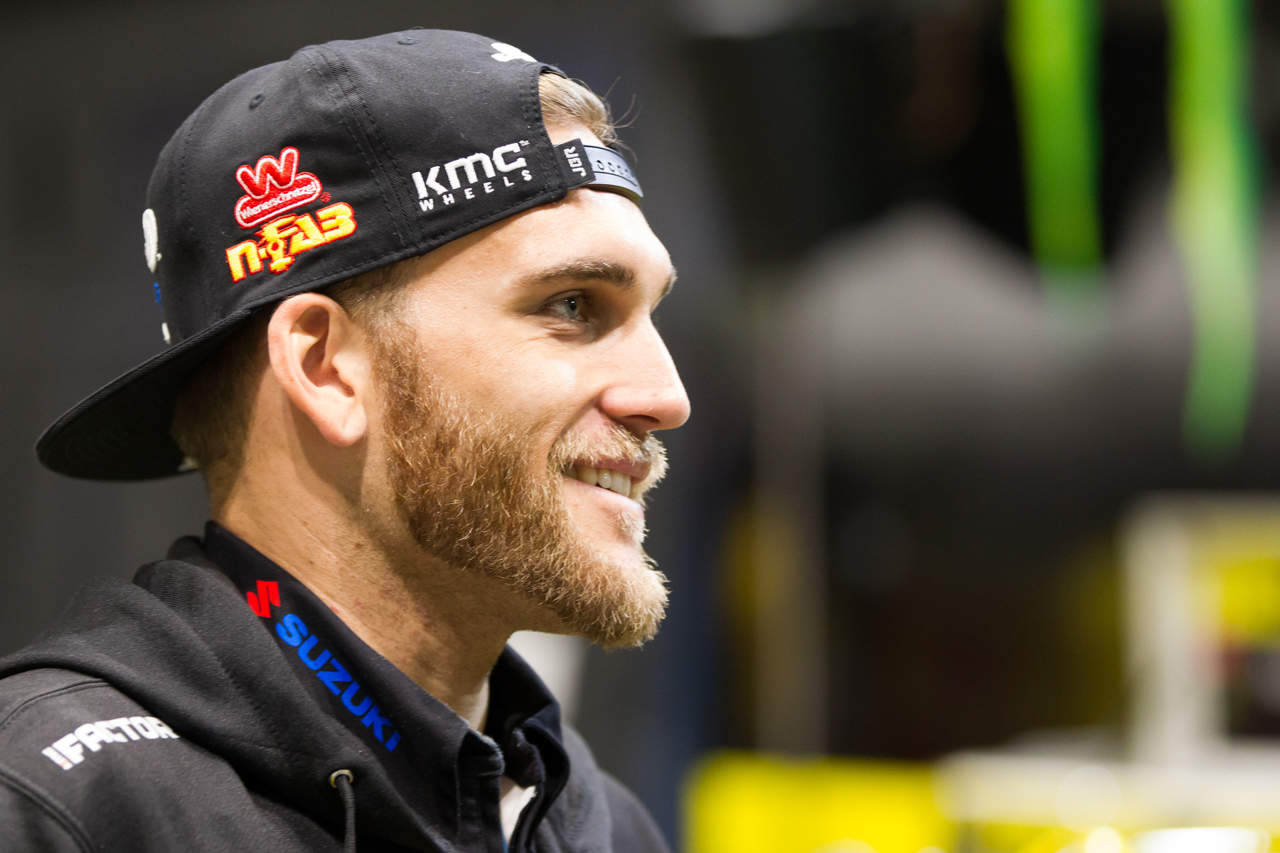 Just as Weston Peick's 2017 Supercross season was getting going, he suffered a crash at the Phoenix round sidelining him with a badly dislocated and broken wrist, and a lacerated kidney. Returning at the start of the outdoor series, Peick soldered through still recovering from injury. Eventually finishing 7th overall, Peick has been low key during the off-season. Many believe a healthy Peick can be a solid contender as he begins his fourth year with JGR Suzuki. We recently caught up with Weston, who is in the midst of training for 2018.
By Jim Kimball
WESTON, YOU CAME INTO THE OUTDOOR SERIES NOT AT 100% DUE TO YOUR SUPERCROSS INJURY, HOW DO YOU FEEL ABOUT PROGRESSING THROUGH THE OUTDOOR SERIES? Honestly, I only got to race a couple Supercross rounds before being sidelined for the remainder of Supercross. Outdoors was definitely a tough thing to jump right into after only having a couple of weeks on the bike from my injury. But there was definitely some progress made during the Outdoors. I had some really good results, and some mediocre results, but for the most part it was a pretty decent outdoor season considering the time I had on the bike, and the injury I had.
BEFORE YOUR CRASH YOU WERE LOOKING PRETTY GOOD INDOORS. The first three races I was really comfortable, and the bike was working really well. I had some good results already within the first three races all being in the top ten, and having one 5th place finish. It was all going extremely well, and I just made a stupid amateur mistake. I should have waited longer before I attempted the big jump that I crashed on, as it was still a bit wet.
CAN YOU TOUCH ON THE DIFFERENT ASPECTS BETWEEN YOUR PRIVATEER SUZUKI, THE RCH SUZUKI, AND THE JGR SUZUKI?  Obviously I have literally ridden almost every brand besides a KTM and a Husky. Once I started to ride Suzuki at the end of 2012, and going forward, it was just a bike that clicked with me, and I was comfortable on. I actually rode a Suzuki because my dad had bought one in 2012 for his personal bike, and I rode that, and was really comfortable on that bike. So I raced one for two years in 2013 and 2014. Then RCH picked me up for the Outdoor series in 2014 and I raced their bike which was obviously completely different with motor, suspension, and just parts that were totally different. Then I went to JGR with Yamaha and had a good two years with Yamaha and then JGR made the switch to Suzuki and 2017 was the first year. It has been good on the Suzuki, and we have not had any issues with them.
IT SEEMS LIKE YOU WERE ONE OF THE FEW GUYS IN THE LAST COUPLE OF YEARS TO DO PRETTY GOOD ON A YAMAHA. All bikes are rider preference, and as long as you know the set up of a bike, all bikes can work just as good. It just depends how much time and effort you and the team want to put into it. The Yamaha did work for me and you know, but like I said, it is all rider preference.
WHAT HAVE YOU BEEN DOING SINCE THE IRONMAN NATIONAL? Literally, as soon as we got done with Ironman, I was back to training off the motorcycle that Monday after the race. All I have been doing is a lot of cycling, trying to cut some weight right now, and thin out a little bit for next season. Then I headed back to North Carolina in September for three weeks to do some testing on the 2018. I had a really good time back there, and got a lot of work done, and made a lot of progress with the new bike. Then I came back to California and have been here since the end of September, and like I said, I've been cycling a bunch. I just got a bike delivered last week, so I have just been back on the motorcycle now for about 1-½ weeks now. I'm laying low and putting in work.
HOW DO YOU FEEL ABOUT THE NEW RMZ? The new bike is pretty good. I am pretty happy with the progress we have made for it being a brand new bike. There was not really a bunch of crazy stuff that we had to change on it, so it was pretty mellow changes. Obviously a little bit of suspension stuff here and there, but it has been an awesome change with the new chassis and everything. The bike feels awesome, and everything about the bike is a completely different feeling when you ride it, and definitely for the better. I am happy with it, and every time I ride it I feel more comfortable.
YOU WERE ONE OF THE HEALTHY RIDERS THAT CHOSE NOT TO DO THE MONSTER ENERGY CUP.  WHAT WAS YOUR REASONING BEHIND THAT? It was nothing in particular, just the timing was not right for me. We had just switched over to the new bike and I felt comfortable on it, but I just really did not want to race on it yet. As I said, I was back in North Carolina for that two-week period, and then I flew back to Cali, but I did not have a bike here in Cali. They shipped me a bike to California, but I would have had it about a week in advance. With all the bad weather, and hurricane stuff going on, the shipment got delayed and I ended up getting it late. Still I had already made my decision that I was not going to do Monster Cup anyway.  I don't care much for that race, and the team said I did not have to race it. If they needed me to race it, I would have raced it for them, but it is just something that I don't like to do.
IT IS A BIG RACE, BUT ON THE OTHER HAND, IT IS REALLY A MEANINGLESS RACE. Yes, it is a big race, but at the same time, you can tell not that many people showed up. For me it is the timing, I could care less about that race because it is in the middle of October. If it were in the beginning of December where it was actually closer to the season so everyone could be doing their own program, like what I am doing, maybe it would be different. I like to have a nice off-season, have a life, and not race a dirt bike 24/7 like some people, but that is just I. I have my own opinion and that is how I work, and I like an off-season. I like to let my body recover 100% and train and do stuff.
JGR IS NOW THE OFFICIAL FACTORY SUZUKI TEAM. HAS THAT IMPACTED THE TEAM MUCH? Obviously it has impacted the team quite a bit with having to hire more personnel, and now we are the factory-supported team, so we have availability to anything, and everything that is factory from Japan we can try, test and use. This is a huge advantage from what we had even last year. All this costs more money for the team with having to hire more employees. We are having a four man 250 team, and two 450's full-time, so it is a lot more personnel, and a lot more stuff that goes into it. But it is something that the team wanted. We want factory support and we want to be able to have the best option possible for us to race on. It has all gone pretty smoothly so far and has been a good change.
JGR WILL NOW BE GOING AFTER 250 WINS, AND CHAMPIONSHIPS NOW, ANY THOUGHTS ON THAT? Any title is good for any team; you know what I mean?  I think with bringing the Suzuki 250 program back, as well as having JGR's hands on it and being able to develop that bike more will be great for the brand. And to be able to have someone like Justin Hill who won this year is awesome. He is a good rider, and I think that we have just as good as any other bike out there, to win. I can definitely see another championship coming from him for next year, as well as some of the other riders. It will be a good season for our riders, as long as everybody stays healthy.
AS A WRAP UP, WHEN YOU FIRST SIGNED WITH JGR, COMING INTO SUPERCROSS YOU WERE HAVING SOME OF YOUR BEST INDOOR RESULTS EVER, CAN YOU GET BACK UP THERE? That is what I plan on. I bust my ass and so does the team to obviously get the best results out there, so I think this year with all the extra support we have from Suzuki and Japan, we need to be getting results. I don't see that being a problem with being able to get back up on top and get on the podium and contend for some race wins. I have been training hard and looking forward to that.