MXA INTERVIEW | WIL HAHN TALKS STAR YAMAHA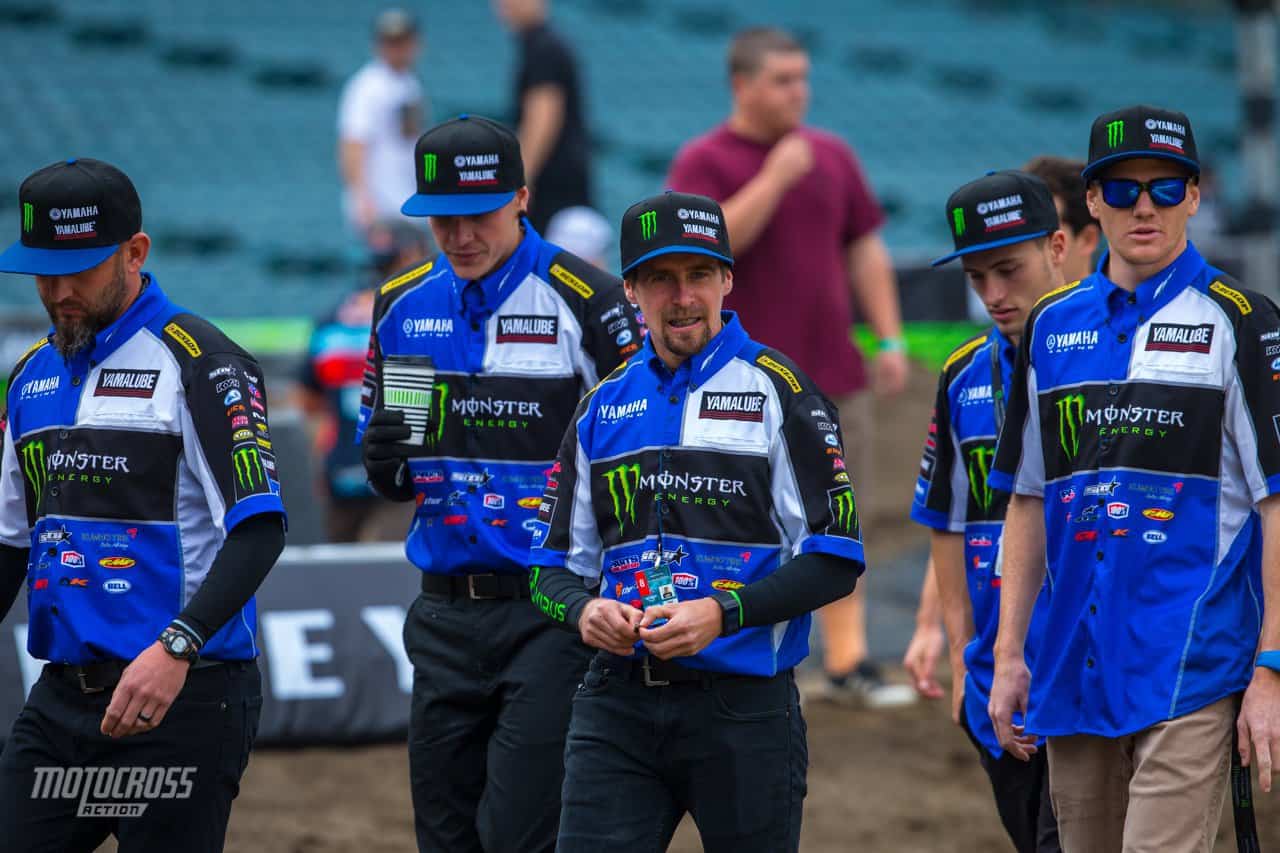 Wil Hahn (center) during track walk with some of the Star Yamaha team.
Is there any stopping the Star Yamaha Racing 250 team? With multiple championships in the past few years, Star has become the dominant 250 team! 2018 was again a big year as Aaron Plessinger won both the Supercross and outdoor championships. 2018 would also see the emergence of Dylan Ferrandis as a true title contender, and Justin Cooper as the rookie to watch. With a couple weeks before the Supercross opener we tracked down a prominent member of the team's management, former pro racer Wil Hahn. We asked Wil to give us a lowdown on the past year and his thoughts on 2019.
BY JIM KIMBALL
WILL, LET'S BEGIN; 2018 WAS A HUGE YEAR FOR THE TEAM! Yes, I think if you would have put our year on paper in December of 2017, we would have been over the moon excited. But then to go out there and accomplish it was really big for us, and for Aaron. We are all really, really proud.
AFTER AARON CLINCHED THE SUPERCROSS CHAMPIONSHIP, IT ONLY TOOK A HANDFUL OF OUTDOOR RACES BEFORE AARON BECAME THE GUY THAT EVERYBODY WAS CHASING. It all started at Glen Helen, and then from that point on a bad weekend was maybe a fourth, you know? And he did not seem to really have bad days!  He had some that were worse than others, but it was not anything that was catastrophic or bad.
Aaron on the podium after winning the 250 West Coast Supercross series. 
HE HAD MORE TIME ON HIS STAR RACING/YAMAHA 250 CONTRACT, BUT YOU GUYS ALLOWED HIM TO MOVE UP. Obviously, we would have loved to keep him around. He is a great asset to the team, not only just results wise, but with the media and everything like that. How he handles the general public, and how he interacts with people is awesome; he is very friendly. So that this is something that we would still love to have, but at the same time, we are obviously really happy to see him move on, and graduate to the 450. That is everyone's dream, and goal to eventually get to that spot, and he achieved it. The biggest thing for us is that we are so happy for him.
Instead of staying in the 250 class to defend his title and run the #1 plate, Aaron will move up to the 450 class for the 2019 season with his new career number #7. 
I'M SURE THE STAR TEAM IS HAPPY TO SEE AARON STAY ON THE BLUE BRAND. Yes, we are happy that he is still on a Yamaha, and that we will still see him at the track. He will continue to train with our guys, so we are still involved with him in a lot of senses.  He will be fine on the 450, just with the way he rides. But there are always the rookie years of learning. You have to almost start over again, learn the competition again, and learn the bike. Then you have working with the new team. Even though it is still Yamaha, everything is done differently, regardless of that. He will have a little learning, but I think at the same time that with what he accomplished this year, you do not achieve that on accident, so he will successful.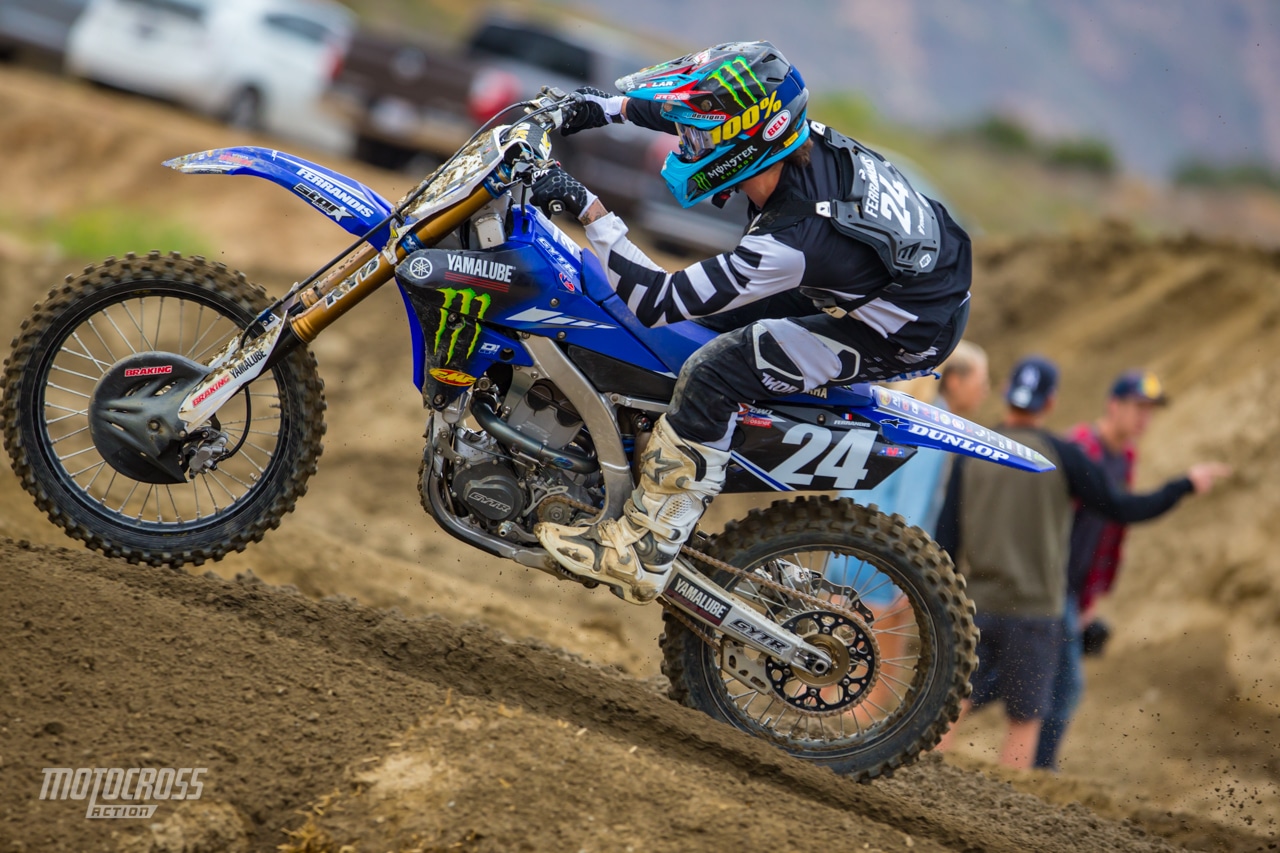 The Frenchmen Dylan Ferrandis should be a title contender in 2019.
LET'S TALK ABOUT THE 2019 TEAM STARTING WITH DYLAN FERRANDIS. HE COULD HAVE WON A CHAMPIONSHIP IN 2018, AND CERTAINLY HAS TO BE A FAVORITE FOR 2019. Yes, I think so too. I know that Dylan going down in Atlanta was tough for him, and that was a pretty bad crash. He did not come in until later on in the Outdoors, but he was a contender and on the podium straight away. Actually, I think almost every weekend that he was back he was on the podium, although maybe one or two he missed. So yes, I don't think that there would be a doubt that he would have been a contender as well out there. Even in Supercross he had gotten a second, and almost won. Everything was coming together for him before Atlanta where he crashed. How well he recovered from that is pretty cool and says a lot for him. He came back at his first outdoors race and got on the podium; that is pretty hard to do.
DYLAN'S NAME NEEDS TO BE AT THE TOP OF THE LIST OF 2019 TITLE CONTENDERS FOR A SUPERCROSS OR MOTOCROSS TITLE RIGHT? Yes, and he definitely is capable of doing it. I see the work he puts in, and we are around him a lot. He is more than capable of going out there and contending for either Supercross or Outdoors.
LET'S SWITCH OVER TO JUSTIN COOPER; THAT KID IS AMAZING. There is no doubt that he has a bright future, and as you saw in outdoors, he finished third overall in the series. He got some podiums, won a moto, and to do that in your first year is pretty promising, you know? A lot of these guys they end up becoming contenders, and don't even have close to that success their first year. He had a tough one in Supercross though. The second race, he went down and did not get to race Supercross the rest of the year, but he came back for Outdoors, and he came out swinging. He was doing really well right away, lead some laps at Hangtown, and just built from there. I believe that he is very strong overall, and it seems like there is no reason why he couldn't be a championship contender.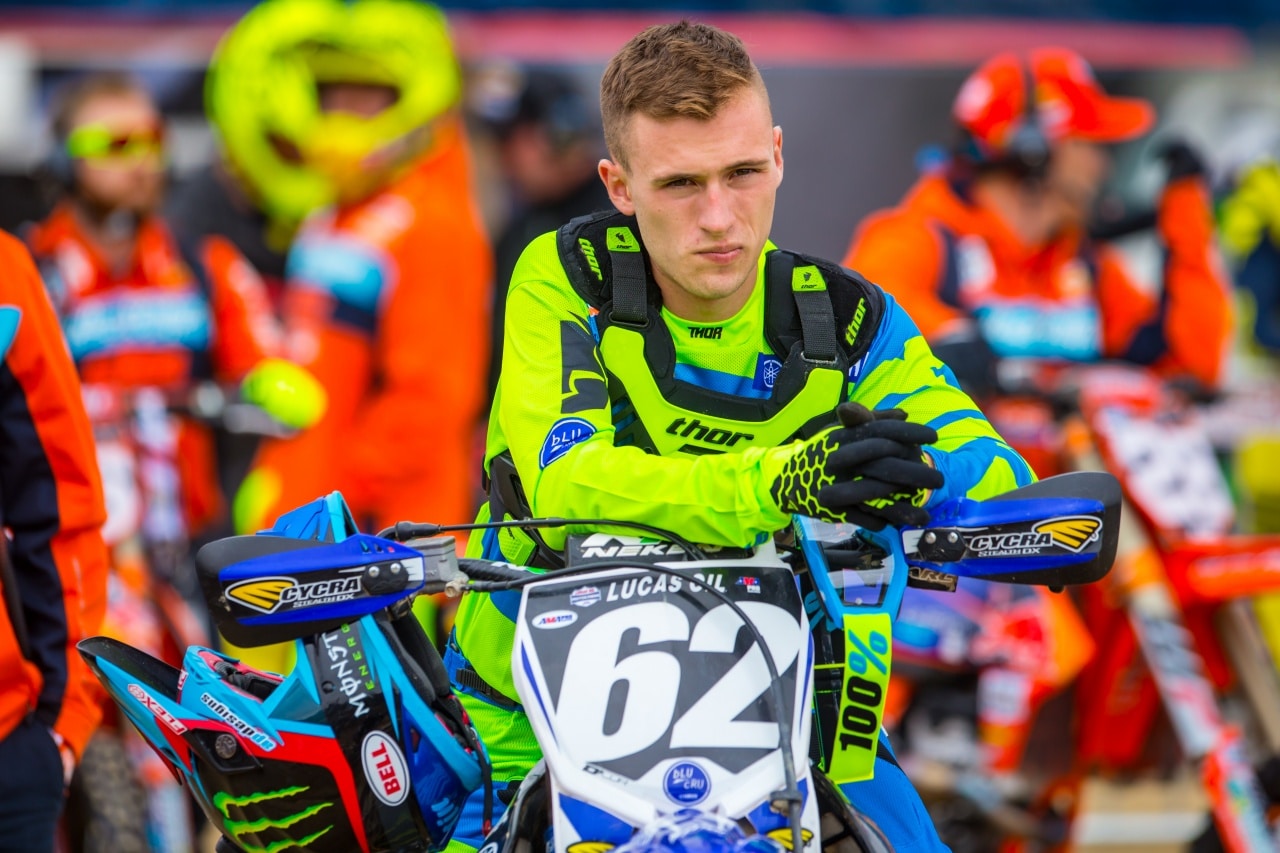 Justin Cooper will run #32 in 2019. 
LET'S TALK ABOUT MITCHELL OLDENBERG, AND WHAT A ROUGH PAST YEAR HE HAD. It was tough because obviously with Supercross you rarely get to show anything because it's a shorter series; especially with injuries. Things were going well after the break in Supercross, he was riding great, and showing some good promise. He did not really even crash that hard but was sidelined for outdoors. But now he has been on the bike for quite a while, riding really well, and putting in a lot of work. Obviously, there is always the "got to stay healthy thing," but if he does that, I do not see any reason why he will not be up front.
Mitchell Oldenburg will run #66 in 2019. 
COLT NICHOLS IS INTERESTING AS IT APPEARS THAT ON ANY GIVEN WEEKEND HE CAN WIN. BUT HE HAS HAD A FAIR AMOUNT OF INJURIES. Yes, he is that way; meaning that on any given weekend, he truly can win. That is the thing about him, he has had his injuries the past couple of years, but the potential there is very high. When he was on the podium the last Outdoor this year it all came together for him. With Colt, more than anything, it is just having a good and healthy off season, and to keep moving forward with it. I think he is obviously on his way to win races.
Colt Nicols with an impressive nac nac. He will run the #39 in 2019. 
COLT NICHOLS IS SOMEWHAT A DARK HORSE. It would not surprise me to see him show up at the first race and win, just because of his capabilities, and everything he has experienced. I know what a good off season can do for you, it is pretty crazy what it does confidence wise. Just going into that first round knowing everything is good, and everything is clicking. I think he has that going for him right now. 
AT TIMES YOU HAVE HAD A FIFTH RIDER ON THE TEAM, IS THERE ANY POTENTIAL FOR THAT IN 2019? No, not at this time. Last year we had five guys with Aaron still being on the team, but for moving forward into the Supercross series, it is four. Granted you never know what can happen, but at the same time, this is our line up and that is what we are going for.

HAVE YOU FORMULATED YOUR PLAN FOR WHO WILL RACE WEST AND EAST COAST SUPERCROSS YET? Not really, honestly, we are just getting ready to go race West Coast with whoever are the two that are ready for that, that is where we are at. No one has been really told "you are doing this, and you are doing that."  We are just moving forward with everyone and working to the goal of Anaheim 1. Going from there we will take the two who feel the most ready, and who we think is the most ready, and go with that.
Wil hustling back to the pits in between qualifying sessions. 
SO, IT WILL COME DOWN TO THE TEAM MAKING THAT DECISION? Yes, without a doubt. It is a pretty big group decision between Brad Hoffman (Manager), myself and Bobby Regan (Owner) all talking about it. Then when the time comes, we decide. We are there every day, so it is not like we are guessing.
YOU ARE STILL REALLY FAST ON A DIRT BIKE, HAS THAT HELPED THE TEAM WHEN YOU ARE ABLE TO RIDE THE RACE BIKES? I think that has been good. I don't want to take the credit for it, because these guys are still doing the job. It is merely me just saying, what I feel or something like that, but I am still learning a lot, being around these guys who have been doing it a long time. This position is still teaching me a lot about what I need to be looking for and learning different parts of the bike.  You need to find what works and what doesn't work. Certain things that might be good for me are good, but you are not really doing it for you anymore. You have to put that aside and realize that this would not necessarily be good for them. So, it is learning every day, but it has been nothing but a good time. 
It's not unusual to see Wil testing the Star Yamaha bikes in Southern California during the week. 
IS THERE ANOTHER 250 TEAM OUT THERE, THAT YOU SEE AS YOUR BIGGEST COMPETITOR COMING INTO THIS 2019 SEASON? There are lots of guys; for me you have to be ready for everybody. I think as long as you are on your game, that is all you need to worry about. All these factory teams put in the effort to have a good team, and they will be working hard. Obviously, we have a target on our back, so I think the biggest thing for us is being the most prepared we can and go from there.
RETURNING TO WHERE WE BEGAN, 2018 WAS SO SUCCESSFUL FOR THE TEAM; WHAT ARE YOUR THOUGHTS ON 2019? We are just going to keep doing what we have been doing. We are lined up to be just as successful or more. We are in a good spot with bike, rider, and everything right now. We have something to look forward to in 2019.