MXA INTERVIEW: AUSTIN FORKNER TALKS WRIST INJURIES
In 2017, Monster Energy Pro Circuit Kawasaki's Austin Forkner made his Supercross debut. Along the way to his 6th overall in points, the teenager from Missouri landed on the podium several times; which is impressive as a rookie! Austin would further do well in his sophmore outdoor season, until a near season end crash derailed him for several months with a severe head injury. Later in the fall of 2017 Forkner was further sidelined with a broken arm. Switching from West Coast to East Coast Supercross for the 2018 series helped earn him recovery time, but still Austin was not 100%. After winning his heat race, and in my opinion riding more aggressive, and confident than I have seen previously, Forkner won his heat race. Unfortunately a Main Event fumble with defending champ Zach Osborne would slow his charge. But still, in a series of veterans, Forkner rode awesome. I caught up with Austin just after the Dallas main.
BY JIM KIMBALL
AUSTIN, IT HAS BEEN A WHILE SINCE YOU RACED, AND THEN YOU HAD A COUPLE OF INJURIES. WHERE ARE YOU HEALTH-WISE NOW? Probably not 100%, but I would say maybe 90%. You are really never at 100% doing this; just with having old lingering injuries like I have anything can happen. Still, I am pretty close. My wrist feels pretty good for being broke badly, and how it felt a couple of weeks ago riding; it still hurt a lot!  So, I am pretty happy with how it has recovered and how it feels right now. Honestly, I had to get back into the race shape slowly. I have not done a race in seven months. I was just thinking about this, from when I got my concussion at the end of Outdoors, and then had broken my wrist was a long time off. I was lined up to do West Coast Supercross, but then had to do East Coast, so I have not raced in seven months. I had to kind of get back in the flow with racing, and everything.
You are really never at 100% doing this; just with having old lingering injuries like I have anything can happen. 
IN SPITE OF ALL THE PRACTICING, AND TRAINING, A RACE IS MUCH DIFFERENT RIGHT? Yes definitely, and the racing in Dallas was chaos with all the crashes and stuff. It was a pretty hectic night, but still I came out with seventh, and with all the stuff that happened, I think it is not too bad.
HOW DID YOU GET THROUGH THAT FIRST AND SECOND TURN MELEE? I locked bars with some guys coming out of the gate, which at the time I felt obviously "this sucks, I am going to be back in the pack", but actually it helped me because if I had not locked bars, I would have probably been up there in the pile-up. Anyways, I locked bars, and was pretty far back, and then I just snuck through on the inside and came out like in sixth, and that was that. I figured "alright podium no problem, let's just go". There were some guys I knew that I was faster than that were up there, so "I was like alight I can go get these guys", but then got taken out by Osborne on the second lap. Then about two laps later, I made a mental mistake, just stalled in the turn, and then I was way back at that point. I came back to seventh, and felt like for being as far back as I was, coming back to seventh was good. I ran some pretty good lap times for having as much time on the bike as I have not had. I still expected to be on the podium, but with how far back I was, I feel like it was not too bad. The track was tough, so I was happy to just get through it, and get some points. I took more points than some of the guys that were in the first turn crash, so I guess that is positive.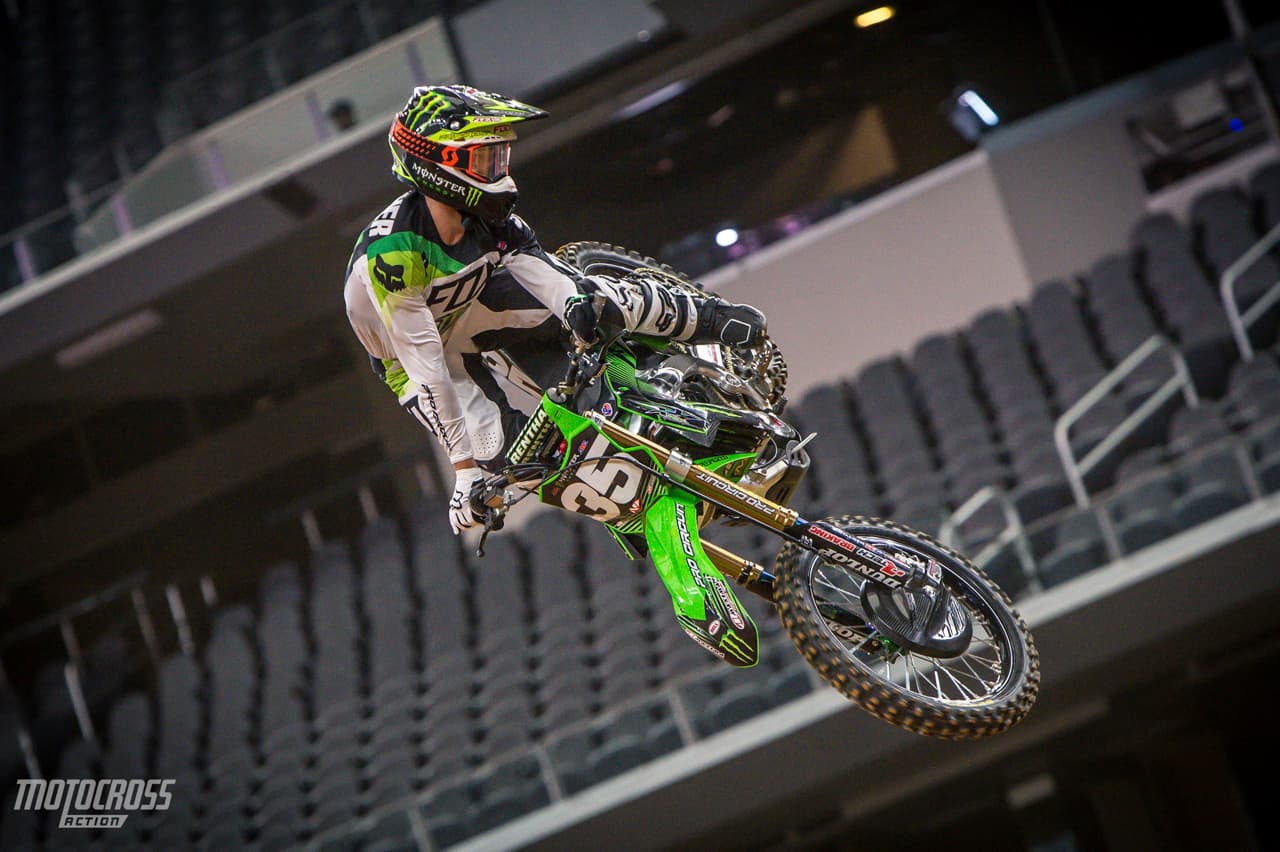 FOR NOT RACING IN SEVEN MONTHS, DID YOU HAVE ANY BUTTERFLIES? After qualifying I did a little. I usually do not qualify that great, and then when I come out for the race I am fine. After qualifying in eighth, I was worried, where I think that after mid-season, if I were to qualify eighth, I would be like "whatever, I always am a better racer than I am a qualifier". So I was a little worried after that, but then I stepped up, and won the heat race. The main kind of went to hell, but I was riding well. You always want to qualify well, but I usually seem to pull it together in the races. I was not super worried going to the main, especially with winning the heat race. I was pretty confident and I felt good. I just have not done that many motos. I did my first 15 minute moto last week before I came here, so I have not had a lot of motos, just because I have been trying to bring the wrist back slowly, and build strength. I did not just want to go straight into it, crash, and do something to hurt it.
 I did my first 15 minute moto last week before I came here, so I have not had a lot of motos, just because I have been trying to bring the wrist back slowly, and build strength. 
I KNOW TYPICALLY YOU TRAIN WITH ROBBY REYNARD IN OKLAHOMA. HAVE YOU BEEN THERE, OR OUT WEST WITH THE TEAM? I have actually been in Florida at the Carmichael Farm. I will probably stay there until the Florida round is over. Basically, just because it is too cold in Oklahoma, and the weather is so on and off there right now. You really have to be in either California or Florida. Racing on the East Coast, there are three rounds in Florida and so it makes sense to be in Florida. I have been hitting it pretty hard for the past two weeks, so it is all good. We have a couple Supercross tracks and some pretty good guys there, so it is good training.
It sucks because before I got hurt I was right there! So after my broken wrist I was thinking, "I need to get back there, and I need to get back there quickly, because time is running out before the first round"! So, going into Dallas, I was slowly got faster and faster, and built up. So I was pretty happy with where I was speed wise. But with the wrist, I just had to kind of ease back into it. But moving forward it should be good, and we will just try to keep building.
WRAPPING UP, WITH BEING OFF FROM RACING THAT LONG, WINNING YOUR HEAT RACE, AND THEN HAVING A CRASH IN THE MAIN, YOU STILL FINISHED ROUND 1 WELL. Yes, you are right, I am just bummed because with how I was set up I was in sixth at the beginning of the race, and we were all right there. It could have been a podium for me. That would have been a great start to the season, but then getting taken out I was so far back. I was far back enough that it was going to be had to get a podium, and then I messed up and stalled it! So a good finish was basically out of the equation. I just had to salvage as much points as I could basically, so I am happy to get seventh. Except for the circumstances, I am pretty pumped because I could have actually been up there.