MXA INTERVIEW: BROC TICKLE TALKS RED BULL KTM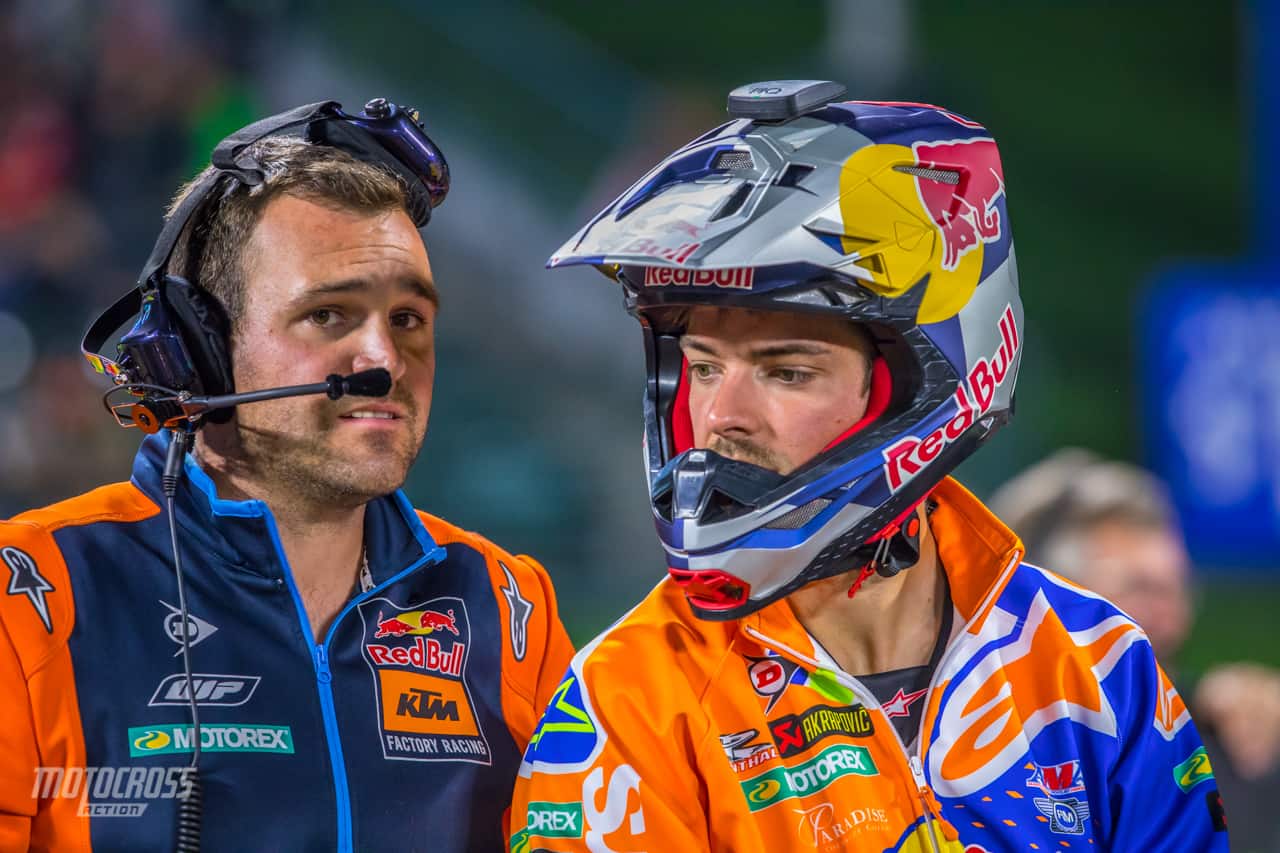 Ryan Dungey's mid season retirement last year created an awesome opportunity with an open slot at Red Bull KTM for 2018. And it was Broc Tickle who got the nod from Roger Decoster to fill the spot. While Tickle may not have had the same success as Dungey, his clean cut image, and work ethic did. While many had expected Tickle to drastically improve right from the get go, it has taken some time to adjust to all the newness of 2018. Still, with a couple fifth place Supercross finishes to date, Broc is setting the state for an improved second half of the series. We caught up with the ever friendly Tickle to hear more about his 2018 season.
 BY JIM KIMBALL
BROC, I NEVER HEARD THE STORY AS TO HOW YOUR SIGNING WITH RED BULL KTM, CAN YOU TELL US? For sure, I actually approached Red Bull KTM in the middle of the 2017 Supercross Series, because I got the feeling that RCH did not know what was going to happen in the future. I could sense that something was going on there. So I called them around Toronto time after my podium, and just kept bugging them. I felt like Ryan Dungey was going to retire, so it looked like a good place to try to get in. I knew that it would be good opportunity for me, after being with RCH for five years. I felt that it was a good place for me to reset, and I feel like I am doing that. It has taken a little longer than suspected, but for me, I am in a good place right now with my results from the past two years, to where we are at now. I feel like each week we are making progress both on and off the bike. I feel like I have actually ridden the best I ever have recently. I'm just trying to build off each race, and looking forward to all the East Coast races coming up. The East Coast seems like when I normally get myself together and start to do better.
 I felt like Dungey was going to retire, so it looked

like a good place to try to get in.
THE CHANGES YOU MADE WERE HUGE, NOT ONLY WITH SUZUKI TO KTM, BUT ALSO WITH EVERYTHING, AND MOVED FROM CALIFORNIA TO FLORIDA RIGHT? Yes, it was a full reset to be honest. I was in California until Halloween, and then flew to Aldon's (Baker), and then we were there until Christmas, so it was quick. It may have seemed like a long time, but it was a lot of transitioning in a short period of time, but it went well. I struggled a bit at first, and boot camp was tough, really tough. I was not riding the way that I felt like I should have been, and it took a while for it to start clicking during the weeks just prior to Christmas. It was hard to hang in there initially, because I knew I was not riding to my ability and I was struggling. But with where I am at now I am happy, and just get through that adversity and change. It is good for me, and it puts me in a place where I am uncomfortable, and I can strive to be better.
IT DOES APPEAR LIKE YOU ARE RIDING BETTER RECENTLY. Yes, for sure I am riding better than I was. I don't know if my end results on paper truly show it, but I am now closer to what I want my end result to be. I know that I am matching the guys that have just been in front of me. Especially with a better start, it is so much easier to run with the top five. I made a couple of changes to the bike each week, just minor stuff to get more comfortable, and make it translate over on the weekend – that is the main thing. When the track gets jacked up, as some of them have, you have to be comfortable to go fast. I know where my weaknesses are, such as qualifying. That has never really been my strength, so the main thing is to focus on doing my laps and being comfortable. When it comes main event time, I know I am in shape, and I know my bike set up is good for when the track gets rough. It pays off like as a lot of the guys that I was racing with, I came through the pack to catch them. They were faster than me in practice, so for me, I think it is about feeling comfortable when the tracks are rough and making it happen.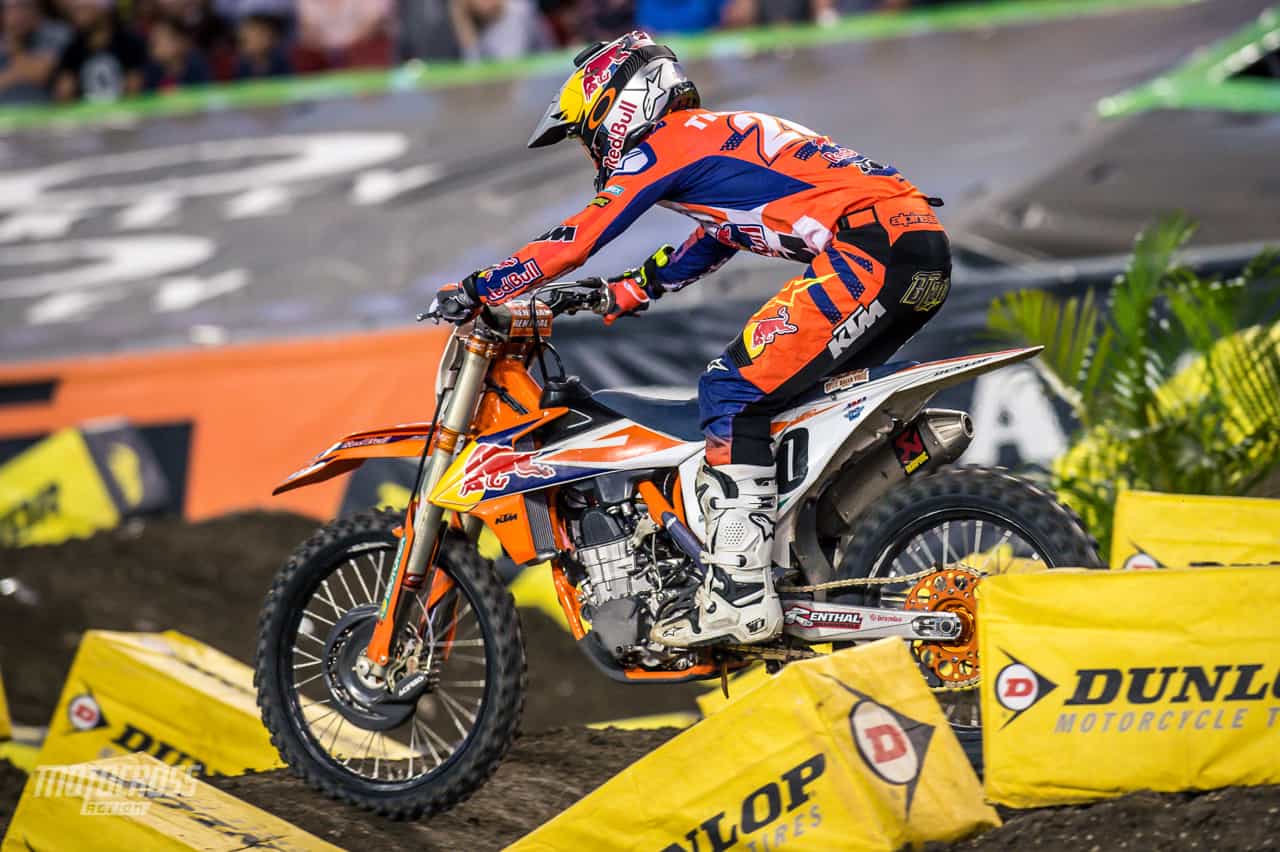 AT THIS POINT IN SUPERCROSS DO YOU FEEL YOU ARE IN A GOOD SPOT? Yes, recently I went from California back to Aldon's place, which has been good. I really enjoyed riding with Zach and Marvin. Jason does not ride with us too much, so it is just we three pretty much that are doing our motos together. It is honestly good for all of us, and we have a great time. We get stuff done quickly, and I feel like it relives the stress. Everyone is working for the same thing, and it is a good atmosphere.