MXA INTERVIEW: HUSQVARNA'S MICHAEL MOSIMAN
Click on images to enlarge
By Jim Kimball
Although Rockstar Husqvarna's 250 rookie Michael Mosiman may not have the amateur credentials of most hot shots coming into the Pro ranks, he has shown his worth in the first three Nationalss of his career. With his best finish of 8th overall at Glen Helen, he is surpassing many of his veteran competitors. And 11th in points as of Thunder Valley, the California native is the top rookie! Take a read to learn a bit more about #342 Michael Mosiman.
MICHAEL, TALK ABOUT YOUR AMATEUR CAREER? My amateur career  did not have any really big highlight. I did have a couple of good showings at Loretta's, but most of my amateur career had too many mishaps along the way. My greatest memory at Loretta Lynn's was that I crashed in the first turn in two out of three motos, but came back to finish second and third. I never had a big cherry on top during my amateur racing. Actually in my last amateur race, I was leading the championship, coming down to the third moto. During the first lap, I am in position to win it, and thinking, "We are all good," when a guy walked out in front of me on the track. I had nowhere to go and ran into him! I got pretty scraped up and it hurt a lot, but I got up and finished the moto. I think that is the way to sum up my amateur career, as a string of strange accidents, rather than a championship. My amateur career had so many struggles throughout; I just tried to persevere through it.
WHAT GOT YOU THIS FACTORY RIDE? Good question, good question, because I bet there are a lot of people that are curious, like, "Man, he was not that good. Why is he on the factory team?" I think that I have always just kind of "been there", and my speed has been good. Bobby Hewitt (Rockstar Husqvarna Team Owner) has really stuck in there for me, and has been able to get this for me. You know, being on a factory team is just unbelievable, and I am very grateful. Bobby told me "there is nothing for me to tell the higher ups, I am hiring this guy, just for his speed." I think he looks at me as a diamond in the rough, so I am just trying to do my best to make myself look good, and make him look good. I think Bobby Hewitt has had a couple of diamonds in the rough along the way and I just could not be happier, just the way he stuck with Jason Anderson throughout his career when Anderson "was not the guy."  Bobby stuck with Jason, and that is huge, just being loyal to his riders, and team. It is an honor being able to ride for him and it is a compliment in itself that he picked me.
WHAT HAS BEEN THE BIGGEST ADJUSTMENT WITH TURNING PRO? The tracks. The tracks are really, really rough, and the competition iso strong. It is weird to be satisfied with a top ten. It is a strange concept, because as motocrossers we are wired to win. So I guess it is getting use to the process of it, and accepting that a top ten is a good ride. But another big thing that I think I am going to be finding out is that the travel takes a lot out of you. I am based out of California, so a lot of the time it is going to be pretty long flights. I have not really dealt with that yet, because I am from California, so after Glen Helen I went home and hung out. That has not been too bad so far, and Colorado was the first weekend that I was flying back and forth. So its been being in a place that I am not super familiar with the tracks and how rough they get, because they are insane, along with the travel and the competition.
YOU HAVE BEEN DOING AWESOME THOUGH, ESPECIALLY AS A FIRST YEAR ROOKIE! Osborne and I we are making Bobby look good in the 250 class, but I don't really think about it that way. I just try to stay humble, and I don't want to have people come up, and be intimidated "like, he is a big deal now, he got top ten." I just plug away and try not to get too excited, or too bummed out for the good and bad results. They are both going to come, and I just try to stay "even" as far as my emotions. I am happy with my results, because everyone else is happy. But I feel like last weekend I faded some, and I am not cool with that. It bums me out a little bit that I faded, but it is just about finding a fine balance, and overall I am happy. I am happy to be on a factory team, and to have fans wanting my autograph. This is incredible to me, and I am certainly pleased with my season and I just want to get through it healthy and have some good results.
ARE YOUR TEAMMATES HELPING YOU OUT? Yes, fthey all have. Zach Osborne has just been awesome, and feel like he has taken me under his wing. I look up to him as a role model and what a better time to be his teammate, as he is really peaking, and he has so much experience. So I would say Zach for sure has had an influence on me. Jason is super cool and he was over for starts at my house before Glen Helen, and then he won a moto! I had two good starts at Glen Helen as well. I think what we all have in common is the obsession for motocross and to do well. We will be in the semi and going over film figuring out lines and stuff like that, and it is awesome. Everyone on the team is super cool, super authentic and between Martin Davalos, Zach, Dean Wilson and Jason, I could not complain about anyone. They are here for me, and are quick to lend a helping hand when they can .
HAVE ANY OF THE MORE VETERAN RIDERS IN THE 250 CLASS BEEN RESENTFUL TO A ROOKIE KID DOING SO WELL? I have not felt any of that. I think it helps that I did not come up with a whole lot of hype, or a whole lot of expectations.  You know, it was a little out of the blue that I ended up on this ride. I think someone like Austin Forkner coming in with a lot of hype and touted so highly is someone that some riders may not like that. So they get a target on their back, but I don't think I really do. I think everyone has been pretty cool so far, although Forkner put me off the track at Hangtown. But Austin and I have been racing for a long time and that is just kind of how he does things. Nothing against him, it was a fine move… I guess. It was for Nationals, the big league, and something that happens at times. He got fairly aggressive there, but I have actually not felt that much.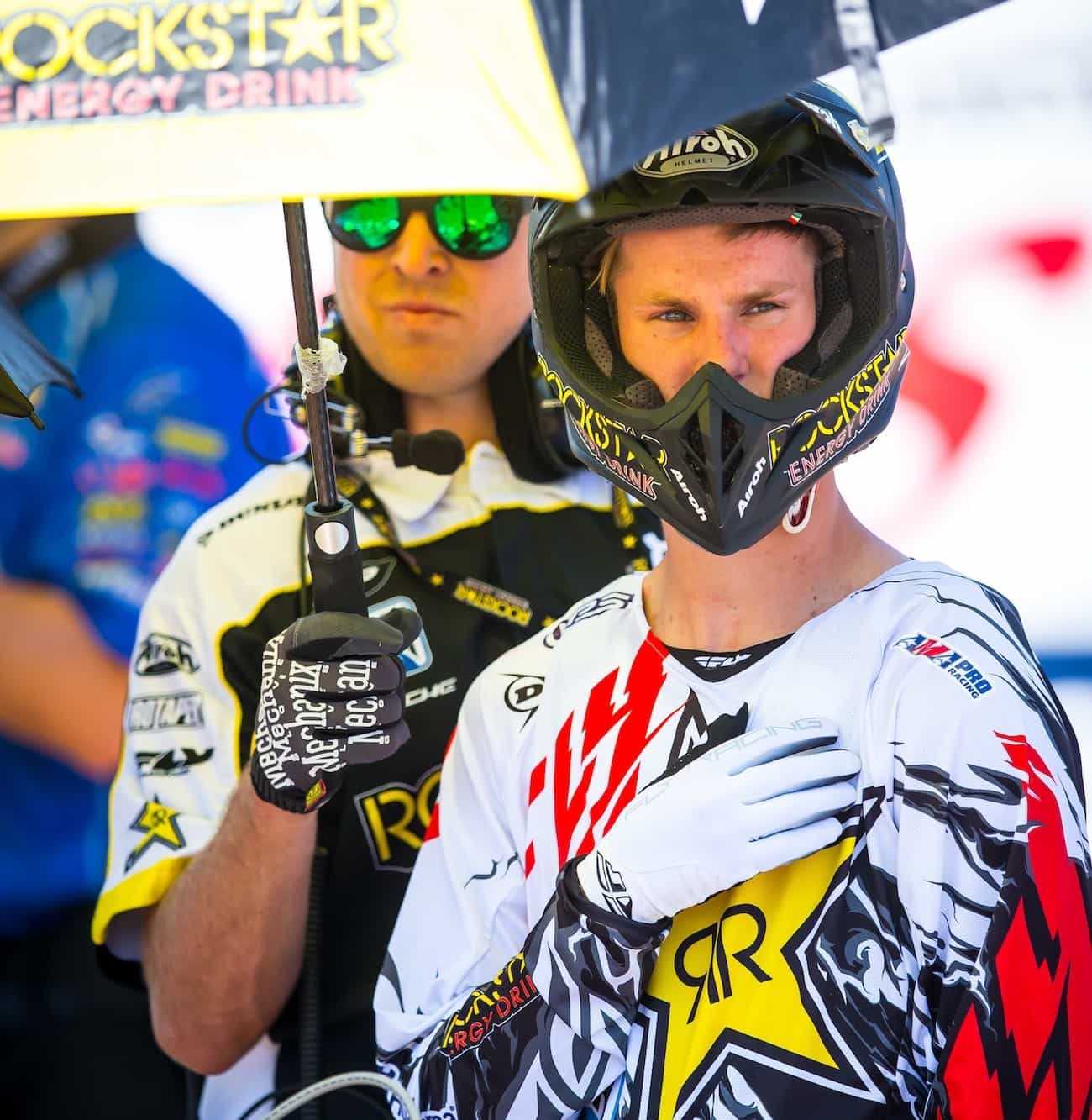 HOW IMPORTANT IS IT TO FINISH AHEAD OF SEAN CANTRELL FOR TOP ROOKIE HONORS? It is not the biggest deal. I want to be the top ten in the series, and I want to have some good results. It is not necessarily as though I am trying to outshine one person versus the next, but it is a little extra motivation. I know that teams get into it, and being rookie of the year is a nice honor. I do not have any beef against Cantrell, and I don't have any problem with him. We actually went through our whole amateur career pretty much together, but we never really talked much. We were somewhat friends when we were younger but competition separates people. Four months ago I came up to him at Glen Helen and asked if he would like to start riding together because there are not that many guys based out of California any more.  We have become closer friends, although we are not super tight. There is no reason to have any huge ego or any problem with him. He has never really done anything to me, and I have never really done anything to him.
WHAT IS YOUR GOAL THIS SUMMER; WHERE DO YOU WANT TO BE AFTER THE FINAL ROUND IN INDIANA? I guess I want to be top ten in points at the end of it and I want to be healthy. Just to ride, and to learn, and progress. As long as we are progressing week to week, I think we will be good. I don't have a ride for the future, so I need to think about that as well. I think just being consistent and being in there. I have to prove my worthiness to this team, and I think that so far so good, but you never really know.