MXA MID-WEEK REPORT: The 450 Tide Has Turned, Dungey Likes The Challenge, Wharton Improves, How The Top Ten Stack Up, Knee Brace Entrepreneur & Much More!

MOTOCROSS ACTION MID-WEEK REPORT
By John Basher

MXA'S PHOTO OF THE WEEK

ÿÿÿ
ÿÿÿ Justin Barcia had a series of unfortunate events at Freestone, but the promising young rookie has had an exciting outdoor campaign thus far. The Geico/Factory Connection/Honda rider has the speed and talent to succeed, but inconsistency and crashes have mired him in the point standings. Above, he took time out from leading the second 250 moto at Glen Helen to whip it sideways off one of the Saddleback humps.

MXA MINI-VIEW: RYAN DUNGEY


Dungey has held the red plate since Glen Helen. Can he hold it for the entire National series?

MXA: Ryan, are you satisfied with the way things have been going for you this outdoor season thus far?
Ryan: Yeah, I'm really happy with how things are going. I have a couple of overall wins under my belt so far. It's good too because there are a lot of new kids coming from overseas, and a lot of people over here. To really have a stacked class is good for the series, and my team and my bike are great. I'm glad to have two overall wins so far and also a third overall. I'm super pumped so far.ÿ

MXA: Are you caught off-guard at all by Frenchman Christophe Pourcel? The only time that you have raced him previous to the Glen Helen opener was at the Las Vegas Supercross shootout a few weeks before.
Ryan: To be honest with you, I didn't even know what to think. I only saw him race a few years ago when I watched the Motocross des Nations, so I didn't know what to think about racing him. My plan from the start was to see where everyone stood on speed, including him, and see how it all shook out after a few races. I didn't put too much thought into it. I wanted to get through the opening round and go from there. He [Pourcel] is definitely not making it easy, though! It has been fun, but also tough. He has been there every moto, and I'm just going to try and keep on top of my speed.

MXA: Now that the first three rounds are in the books, do you reflect on the races so far and see what you need to work on? Are there any areas of your riding where you feel that you need to improve?
Ryan: There's always something to work on. No matter who you are, you are never quite good enough. There's always room for improvement. It's tough too because we race Supercross almost the entire year. Sure, it helps to have a feel of the bike, but we don't ride motocross all year around. Motocross is fresh and it's fun. I've noticed that from the beginning of the National series the pace has been getting faster and faster.



Dungey has won two of the first three races, but he hasn't been able to complete a clean 1-1 sweep yet.

MXA: Is there any single rider that has caught you by surprise, either in the sense of being faster than you thought, or perhaps slower than you imagined?
Ryan: Everyone has been where I thought, but I remember how when I first turned pro I came in and struggled. Yeah, I had some success my first race at Millville, but the following Nationals I didn't do well. Now the kids who are debuting, like Justin Barcia this year, and Blake Wharton at the end of last year, are ready to go right off the bat. When I was about to turn pro I had about a month to ride and get used to my factory bike, but these kids have been riding and preparing on the same bikes all through the amateur ranks. There are the Canidae/Kawasaki and Geico/Honda teams that groom their riders to prepare for turning pro. I think it's a good way to help create a successful rider. It doesn't surprise me that guys like Barcia and Wharton are doing well right off the bat. Still, I was in their shoes at one point, and I know it's tough to jump into the pro ranks, so I have to give them a round of applause.

MXA: What is it going to take for you to win the 250 National title?
Ryan: Really I just need to work on staying focused and healthy. So far it has been a really fun series, and also a series that is stacked with talent. I'm just taking one race a time. We just finished round three of 12, so there is a long way to go. I'm going to put my head down and keep doing well.

MXA: In the back of your mind you must be imagining how it would feel to accomplish winning both a Supercross title and an outdoor crown in the same year.
Ryan: Winning both titles would be a great accomplishment. Winning my first Supercross title was alone a big accomplishment. I feel that I have carried that momentum over to the outdoors, and I'd like to bring that title home. It would be nice to have that balance and put it all together. Hopefully the better man wins at the end of the series. Winning would be great, not to mention that it also looks pretty good on your resume. It would be cool to have both titles going into next year.

MXA: Speaking of next year, will be racing a 450 in 2010?
Ryan: The plan is to be on a 450 full-time next year. I'm looking forward to it.

MXA PRESS RELEASE: COME AND RIDE WITH JAMES STEWART!

ÿÿÿ Have you ever wanted to spin a few laps at your local track with one of the greatest riders this sport's ever known? Well now's your chance!

ÿÿÿ James Stewart Entertainment and Red Bull are bringing you the ride day of ALL ride days on Saturday, June 20, from 8:00 a.m. to 2:00 p.m.

ÿÿÿ That's right, come on out to Milestone MX Park in Riverside, California, for unprecedented access to the newly crowned Supercross Champion, James Stewart!

ÿÿÿ The event is open to everyone.ÿ If you've been thinking about getting a membership to Milestone, this is the perfect opportunity as the gate fee is FREE for members (or free if you purchase a membership on June 20), as part of a "thank you" to the fans from James and Red Bull!

ÿÿÿ Additionally, lunch and cold Red Bull will be provided, as well as a limited edition James Stewart Ride Day t-shirt.ÿ Due to capacity restrictions, entry will be on a first-come, first-served basis.

ÿÿÿ Check this out!

ROGER DECOSTER SPEAKS: WHAT EXACTLY HAPPENED TO MIKE ALESSI?


Sometimes it seems that if Mike Alessi didn't have bad luck, then he would have no luck at all. Heal up, Mike.

ÿÿÿ According to Makita/Suzuki team manager Roger DeCoster, team rider (and current 450 National points leader) Mike Alessi could possibly be back racing at the last three or four Nationals (that would be either Unadilla or Budds Creek). This is what Roger had to say:
ÿÿÿ "Mike was operated on Tuesday morning. He suffered a broken left kneecap, but he doesn't have any other damage. The ligaments in the area look perfect. If everything goes well he might be able to race the last three or four races this year. He was practicing somewhere in Pennsylvania, I think it was at High Point, when he injured himself. He had been riding a few laps, went over a jump, landed sideways, went off the track, rode over wet grass, couldn't stop, and hit a fence. The impact caused the handlebars to turn tightly and he hit his kneecap on the handlebars."

MXA MINI-VIEW: BLAKE WHARTON


Blake seems pretty content with his outdoor season, since he keeps improving.

MXA: How would you rate your outdoor season thus far?
Blake: I think I've gotten better each round. It's going pretty good, and there are still a lot more rounds to go. I hope to keep improving at each round, and I feel that I'm getting better and better every race. My goal is to consistently be on the podium, like I was in Freestone in the second moto. The podium is where I want to be.

MXA: Did you accomplish your goals in Supercross? After all, you won a main event.
Blake: I had some ups and downs in Supercross. There were some rounds where I should have done better, and then others that I did really well at. Overall I would say that Supercross went well for me. I made it through injury free and I won that round in St. Louis, plus I got a third at another round. If I need to focus on one thing, it's being more consistent. Still, I finished fourth in the point standings and was really close to third overall.

MXA: Your outdoor season has been going fairly well, but in the second moto at Freestone it looked like everything clicked for you, and you finished third. What gives?
Blake: I felt good on that track. In the first moto I was doing well in fourth. I made a mistake in the last couple of laps and I went down. I lost the front end, which cost me a pretty good position. Regardless, it was nice to be battling with the front group. In the second moto I just took off and felt really good. The weather was really hot and the track got rough, which suited me well. I went back to Texas a week before the race and got adjusted to the hot weather, so I was prepared for how warm it was going to be in Freestone. What's funny is that I've only ridden on the Freestone track one other time before, but people think that I had a hometown advantage.



Is it difficult learning a National track in 30 minutes? Blake thinks so.

MXA: Has it been difficult adapting to all of the new tracks?
Blake: A lot of the tracks are new, including the one this weekend. I do notice that pretty much all of the tracks are kind of similar. They're pro tracks and they get rough. I think of all the tracks the same way, whether I've been there or not. It's a little tricky. Luckily I get there early so I can check out the track. Two 15 minute practice sessions isn't much time, but you do what you have to do.

MXA: What is it going to take for you to win an overall?
Blake: My starts are going to have to get better, and I can't make mistakes. I have little tip overs here and there. It's not something that I can't fix, but I need to minimize mistakes so that I can stay up front.

MXA MINI-VIEW: POD'S GEOFF MALONEY


ÿÿÿ Australian Geoff Maloney is the person responsible for developing the Pod knee brace. Distributed by Fox Racing, the original Pod knee brace came highly acclaimed by the MXA wrecking crew. It was surprising to discover that Geoff came out with a new knee brace, called the K700, so soon after introducing his first version less than two years ago. We caught up with Geoff to find out his background, ideas, and the future of Pod.

MXA: What gave you the idea for the original Pod knee brace?
Geoff: My background as a child was wind surfing, which gave me the idea for the hinge system. I also felt that there was an opportunity for a new knee brace and also a new hinge design. The key focus was to build the hinge and then build the brace around it.

MXA: Where did you come up with the idea of the non-mechanical hinge system?
Geoff: The inspiration for synthetic ligament and the polymer hinge system was drawn from the windsurfing urethane joint, which creates the connection between the board and the mast. That was the starting point. Actually producing a hinge and bringing that into a knee brace was an incredibly complex task.

MXA: You have just introduced your second generation knee brace, called the K700, which will be available to the public shortly. Why come out with a new knee brace so soon?
Geoff: The first generation was great, but we really wanted to refine the design. We've updated and essentially come up with an even lighter brace, which was very difficult. We have redesigned the hinge, changed the construction of the frame, and basically refined every single element of the brace.



The new K700 knee brace is the second generation offering from Pod.

MXA: You have also come out with five different sizes for the new K700 knee brace, whereas on the first generation knee brace you offered only four sizes. Why up the sizing options to five?
Geoff: We have really tried to get a custom fit for every type of person. We wanted to make sure that each individual could get a good fit from the braces. By reducing the incremental width in the brace it allows us the opportunity to achieve that custom fit.

MXA: What's the idea behind the K700 name for the new knee brace?
Geoff: That's a good question! Greg Fox and I were sitting in a meeting brainstorming ideas. ?K' stands for knee, and as for 700, we wanted to establish a numbering system in which we could build a range around.

MXA: Although many people probably don't know it, you've actually picked up and sponsor quite a few top name riders. Who are they?
Geoff: We've had a lot of riders helping in development, and now we're working with Justin Barcia and Josh Grant, as well as a number of freestyle guys. We're really making sure that this brace is proper for motocross, and the guys really seem to like it.

MXA: It must have been a long road to get from thinking up an idea to now having your braces distributed and sold in various continents.
Geoff: It's been exciting. From the original concept to commercialization of the product, it has been a long road! It might sound ridiculous, but the original plan was to get it in front of Fox. They're the number one motocross company in the world, and they didn't have a knee brace. Fox Racing is a family company and they are great to deal with. I have also been working with Bruce Parry, and he was the guy who originally spotted the first prototype.

MXA: Where do you plan on going from this point forward?
Geoff: I want to make sure that we build the best knee brace on the market, period. We need to make sure that all of the riders and the customers are happy and protected.

MXA: Thank you for your time, Geoff.
Geoff: Thank you.

ÿÿÿ For more information on the various Pod knee brace offerings, check out www.podmx.com.

MXA PRESS RELEASE: RED BULL X-FIGHTERS TEXAS
ÿÿÿ Freestyle Motocross Meets the Wild West in the Historic Fort Worth Stockyards on June 27



Mat Rebeaud was last year's champ. Photo: Garth Milan_Red Bull Photofiles.

ÿÿÿ FORT WORTH, Texas (June 10, 2009) ? The best freestyle motocross riders in the world, both veterans and emerging stars, are gearing-up to compete in Red Bull X-Fighters Texas on Saturday, June 27 in the Historic Ft. Worth Stockyards.ÿ

ÿÿÿ The final rider invitation list includes previous Red Bull X-Fighters winners Mat Rebeaud (Switzerland), Dany Torres (Spain) Robbie Maddison (Australia), Jeremy "Twitch" Stenberg (USA) and talented newcomer Levi Sherwood (New Zealand), who won Red Bull X-Fighters Mexico earlier this year. Also competing are Eigo Sato (Japan), Thomas PagŠs (France) and Andre Villa (Norway). Rounding out the field are Nate Adams (USA), Adam Jones (USA), Cameron Sinclair (Australia) and Rob Adelberg (Australia).

BRING YOUR COWBELL
ÿÿÿ Tickets can be purchased by visiting www.redbullxfighters.com. Three price categories are available – General Admission is "0; Grandstand Seating is 00; and Premium Grandstand Seating is data-src="/Console/CuteEditor/Images/1×1.gif" style="border: 1px dotted #000000; background-image: url(/Console/CuteEditor/images/flash32.gif); background-position: center center; background-repeat: no-repeat; background-color: #c0c0c0;" height="90″ width="600″>0.ÿÿ

ÿÿÿÿ The Texas event is the third of five rounds in the 2009 global series. What should you expect? Come ready to see the best freestyle motocross riders in the world in action, the largest competition course and highest-caliber elements ever created, rodeo queens, live bull riding, the iconic Dallas Cowboys Cheerleaders and all the authentic pageantry of a summer night in the Texas Wild West.



Robbie Maddison is coming off his first big freestyle win. Photo: Jorg Mitter_Red Bull Photofiles.

INTERNATIONAL DIRT LOVERS
ÿÿÿ The 2009 series kicked off in Mexico City, with the 17-year-old Sherwood stunning the sport with his win. Maddison won the inaugural Canadian stop in Calgary last month. Following the Fort Worth event, the series will head for Madrid's Las Ventas bullring, hosting its eighth-consecutive event, on July 16-17. The 2009 series finale will take place at London's Battersea Power Station on August 22.

ÿÿÿ Red Bull X-Fighters was created in 2001, debuting in Valencia, Spain at the bullring where the legendary ?Mad' Mike Jones claimed victory. Since that historic night, Red Bull X-Fighters events have taken place in the world's most legendary locations, including the famous bullrings in Madrid and Mexico City, Slane Castle in Ireland, the Sambodromo in Rio de Janeiro, a massive stone quarry in Wuppertal, Germany and the Stadion X-Lecia in Warsaw, Poland.

RAIN-FREE HIGH POINT RACE? KEEP YOUR FINGERS CROSSED!

ÿÿÿ

ÿÿÿ In the past the High Point National was held over Memorial Day weekend, which meant that it was almost always a guaranteed mud fest. However, last year High Point moved to the middle of June, and alas no rain. This year the Mount Morris race was placed in the middle of June (it's this weekend, folks!), and hopefully there won't be rain. Weather.comhas predicted that on Saturday the forecast will be partly cloudy, with a high of 77-degrees and 20% chance of precipitation. If you're looking for information on the event, click here.ÿ

LAW OF AVERAGES: WHERE THE TOP TEN FINISH

ÿÿÿ It's easy to determine who is doing well and who isn't by a quick look at the point standings. However, breaking things down into moto by moto scoring, where would the top ten finish? Take into account that Mike Alessi and Ryan Villopoto are out of the picture, meaning that Chad Reed is a full three points per moto ahead of Josh Grant. Meanwhile, Ryan Dungey and Christophe Pourcel are in a class all their own.

450 Class:


Chad Reed is in the driver's seat.

Placement/Rider/Average Points Per Moto
1. Mike Alessi – 23.6
2. Chad Reed – 18.5
3. Josh Grant – 15.6
4. Andrew Short – 15.5
5. Ivan Tedesco – 11.6
6. Dan Reardon – 10.8
7. Tommy Hahn – 10.8
8. Cody Cooper – 10.0
9. Justin Brayton – 9.5
10. Ryan Villopoto – 9.1

250 Class: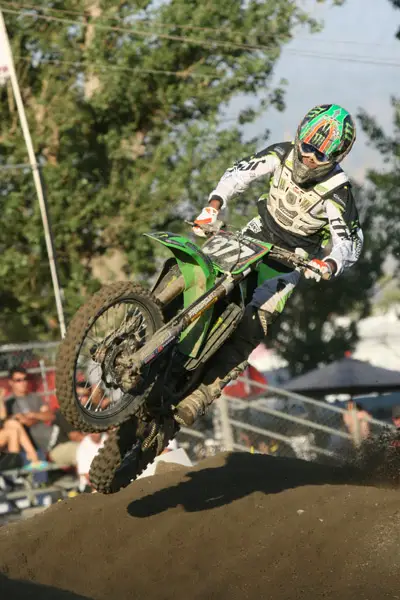 On average, Christophe Pourcel only finishes one point per moto behind Ryan Dungey.

Placement/Rider/Average Points Per Moto
1. Ryan Dungey – 22.1
2. Christophe Pourcel – 21.1
3. Trey Canard – 19.5
4. Tyla Rattray – 16.8
5. Brett Metcalfe – 15.8
6. Blake Wharton – 14.3
7. Tommy Searle – 13.1
8. Broc Tickle – 12.0
9. Jake Weimer – 11.0
10. Justin Barcia – 9.0

MXA PRESS RELEASE: LAS VEGAS ENDUROCROSS



MXA PRESS RELEASE: MOTO CONCEPTS HELMET HOOK



ÿÿÿ This lightweight, durable helmet hook will keep your dirt bike or street bike helmet safe and accessible. Inexpensive so you can mount more than one on your shop wall, garage, or race trailer.
ÿÿÿ The Moto Concepts Helmet Hook retails for
www.motoconcepts.com.

MXA PRESS RELEASE: INTERCOMP DIGITAL BENCH TOP ARBOR VALVE SPRING PRESSURE TESTER



ÿÿÿ Minneapolis, MN – Intercomp's new Digital Bench Top Arbor Valve Spring Pressure Tester measures spring pressures up to 1,500 lbs/700 kg.ÿ The user configurable, digital readout displays spring pressures in 0.2 lb increments to 999 lbs and in 1 lb increments from 1,000 to 1,500 lbs and a digital travel indicator is standard.
ÿÿÿÿ This bench top tester is machined from solid 6061-T6 Billet Aluminum and offers 5 inches of travel capacity and a 3.5 inch diameter spring pad.ÿ Billet Adjustable Stops allow for various predetermined spring height settings on the fly, and handle length adjustments are also available.ÿ The unit is fully anodized in a "hard anodized" black finish and features a comfort grip, ball handle, for improved accuracy and ease-of-use.ÿ
ÿÿÿ This tester is extremely durable and weighs in at a solid 20 lbs and is ideal for mounting in a trailer, shop or is completely portable.ÿ Power is provided by a single 9-volt alkaline battery and the display is backlit for night use.
ÿÿÿÿ For more information, contact Intercomp's Motorsports Team at 800-328-3336 or Worldwide 763-476-2531, fax 763-476-2613 or write Intercomp, 3839 County Road 116, Medina, MNÿ 55340.ÿ Contact us by E-mail at [email protected] visit us on the web at www.intercompracing.com.

CONGRATULATIONS ARE IN ORDER: WEDDING BELLS



ÿÿÿ I'd like to congratulate my good buddy Eric Carr, who married his longtime girlfriend, Jessica, on May 30th in Western New York. The wedding went off without a hitch, and the happy couple went to Jamaica on their honeymoon. Eric is a longtime moto head and a two-stroke diehard. He has also been known to get his bike stuck in the mud at Silver Springs from time to time.