MXA MINI-VIEW: COOPER WEBB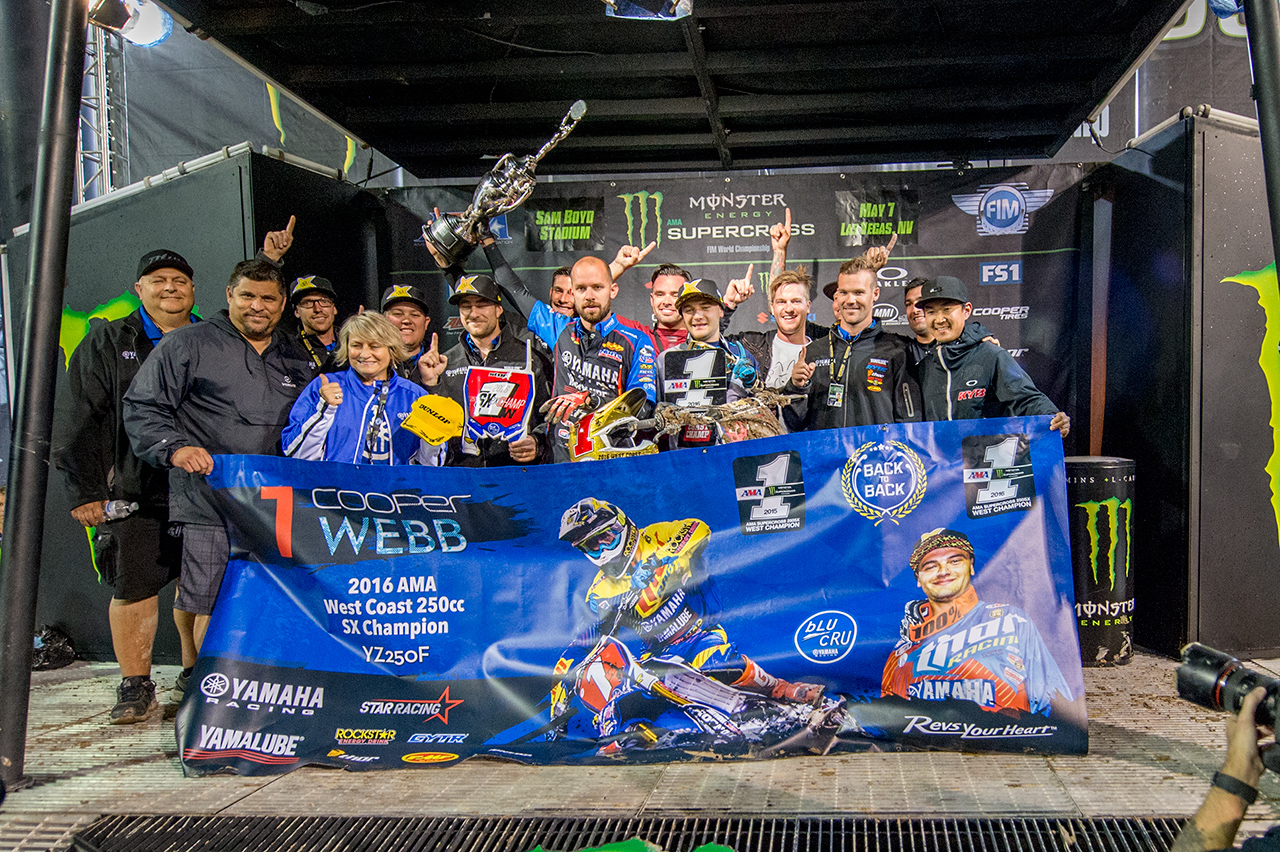 Cooper Webb defended his 250 West Supercross title in 2016, despite a broken wrist.
Do you have any final thoughts on Las Vegas now that you've had time to let it sink in? It was good. I was able to win the championship, which is obviously good. Vegas turning into a mud race, which was definitely strange and not what we were expecting at all. Coming into Vegas with a fractured wrist also wasn't ideal, but we did what needed to be done. I won my second championship.
How did you break your wrist? I had a bike malfunction, endoed, got stuck on the bars and landed on my wrist.
What is the story behind the brace? Mobius makes the brace. Ryan Villopoto called me and told me about it. He hurt his scaphoid a few years ago and Mobius helped him with a brace. The brace I have is just a prototype and not even in production. They (Mobius) are just getting started on it. They asked me if I wanted to wear it, as they felt like it would really help my wrist. It does. I wore it right away and it has helped. We are still trying to improve it, but Mobius is still developing it. I am just the test dummy.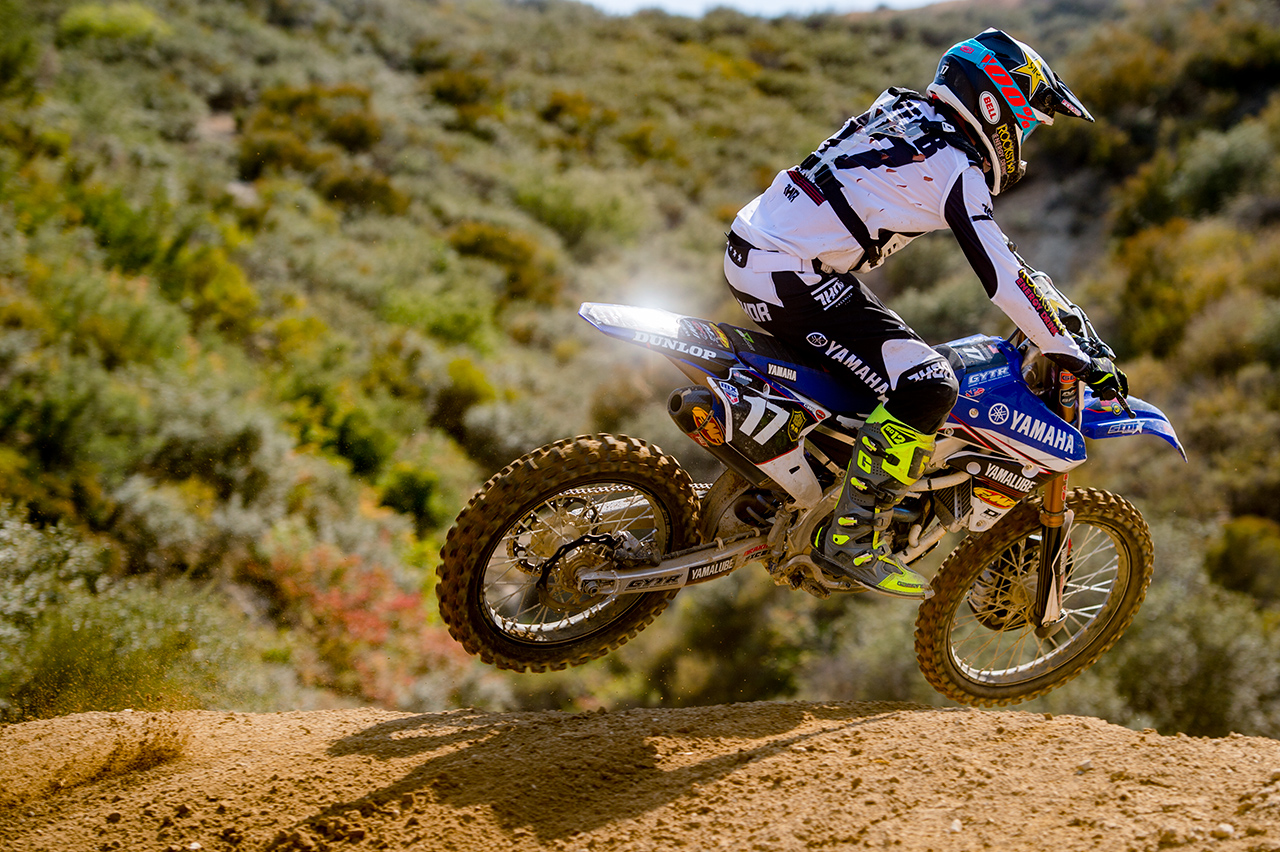 Webb won the first moto at Glen Helen.
Has your bike setup changed a bit? It has changed quite a bit. We actually are running spring forks now. We changed some gearing and some engine stuff, but overall I haven't really done much testing. Originally I started testing after the Dallas Supercross, but we hadn't really been riding any motocross since then. With my wrist we haven't really changed much from two months ago. Each race day we are making little changes here and there where we need to. Overall the bike already is really good.
What are your thoughts on Hangtown? Hangtown was good. I qualified well. In the first moto I felt like I let third get away from me, but it was still a really good race. We weren't far off the leaders and I was right there battling with Jeremy [Martin]. The second moto I got a really bad start but came through the pack really well. I rode way better in the second moto and really put my head down to come back for fifth. I was stoked on that, especially after the terrible start I got. I was pretty stoked to be on the podium. I wasn't expecting to do that after only riding one day before Hangtown. It was nice to be on the podium. We are looking to get better as the season goes on.
You have practiced at Glen Helen quite a bit. How well do you know this place? I've been in California for about three years, so I feel like we've done a good amount of laps here. While I didn't race the National here last year, I did in 2014 and I raced the GP last year, too. While it looks like the jumps are different, the layout is similar. This is one of the tracks I enjoy racing and I feel like it fits my style a little better. Regardless, all of the guys have done plenty of laps here and everybody has tested here. Usually the track is very different on race day. It is definitely one of those tracks I come to that gives me a special feeling. I do well here.
Cooper Webb took third place at the USGP last year at Glen Helen.
Are you doing the GP here this year? I'm not sure yet. I'll do the Charlotte MXGP for sure, but that is about it for right now.
Are you going back to Australia this year? I'm going over to Australia again for the Sydney Supercross AUX Open. That should be exciting. We actually just announced it, and I am looking forward to it. I had a really good time last year. I want to go in this year with a little more preparation. By then I will be full-time on a 450, which will be nice.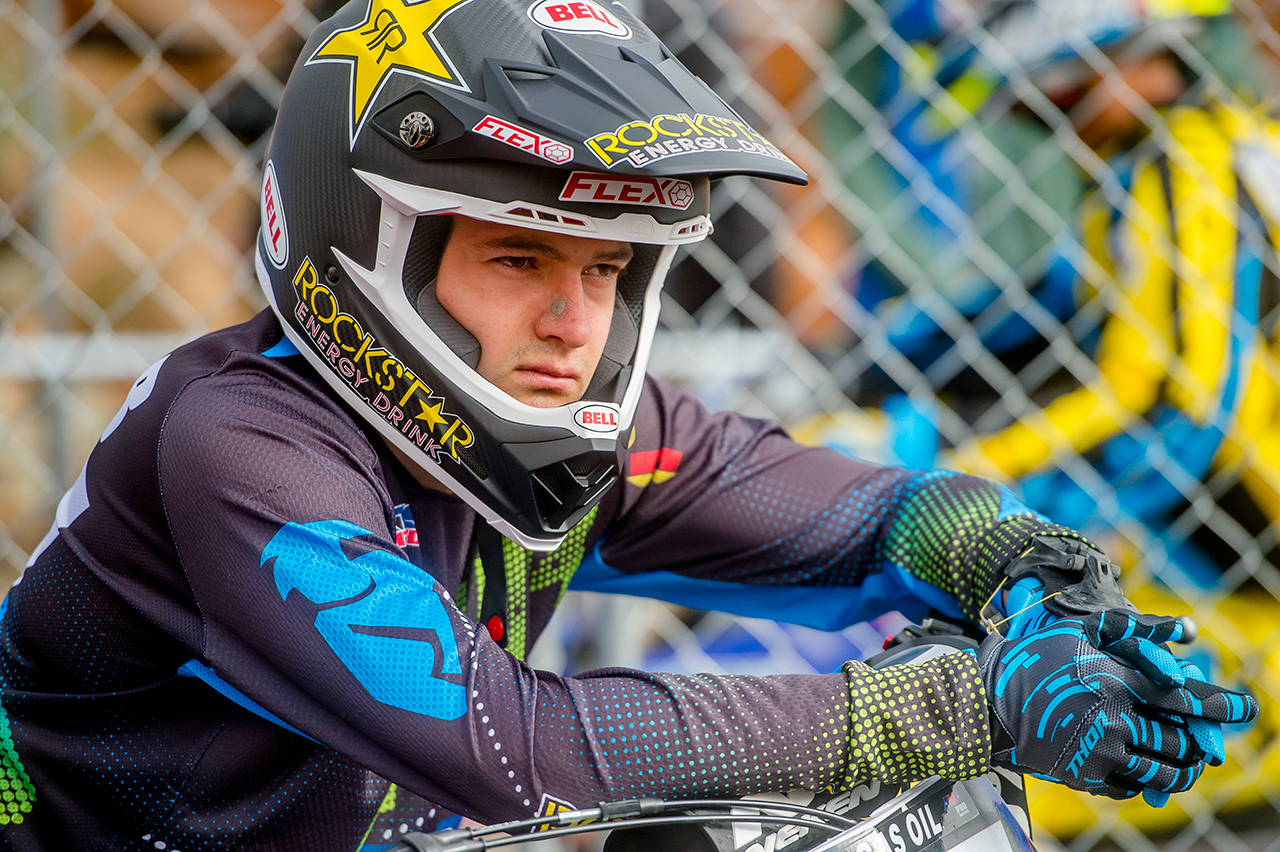 Notice the Mobius wrist brace, with the cables, on Cooper's left wrist. 
Have you been working or riding with Chad Reed a lot yet? No [laughter]. I like Chad a lot, but I am still focused on the team here at Star Racing, training with Gareth Swanepoel and trying to let my wrist heal. I didn't even think I would be racing outdoors, so I'm really glad just to be here somewhat healthy.
Do you hate to lose or like to win more? I like to win more. It is kind of the same thing, but winning is always better than losing for sure.

Cooper Webb and teammates Alex Martin and Jeremy Martin swept the Glen Helen podium.