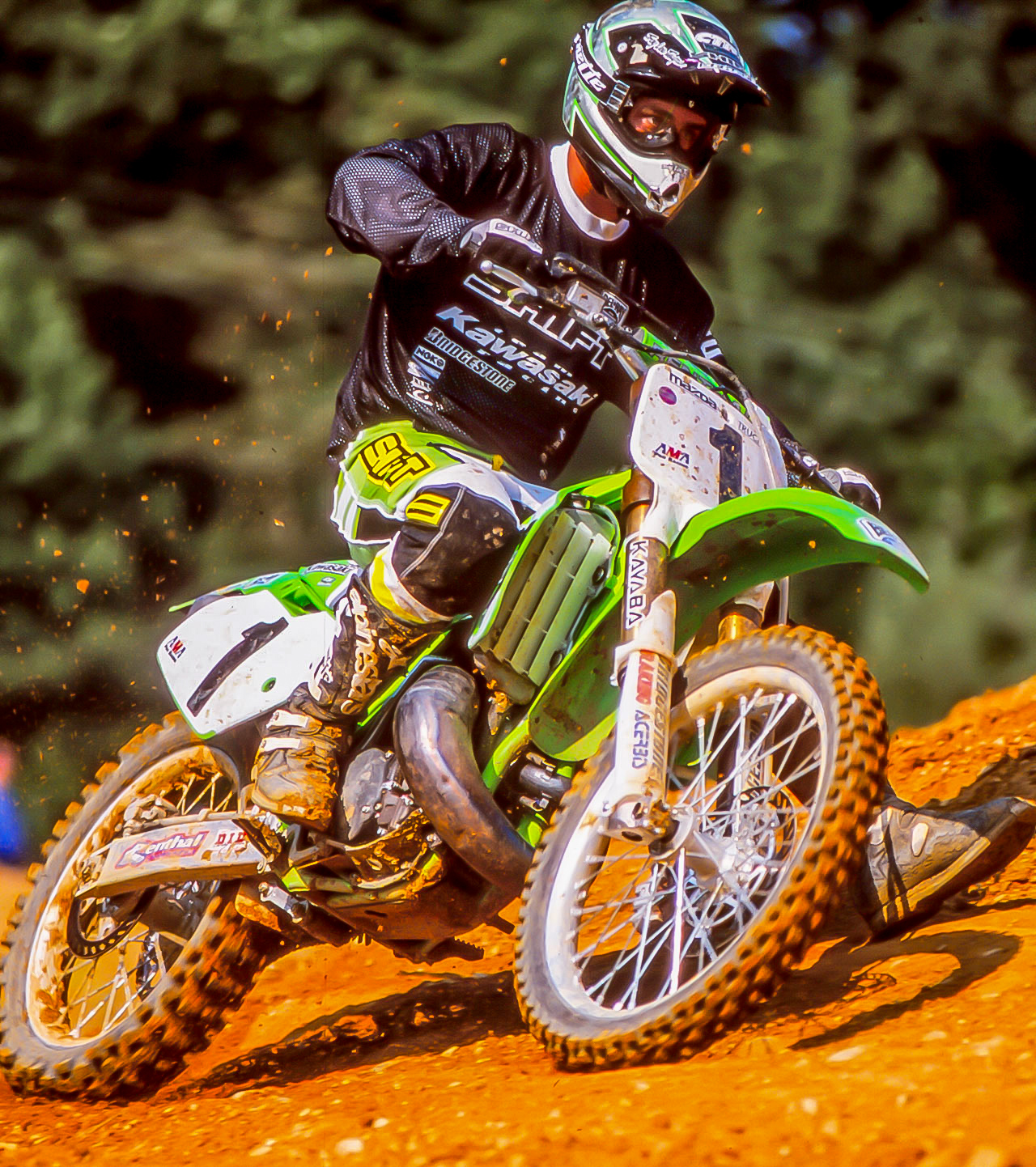 Jeff Emig in 1997.
Jeff Emig is a four-time AMA Champion. Emig was the only rider to break Jeremy McGrath's 1996 Supercross streak by winning the St. Louis round. He went on to win the 250 National Championship that year. Jeff also won 125 National title in 1992 while racing for Yamaha. His prime years were on a YZ125 and KX250, but Emig recently became a brand ambassador for Husqvarna. He is a commentator/announcer for AMA Monster Energy Supercross and still represents Shift MX. 
How long has it been since you retired? Well, the last time I raced a professional event was November 30th, 1999. It has been a while. I technically retired in 2000, because I was going to race the 2000 season, but breaking both wrists cut that short. Four month later I broke my back and injured my leg and that was that. I called it a career.
Didn't Kawasaki fire you at one point? Yes. I got into some trouble in 1999 and Kawasaki let me go. That's when I jumped on a Yamaha, formed my own race team and finished my racing career that way.
Emig is now a brand ambassador for Husqvarna.
You were best known for riding a Kawasaki, so it's going to take time adjusting to you now riding a Husqvarna. Since 1980, when I was a little guy on mini bikes, I only rode on Yamaha and Kawasaki. Husqvarna is only the third brand I have ridden since then.
What Husqvarna models have you ridden since you joined as an ambassador? I've ridden the FC450 four-stroke and the TC250 two-stroke. I have the most time on the TC250. It's a brand new model this year and really fun to ride. It is exciting to ride a two-stroke again. It's something different, too. I will be on the 450 also, so I have the choice. The line has three different four-strokes and two different two-strokes for moto–the 125 and the 250–and that is not counting their great line of off-road bikes. Hopefully I will get the chance to ride them all someday.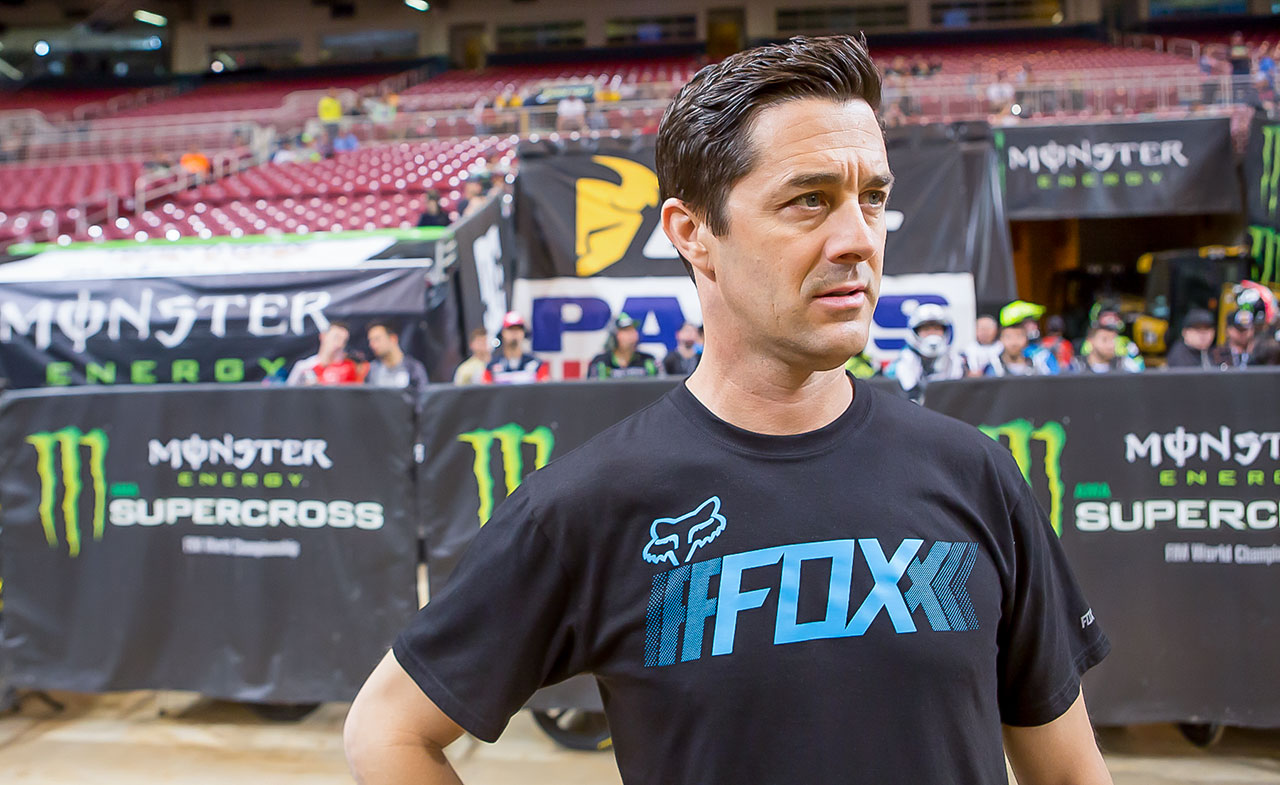 Jeff Emig is still very involved in Supercross as an announcer.
Will  you keep your Husky stock or are you going to try aftermarket parts? For me, where I am at, I don't need much. I am thankful the bike is pretty good stock. Obviously I want to make a few tweaks to the bike to make it my own and to suit my riding style and technique. I'll do some work on the suspension and probably throw an FMF pipe on it. Other than that, throw some ODI bars and a pair of Emig V2 lock-on grips.
Is it true that you're racing the Vet Motocross des Nations at Farleigh Castle this year? Yes. It is not an official FIM Motocross des Nations, but it is a veterans race that has the structure of the MXDN. I will be riding that event. It happens to be the first weekend in September. I haven't been there before, but everyone says it is a blast. Everyone who has raced it loves the event. There are tons of spectators and tons of old vintage motocross bikes. I think that the most current bike you could ride is a 1989 model, so you are talking almost 20 years of performance difference from where we are at now. Shoot, it is more than that! Closer to 30 years of a difference in the bikes. It should be a really fun event.
Your linguistic skills are much improved since your racing career. [Laughter] Oh yeah, definitely. Any interview I would have done back then, and even 10 years ago, pales in comparison to where I am at now. A lot of hard work, passion and dedication goes into what I do. I am fortunate that these projects, like the one announcing the MXGP in Maggiora, Italy, come my way. I also get to ride motocross, travel the world, meet new people and do cool things. Sometimes I get to ride and sometimes I get to talk. It is all part of extending my career and my legacy.
Looking back at your career from a distance, what was your most memorable race? You are talking about a lifetime worth of races. I'm 45 now and I've even had races as a veteran rider at places like Loretta's that have been memorable. There is no doubt that winning the AMA Supercross Championship in 1997 stands out in my mind. Some of the Motocross des Nations events are up there, too. I feel so blessed to have been a part of that and to have those memories. Maybe five or ten years ago I would have picked one out, but as I get older all of them start to blend together to make a career. The fact that I am involved with Shift MX, do the broadcasting for Supercross and work for Husqvarana allow me to still be involved in the sport that I am passionate about. I love being around the people. I love the activities we have. If I were to look back, I don't think I can pick just one.
Emig's glory days in 1997.
What are your thoughts on the 2016 AMA National season? The 2016 championship has been insane. I think that outside of Ryan Dungey getting hurt, the 450 class has been really exciting. It is great to see Ken Roczen and RCH Suzuki finally getting things together. It looks like they could be on their way to a National Championship. Eli Tomac has been coming on stronger. The 450 class has been great, but the 250 class is exceptional. To me, Cooper Webb is finally getting his program together and closer to where his potential is. Alex Martin has been a great story. I find myself cheering for him. There is no doubt that Austin Forkner is expected to win. Now he has a moto win [Washougal]. The fact that Austin struggled like he has to win, is a credit to the level of the veteran riders that are currently in the 250 class. I really think a lot of Austin Forkner. He is an exceptional talent. For him to take a while to get that first moto win says a lot about the competition.