MXA MINI-VIEW: JEREMY SEEWER
Click on images to enlarge
Jeremy Seewer whips his RM-Z250 at Glen Helen.
Jeremy Seewer has worked his way up the ladder. His first year in the GP series was 2012. He debuted in Belgium and finished 18th overall. Before long he was moving toward the front. In 2013 he finished 27th overall. In 2014, Seewer raced every round and finished 10th overall. Last year Jeremy finished fifth in the overall championship, only to top it with second overall this year. 
How long have you been racing? I started when I was seven years old. It was just a hobby in the beginning. I went to school until I was 18 to 20 years old. I have been a full-time Pro for two years now.
How old are you? 22. Next year will be my last in MX2.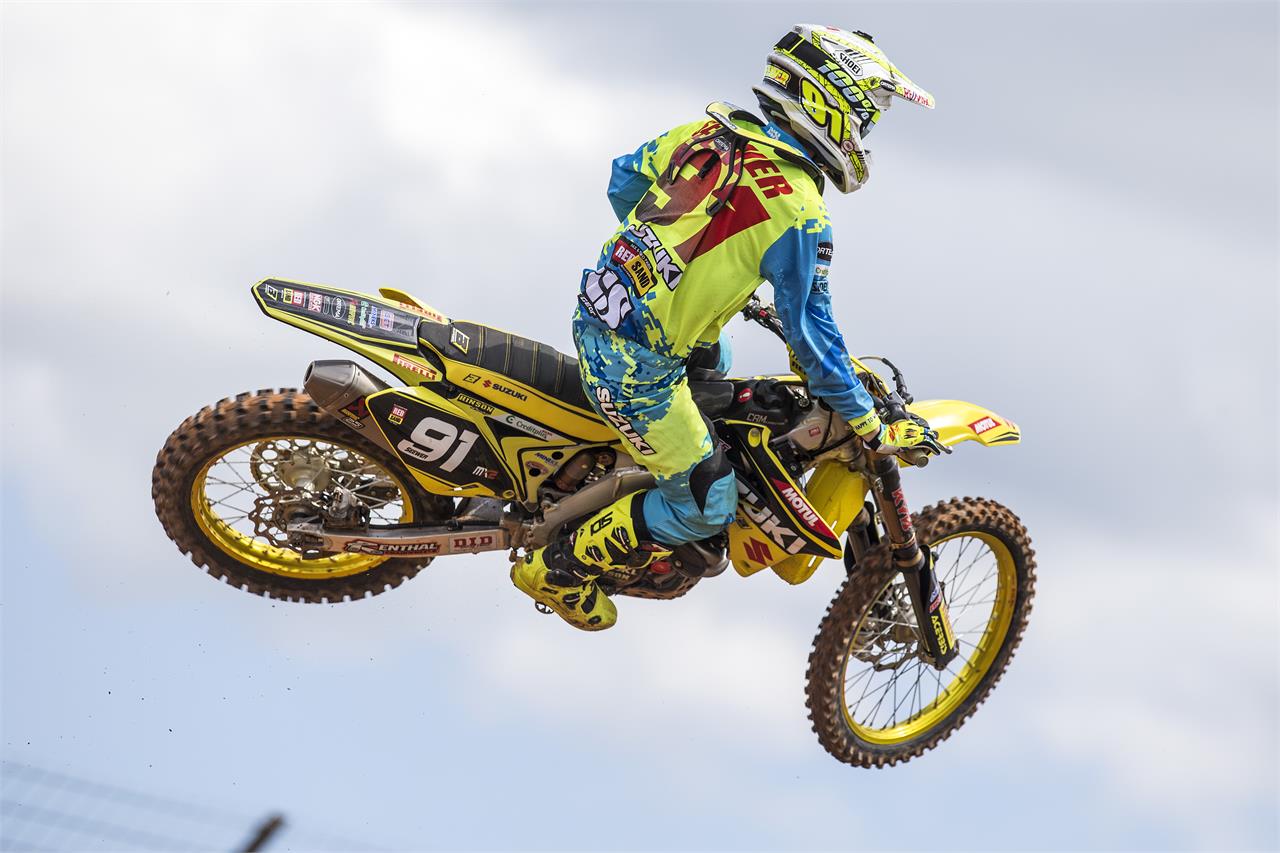 You must be hunting for the championship next year? Yes, of course. My goal is to be a contender for the title next year. This year the goal was to be in the top three. We reached that goal.
In your mind what was your best race this season? Switzerland. It was the home GP, the home crowd, and next to my house. It was really special and emotional. I had two good motos, but sadly finished second overall. I just couldn't win. Still, it was the best GP for me.
What is your least favorite track in the circuit? That is a hard question. I really like Saint Jean D'Angely.  It is always a really nice track to ride on. I like Argentina, too. It is a pretty good track with nice jumps, good flow and nice ground. There are a couple of tracks which I love actually.
Do you prefer sandy or hard-packed tracks more? Something in between. Not too hard and rocky also not too sandy. Something in between with some ruts. Not too easy but not too rough.

Have you ridden a 450, and if so, do you prefer it? I don't know. I never have really tried a factory 450. I think my riding style fits a 450. I am not revving the bikes and I am quite smooth, so it should fit a 450. I will find out soon.
Would you rather race a two-stroke or a four-stroke? I really love the two-strokes when I was riding the 125. You just have to rev it and be active on the bike. You try to get all of the horsepower out of it. That was so cool. Nowadays it is all about four-strokes. There is not as much time to think about a two-stroke anymore in a professional motocross life.
Do you make a lot of changes to your bike from stock, or just a few? It depends. I usually like to keep the bike the same for the whole year because then I know my bike. We also test a lot and change a lot. If I am not happy with the suspension we try to figure out why. We try to make changes on the weekend. We do some changes, but not too many. It can confuse your life.
Do you take a break when the season is over, or do you go straight into testing? It just depends on Japan–how they bring the new parts and when they are ready to test. That determines if I take a break right after the season or if I test first and then take a break.
Do you follow a strict diet? It's not really strict, but I do watch what I eat. I am not going to go to Burger King or whatever. We do have to watch what we eat, especially on the weekends, so we are fit to preform.
Do you envision yourself riding and racing after your career? I don't know. I haven't thought out that far yet. I take it year by year. Race by race. What I am going to do or how I am going to end up after my career I don't know.