MXA MINI-VIEW: MITCHELL OLDENBURG
Mitchell Oldenburg takes flight at the Glen Helen National.
Mitchell Oldenburg has been racing professionally since 2013, originally as a privateer aboard a Honda CRF250. Mitch was picked up by Jimmy Albertson's ARMA Energy/Motosport.com/Yamaha team for the 2015 Supercross season, and earned a five-race deal with Troy Lee Designs KTM team to replace the injured Darryn Durham before Hangtown last year. His performances were good enough that the team signed him for the rest of the 2015 AMA National season. He finished the series 16th in the standings.  This year, Mitch raced the 250 West series for the Troy Lee Designs team, and landed in a respectable sixth overall. In combined points between the East and West, he had was tenth. Meet Mitchell Oldenburg.
What are your thoughts on the season so far? It hasn't been the greatest, but not the worst, either. I've had some good motos and I've also had some bad motos. Hangtown went really well. I went 11-10 for tenth overall. It was probably one of the best outdoor races I have done so far. Still, I really haven't done a full season.  Last year, I made about 80 percent of them. I had some bad luck in the first moto at Glen Helen and also in the second moto at Colorado. Stupid stuff happens. I ended up going down on the start at Lakewood, but my first moto was really good there. I came from pretty far back to ninth and I felt strong the whole moto. I'm putting in more work and getting ready for the rest of the season.
At Thunder Valley it seemed like you had to work your way back into the mix. My start wasn't that good. Actually, it was okay, but I got pushed off in the second turn and was passed by, like, 15 dudes right away. I had to play catch up. Luckily, I have been working really hard and my fitness is probably the best it has ever been. I wouldn't say we are where we want to be, but we are getting close. If I just keep plugging away and putting the work in, then the results will come.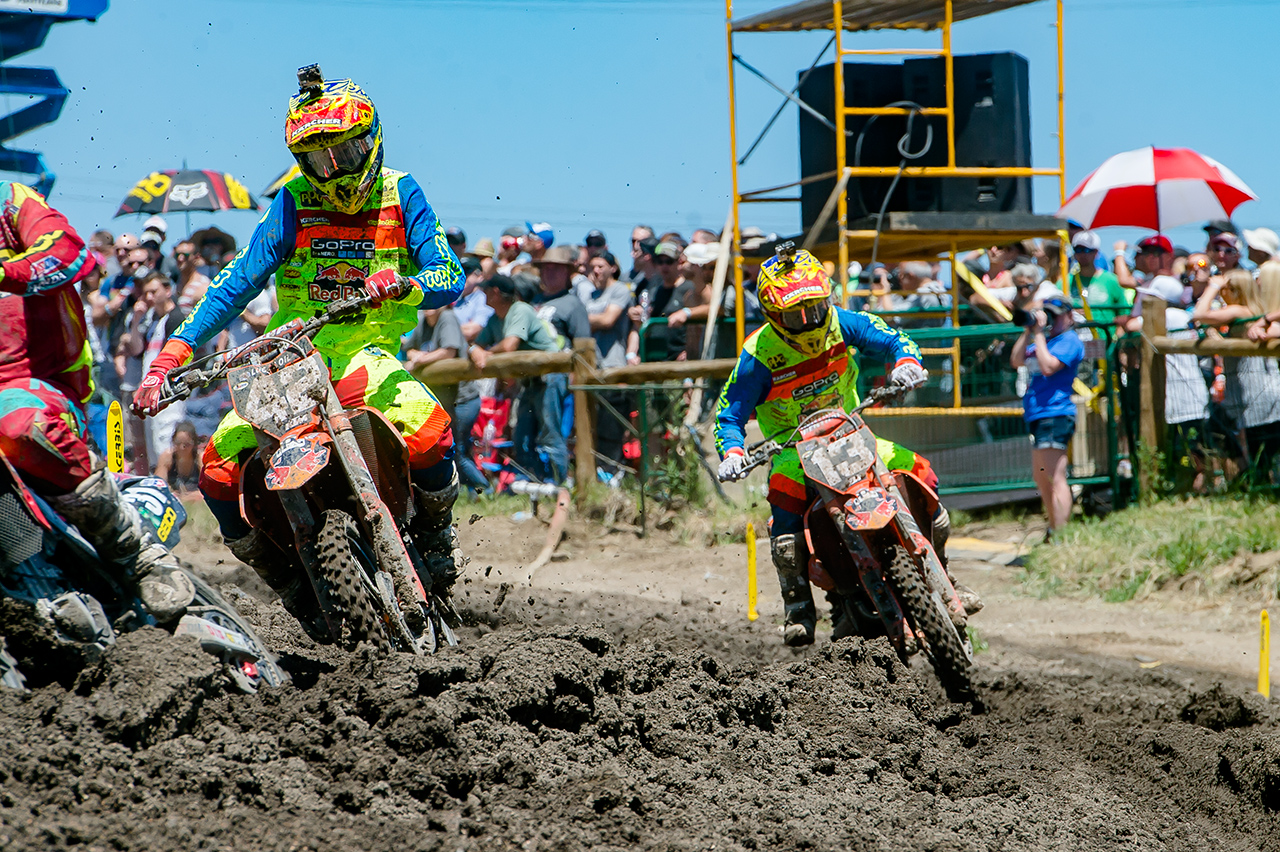 Mitch Oldenburg and teammate Jessy Nelson at Thunder Valley.
Did the thin air effect your riding? This was the first year where I've actually felt the altitude, although I wouldn't say it effects the riding too much. The bikes are obviously slower, but just feeling-wise, I could tell we were at a higher altitude. I was just a little sluggish, but we train during the week so when we get in conditions like that we are ready for them. It is definitely not at sea level, but the conditions are the same for everyone.
What is your perspective on Alex Martin not being able to start his bike at Colorado? I wasn't too pumped on it, because he caught me and passed me on the last lap, but man he is hauling right now. Really, everyone is hauling right now. It's a stacked class this year, but it's also pretty cool. All of the guys I grew up with racing in the amateurs are now the top guys. It opens my eyes a bit to say I can do it too, because I have raced them for the last ten years. I have to be patient.
Oldenburg scrubbed into the back canyon at Glen Helen.
Where exactly are you from? I'm from Minnesota, but I moved to Texas in 2007.
Unfortunately the Troy Lee Designs KTM team has had a bad streak of luck. I don't wish that upon any of my worst enemies. It stinks, but it's motocross. The bad part is that it does happen. There is no "if" it is going happen, but when. We try to be the most prepared we can for it by staying as fit and flexible as possible, so when we do hit the ground, it's not catastrophic.
Originally you were only doing a few races this season, right? I was supposed to do the first two and then just be the backup rider. Right now we are still working some things out. I raced High Point and Muddy Creek. Either way, I'll be ready to go. If I am not racing, then I'll be training and ready to race just in case they want to bring me up. I can't let what I've gained this year go to waste. I don't want to go backward, so I'll have to keep plugging away and putting the work in. If I get to race, then that's awesome. If not, I'll be ready when I do get to race.
MITCHELL OLDENBURG 2016 AMA 250 NATIONAL RESULTS:
Hangtown – 10th place (21 points)
Glen Helen – 18th place (9 points)
Thunder Valley – 16th place (12 points)
High Point – 6th place (28 points)
Muddy Creek – 11th place (22 points)
Current standing…11th place (92 points)