MXA MINI-VIEW: TIM GAJSER
Tim Gajser races at Glen Helen for the season finale.
Tim Gajser is the 2016 MXGP 450 World Champion. Last year he won the 250 World title and is the first rider to win a 250 championship and win the 450 the following year since Greg Albertyn did in the early 1990's. The 20 year old has been racing in the GP series since 2014.
In his first year he completed the series fifth in the 250 class. While last year's championship was a close battle between Gajser, Pauls Jonass and Max Anstie, Gajser secured the title by finishing fourth overall at Glen Helen last year. He finished the 2015 season 25 points ahead of the competition at a grand total of 589 points. Gajser would start the 2016 season with a bang, winning his first 450 MXGP career race. As the season wore on, his consistency couldn't be matched by anyone, including eight-time champion Antonio Cairoli. He would wrap up the season one race early at the MXGP of the Americas in Charlotte, North Carolina.
Where did you grow up? I was born in Slovenia. My dad (Bogo Gajser) was a racer, and when I was 2-1/2 years old he put me on a bike for the first time. I started out like that.
What is your native language? Slovenian. It is very different compared to the English language. We live in the Southern part of Slovenia and Europe overall. Many of the countries speak quite a similar language, but it still is different. You guys don't understand much.
Matevz Irt is the only other Slovenian I can think of that won a GP championship. Also Klemen Gerčar. He was the MX3 champion. Not too many from our country are near the top.
Charlotte was the race where Gajser wrapped up the championship. Photo by Massimo Zanzani
Would you have raced the 500 class had you been racing in the two-stroke era? For sure. Actually, I was racing a 125cc in 2012. I also was the Champion that year. I also was the Junior World Champion. I really like two-strokes. I was riding them for two years, in 2011-2012. For sure the 500 two-stroke is a monster. I haven't tried one yet but I would like to.
Have you ridden the 2017 CRF450 yet? Yes. We were already testing it in the beginning of August. I have already done some test rides, but we didn't want to risk the last couple of races with a new bike. BoBby (Evgeny Bobryshev) had raced the bike last weekend in Charlotte. I want to wait a bit longer and test it more. I want to be sure we are ready for the next season on the new bike.
Tim Gajser blows through a corner. This was a prime passing spot at the USGP at Glen Helen.
Are the rumors true that you will come over next year and try some Supercross? It is like that. We will race the Monster Energy Cup for sure. Everything after that depends. I would like to race some Supercross. It depends on how the testing goes. I would also like to do some outdoors, but we will see. I need to talk about it with the team. There are so many rumors that I'll come over to the US. For sure that is my dream. I would like to do full-time here, but I want to wait a little bit longer.
Will you come to the US after next year? It depends. We will see how I feel after the year is over. I will go over it with my dad. He is my trainer and we will decide together. I have a contract with Honda, but they left it open to whatever I want to do. If I want to stay in Europe I can do the MXGP season or if I want to race in the US that is open, too. They gave me open hands. It is my decision.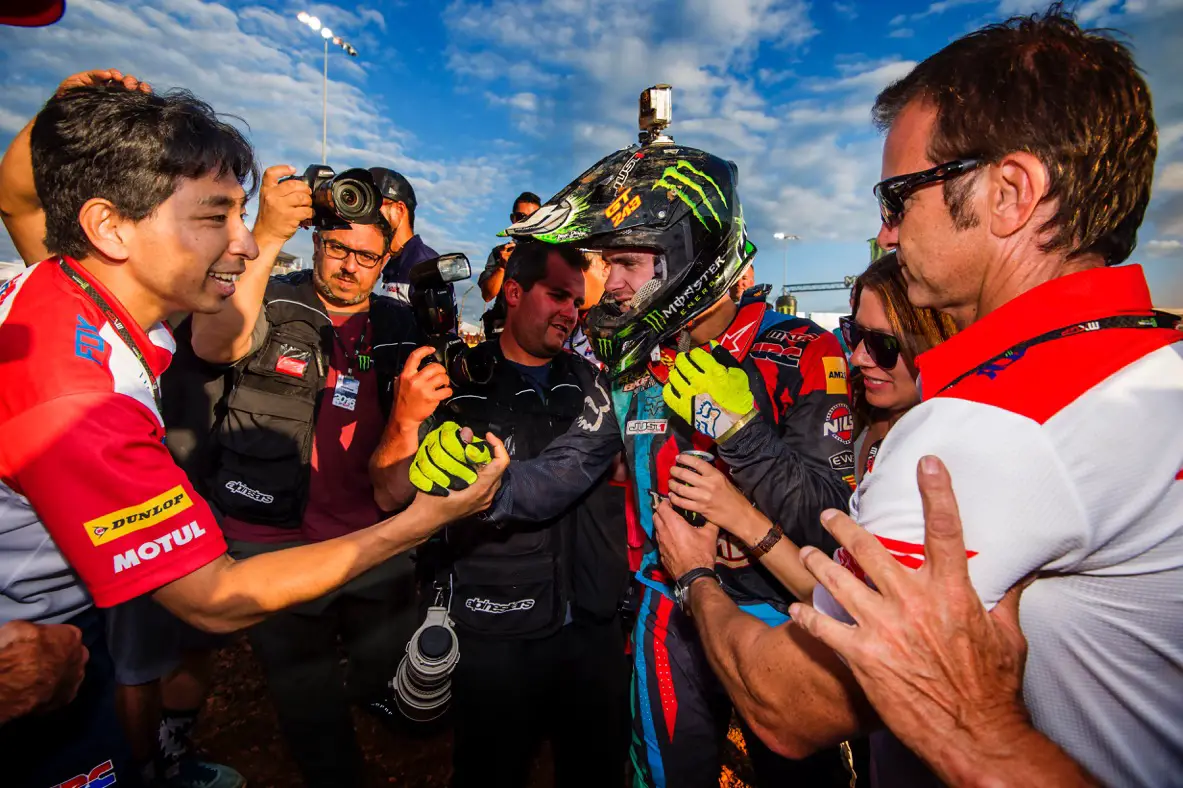 The press throngs Tim Gajser as team members congratulate him. Photo by Bavo/Honda Pro Racing
Is your dad a dedicated racer, too? All the time. I spent all my time with him at the races and at the track. He is still racing. He did a Veterans World Race in Assen. It was good for his age. He is still fully connected with motocross.
When did you first realize that you could go Pro? The dream was always to become a pro racer. I first realized that when I was the 65 Champion back in 2007. Yes, 2007 was nine years ago. I was on a KTM 65SX. When I was five, six, and seven I was riding motocross, but when you are a kid you don't train. You don't take the training seriously as you are just having fun. You are just riding around the track. I was also playing football pretty well. Judo, too, and I was skiing. I tried many different sports, but in 2007 I quit everything else and focused on just motocross. Now I am a World Champion.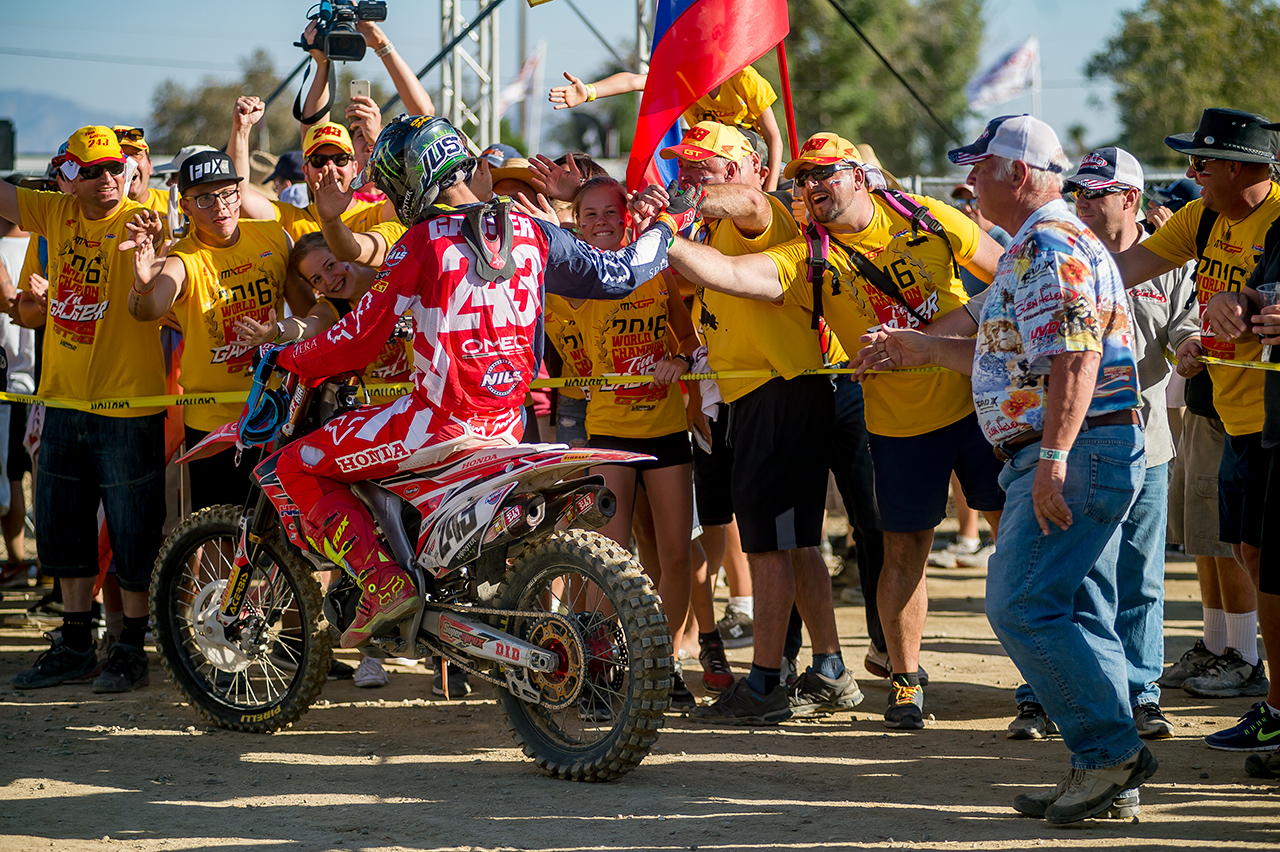 Plenty of Slovenian fans came over to the USGP to cheer on Tim Gajser.
Are you famous back home? Yes. Everything started last year. When I became the champion of the MX2 class. This year was unbelievable. The popularity of this sport is growing so much. Actually, before most of them didn't know much because our country is mainly in the Alps. The winter sports are more popular out there. Motocross and most motorsports aren't well recognized. Now in the last two years it is unbelievable how the sport has grown in popularity. The people have really started following the sport and also following me around to the races. At both the Valkenswaard and Mantova GP's there was 1500 people from Slovenia. They went to their bosses to take the days off, they booked the tickets. It is unbelievable that so many people from your own country come to cheer for you. You really see that you are working towards something good for your country and it is a big honor.
Being up in the Alps, have you ever raced with ice studded tires? No. I haven't tried that. I was riding in the snow and on the ice with normal motocross tires. It is really funny, you know? You can turn really low and lay down the bike. It is nice. The type of snow depends on the wind. South winds and north winds produce different types of snow. Sometime the snow is really hard and wet, and other times it is soft and fluffy. There are times it will be raining so the snow is really wet, too.
Gajser celebrated after winning the 2015 250 World title at Glen Helen. Photo by Massimo Zanzani
Any takeaway from last year's championship race at Glen Helen that will helped you this year? I think the most important thing is to go out there and have fun. The key is to enjoy the race. If you do that then you will do well for sure. Without the pressure you can stay relaxed.

How did you celebrate this year's Championship? I didn't drink, like nothing. I had a little bit of champagne last weekend in Charlotte when I won the title. After the race I went back to the hotel and called my girlfriend. I didn't party too much. My father and team were out partying a lot. For myself I will wait until I am back in Slovenia.