MXA MINI-VIEW: TYLER BOWERS
Tyler Bowers is a native Californian and has been racing since he was a kid. After moderate success as an amateur, Bowers moved into the pro ranks. 2008 was a breakout year as Bowers finished the 250 East Supercross series sixth overall and won his first 250 Arenacross race. In 2010, his focus was locked on the Arenacross Championship. An injury ended his season prematurely. Bowers would win the title the following year. With 72 Arenacross wins, Bowers won the AX Championship from 2011 to 2014. While his focus has returned to Supercross and the AMA Nationals, Bowers competed on the 250 Pro Circuit Kawasaki team for the Supercross season and has been a fill-in rider for Josh Grant on the Monster Energy Kawasaki factory 450 team. Bowers' height is more suited to the 450 machine, but he still has work to complete in the 250 class.
Are you glad to be back racing the Nationals? During this season, I got to fill in for the Kawasaki 450 team the last four races up to now. It has been my first outdoor season since 2009. It is a good comeback, but I am trying to knock off the cobwebs and get used to everything again. It has been great. The KX450F has been awesome. The whole team has, too. It is a great opportunity. This is the best bike out there and now to have a Kawasaki KX450F with the full factory effort is pretty awesome.
How did the opportunity to ride for Monster Energy Kawasaki come about? Well, I'm pretty good friends with Josh Grant, and I knew he had been having ankle/foot problems for a while now. I also knew there was the possibility he wouldn't be able to make it through the summer. I talked to him and he said it probably was in his best interest to go and get surgery early on so he would be ready for next year. I had a feeling this might happen, and Kawasaki called me. I knew about it early on so I tried to get ready and prepare for this. They told me that JG would have to pull out of outdoors after filling-in for the injured Wil Hahn, and he would be going in for ankle surgery. I was basically the third string. They call guys like me the third string recruit. I was at home but ready, and I am happy to do it.
Do you know why Josh Grant didn't get the surgery before the season? I think he was hoping to get through outdoors. When I talked to him he could have gone through outdoors, but it was in everybody's best interest to go through and get the surgery now. For Kawasaki it wasn't as big of a deal, because they had me as a backup. It wasn't as if they would have to scramble around to fill in a position on the bike. Josh wanted to be 100 percent ready for next year, so he quit beating himself into the ground. The surgery put him out for a long time. If he waited until the end of outdoors it would probably damage his 2017 Supercross season.
How did you get into racing? I was born out here in Fallbrook, California, and my dad was in the military. Out here in California, a lot of people go out and ride in the desert for fun. Families go out and camp. I was a part of that. My family–my dad, my mom and my sister–would go out and camp in the desert. I started on a four-wheeler when I was two years old. At four or five years old we moved to the East coast. Most of my family is from the East coast. On the East coast there is no desert to ride in, so to get the same experience of riding and having fun we had to go to the local tracks. We started racing the local tracks. I got into it just for fun; not necessarily to race. The next thing I know, I got bit by the racing bug.
Were you happy with your 250 Supercross results from the past two seasons? I raced the 250 series with Pro Circuit Kawasaki for both the 2015 and 2016 season. I ended up fifth in the points in the 250 East this year. It was kind of a bummer year for me. It is not a bad finish for most, but for me, there was a lot more expected. I expect to be battling for the championship. I had back surgery back last May, so I was trying to come back from that. I just got through the Supercross season. I am happy to be here riding outdoors.
How is it transitioning from a 250 for Supercross to a 450 for the Nationals?  It is a big difference. For me it is a big difference for the better, because I am a heavier guy. I weigh 205 pounds right now, so on a 250 I am a little bit under-powered. I weigh more than the bike usually. That is never a good thing. A 450 has a lot more power and it helps, especially on the big outdoor tracks like Glen Helen. On all the big hills the 450 helps out quite a bit. Me being a bigger guy, I have always fit the 450 better, but it is still a challenge. The KX450F and KX250F have different chassis styles for the 2016 bikes, so I had to get used to that. It was basically like switching brands. I am a professional and fortunately it doesn't take too long to get used to that. It has been a great experience. Once I got on the factory bike it has been a dream come true. I now have access to everything I need to make the bike better.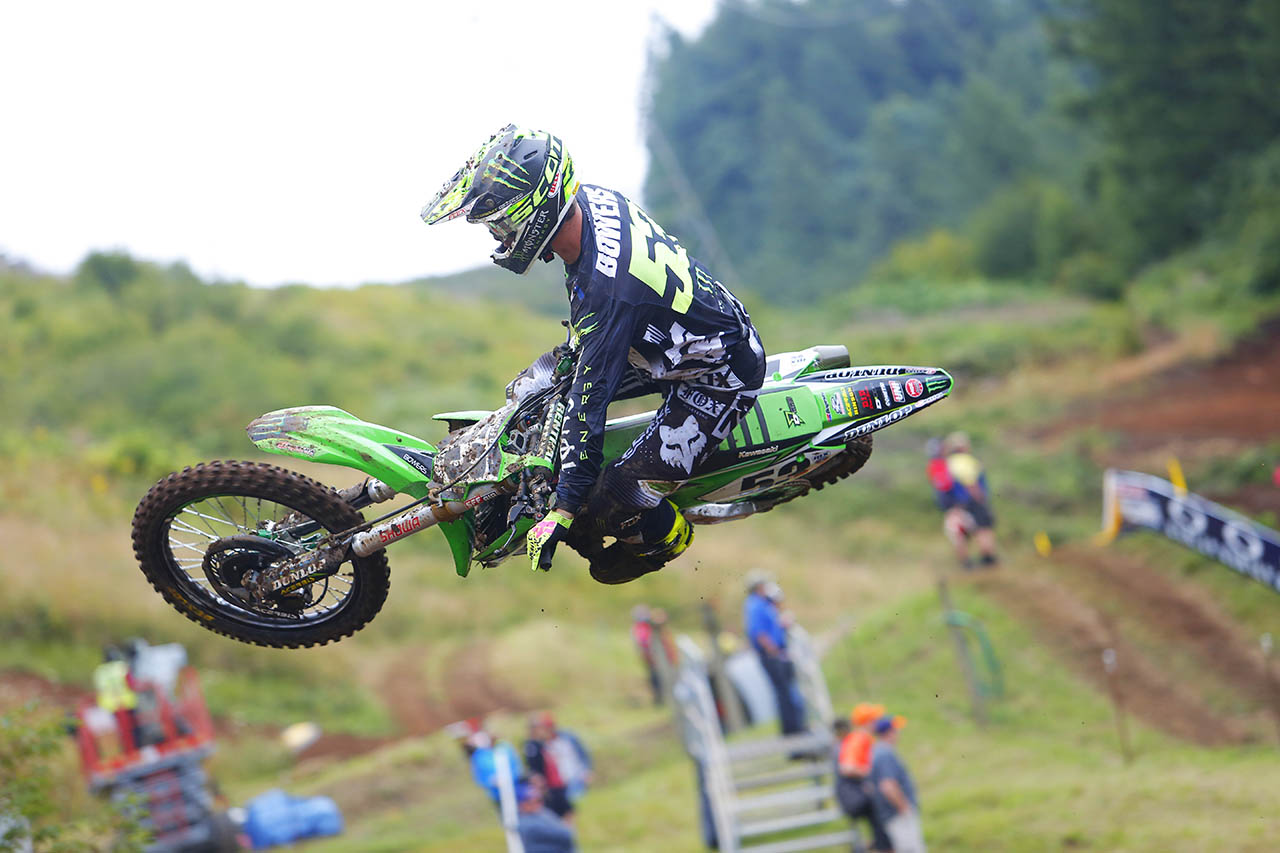 What has been your favorite track this year? Red Bud. Red Bud was my first National I did this year and it is my favorite track all around. It really is my favorite track in the world. I have always loved it and grew up racing there quite a bit. Southwick was good and Millville was pretty good, too. Unfortunately, Red Bud was also my first race back and I think my worst finish this year. It was where I needed to get all of my nerves shaken loose, but I still had the most fun there.
What are your plans for next year? I have no clue yet. Hopefully I get some more finishes under my belt here in outdoors. I am still trying to look for a ride and work everything out. It is kind of interesting how this industry works. Last year I was the hot ticket, but I had an injury and now people act like I have leprosy. I am hoping to be back where I was, but I am still working on things.