MXA PERFORMANCE GUIDE TO THE 2011 YAMAHA YZ250F

Yamaha took the lead in the modern four-stroke revolution nearly 15 years ago. The YZ250F is the veteran of the class, and it shows in some positive and negative ways. On several counts, Yamaha's components are second-to-none. We love the overall durability of the bike and engine, the high-quality footpegs, and the Bridgestone M403/404 tire combo. Even though carburetors may seem outdated, we don't see the Keihin FCR as a weakness.
On the other hand, chief among areas that need improvement are the all-bottom powerband, tight gear ratios and soft forks. The MXA wrecking crew has put substantial time on our 2011 YZ250F test bike, as well as project bikes, and boiled down all our data to the essence of what works for this bike. MXA's YZ250F performance guide isn't a pricey parts list for a factory Yamaha; it's a compilation of practical modifications to help a racer get the most out of his investment.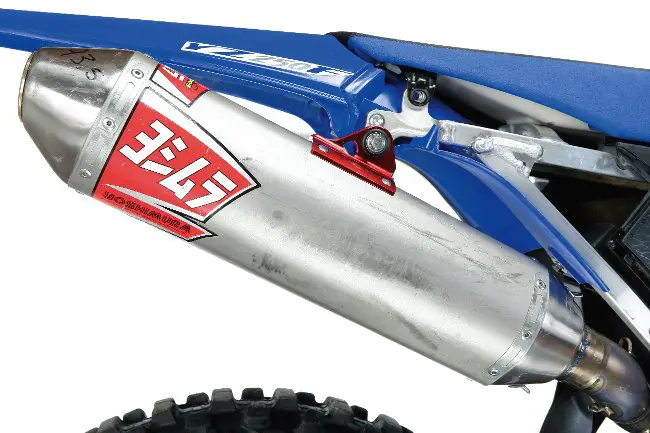 Pipe. In 2010, we did a comprehensive comparison with every Yamaha YZ250F exhaust system that we could get our hands on. Since the powerplant was unchanged for 2011, our work was already done. Every pipe we tried was a marked improvement over the stocker, but our favorites were the Yoshimura and the Pro Circuit systems. The Yoshimura provided more rev and a great overall powerband; the Pro Circuit had the most mid-and-up power, which is what the YZ250F needs most.

Fork springs. The stock 2011 YZ250F fork setup was way off…a shocker for SSS suspension. The frame geometry put more weight on the front end and caused the suspension to dive. We added stiffer 0.46 kg/mm fork springs and lowered the oil height by 10cc. The stock springs are 0.45 kg/mm, and the standard oil height is 350cc. With this setting, the fork rode higher in its stroke, didn't dive under deceleration and had a wide variety of clicker settings.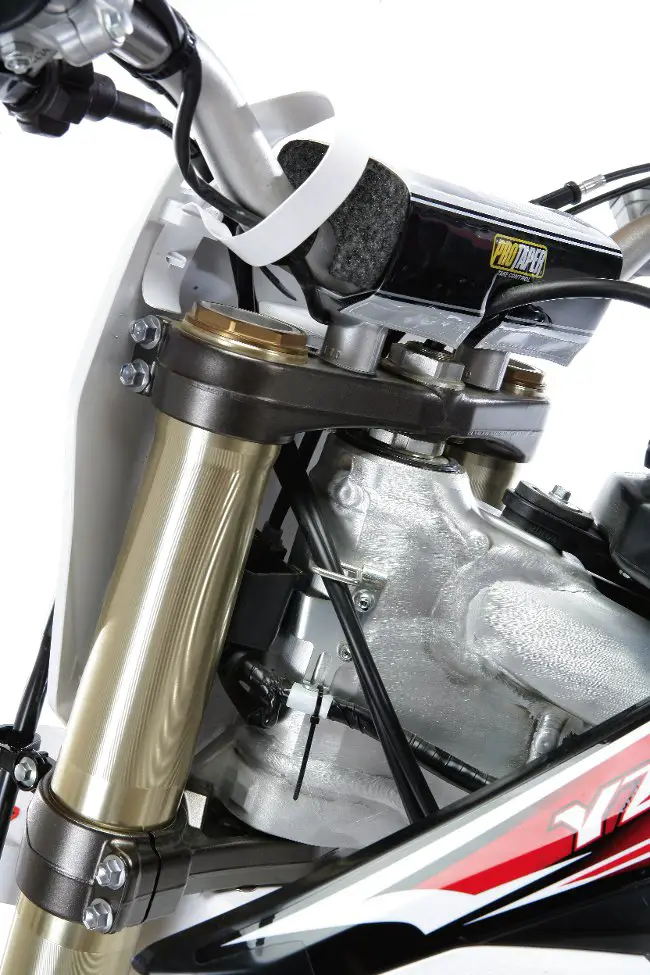 Handling. Addressing past complaints, Yamaha's latest YZ chassis is set up for more aggressive handling. Most of our test riders feel that this chassis is an improvement, but it can be a bit twitchy at times. Yamaha R&D thought so, too. For 2012, the YZ250F will get a rigid frame to help it track straighter through chop, as well as 22mm offset triple clamps to replace the 2011 25mm clamps. Aftermarket triple clamps are available for the YZ250F in 22mm versions and other offsets?increased and decreased. On our test bike, we were relatively satisfied with simple adjustments; we didn't resort to expensive parts or tinker with thicker motor mounts, which the 2012 has for rigidity. We ran the sag at 105mm, snugged the steering stem and stiffened the forks.


Style. Going fast is a mental game, so good-looking graphics never hurt. The sharp-angled lines of Yamaha's latest bodywork aren't everybody's cup of tea. Even if you love the looks, the angled, narrow pieces and textured side panels are a difficult canvas for graphics. After struggling with the stick-ons last year, we wised up and simply went with the white/red Yamaha with black rims. It costs an extra hundred dollars above the standard $7150 MSRP.



Gearing. Just as lower gearing punches up the bottom-end hit of an engine, taller gearing broadens out the powerband and allows a rider to stay in one gear longer. This is why every MXA test rider preferred a taller 48-tooth sprocket (49 is stock) on the rear of the YZ250F. We have to assume that the 2012 Yamaha YZ250F has a lot more top-end power, because Yamaha went the opposite direction from the MXA wrecking crew for 2012. They geared it from 49 teeth to 50 teeth. We'll have to wait and see.

GYTR. GYTR (Genuine Yamaha Technology Racing) has a big advantage in their ability to durability test their engine parts. We know that they put in plenty of track hours (because we see them at the track) and choose durability over minor power gains. We also know, through testing, that their complete, assembled cylinder head packages are fast. For the YZ250F, GYTR offers a variety of engine parts and mods, such as cams, pistons, pipes, valve springs, clutch components and an Athena 290cc cylinder kit. They also have a selection of chassis parts. When looking for an upgrade, GYTR is a good place to start.

Guard duty. Several MXA test riders complained that their left boot got caught under the countershaft guard cover. Making matters worse, once your boot catches under it, it bends it out so that it is easier for your boot to get caught a second time. MXA removed the countershaft guard and left the metal case guard, which requires shorter bolts.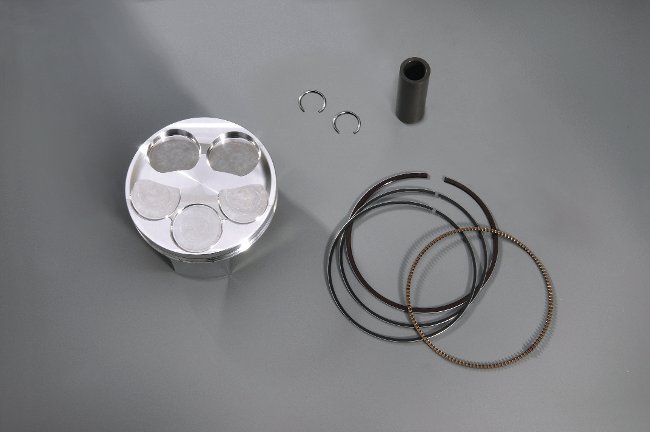 High-compression piston. GYTR's forged aluminum piston raises the compression ratio to 14:1 (from 13.5:1). Tthe high-compression piston provides a good overall boost and can be run with high-octane pump gas. The CNC-machined piston utilizes a two-ring design (versus the stocker's three-ring unit) in an effort to reduce drag and make additional horsepower. The piston also features machined valve pockets on its deck to provide additional valve clearance for optional use with high-lift camshafts. The piston comes with piston rings, a wrist pin and clips and costs $199.95.


Power Bowl 2. No, we're not talking about the toilet on the space shuttle, though this gizmo is just as fancy. Even though the 2011 YZ250F's stock jetting is dialed in, the R&D Power Bowl 2 produces a more responsive feel. The R&D Racing Power Bowl 2 is a redesigned float bowl and accelerator pump that improves the fuel flow of the Keihin FCR carburetor by eliminating cavitation and froth during all the jostling around. There are two separate fuel ports in the Power Bowl 2 accelerator-pump chamber that prevent it from sucking air instead of the fuel needed. The Power Bowl 2 also makes the leak jet readily accessible.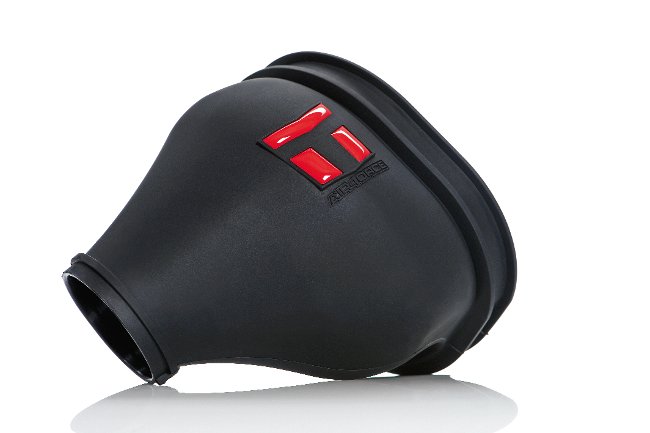 Air4orce intake. Moto Tassinari's Air4orce replacement air boot comes with two optional velocity stacks. The long stack favors low-to-mid grunt, while the short one provides some of the mid-to-top that the YZ250F craves. On the dyno, the short velocity stack improved power from 7500 rpm and up, culminating at one horsepower at peak. We gave the Air4orce intake four stars in our product review because the Honda version didn't offer as much improvement as the Yamaha model. Alone, the Yamaha Air4orce intake is a five-star product.