MXA PRODUCT SPOTLIGHT: PRO CIRCUIT PIPES FOR THE ITALIAN-BUILT TM 250/300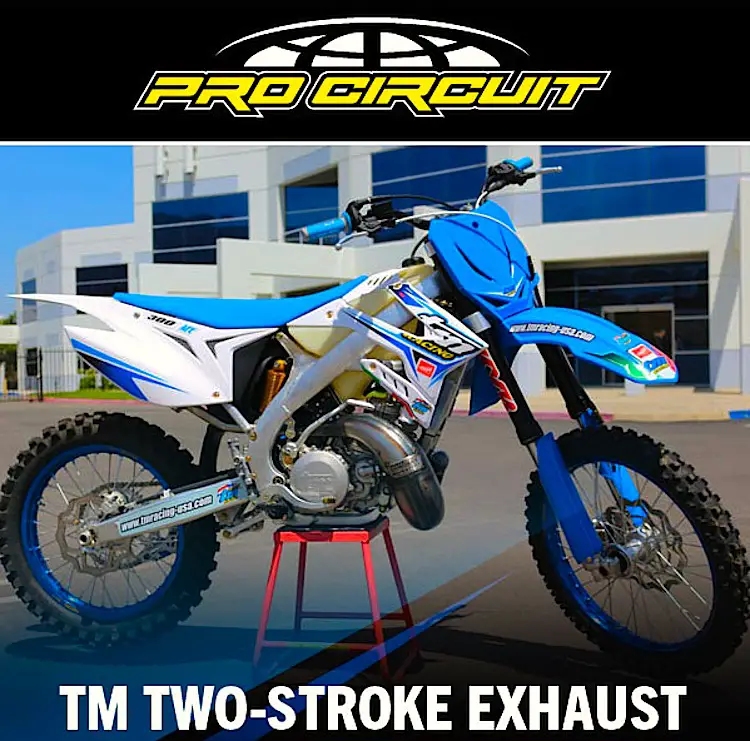 For the last 35 years, Pro Circuit has been committed to offering our customers the finest two-stroke exhaust pipes and silencer available. We continue that tradition by announcing new exhaust products for 2015 TM 250/300 MX and EN models, all made in the USA.

Works Pipe – With unparalleled performance, power and torque across the entire rpm range, the Pro Circuit Works Pipe is constructed of AKDQ high-quality carbon steel with an unplated, oiled steel finish to give your bike that factory look. Hand-welded and pounded seams with reinforced mounting brackets offer increased durability. Retail Price: $249.95.

Platinum Pipe – The same performance gains as the Works Pipe but with a brilliant nickel coating makes the Pro Circuit Platinum Pipe the ideal choice for extreme weather conditions. Made using the same high quality AKDQ carbon steel as the Works Pipe, the Platinum Pipe is hand-welded with pounded seams and reinforced mounting brackets just like the Works Pipe. A nickel coating gives the Platinum Pipe a bright finish while protecting against nature's elements making maintenance a breeze. Retail Price: $249.95.

304 Factory Sound Silencer – Constructed of high-quality aluminum and stainless steel, the 304 Factory Sound Silencer's longer body is designed to reduce noise output without compromising performance and is recommended for any 2-stroke application. Extremely light weight and durable, the 304 silencer is easy to repack for optimum performance. Retail Price: $134.95.

296 Spark Arrestor Silencer – For those who ride in noise sensitive areas, the 296 Spark Arrestor/Silencer meets U.S. Forest Service 96db sound requirements and is equipped with a USFS approved spark arrestor. The 296 Spark Arrestor/Silencer is designed for easy maintenance and is made from high-quality aluminum and stainless steel for extra durability. Retail Price: $159.95. For more info go to www.procircuit.com
For more info about TM Motorcycles, go to www.tmracing-usa.com