MXA PRODUCT TEST: ONE INDUSTRIES YZ125/250 50TH ANNIVERSARY PLASTIC
ÿ
ÿ
WHAT IS IT?
To celebrate their 50th anniversary, Yamaha came out with special yellow versions of the YZ250F and YZ450F. What about the YZ125 and YZ250? They forgot. One Industries didn't.
ÿ
WHAT'S IT COST?
$199.95 (graphics, fenders, shrouds, front number plate and seat cover)(858) 874-5760.
ÿ
ÿ
WHAT'S IT DO?
Do you remember the yellow and black paint schemes of the Hannah era? Yamaha brought them back in 2006. For $200 extra, a buyer can order special yellow plastic for his 2006 YZ250F or YZ450F.ÿ It looks coolso cool that the MXA wrecking crew ordered yellow Yamahas for our test fleet. Unfortunately, Yamaha didn't make the yellow plastic for the two-strokes. Thankfully, One Industries can fix the faux pas with its YZ125/250 Hurricane kit (which we call the 50th Anniversary kit).
ÿ
WHAT STANDS OUT?
Here's a list of things that stand out with One Industries' Hurricane Kit.
(1) Package deal. One's YZ Hurricane Kit includes yellow fenders, radiator wings, front number plate, seat cover and graphics kit. It's all bolt-on stuff (except for the staple-on seat cover and stick-on decals).
(2) Fit. Switching to aftermarket plastic means that you have to transfer spacers and use a little wiggling to get the pieces to fit, but it is achievable. The fit isn't perfect, but it's acceptable.
(3) Durability. Expect the One Industries Hurricane Kit to look good longer than the standard Yamaha blue plastic. Over time, Yamaha's stock blue plastic develops white crease marks and scratches. The yellow plastic doesn't show the abuse.
ÿ
WHAT'S THE SQUAWK?
Since the One Industries Hurricane Kit doesn't come with a yellow gas tank, it relies heavily on the decals to cover up the blue. Unfortunately, you can still see a lot of blue through the graphics and on top of the tank.
ÿ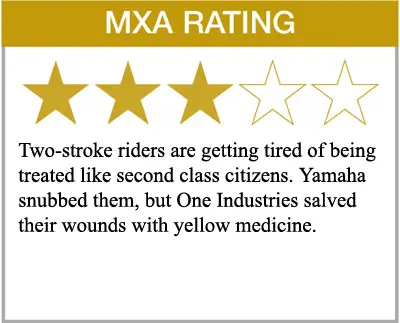 ÿ
ÿ
ÿ