MXA PRODUCT TEST: YOSHIMURA RS3 CRF250 EXHAUST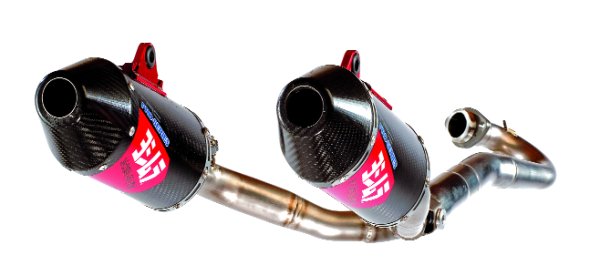 WHAT IS IT?
Yoshimura's take on the Honda twin-piper.
WHAT'S IT COST?
$1175.00 (carbon fiber), $1075.00 (titanium), $750.00 (stainless steel)(909) 628-4722.
WHAT'S IT DO?
Honda's new twin-pipe exhaust has been a mixed bag for the consumer. Everyone thinks the design looks really cool, but very few feel, hear or see any actual difference in performance. Most devastating for consumer confidence is that buyers are scared to death about what it will cost to replace the dual pipes with an aftermarket version. Just how scared? Enough that most aftermarket companies are readying single exhaust pipes for the 2006 CRF250. Why? Because they can get as much power out of a single exhaust, while saving weight and lowering the cost. What's the negative of the single pipe solution? It doesn't look as cool. The bike did come stock with twin-pipes, after all.
Not everyone is taking the easy way out. Yoshimura has worked day and night developing a twin-pipe exhaust that meets and exceeds Team Honda's expectations. Why did they go to all the trouble? Because for the 2006 AMA season, Yoshimura is the official exhaust pipe of Team Honda. Every four-stroke under the Team Honda banner, especially Andrew Short's and Davi Millsaps' CRF250s and Kevin Windham's and Travis Preston's CRF450s, will be sporting Yoshimura exhausts.
WHAT STANDS OUT?
Here's a list of things that stand out with Yoshimura's TRC Pro Series CRF250 exhaust.
(1) Quality. Yoshimura makes some of the nicest exhaust pipes on the market. The materials are topnotch, the welding is perfect, and the carbon fiber is flawless.
(2) Technology. Honda claims to have a few patents on the one-into-two twin-pipe setup, but we can say without a shadow of a doubt that Yoshimura has improved on every aspect of it. This isn't Yoshimura's first time building multi-pipe exhaust systemsthey specialize in high-performance four-into-one street bike units.
(3) Mounting. Yoshimura loves exhaust springs. The head pipe flange is held in place with two springs. Each muffler is held on with two springs. That makes six springs for the system. Thank goodness Yoshimura includes extra springs and a pipe spring puller with each system. Getting the system on the bike was almost no different than with a single exhaust systemjust more work.
(4) Unique features. This pipe has that wow factor. When it was sitting still, we couldn't believe how many people stopped to check it out. With carbon fiber mufflers (with cool red brackets) and titanium everywhere, Yoshimura's exhaust looks like a works Honda part.

(5) Performance. Incredible. While the stock CRF250 is a little soft down low and doesn't have the best throttle response, the Yoshimura exhaust has unbelievable throttle response and accelerates hard with just the slightest crack of the throttle. The midrange pulls strong, even in heavy dirt or sand. On the top-end, the exhaust allows the engine to rev freely all the way to the rev limiter. All this impressive power does have one drawbacksound. The Yoshimura exhaust is loudreally loud. We didn't do a sound test because we didn't have towe could tell by the faces of spectators as we flew by.
(6) Place of Manufacture. The Yoshimura RS3 Series CRF250 Exhaust is made in the United States.
WHAT'S THE SQUAWK?
 We have two gripes:
(1) The price is a shocker.
(2) We don't like springs.