2016 TM 144MX TWO-STROKE TEST: EVERYTHING YOU NEED TO KNOW
Q: FIRST AND FOREMOST, IS THE 2016 TM 144MX BETTER THAN THE 2015 TM 144MX?
A: We wouldn't know. Why? We did not get a chance to test last year's 2015 model. In fact, we haven't tested a TM 144MX since 2013 because of issues with the American importers and the TM factory. There have been problems with the euro/dollar exchange rate, delivery times, price margins and changes in importers. But now there is a new TM importer (www.tmracing-usa.com), and he is setting things right. What we can tell you is that the bike has vastly improved since our last test.
Q: WHAT CHANGES DID TM MAKE TO THE 144MX FOR 2016?
A: For 2016 TM revamped the whole kit and caboodle. The engine has a new crank, cylinder, servo cable, power valve timing, ignition mapping and exhaust system. The chassis also got a major makeover with a new frame, shock linkage, gas tank, suspension settings and brakes.
Q: WHAT IS THE DISPLACEMENT DIFFERENCE BETWEEN THE TM 144MX AND KTM 150SX?
A: You would probably subtract 144cc from 150cc to arrive at a 6cc difference, right? In truth, the KTM 150SX is really 143.99cc, and the TM 144MX is really 143.30cc. Back before 2009 there was no KTM 150SX; it too was called a KTM 144SX. So, why did KTM round up to 150SX? All in the name of marketing. Maybe it rolls off the tongue better or looks better on paper, but either way, the KTM and the TM are both 144s—except for the 0.69cc variation. The bore and stroke dimensions, however, are quite different. The TM 144MX has a 56mm x 58.2mm bore and stroke, while the KTM 150SX is 58mm x 54.5mm.
Q: CAN YOU TURN A TM 144MX INTO A TM 125MX LIKE YOU CAN TURN A 150SX INTO A 125SX?
A: No. You can say that KTM took the path of least resistance in making the KTM 150SX, because KTM used the same stroke as on the 125SX and just bolted on a bigger jug and piston. The downside of building an over-square engine is that the KTM 150SX has an awkward-enough powerband that most MXA test riders prefer to race the KTM 125SX over the KTM 150SX. Pushing the oversize 58mm piston with such a short stroke produces a punchy style of power. The upside is that you can slip on a KTM 125SX cylinder and piston and turn a 150SX into a 125SX in an hour. With that being said, we give kudos to TM for making completely different engines for its 125 and 144 models—even if you can't swap top-end parts back and forth. For a small boutique brand, that commitment to the 144 program is a bold statement.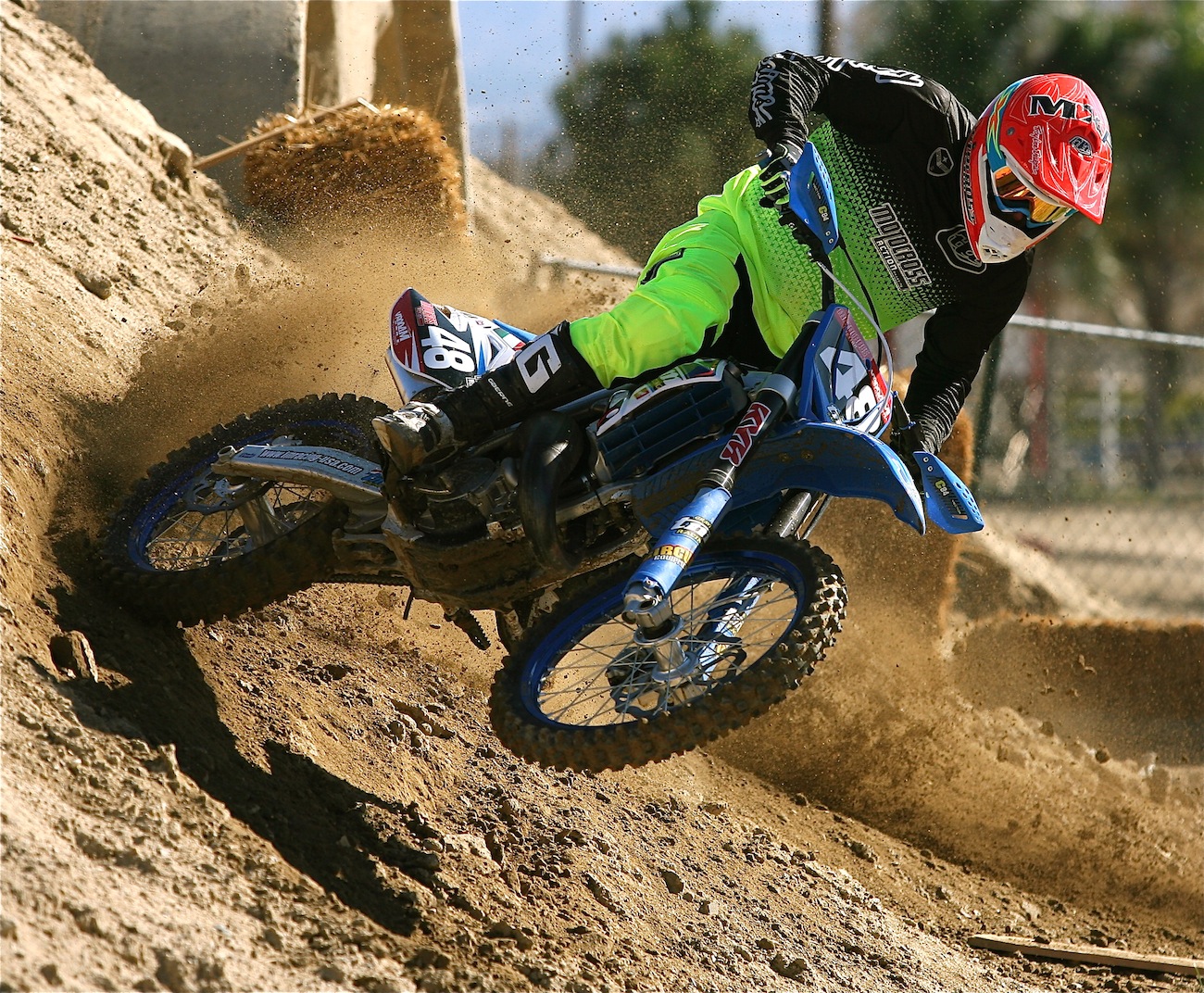 Q: HOW DOES THE TM 144MX RUN?
A: In most cases, and we are talking about the KTM 150SX and GYTR YZ144 kit bikes here, the typical 144 delivers good bottom-to-mid power with an abrupt sign-off on top. This is what happens when you upsize the piston without a comparable increase in stroke. Compared to their 125cc brethren, the 144s have tricky shift points and sign off early. Not so with the TM 144MX engine. It has a power curve very much like a 125cc. That translates into lackluster bottom-end power followed by a hard hit in the midrange and more than ample over-rev. Although the curve is very similar to a TM 125MX's, the power of the TM 144MX is more potent across the board. Needless to say, we were impressed with how the TM 144MX ran. It has an easy-to-ride engine that runs best on fast tracks and pulls great under a load.
Q: HOW GOOD ARE THE TM 144MX ERGONOMICS?
A: Each year TM seems to get closer and closer to the ergonomics of the Japanese brands, but there is one caveat: the average height of a 125cc motocross racer is 5-foot-8, but the TM 144MX fits best for riders who are 5-foot-10 (or taller). The handlebars are very ape-hangerish. The rear end sits high, and the cockpit is extra roomy. Although we can Band-Aid most of the TM's oversize issues, we think that TM should blast the 144MX with a shrink-ray gun before it leaves the factory. Then the bike would appeal to a larger market.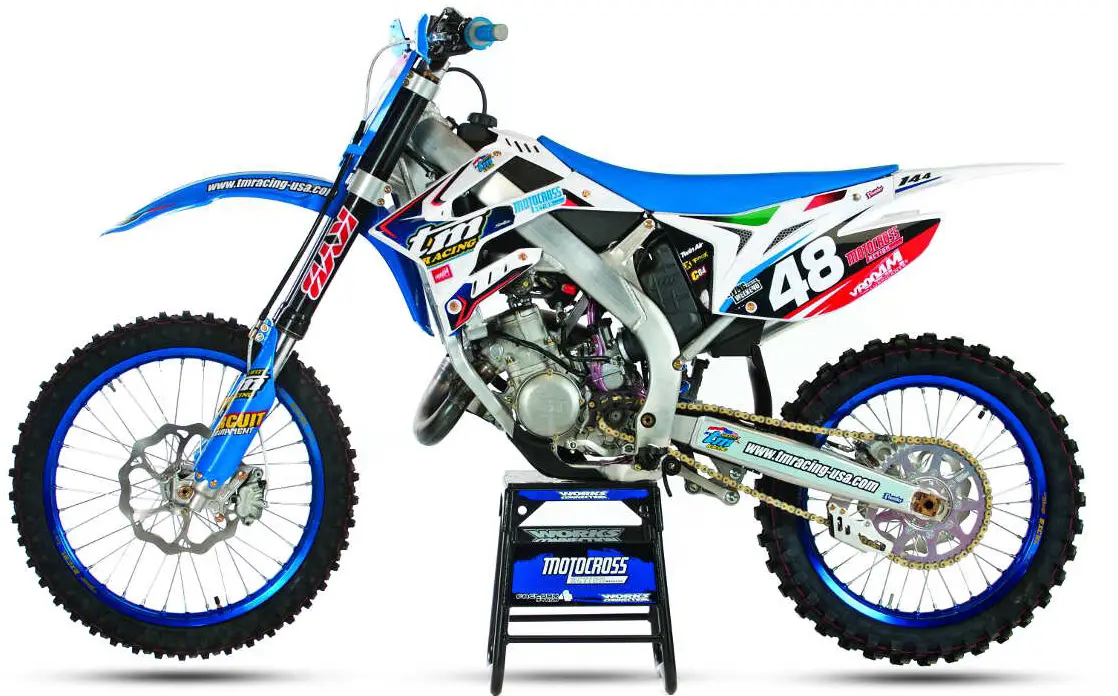 Q: HOW DOES THE TM 144MX HANDLE?
A: Right off the bat our test riders noticed a vague sensation at the front end. Luckily, it wasn't a geometry issue but a lack of grip from the Czech-made Mitas C19 front tire. Once we switched to a tried-and-true Dunlop MX3S (previously known as the MX32), the problem was solved. The 2016 TM 144MX tracked straight, felt nimble and turned on command. Oops! Did we mention that we applied two Band-Aids by sliding the forks up in the clamps and running 115mm of race sag in an effort to bring the complete chassis down?
Q: WHAT DID WE THINK OF THE KAYABA SSS FORKS?
A: The last time we tested the TM 144MX, we were appalled by its Kayaba SSS forks. Why? The valving. We thought, why doesn't TM just take the forks off of a Yamaha YZ125 and put them on the TM 144MX? The answer is that Kayaba has a contract with Yamaha that forbids Kayaba from selling any other manufactuer Kayaba SSS forks with Yamaha's valving specs in them. Thus, TM can't get Kayaba SSS forks that match Yamaha's SSS forks. Why doesn't TM just re-valve the Kayaba SSS forks to Yamaha specs after they get them from Kayaba? The cost of tearing down every fork on the assembly line and changing the valving would be prohibitive—not for TM's budget but the consumer's. So while MXA has repeatedly said that Kayaba SSS spring forks are the best forks on the track, we are really talking about Kayaba SSS forks with Yamaha valving specs.

In the past, we have hated TM's setup on its Kayaba forks. And while the 2016 Kayaba forks are virtually the same models we tested back in 2013, they were night-and-day different. Although stiffer than Yamaha's YZ125 setting, they were fluid and workmanlike on rough chop. Our testers felt right at home within a few clicks from the stock settings.
Q: HOW DID THE HANDMADE TM SHOCK MATE WITH THE KAYABA FORKS?
A: The one-off, handmade TM shock is a thing of beauty. We liked it a lot more than the last time we tested a 144MX. After we lowered the sag by gargantuan proportions and went in on both the compression and rebound, the bike tracked straight and didn't do anything out of the ordinary. It wasn't flawless rear suspension, though. And, it wasn't helped by our being forced to lower the race sag so much that we ate up available travel, but it was workable.
Q: HOW WAS THE CLUTCH?
A: Most MXA testers absolutely loved the easy pull and self-adjusting nature of the TM hydraulic clutch. TM uses a Brembo master cylinder mated to a TM-designed slave unit.

Q: HOW GOOD ARE THE TM BRAKES?
A: This year TM switched from Braking to Galfer rotors. The front disc is an oversized 270mm Wave design with a Nissin master cylinder and a Brembo caliper (this is strange, because it is not uncommon to see AMA National riders run the opposite combination of a Brembo master cylinder with a Nissin caliper). The rear is a 245mm unit, also from Galfer, with Nissin/Brembo components. Both the front and rear offer great feel and modulation with more stopping power than a lightweight two-stroke requires.
Q: WHAT DID WE HATE?

A: The hate list:
(1) Height. The TM 144MX is too tall for the average rider. The subframe needs to be cut down.
(2) Price. At $8400, this is a very expensive two-stroke.
(3) Gearing. The stock 13/50 gearing is too tall. We went with a 13/52 combination.
(4) Rear sprocket bolts.
There are nine bolts on the rear sprocket. We only use six.
(5) Race gas. For the TM 144MX to sing, not ping, it needs a dose of C12 mixed with 91-octane pump gas.
(6) Front tire. The Mitas front tire is not consistent. Well, it is consistent, but it is consistently bad. Switch it out immediately.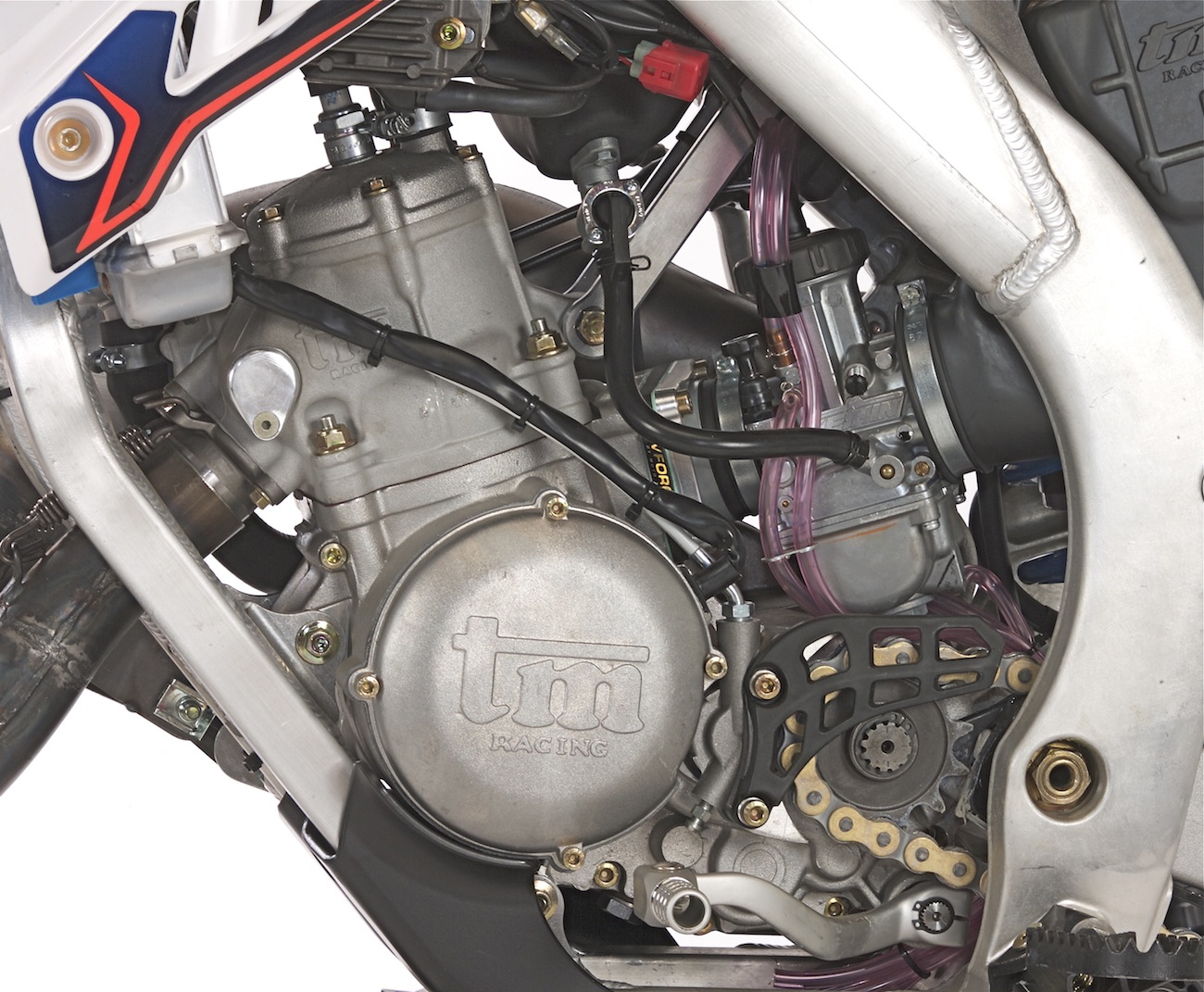 Q: WHAT DID WE LIKE?
A: The like list:
(1) Outsourcing. We like TM's top-quality, outsourced components: Moto Tassinari reeds, Brembo calipers, Nissin master cylinders and Kayaba forks.
(2) Powerband. The TM 144MX has broken the mold with a big-bore 125 engine that doesn't actually have a big bore. It revs freely and doesn't fall on its face.
(3) Hydraulic clutch. You can't go wrong with a self-adjusting hydraulic clutch.
(4) Brakes. The 270mm Galfer front brake offers superior braking.
(5) Forks. For the first time we liked TM's Kayaba SSS fork settings.
Q: WHAT DID WE REALLY THINK?
A: We have to give a round of applause to TM for creating a bike that is vastly different from its 125 brethren. It has a powerful, high-revving powerband, workmanlike suspension and superior controls. If it weren't for its high price tag and high seat height, the 2016 TM 144MX could well be the best in its class.
MXA'S 2016 TM 144MX SETUP SPECS
This is how we set up our 2016 TM 144MX for racing. We offer it as a guide to help you find your own sweet spot.
KAYABA SSS FORK SETTINGS
For hard-core racing we ran this setup on the 2016 TM 144MX (stock clickers are in parentheses):
Spring rate: 0.40 kg/mm
Compression: 8 clicks out (12 clicks out)
Rebound: 15 clicks out (14 clicks out)
Fork height: 5mm up (10mm up)
Notes: In most cases, Kayaba SSS forks are the best forks made, but they are not good with the wrong valving. TM made some major strides in getting workable settings in the 2016 TM 144MX version. They are a little stiff for the average 125/150 buyer, but with a few clicks in on compression and rebound, most riders can find a sweet spot.
KAYABA SSS SHOCK SETTINGS
For hard-core racing we ran this setup on the 2016 TM 144 (stock clickers are in parentheses):
Spring rate: 4.4 kg/mm
Race sag: 115mm
Hi-compression: 1 turn out
Lo-compression: 4 clicks out (10 clicks out)
Rebound: 12 clicks out (14 clicks out)
Notes: TM does not specify a desired race-sag height. This leaves it up to you. Since the bike rides extremely high, we lowered the sag until it felt balanced. We have never gone as far as 115mm on any bike in the past, but the TM's chassis forced us to make this change.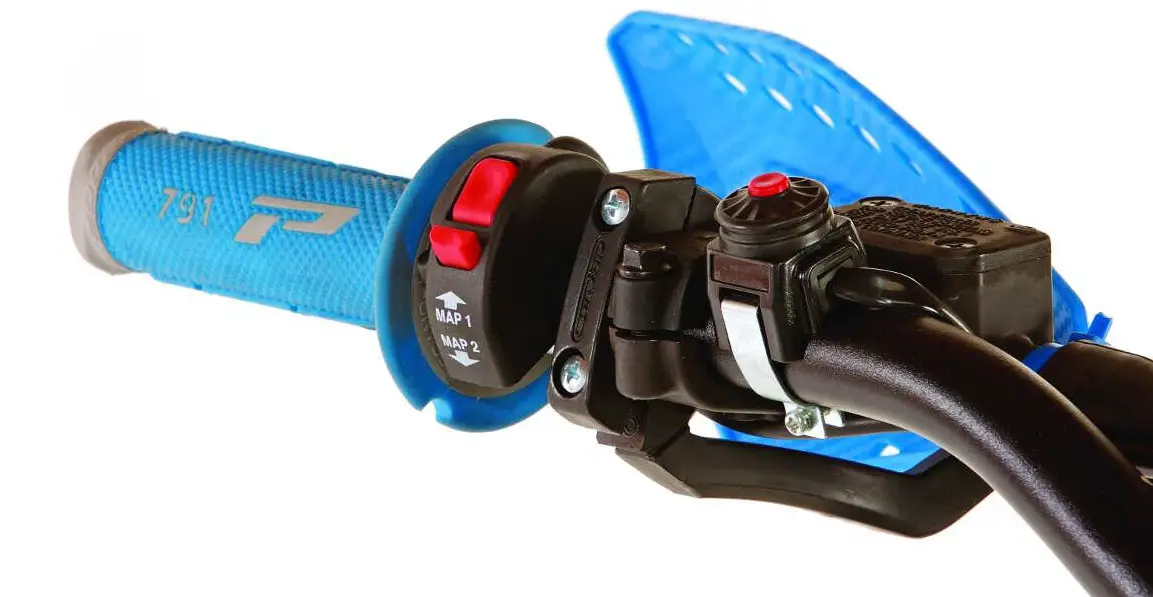 TM 144MX JETTING
Here are MXA's recommended jetting specs for the TM 144MX (when changed, stock specs are in parentheses):
Main: 200 (188)
Pilot: 50
Needle: N1EH
Clip: 3rd from top (2nd from top)
Air screw: 1 turn
Notes: We ran a 50/50 mix of VP Racing C12 and pump gas (and that was after going up to a 200 main jet). We would not recommend racing this bike on 100-percent pump gas—unless you like the sound of pinging. In hot weather conditions, you can go down on the main jet size.